We hope you find your next favorite thing from the list below!  Each product was independently selected by our editors. Some may have been sent as samples for us to fiddle with, but all opinions in this article are our own.  Oh, and FYI — LucksList may collect a share of sales or other compensation from the links on this page if you decide to buy something (that's how we stay in business). Reviews have been edited for length and clarity.  Enjoy finding your next favorite thing!
1. Do you want to cook amazing food without all the mess? The Instant Pot Air Fryer and Pressure Cooker Combo is perfect for anyone who wants to cook delicious, healthy food with little effort. This multi-functional appliance can do it all – from air frying to pressure cooking to slow cooking. Plus, it comes with a removable air fryer cover for easy cleaning.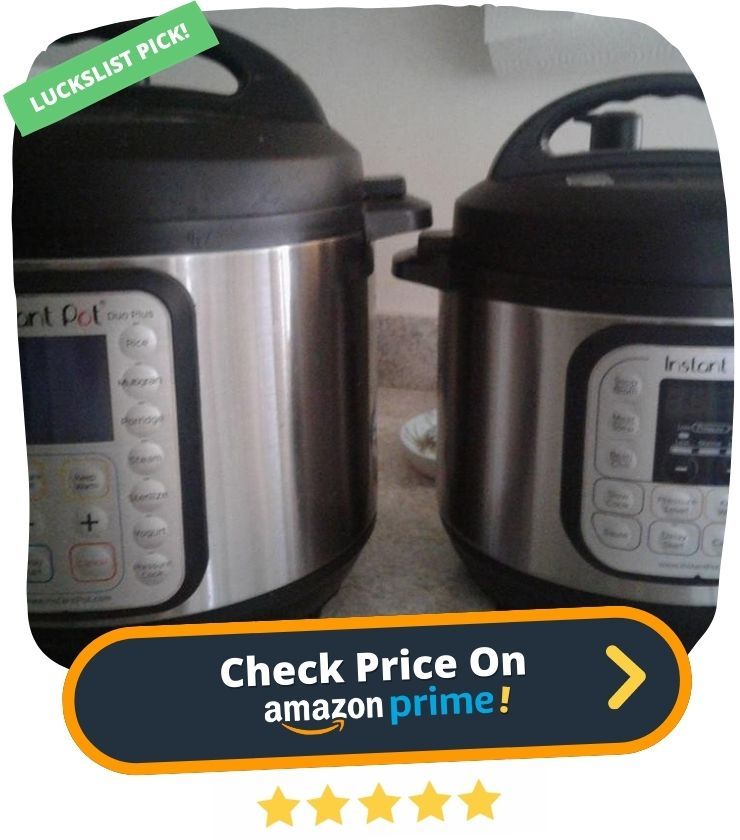 "Update 3.5 years in: still love it, use it all the time, no problems. For a long time, I wasn't a believer. I mean, I'm all for electronic gadgets in the kitchen. If I want to cook something for hours until its delicious and tender, I've got a traditional slow cooker. If I want to feel fancy when I'm preparing perfectly-cooked meats, I've got my Anova sous vide, and a wireless meat thermometer for the grill."
Amazon Review By A. Goldberg
2. Tired of your makeup and beauty accessories taking up too much space in your drawer? This acrylic makeup brush holder is the perfect solution. It has a small footprint so it won't take up a lot of room, but it can still hold 26 individual eye or lip liners. Plus, the elegant design will make your vanity look chic and stylish.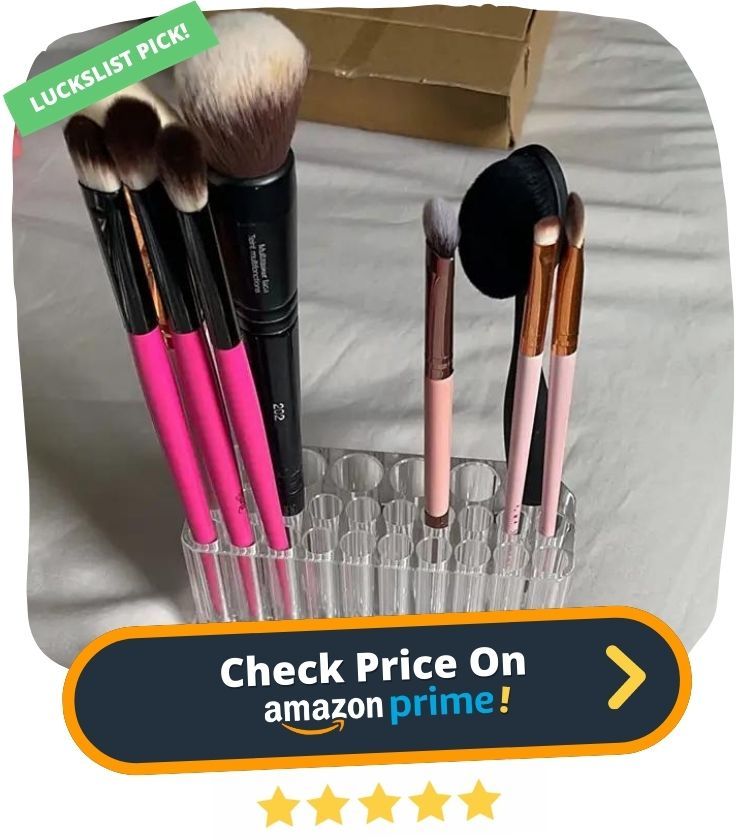 "At first I was surprised that it looked small but it isn't at all. I have many brushes & they all fit. There was even room for lip liners and brow liners. It is sturdy & doesn't take up a lot of room on my vanity. It is stable & sturdy."
Amazon Review By Amazon Customer
3. Typing on a laptop all day can be tiring. Why not switch to this colorful wireless keyboard and mouse for a change? Not only does this keyboard have a unique design, but it also comes with a retro round keycap that is sure to bring back memories. Plus, the mirror plane on each key is just plain fun!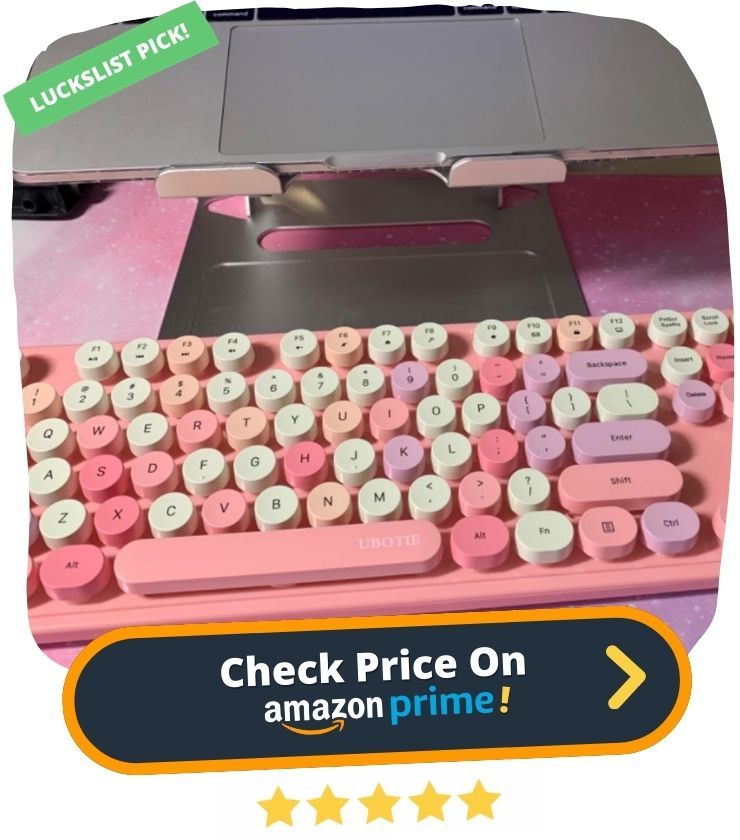 "This is ADORABLE! I love love love everything about this keyboard. It's satisfying to the touch, and visually appealing. It's easy to hook up (just some batteries and plug in to your computer)! I love green and it matches well with my room and desk setup."
Amazon Review By SEBA
4. Do you have a wooden or glass desk and are always worried about scratches and stains? EMINTA Waterproof Desk Pad Protector is the solution for you! Made of durable PU leather, this protector will keep your desk in great condition while also looking fashionable. Not only does this protector protect your desk, but it can also be used as an organizer!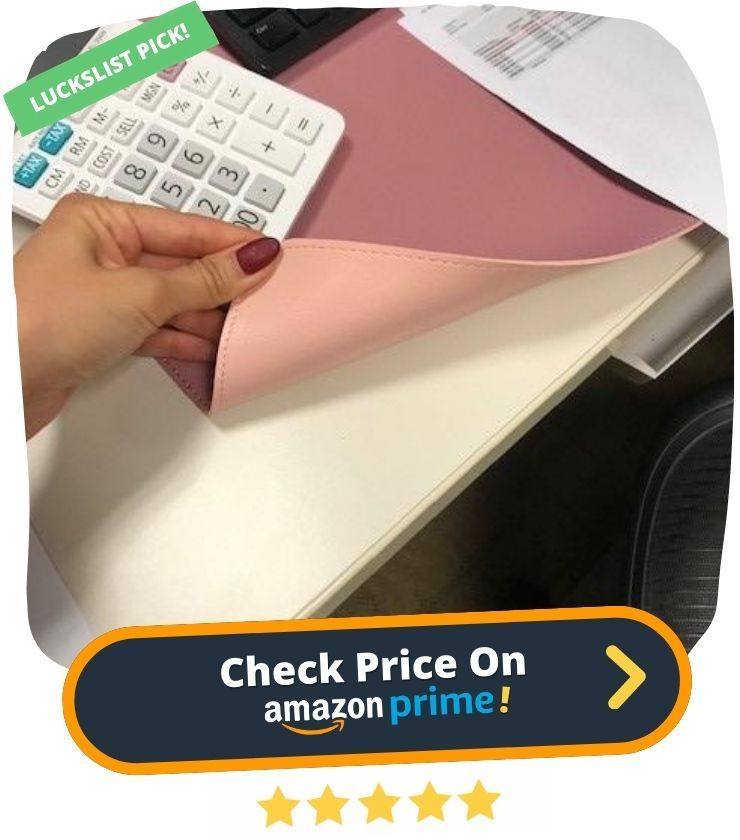 "It's a really beautiful desk pad. I love that the colors are reversible. Right now loving the purple for winter, but will switch to the pink side in the summer. Makes my work desk look more colorful and pretty! It feels like a good quality mat."
Amazon Review By Jessica
5. Love hot sauce but can never seem to find the right flavor or heat level? Gringo Bandito 4 Pack Hot Sauce has you covered with four amazing flavors that will tantalize your taste buds. Not only do they taste great, but they're also all natural, gluten free, vegan, and paleo! You won't be able to put this sauce down. It's perfect for anything from tacos to chili to Bloody Marys.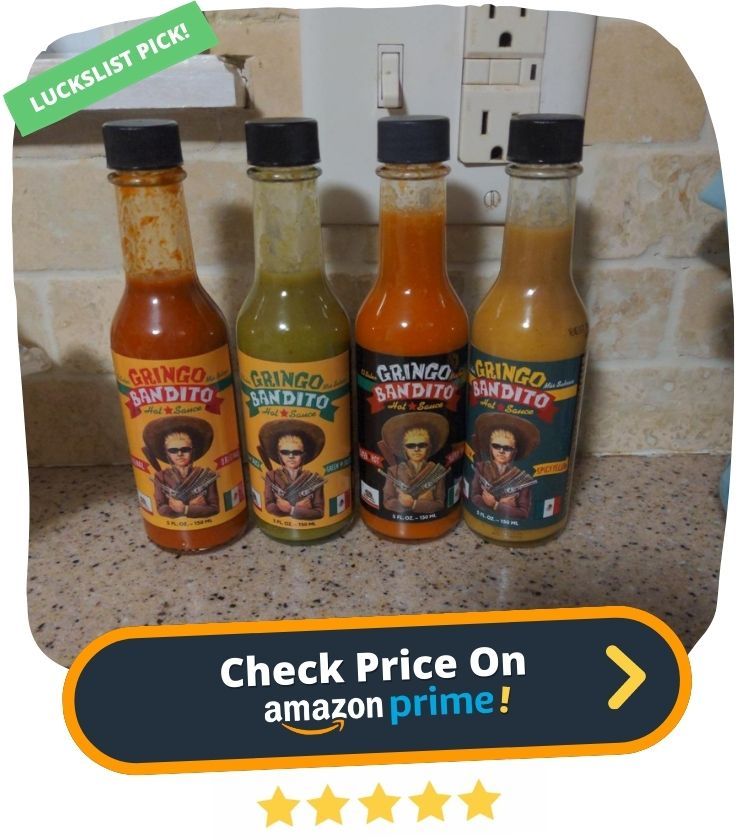 "I am a hot sauce addict...with well over 20 sauces in circulation and many more on a display shelf. I consume a ridiculous amount of hot sauce and have now a fairly refined palette for the tastes of the different peppers and other ingredients."
Amazon Review By Timothy R. Gregory
6. This nuLOOM Ansley Soft Tassel Area Rug is the perfect way to add a touch of luxury to any room in your home. The contemporary style and versatile design of this rug make it the perfect addition to any room.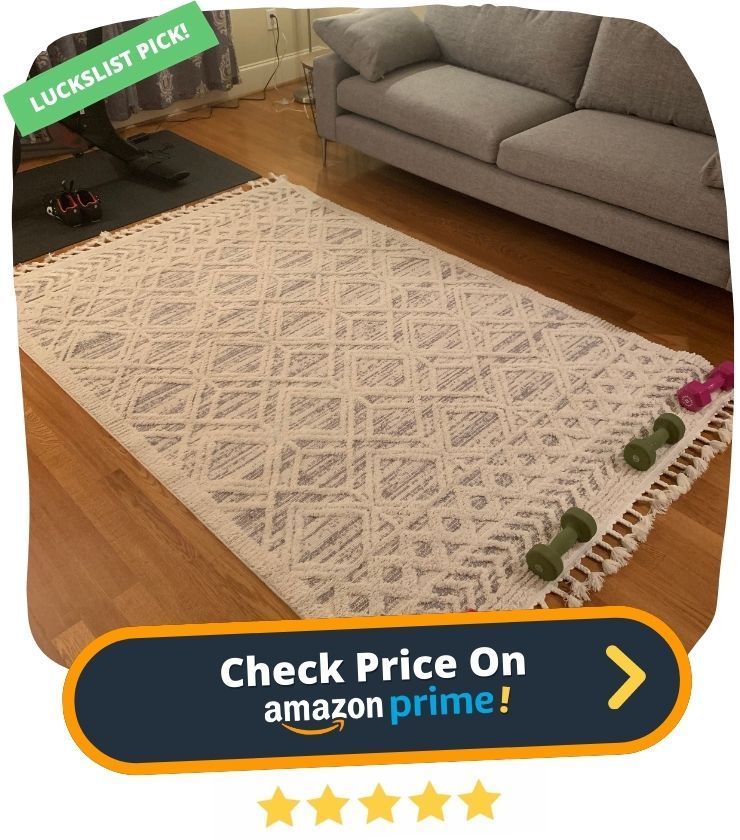 "Before buying there were only a few reviews of this rug And no one has posted any photographs. So I bought it blindly. With that said it arrived today, I could not be more happier. This rug is beautiful, it is soft, it is very well-made, it looks more expensive than what it really is."
Amazon Review By Ursula
7. Looking for a new way to spice up your refrigerator? Check out these amazing 3D Japanese Sushi refrigerator magnets! They are made of PVC and strong magnet, so they will stay strong and in place on your fridge. Plus, they come in a variety of colors and styles, so you can find the perfect ones for your home. These magnets are not only beautiful but also functional.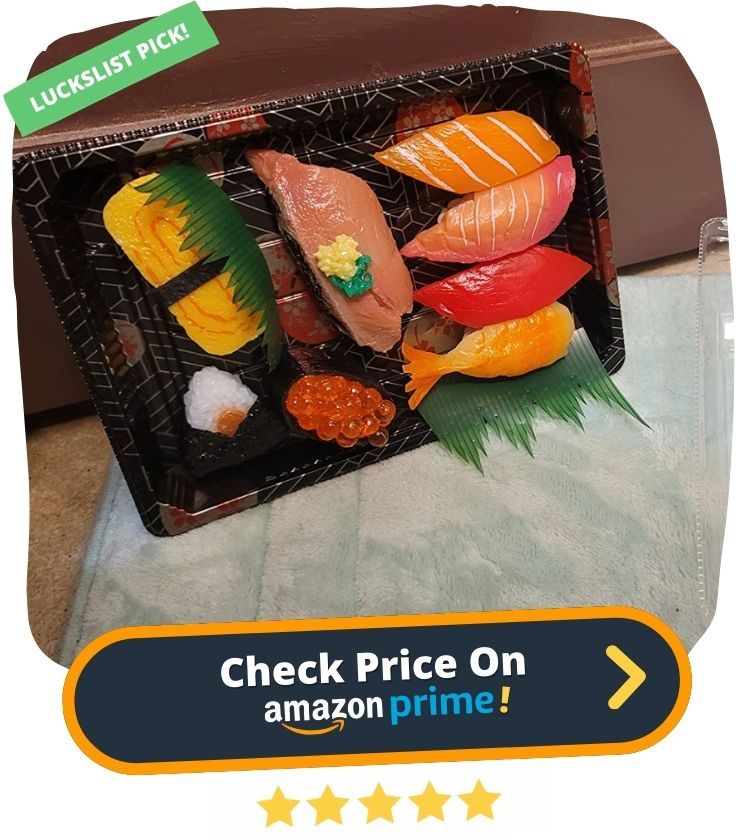 "Great gift for a coworker that loves sushi. Uses it as whiteboard magnets. Each piece has such detail that it almost looks edible. Inspired me to put metal washers under a sushi container and Photoshop a label for it so he has a "display case" for pieces not being used."
Amazon Review By Super Ertoy
8. Ready to unleash your creativity? Wreck it journal is perfect for anyone who wants to experiment with color and get a little messy. With prompts that range from painting to shredding, this journal will help you explore your creative side.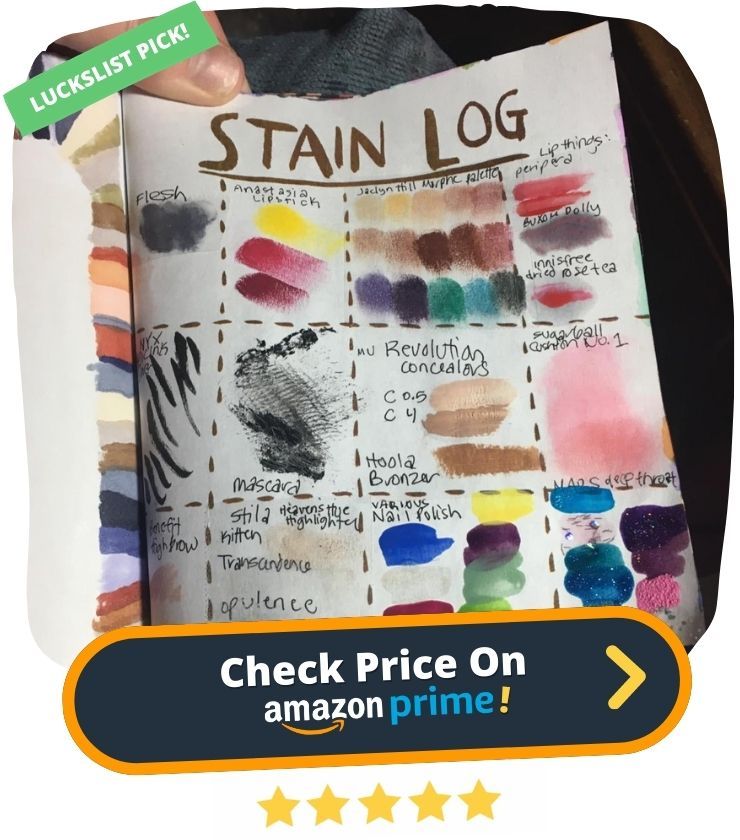 "I seriously love this journal! It is the most fun I've had with any journal or sketchbook and has really stretched my creativity. I bought two so my friend could do one too and she brings it over for our weekly get-togethers. We drink wine and do a page or two and have a blast."
Amazon Review By S. Johnson
9. Tired of your old, ugly soap dispensers? MaisoNovo Apothecary Dispenser Bottle has your solution! Upgrade to their sleek, new apothecary dispenser bottle. It's made with extra-thick plastic and comes with waterproof labels. You'll never have to deal with residue on your walls again! Their bottles are designed to be wall-mounted, so they take up minimal space. Purchase a set of these apothecary dispenser bottles today and upgrade your bathroom or kitchen today!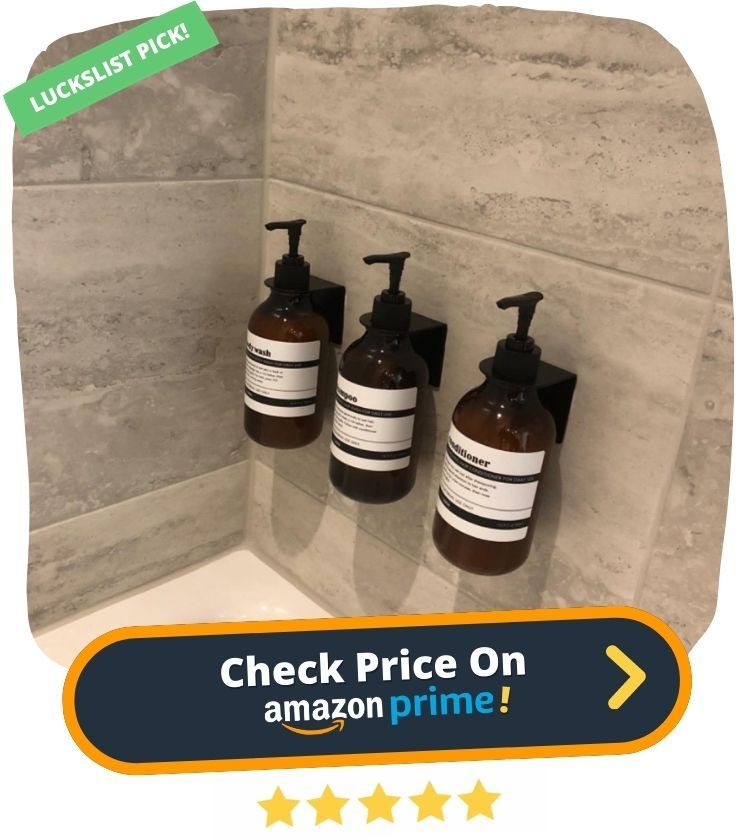 "I love this product. I however did not use the glue that came with it. I used JB Weld one minute set and worked like magic. I did apply the adhesive and mixed it of course then let it set for one minute open air, then applied to the tile. I held for about another minute moved it just around slightly to ensure it stays in place."
Amazon Review By Julie Hochwender
10. Do you want to enjoy a delicious, healthy dessert but don't want all the sugar and unhealthy additives? Yonanas Frozen Fruit Soft Serve Dessert Maker is the perfect solution! With this easy-to-use frozen fruit soft serve dessert maker, you can quickly turn any frozen fruit into a smooth and healthy treat.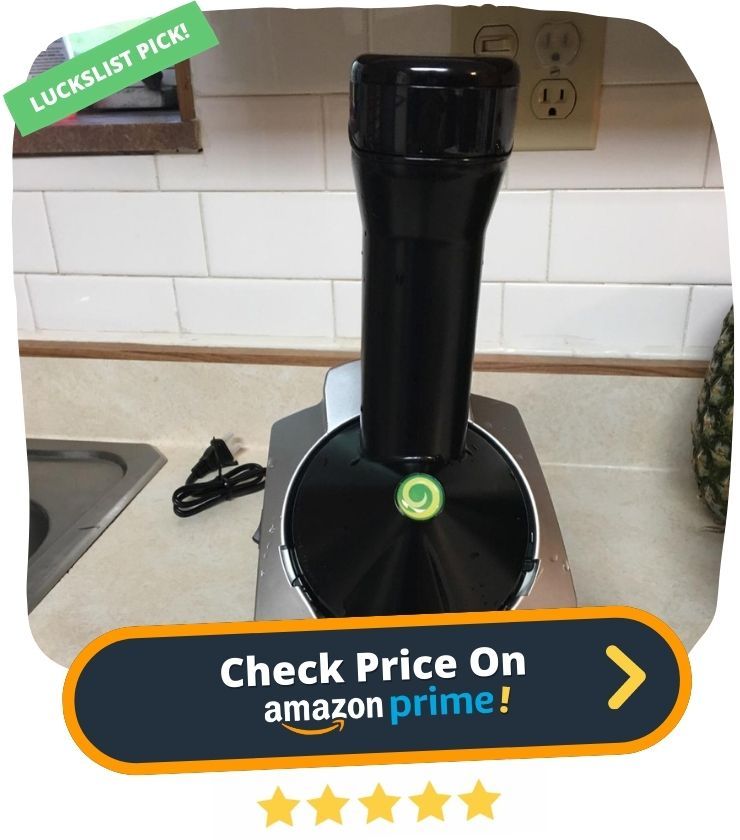 "This deserves 50 stars! Oh my gosh why did it take me so long to find this amazing gadget! Ice cream lovers, fruit lovers, sorbet lovers - THIS IS THE BEST INVENTION! So easy, quick, delicious and magical!"
Amazon Review By Jackie
11. Looking for a way to brighten up your home décor? Look no further than the Patgoal Sunflower Curtains! These cheerful yellow curtains will add a touch of sunshine to any room in your house. Made of high quality sheer fabric, they allow natural light to filter in while still providing privacy.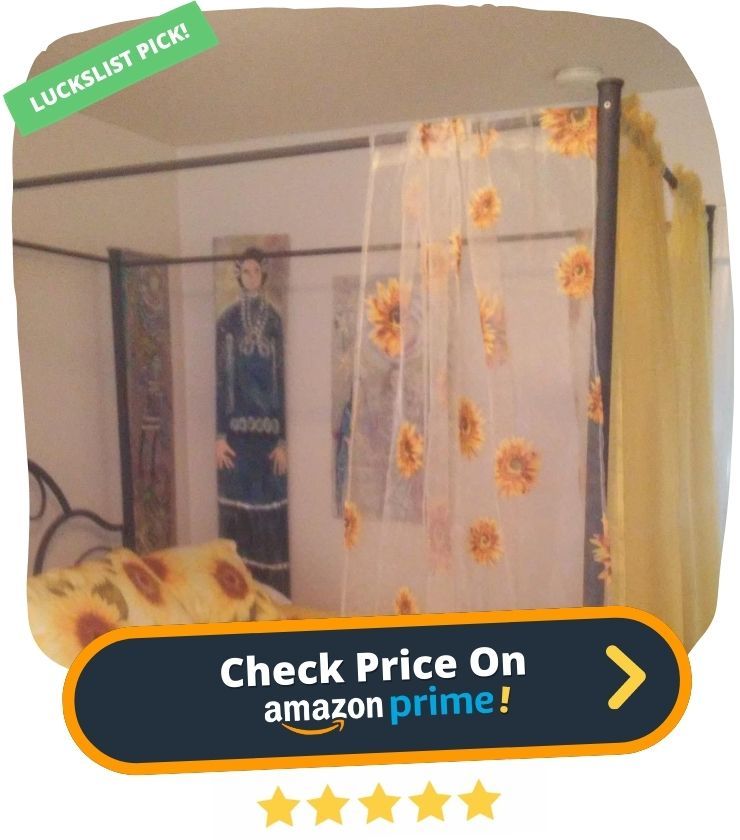 "Can't go wrong for the price. Just wanted something to brighten up room. Cute sheer. Main difficulty I had was the length. It was difficult to find curtains in the same length to go with. Ended up having to altar them. But happy overall."
Amazon Review Tina Drake
12. Looking for a wireless charger that can handle all your devices? Look no further than the WAITIEE Wireless Charger 3 in 1. This charger is equipped to charge your phone, apple watch, and Airpods all at once.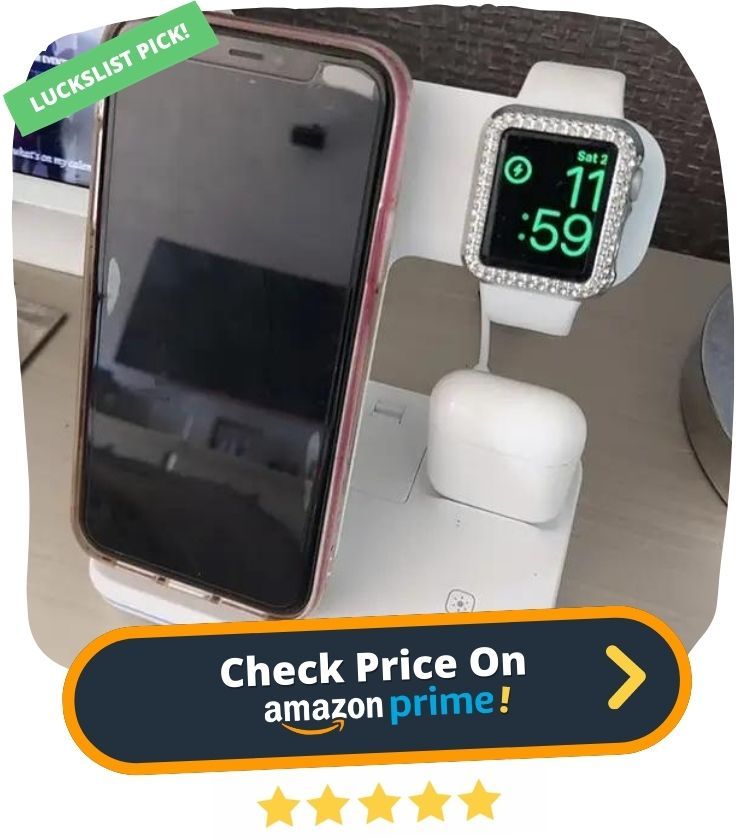 "This is a very good product for charging multiple devices at once. The Apple Watch charger fits snuggly into the side tab, and the watch stays in place perfectly. The fact that you are able to wind the cord into the charger itself to get it out of the way is a nice bonus. While I wish there was a separate place to plug in an Apple Pencil, you can actually just plug the adapter into the space where the AirPods would normally go. You can have the pencil plugged in while the watch is on the charger, but it does push the pencil out slightly."
Amazon Review By Andrew M. Niehaus
13. Looking for a space-saving and multi-functional power strip? Look no further than the Multi Plug Outlet Surge Protector. This surge protector features 6 adapter spaced outlets, 2 USB fast charging ports, and a LED night light around the edges.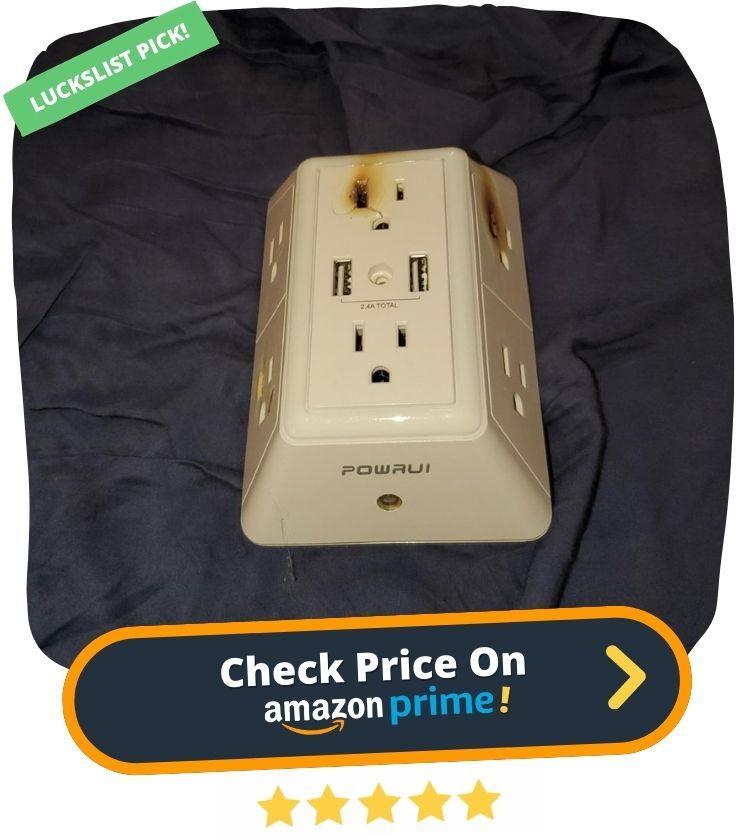 "I was constantly having to unplug something in my kitchen to make room for charging my iPhone or watch or using the slow cooker or any of the other half dozen things I wanted to use at the most convenient spot in the house...the kitchen counter. My 140 year old house has a distinct shortage of outlets in the kitchen, so this product looked like a good option. It exceeded my expectations, and has made my electronic life much simpler. Features that I love other than the excellent number of outlet options it gives are that it screws into place (so it doesn't pull out of the outlet when you try to unplug something), the versatility of having the USB ports, and the light feature that I appreciate a stupid amount."
Amazon Review By HappyCarnivore
14. Don't let your food go to waste! The KOIOS Vacuum Sealer Machine keeps food fresh up to 7 times longer – perfect for those busy families who want to make the most of their grocery budget. With just a few simple steps, you can seal up airtight bags of food in no time.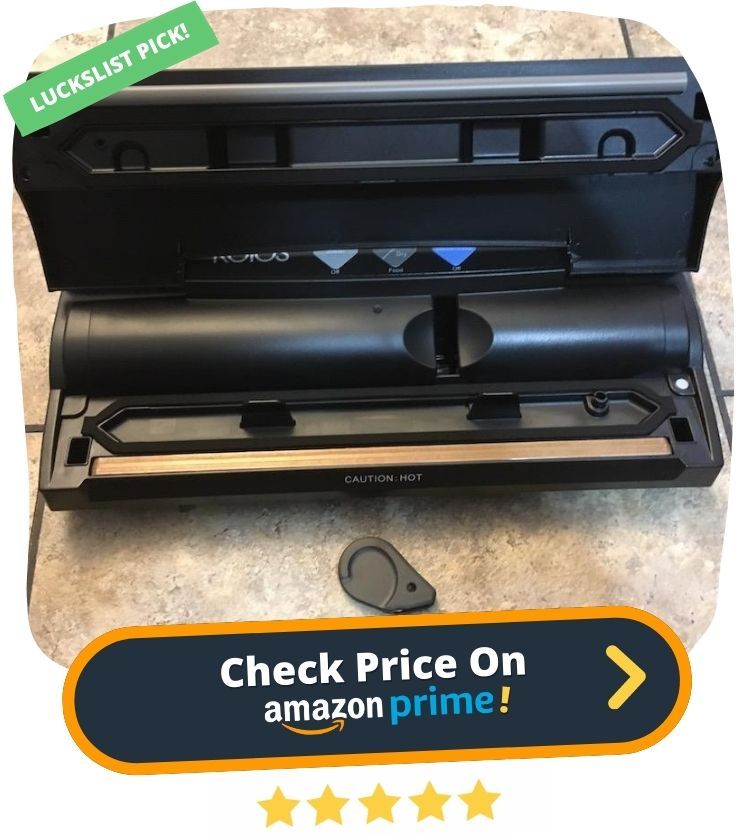 "This is an awesome product for my Whole30 Meal Prepping! We were able to prep a TON of things and put them in the freezer in order to be most successful on this restriction diet. But, don't try to seal anything with a lot of juices, or it will stop the sealer! We sealed some raw beef, and the bloody juices got sucked into the sealer. I would suggest freezing the items first on a plate in the freezer, then put it in the sealing bags to vacuum."
Amazon Review By Haley Wakefield
15. Introducing the RENPHO Heated Eye Massager with Bluetooth Music! This massager is perfect for those who suffer from dry eyes, eye puffiness, or dark circles. The built-in heating pads provide a comfortable temperature between 104 and 107 degrees Fahrenheit, which can help to regulate the metabolism of the eyes and reduce these symptoms.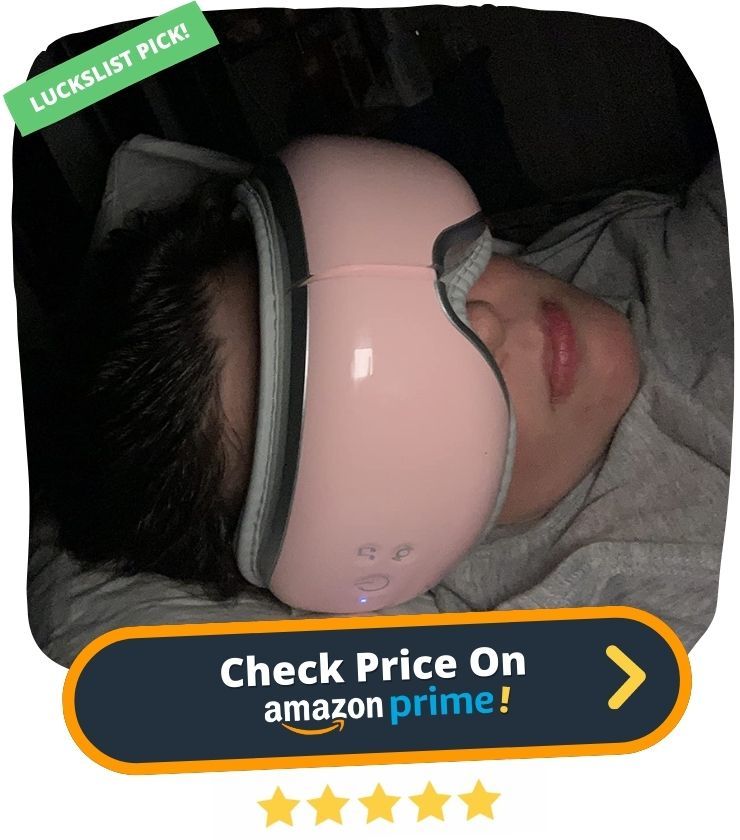 "My eye doctor tried to sell me an eye massage session, insisting it was needed and that I could only get it in his office...for $600! After listening to his sales pitch, which he gave before the price, I knew it wasn't happening but I ask for details about the actual massage. He sent his nurse in to explain it to me. I declined because of the cost and went home to Google where I found this gem that does the EXACT same thing. I bought it, used it every day for 2 weeks and went back to my eye doctor for the follow up where he complimented me on how much better my eyes were self lubricating."
Amazon Review By Kerry