Are you an aspiring baker? Is baking your passion? If so, before becoming an expert baker, you need to know the different tools and products every baker should have.
1. Using cake/pastry/bread flour rather than all-purpose flour produces an enormous difference for serious bake.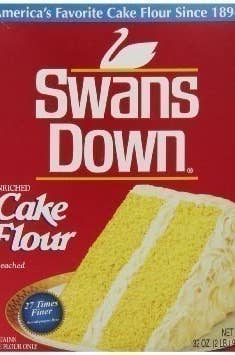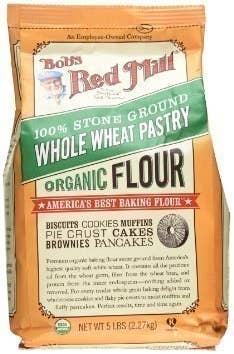 "Best flour ever! I have not had a bad loaf of bread in my bread machine since switching to King Arthur. I won't use anything else now."
— Jean
Get the cake flour for $9.97, pastry flour for $15.42, and bread flour for $17.99.
2. Ekogrips BBQ Oven Gloves
"These are cool. I am a woman who has a guy-like approach to the kitchen and grill, so these feel sort of macho and high-tech. There's nothing flimsy or wimpy here."
Get the Ekogrips BBQ Oven Gloves for $26.55.
3. A massive 48-cup mini muffin pan is the ideal solution to accommodate a big number of guests.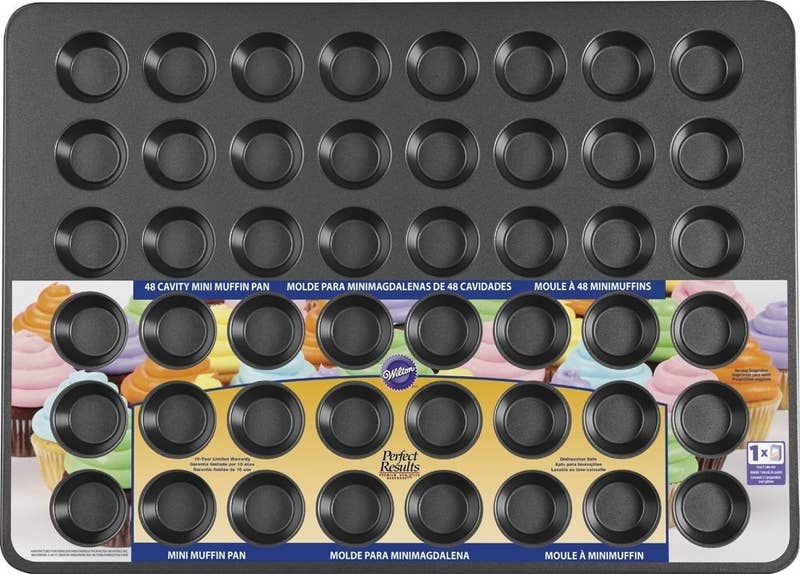 "Love this pan!! Just made my first batch of "baby cakes". Chocolate cherry. Came out perfectly. Butter the molds, then put cocoa powder for chocolate or confectioners sugar for other cakes. Came out smooth and easy."
— R. Montuoro
Get one for $20.99.
4. The KitchenAid Stand Mixer is certainly worth your money because of its durable nature.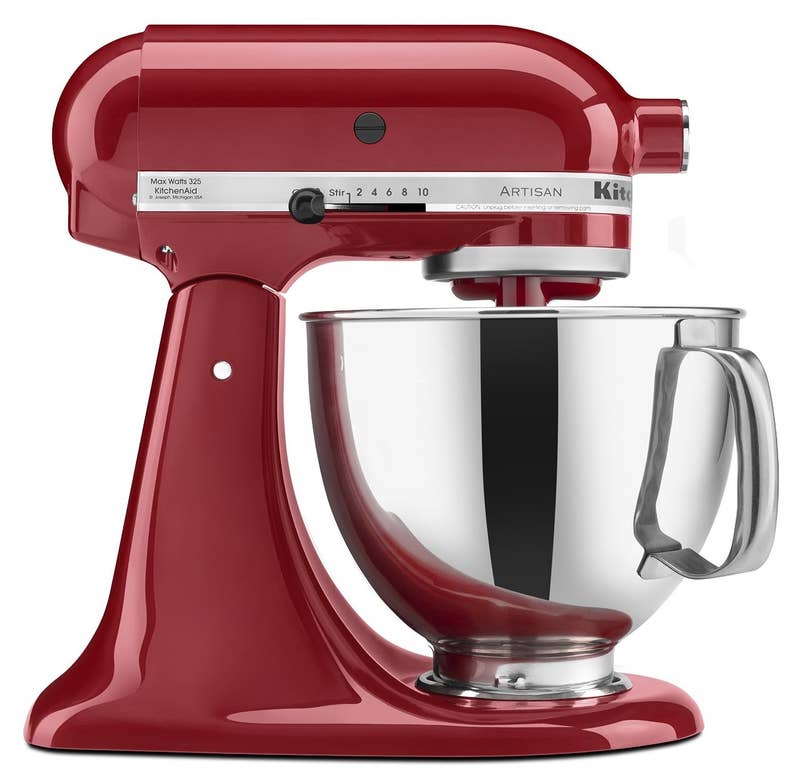 "A KitchenAid stand mixer is the gold standard of baking appliances. It's definitely the most expensive thing in my kitchen by far; but my mom has had hers since she got married over 40 years ago, so I know it will last forever."
— Tonya J G Ross, Facebook
"It's about KitchenAid's motor. A knockoff won't knead bread dough for 20 minutes at a time year after year without burning out."
— amandas4dd41813c
Get one for $268.99. Other suggestions for stand mixers include Breville, Cuisinart, and Sunbeam.
5. These nesting bench scrapers can cut and scrape doughs anytime and anywhere.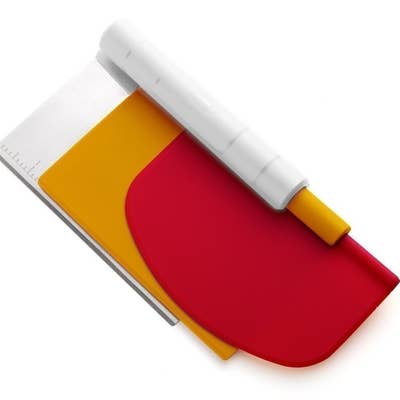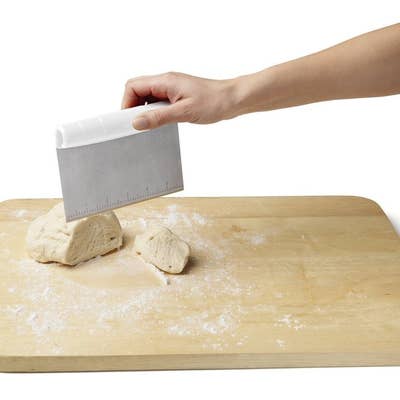 "A total necessity any time you're doing anything involving any kind of kneading on the counter, cutting dough, etc."
— Rosieford
Get a set of three for $9.99.
6. Silicone liners and pans for no-mess muffins and cupcakes.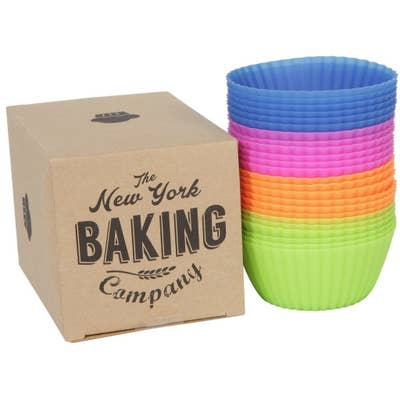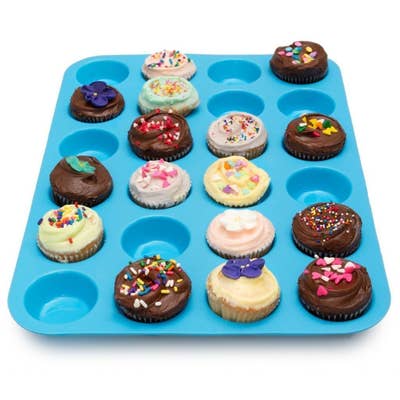 "Reusable and muffins slide right out. If you want to go one step further you can also get a full silicone muffin pan (easier to clean)."
— geomod
Get a 24-pack of liners for $10.77 or a silicon muffin pan for $8.99.
7. A pastry blender has several purposes from combining shortening/butter into dry ingredients to producing flawless pie crusts.
"A lot of people think it's unnecessary and that a fork works fine, but a pastry blender is so much more efficient."
— e47a0133a8
Psst, bekajeanettef says it's also good for making egg salad and guac. Get one for $6.97.
8. Springform Pan with a tight seal that prevents nonstick coating and leaks.
Get a springform pan for only $17.32.
9. A French style, tapered rolling pin provides you greater control over the dough compared to the one with handles would.
"For many years I've owned a heavyweight marble and wood rolling pin. I never made very many things with it but I've been reading about this tapered one, I decided to buy it. I have yet to use it but I'm looking forward to doing so."
— susm17
Get one for $15.
10. An oven rack pusher/puller will prevent you from burns.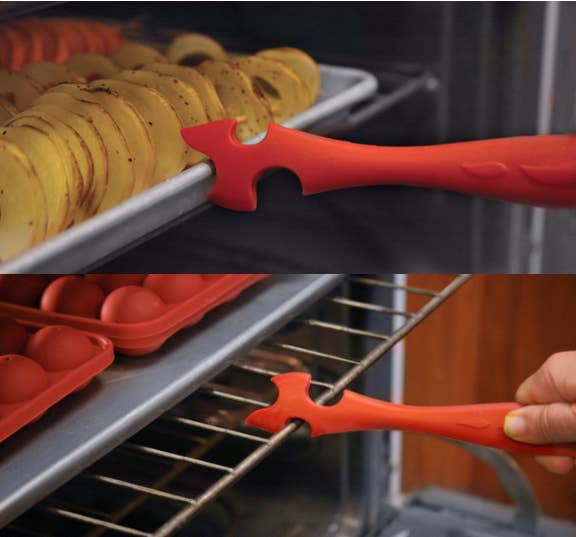 "Even with oven mitts on, I've burned my forearms on the rack above the one I'm pulling out. One of these bad boys will save you a lot of trouble."
— Sydney Anderon
Get one for $4.99. These rack guards are also a good option.
11. These Wilton scoop-it batter spoons will guarantee your cupcakes are evenly and perfectly sized.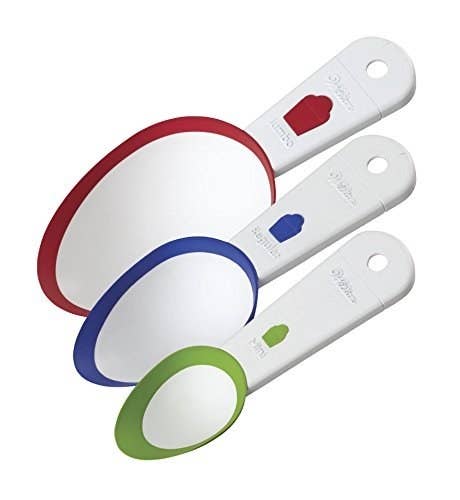 "They come in a set of three and help you pour the right amount of batter for a mini cupcake, regular cupcake, or a jumbo cupcake. And each spoon is lined with silicone around the edge, so they double as a bowl scraper!!"
— melissaf4a7da5c94
Get them for $5.99. If you want more traditional cookie scoops, this set is a good option.
12. A cupcake corer will give you fancy and delicious cupcakes.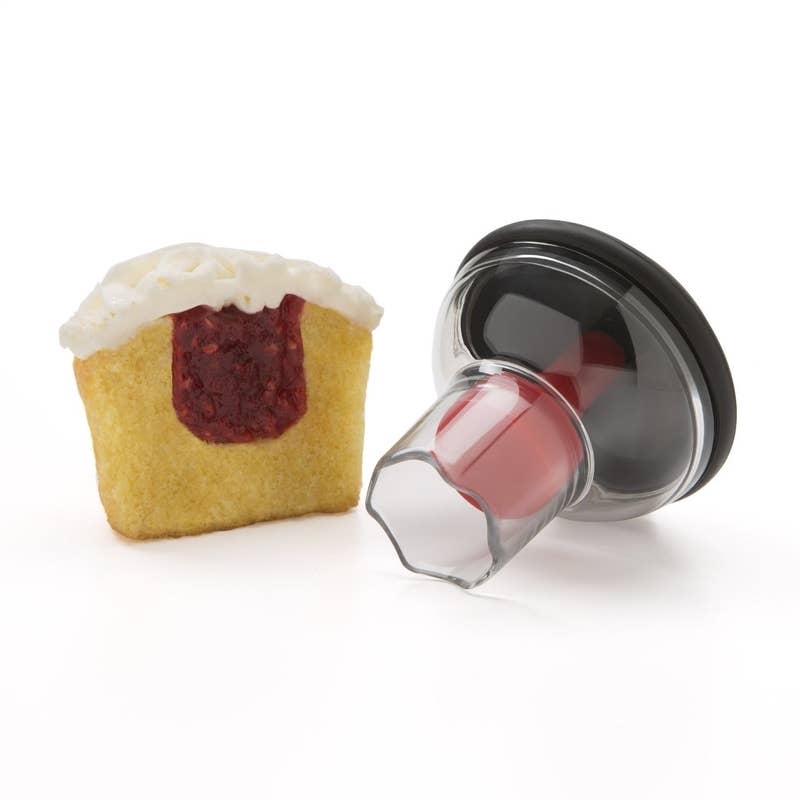 "I am a big fan of OXO kitchen gadgets. This cupcake corer is easy to use and comes apart so it's so easy to clean."
– East Bay Jen
Get one for $6.95.
13. The Oster breadmaker produces a fresh, homemade bread in under an hour.
"The dough cycle works wonders when I want homemade yeast rolls or baguettes. I've also made things like pizza dough and cinnamon buns. It does all of the hard work for me!"
— taylorsterlingw
Get one for $59.99.
14. The Anchor Hocking 81605L11 Batter Bowl features an easy pour spout.
"Perfect design. Raised markings so they won't wear off with time. Comfortable handle. Great pour spout that's wide enough to work well. I've replaced all the plastic kitchen items in my home with much safer glass. It is heavier but much better than using plastic. This is the second one I've purchased."
– the puzzler
Get one for $19.99
15. This BeaterBlade will eliminate the build-up of batter.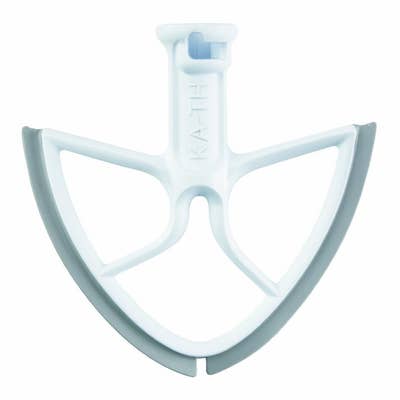 "It's like the regular blade but with rubber on the sides so it scrapes the sides of the bowl while it mixes!"
— stephanieu4bae54329
Get one for $10.77.
16. A digital scale allows precise measuring and easy clean-up compared to the traditional measuring cups.
"If you're baking correctly you ought to be weighing ingredients, especially with things like flour and sugar that can easily shift and form air pockets."
— Lisa Sullivan, Facebook
Get one for $11.26.
17. MarxHousehold Adjustable 9″ to 12″ Stainless Steel Layer Cake Slicer Kit Mousse Mould Slicing Cake has a convenient adjustable ring, easily cut cakes whatever size you want.
"This works the way it's designed to; however, cutting cakes takes some patience since the bars on the side are very sharp and flimsy. Be careful when using/washing, or you'll cut your hands. I'm not sure if it's stainless steel or aluminum, but it works fine and hasn't rusted for me. Just air dry really well."
-Twee Win
Get one for $14.99
18. Silpat silicone baking mats promote even heat distribution.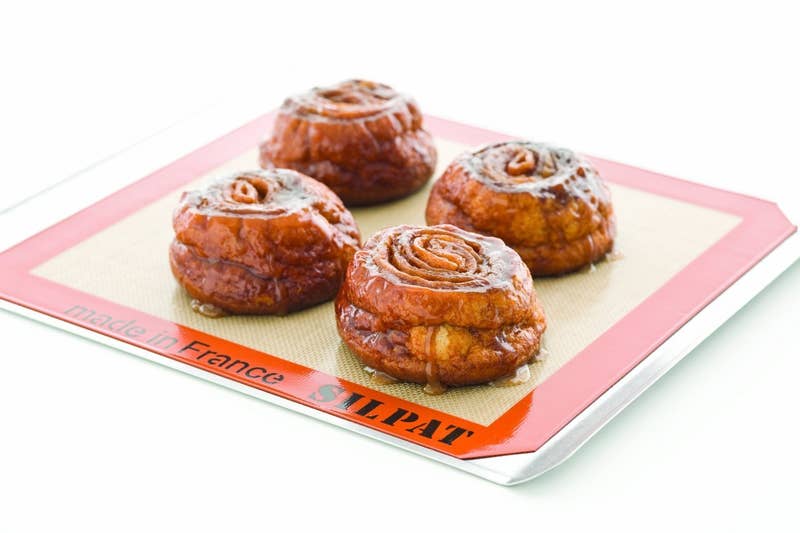 "Love the Silpat. The 8 x 11 apx. fits perfectly in the Nordic ware quarter sheet.. and then all fits perfectly in Breville countertop convection oven."
— Perfectfit
Get one for $15.90 – $24.98 depending on size.
19. The Nordic Ware 83577 Charlotte Cake Pan replicates the beauty of the famous French dessert.
"I have never heard of a Charlotte cake before, I was attracted to this pan simply for its beauty. I have other Nordic Ware products that I love. Made in the USA, heavy grade aluminum. I made the cake recipe that came with the pan and it was so lovely. The cake came out of the pan with ease and the pan is easy to clean."
-JMKG
Get one for $27.61
20. Expandable/stackable cooling racks conserve space and ease the struggles of waiting for the desserts to cool.
"Gets those cookies to eating temperature a lot faster than if they'd simply cooled on the baking sheet. Let's be honest here—the faster I can eat them the better!"
— Christina K
Get a three-tier rack for $9.99.
21. A marble pastry board keeps the dough cool and non-sticky.
"I love this! I was looking for something flat and large like this, not as a cookie board, and this is perfect. But if this product was looked at for simply a cutting board, it seems pretty good. It is very big and VERY heavy so do keep that in mind. It has little feet on the bottom of it that hold it about a half inch up. When I reserved it, it was very hot due to weather but cooled down after about 10 or so minutes out of the box."
— Sara
Get one for $42.95. Matching marble rolling pin also available for $22.98.
22. Heavy Gauge Baking Sheets for Superior Strength and Even Heating
"One of the best investments in bakeware I have made in a long time. It cleans well and bakes food evenly. I try to stay away from aluminum, but for this I take exceptions. I use liners on it. I have done everything from roasting veggies to making cookies. Love the 1/4 pan also for those smaller bakes."
–Smilestir
Get one for $14.36
23. Nielsen-Massey utilizes a special cold-process method to extract the delicate, unique flavor from vanilla beans, which are native to Mexico.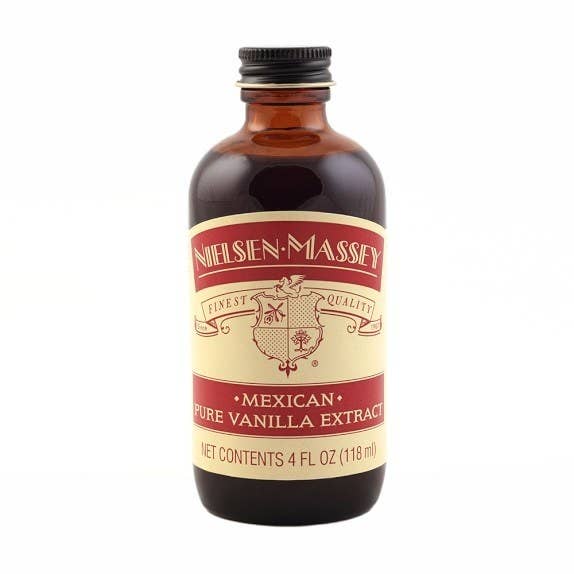 "I bake for a living, and I can absolutely say you can taste the difference between good vanilla and the cheap stuff. The cheap stuff is mostly alcohol, coloring, and a bit of imitation vanilla."
— rainydays
Get a bottle for $14.95.
24. Springform pans eliminate the risks associated with removing cakes from traditional pans.
"Nice heavy pans, food for making small breads or small cupcakes. Came with a little spatula to help with putting batter in the spaces."
–onintothesun
Get one for $19.99
25. The Wilton #1M star decorating tip and disposable decorating bags for fancy AF cupcakes/cakes/etc.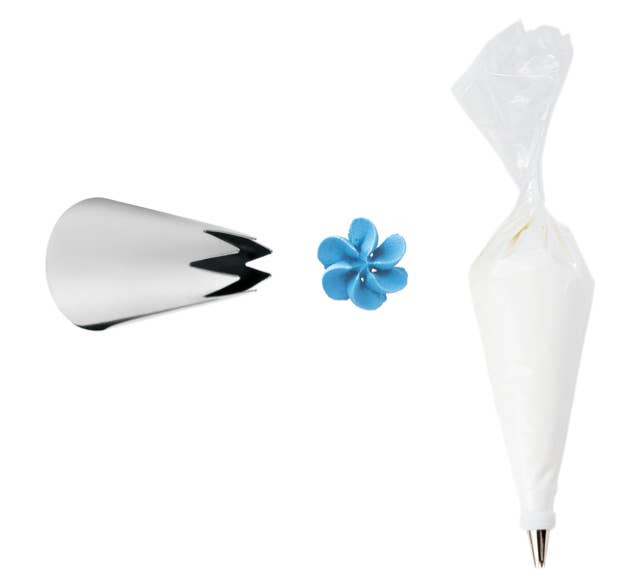 "If you are only going to have one frosting tip, this one makes all of your cupcakes look fancy AF without a shit ton of effort. And the disposable piping bags because reusable ones can easily mildew when not taken care of correctly, and no one wants mildew flavored frosting."
— malindas4a8ebd6a9
Get the frosting tip for $5.07 and a 12-pack of decorating bags for $5. You can also get a frosting gun if you want to pretend to be a baking James Bond.
26. Look for sieves with handles made of heatproof rubber or metal; avoid plastic handles.
"The mesh steel strainers are well-made, and I like it that I now have four different sizes so that I can have the right sized tool for the particular task at hand."
-Rich W.
Get one for $9.96
27. Spatulas that will make your icing and frosting jobs more convenient.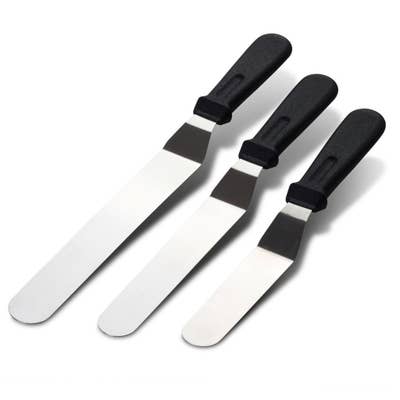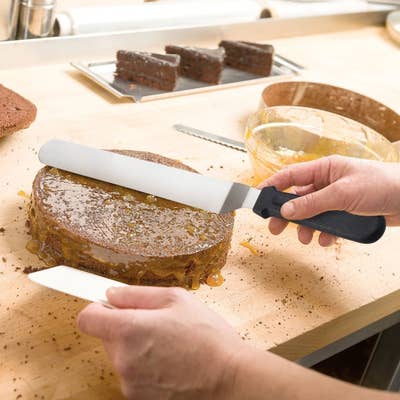 "They make icing cakes so much easier and more beautiful."
— torier3
Get a set of three for $15.87.
28. Silicone spatulas save all those delicious batter.
"Perfect for getting every last drop of batter, heat resistant, easy to clean, and a bonus if you have them in multiple sizes."
— emcknight1517
Get a set of three for $6.34.
29. A candy thermometer is essential for making candy and icing and for working with any sort of liquids.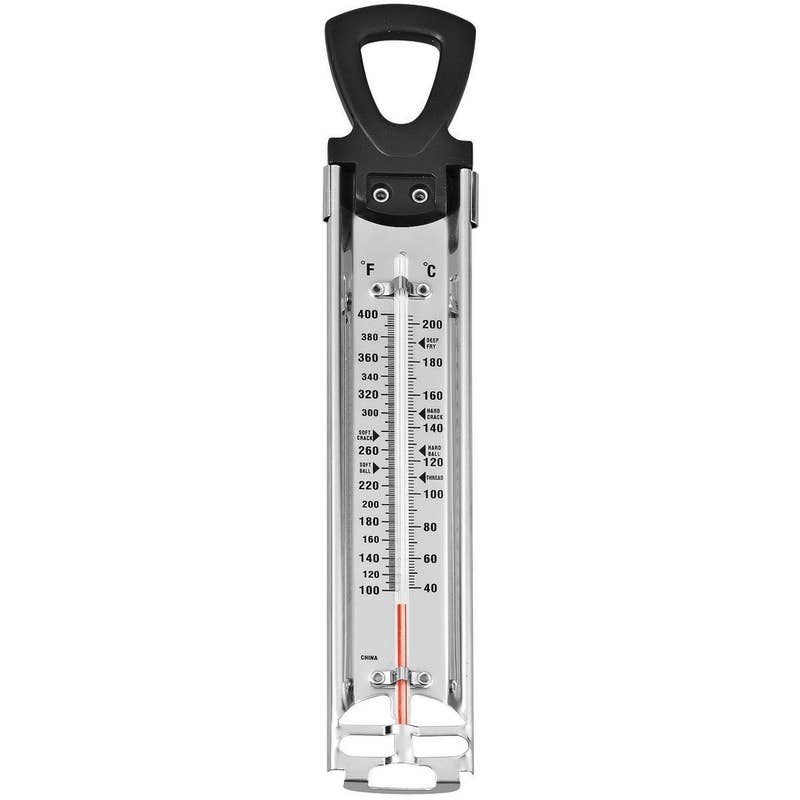 "'But I'm not making toffee,' you say? Are you baking with yeast? Because knowing the temperature of the milk or water you're using is essential to not killing your little fungal friends."
— hannahc20
Get one for $13.15.
30. Oven thermometers to detect your oven's lies and give you edible results.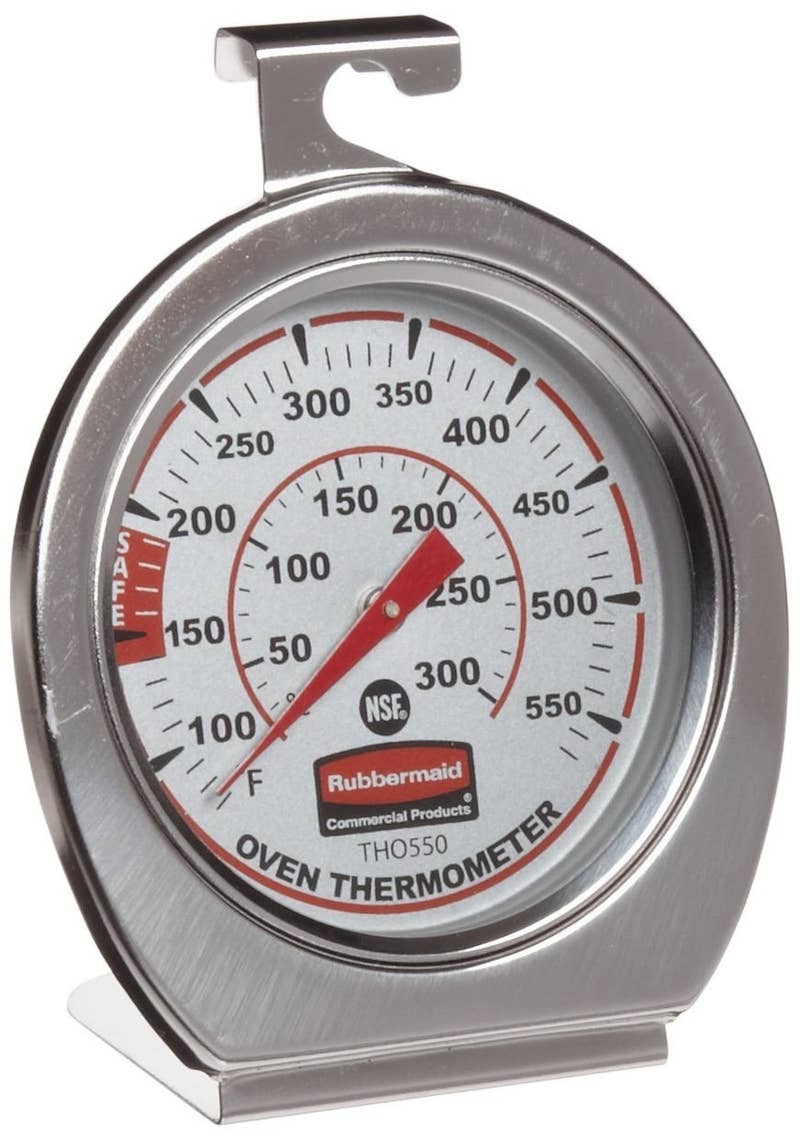 "I live in NYC and rent my apartment, which means my oven is probably from 1972. Having a thermometer inside of my oven helps me adjust baking times so everything doesn't burn (like it ALWAYS used to!). My oven is usually 20 degrees hotter inside than what I set it to be."
— sunbeamshow
Get one for $7.07.
31. Cake release for easy removal of cakes from their pans.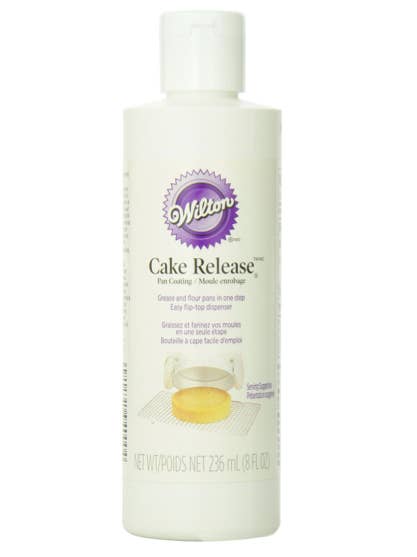 "Every cake baker should be privy to cake release. It's a mix of oil, flour, and shortening. You will never, ever grease and flour a cake pan ever again. That stuff is liquid gold."
— gigglesandkix
Get a bottle for $7.05.
32.  Glass bowls and baking dishes that are safe to use in the oven, microwave, fridge, freezer, and dishwasher.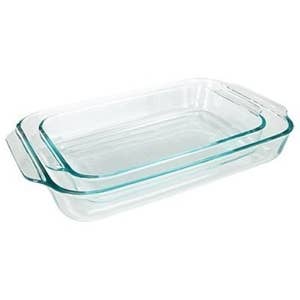 "Glass dishes! Baking dishes, measuring cups, and mixing bowls that you can put hot and cold things in, that you can stick in the microwave and fridge, and are very easy to clean."
— Christina Longofono, Facebook
Get the bowl set for $12.97 and the baking dish set for $16.53.
33. Parchment Papers are popularly used as baking liners and cooking pouches.
"I just used this parchment paper. It did come with the perforated seal open but I was told they are working on their packaging. But all in all this by far is the best parchment paper I have used. It doesnt curl because the sheets are flat unlike a roll of parchment paper. Would I purchase again….Yes."
-Gina Gina
Get one for $13.95
34. A sifter ensures all of your dry ingredients are aerated properly and combined evenly.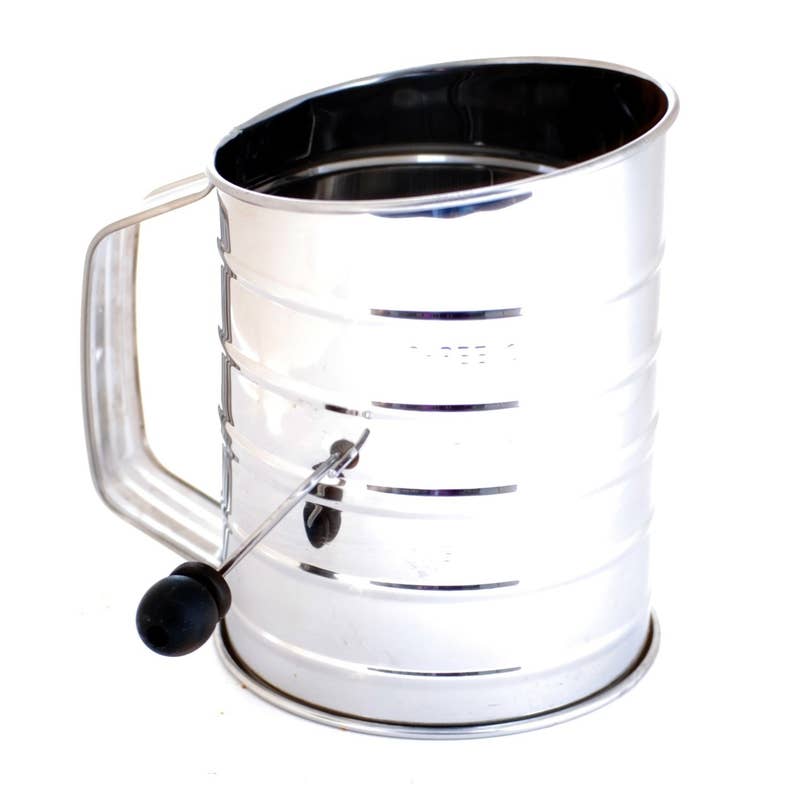 35. Bake-even strips prevent high-rise centers, cracked tops, and crusty edges from developing during baking.
"I do like this product, My cakes came out fairly even, much more so that when I don't use these strips. My oven is a mess so I do appreciate having these. "
— Bebe
Get a two-piece set for $9.98.