If you're looking for the perfect way to bring delicious pizzas to your next gathering, look no further than the best portable outdoor pizza ovens. Whether you're camping or simply enjoying an evening in your own backyard, these ovens will provide all the amenities you need for cooking up a perfect meal.
With models ranging from lightweight and compact units to more robust wood-fired options, there's something for everyone when it comes to portable outdoor pizza ovens. Read on as we explore 5 of the top options available on the market today!
💡
We hope you find your next favorite thing from the list below! Each product was independently selected by our editors. All opinions in this article are our own. Oh, and FYI — LucksList may collect a share of sales or other compensation from the links on this page if you decide to buy something (that's how we stay in business). Reviews have been edited for length and clarity. Enjoy finding your next favorite thing!
How We Choose the Best Outdoor Pizza Ovens That Are Portable
The search for the best portable pizza ovens can be daunting, especially with so many options on the market.
But before you buy, it's important to understand the features that will make outdoor pizza ovens perform well and give you the most bang for your buck.
Considering all the variables, finding a pizza oven that fits your lifestyle can be overwhelming and time-consuming.
Thankfully, our team of reseachers has done all the hard work for you! We've carefully searched through the market to discover 5 of the top options - giving you plenty of the best choices to consider.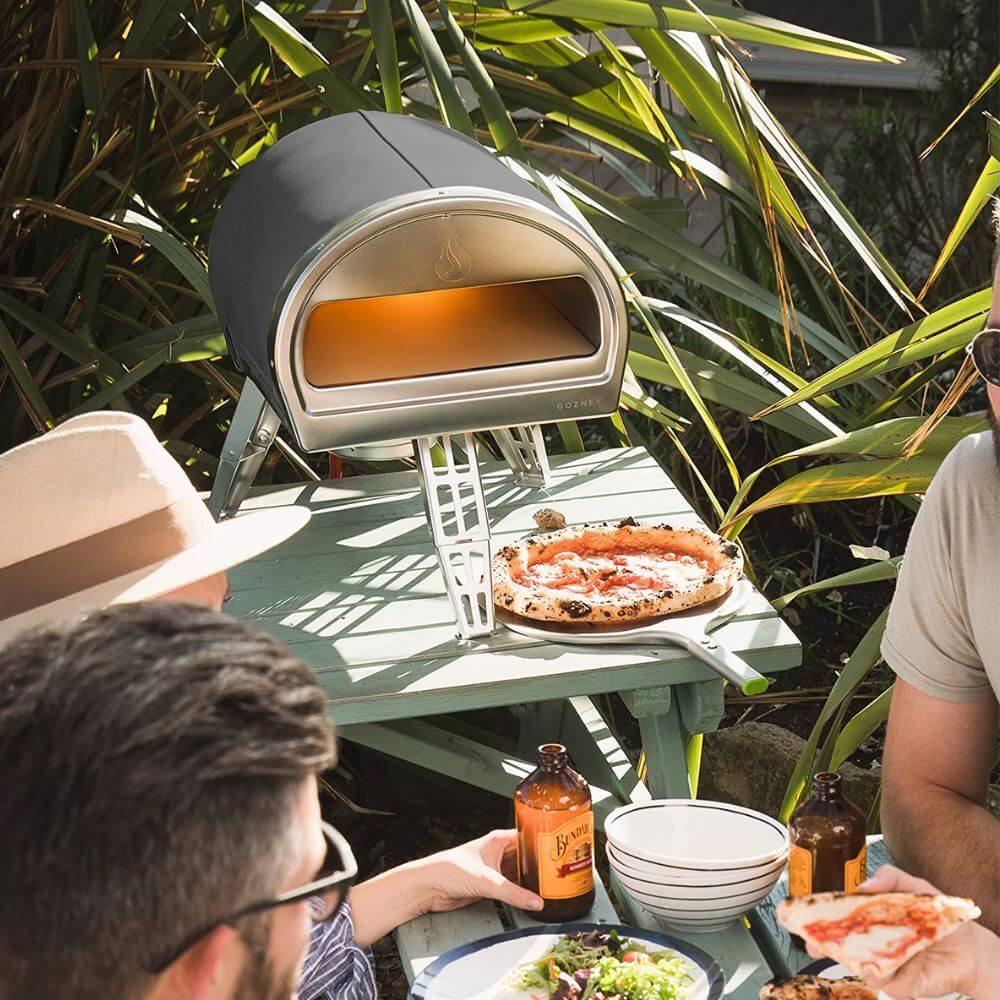 ROCCBOX Outdoor Pizza Oven
Easy To Transport, Set Up, and Use!
Check Price on Amazon!
Why We Love It!
Introducing the ROCCBOX Outdoor Pizza Oven – revolutionizing outdoor cooking with its easy-to-transport, set up and use technology.
This versatile pizza oven features detachable dual-fuel burners, so you can fire with gas or you can convert it to a wood burner.  That attachment is sold separately by the manufacturer (Gozney).
You'll be able to cook quickly and perfectly with the double-layer stone floor and built-in thermometer, giving you delicious pizza sizzling fast, all from the convenience of your own backyard.
Retractable legs make it easy to store and move about as needed. It also has a carry belt/strap that fits on it with Velcro making it even easier to transport.  It even includes a professional-grade pizza peel!
Plus, this best-selling outdoor pizza oven is rated highly on Amazon for its quality craftsmanship making it an ideal choice for any outdoor kitchen.
What You Should Know
It's time to fire up the fun with ROCCBOX Outdoor Pizza Oven! With an impressive size of 10 x 2 x 3 inches and 50 pounds of premium craftsmanship, this pizza oven will make any outdoor party a hit.
From pies to steak and fish to veggies, the possibilities are endless—you can cook virtually anything in this outdoor oven!
Plus, it's so fast that you can serve up delicious pizza in just a couple of minutes. Have your guests craving for more with ROCCBOX Outdoor Pizza Oven—it'll be the highlight of any gathering.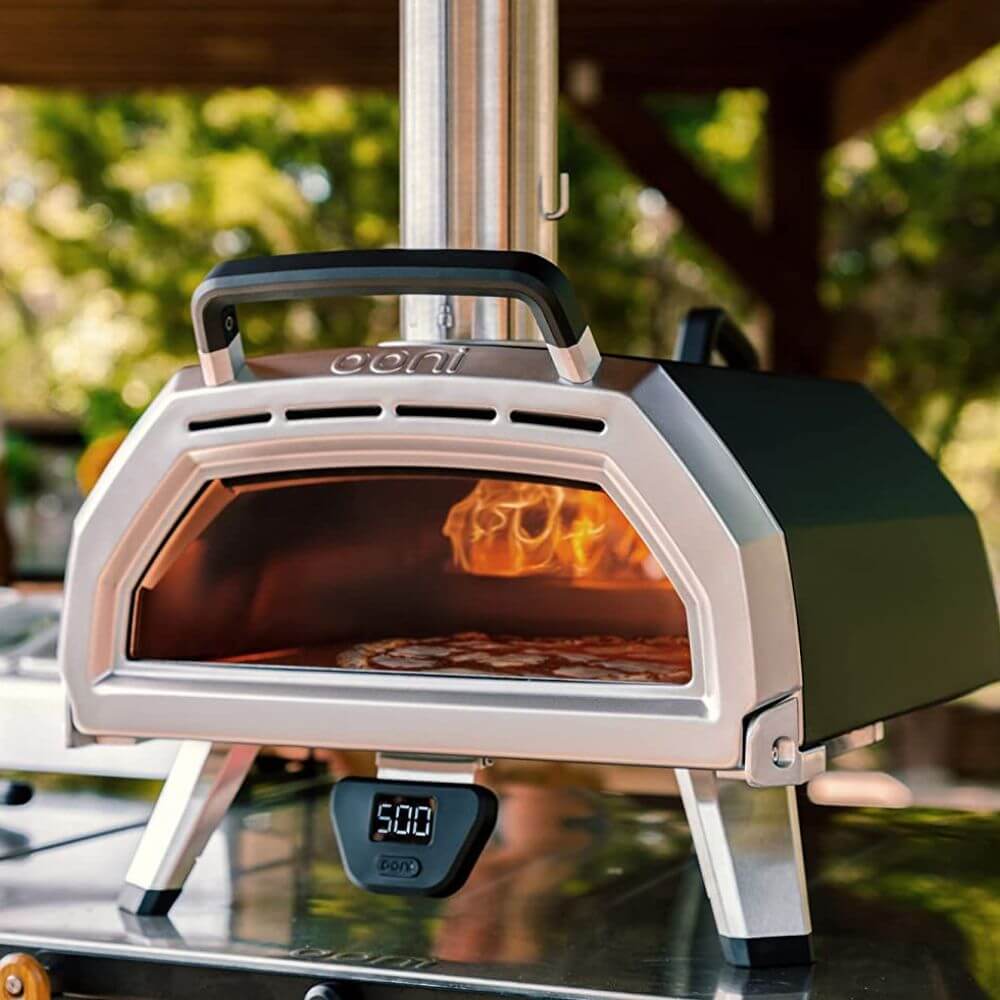 Ooni Karu 16 Multi-Fuel Outdoor Pizza Oven
Delicious Taste of Wood-fired Pizza!
Check Price on Amazon!
Why We Love It
The Ooni Karu 16 Multi-Fuel Outdoor Pizza Oven is an outdoor cooking tool that can take your outdoor dining to the next level.  It can accommodate a large 16" pizza with no trouble.
With its conduction oven, you have the option to use either wood or charcoal fuel—and you can even use gas with the Ooni Gas Burner (which is sold separately).  The Ooni Karu 16 is one of Amazon's best sellers.
Plus, it features a countertop design and a mounted digital thermometer that allows you to regulate the heat while cooking.
The full glass oven door allows you to take a peek at your food as it cooks through ViewFlame Technology. Not only does this allow for precise cooking, but it also helps you create the delicious taste of wood-fired cuisine that no other oven can match.
But what makes this pizza oven truly stand out its superior insulation and weather resistance due to its carbon steel shell construction—because it's designed to help you get optimal results from your culinary creations no matter the conditions!
So don't let anything stand in between you and delicious wood-fired pizzas on those hot summer days or cold winter nights! Try out the Ooni Karu 16 Multi-Fuel Outdoor Pizza Oven today!
What You Should Know
Ooni Karu 16 is the newest, most innovative pizza oven on the market! It takes only 15 minutes to reach an incredible 950 degrees Fahrenheit (or 500 degrees Celsius) - perfect for deliciously crispy, thin-crust pizzas in just 60 seconds. Ooni Karu 16's optimized airflow engineering ensures that heat is evenly infused into your pizza so every bite has a perfect flavor throughout.
This oven's dimensions are 31.89 x 19.69 x 32.68 inches, and it weighs 62.5 pounds - so it's convenient enough to move about without being cumbersome and too heavy to lift (but you'll need a muscle-man!).
But remember, while Ooni Karu 16 is touted as being capable of multi-fuel cooking, the gas burner must be purchased separately.
Ooni Karu 16 makes commercial-quality results attainable for the home chef - so let the oven do the work and let your inner Gordon Ramsey come out!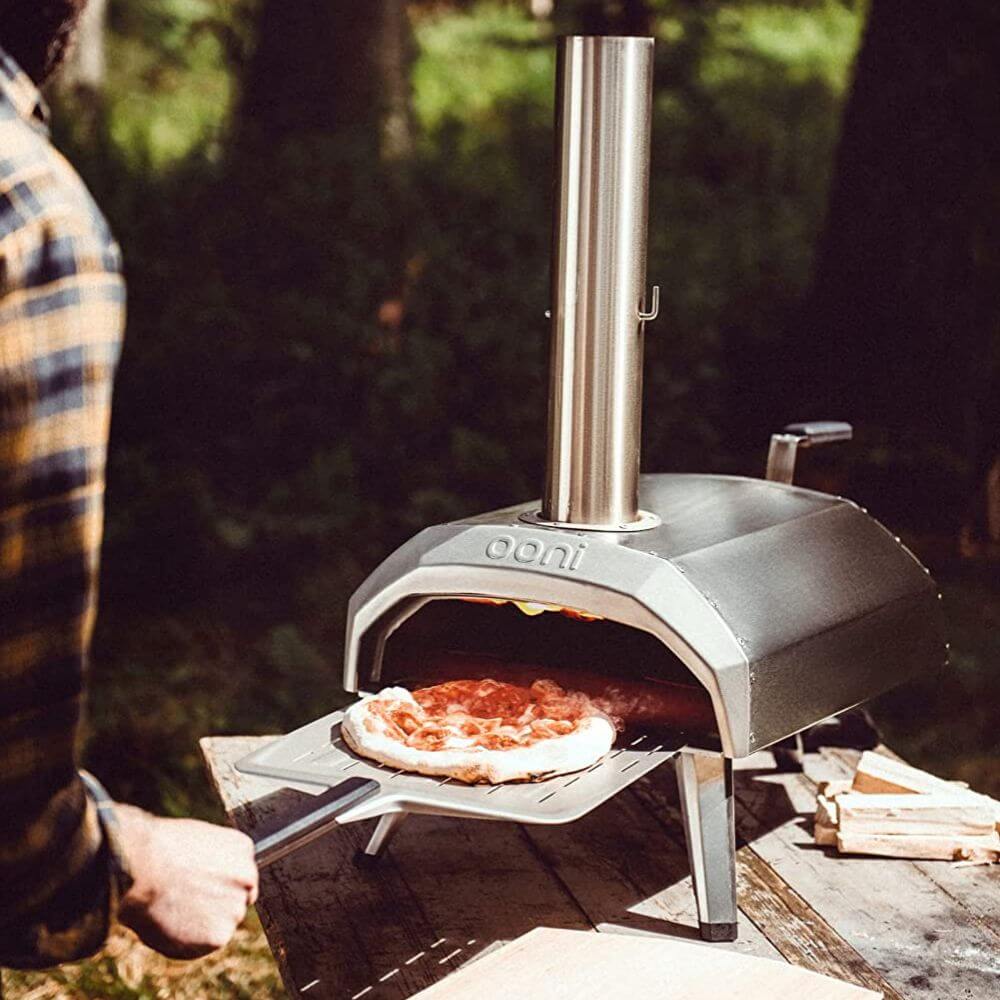 Ooni Karu 12 Multi-Fuel Outdoor Pizza Oven
Designed for Speed, Convenience, and Portability
Check Price on Amazon!
Why We Love It
Cook amazing pizza like a professional with the Ooni Karu 12  outdoor pizza oven! The Ooni Karu 12 has features exactly like it's big brother reviewed above (the Ooni Karu 16) except for the size.
This model is the latest iteration of one of Ooni's most popular and successful ovens, designed for speed as well as convenience. The Karu 12 is capable of cooking a perfect 12" pizza in just 60 seconds. Thanks to its conduction-style design, your pizza will be cooked evenly and quickly, giving you an authentic restaurant taste in the comfort of your own backyard.
With a modern and stylish matte silver finish, this oven adds a little flair to any outdoor environment. It heats up quickly with user-friendly controls and can reach temperatures of up to 950°F in 15 minutes or less. Plus, it's conveniently portable so you can easily take it along to tailgates and other events.
Whether you are an experienced chef or simply looking to upgrade your at-home pizza game, the Ooni Karu 12  pizza oven is perfect for all levels of cuisine expertise! Ignite your culinary creativity with ease - your friends won't believe their taste buds!
What You Should Know
Ooni Karu 12 Pizza Oven is the perfect choice if you want to create your own delicious, consistently cooked pizzas from the comfort of your backyard.
The Ooni package comes with the following:
 Ooni Karu 12 Pizza Oven body
 Oven and fuel door
 Cordierite stone baking board
 Chimney and chimney cover
 Wood and charcoal fuel tray with burner grate
The dimensions are 30.31 x 15.75 x 31.5 inches and it weighs only 26.4 pounds, so it's considerably lighter than the Ooni Karu 16 model!
Remember, as with the Ooni Karu 16, if you want to use propane gas to fire your pizza oven, you must purchase the gas burner separately.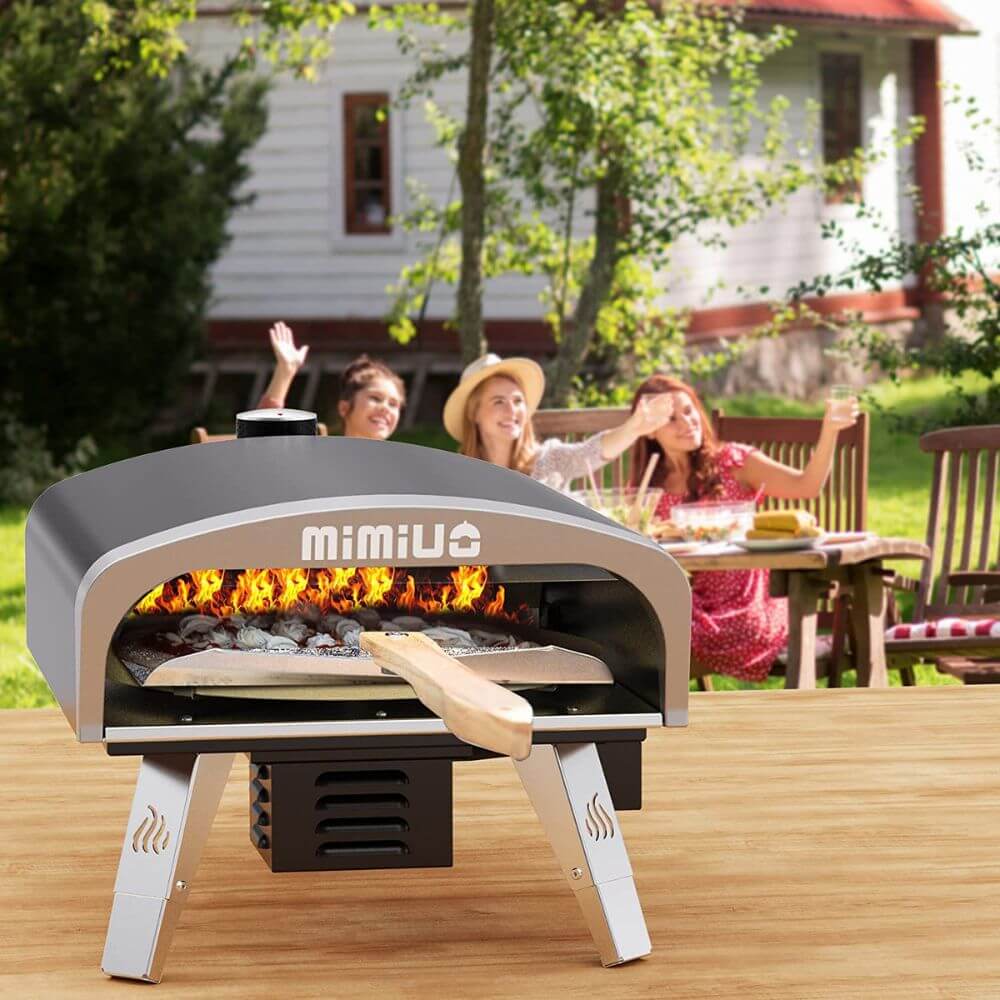 Mimiuo Portable Gas Pizza Oven
Features Automatic Rotating Bracket
Check Price on Amazon!
Why We Love It
Get mouthwatering pizzas in no time with the Mimiuo Portable Gas Pizza Oven! This energy-efficient oven requires only 10-15 minutes to heat up, so you can enjoy delicious pizza just 1 minute after it heats up.
A great feature of the Mimiuo is the automatic rotating bracket.  It ensures that your pizza stays evenly cooked and doesn't become charred or burned.
But it's not just for cooking pizzas.  You can bake up delicious treats like fresh-baked bread and cookies, as well as dishes like chicken tenders in this versatile pizza oven.
With its portable design and safety features, this oven is ideal for backyard barbecues, camping trips, tailgating parties — and even just dinner at home! Get the most from your cooking space with the Mimiuo Portable Gas Pizza Oven for the best pizza making in town!
What You Should Know
Get your pizza game night to the next level with Mimiuo's Gas Pizza Oven! This pizza oven is polished stainless steel, measuring 28.03 x 17.09 x 13.46 inches and weighing a mere 39.2 pounds.
It is quick and easy to assemble! And you don't have to worry about what type of fuel to use; this baby runs on propane gas.
Not only that, but Mimiuo's got you covered with all the accouterments - a 13" round pizza stone, a 12" x 14" foldable aluminum pizza peel, and even a protective oven cover.
That'll have you cooking those delicious pizzas and other goodies in no time like the master chef Gordon Ramsey himself!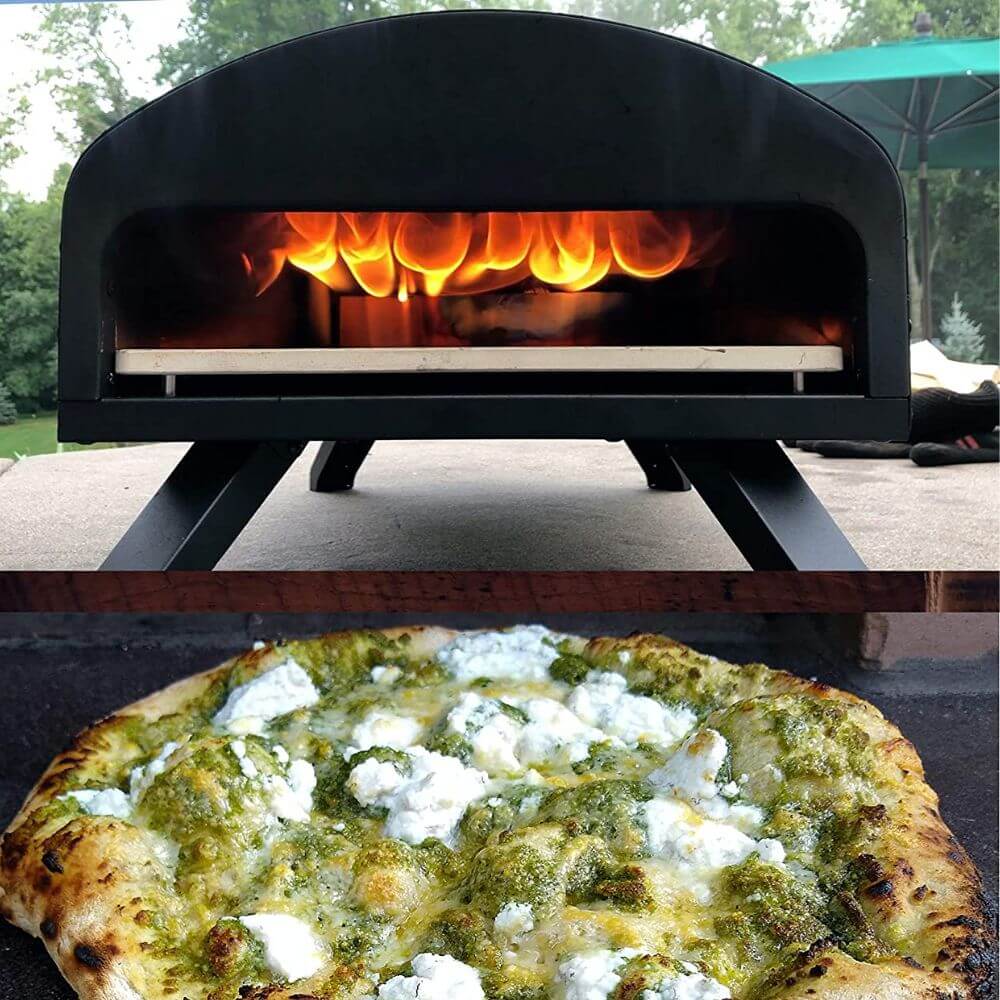 Bertello Outdoor Pizza Oven
Affordable, High Quality, Portable
Check Price on Amazon!
Why We Love It
Introducing the Bertello Outdoor Pizza Oven: your new pizza-making sidekick! This oven is the perfect addition to your outdoor entertaining area; its sleek black stainless steel exterior makes a statement and its functional design will inspire creativity in the kitchen.
The Bertello Outdoor Pizza Oven allows you to get creative with different cooking fuels like charcoal, wood, pellets, or even gas, but the gas burner attachment is sold separately.  Built with quality materials, this oven ensures fun, addictive, and delicious results.
Unlike traditional gas or wood-burning ovens, the Bertello Oven has been designed to keep all of the heat inside so that more energy is used more efficiently while preheating as well as when cooking pizzas.
Plus, it maintains a consistently hot temperature throughout your baking process allowing you to enjoy tastier and crispier pizzas. Whether you're sizzling up starters for friends or hosting a large family gathering for lunch - with this powerful yet efficient device at hand you'll have your tasty creations ready in no time!
The Bertello Outdoor Pizza Oven is simple enough to use for beginner cooks and offers reliable long-term performance for experienced chefs alike.
What You Should Know
If you're looking for a multi-fuel outdoor oven for pizza making, one that you can take with you anywhere, Bertello is the way to go. This portable pizza oven is of extremely high quality but also very affordable.
At a weight of 37.2 pounds, Bertello Outdoor Pizza Oven is perfectly designed for portability and convenience and offers dimensions of 24 x 14 x 10.5 inches with an interior width of 12.5" and depth of 13.5".
It's not only functional but convenient too.  A cordierite stone, wood chip scoop and a tray for the ashes is  included in the unique Bertello set up making it one of the best outdoor pizza ovens money can buy!
Our FAQ Section:  Q&A's on Portable Outdoor Pizza Ovens
Have you ever wondered what the best way is to use your new portable outdoor pizza oven? Whether you're a beginner or an experienced chef, it can be difficult to know where to start.
Luckily, our FAQ section has all the answers to help make your culinary journey a delicious one. Here you will find answers to some of the most common questions about portable outdoor pizza ovens, as well as advice on how to get the most out of them. So fasten up your kitchen apron and let's get started!
What are the advantages of using a portable outdoor pizza oven?
A portable outdoor pizza oven offers the convenience of being able to enjoy freshly cooked pizza wherever you go. It is an easy and cost-effective way to have a shared cooking experience with family and friends. And they're fun!
Which is better to burn in a portable pizza oven, propane gas or wood?
When it comes to burning fuel in a portable pizza oven, both propane gas and wood have their pros and cons. For example, propane gas is far more convenient as it does not require any prep work or chopping of wood. Additionally, propane gas will provide even heat throughout your oven for more consistent cooking temperatures.
However, there are some drawbacks when choosing to use propane gas in a portable pizza oven; namely, the cost of purchasing tanks of fuel compared to simply using firewood. Additionally, you may not be able to find an available place to obtain refills while out and about with your mobile pizza oven.
On the other hand, wood provides some significant advantages over using propane in regard to flavor. The taste you get from cooking with wood-fired flames can't be duplicated with propane gas.
Wood's smoky flavors add complexity and depth that can really elevate the flavor profile of pizzas cooked this way - making them truly unique! Additionally, many people prefer burning wood over gas due to their ease - no need for expensive tanks or refilling on location.
Ultimately, whether you choose propane gas or wood for your portable pizza oven depends upon what flavors you prefer! Both provide great results if used properly, so it's really up to each user when deciding which is better for them!
Is there any special maintenance required for these types of ovens?
Yes, most portable outdoor pizza ovens require regular cleaning and maintenance to ensure they maintain their optimal performance over time. This could include wiping down surfaces, checking for debris or dirt buildup inside the oven, etc.
Is it safe to use a portable outdoor pizza oven in my backyard?
Yes, as long as you follow proper safety protocols such as ensuring that your setup is stable and secure before lighting the fire and not leaving it unattended at any time.
Is it safe to use a portable outdoor pizza oven in my kitchen?
Using a portable pizza oven in the kitchen can be a safe and convenient way of cooking up delicious pizza for you and your family. However, it is important to take precautions when using any kind of appliance that involves heat and flame.
First off, make sure that your kitchen is well ventilated, especially if using an open flame style pizzeria oven. Also be sure that all flammable materials such as paper towels or curtains are far away from the area where you will be cooking with fire. Additionally, make sure everyone in the home knows how to use the pizza oven safely and securely so there are no accidental burns or injuries associated with its usage.
When purchasing a portable pizza oven, ensure it meets safety standards set by regulatory boards like UL (Underwriters Laboratories). Only purchase one from reliable retailers who guarantee product quality and functionality to avoid dangerous appliances entering your home.
Additionally, when setting up your portable pizza oven indoors remember not to place it too close to walls or cabinets as this could create problems down the line due to grease build up from regular usage of oil-based products like olive oil used in preparing doughs or sauces on pizzas.
Furthermore, do not leave flammable items too close by as they may ignite due to extreme temperatures emanating from the burning firepits within these types of devices — most come with careful instructions regarding distance requirements between combustible material and heated elements inside them so keep these handy at all times during setup process!
Make sure finally that only adults operate the device due its complex operating nature; kids should never meddle around with something they don't understand completely yet!
By following all these steps above it should now be safe enough for you to use a portable pizza oven inside your kitchen without having any worries about potential dangers which could arise from improper usage or maintenance on behalf thereof!
What the heck is a pizza peel?
A pizza peel is a flat, shovel-like tool used to transfer pizzas into and out of an oven. It consists of a long handle attached to a flat surface usually made from metal. The traditional shape is similar to that of a snow shovel and is ideal for lifting large items like pies or dough rounds, allowing you to swiftly place them in the oven without burning your hands.
In addition to being able to help manage the hot environment inside your oven while baking pizzas at home, peels also come in handy when grilling cornbread on open flames outdoors! So if you find yourself needing an extra hand while making delicious baked goods - think "pizza peel!"
What type of fuel do these types of ovens usually operate on?
Most portable outdoor pizza ovens run either on wood or gas fuel sources, however, some may also be compatible with other fuels such as charcoal or propane gas tanks (depending on their design).
Be sure to check your manual for specific instructions regarding what type of fuel your particular model uses.
Are there temperature limitations when using a portable outdoor pizza oven?
Portable outdoor pizza ovens typically reach temperatures up to 500°F (260°C), though this may vary depending on the model you purchase and how you manage your fuel source during use (e.g., longer burn times result in higher temperatures). Most of the pizza ovens we reviewed can reach higher temperatures for very fast pizza cooking.
Always refer to your manual for more precise temperature limits for your particular model of oven before use.
Can I cook anything besides pizzas in my portable outdoor pizza oven?
Yes! A portable outdoor pizza oven can be used to make many different types of food such as steaks, cookies, sandwiches, quesadillas, calzones, roasted vegetables and much more – just be sure not to overload it with too much food at once!
Do I need protective gear when using my bakery-grade portable outdoor pizza oven?
Yes – wherever possible it is best practice to wear high-grade heat-resistant gloves and clothing when operating any type of hot appliance like an outdoor pizza oven to prevent serious burns or injuries occurring while handling hot items around the area where it is being used.
Can I move my portable outdoor Pizza Oven around easily once set up?
Yes – most models are equipped with sturdy handles which make moving them relatively easy once set up in one location (although care should still be taken due to their weight).
Please refer to the manufacturer's instructions beforehand if unsure about how suitable it might be for transportation purposes.
What kind of dough should I use in my bakery-grade Portable Outdoor Pizza Oven for best results?
Note: All of the pizza ovens we reviewed are considered bakery-grade.
For best results, we recommend using a thin crust dough recipe since thicker crust recipes may take too long to cook properly depending on how hot you can get your particular model up too - however this will also ultimately depend on what type filling ingredients you plan on adding into your pizzas so experimentation with various recipes is recommended until you find one which works best with your baking style/tastes!
By the way, if you're also looking for a snazzy table to put that new pizza oven on, check out our article below: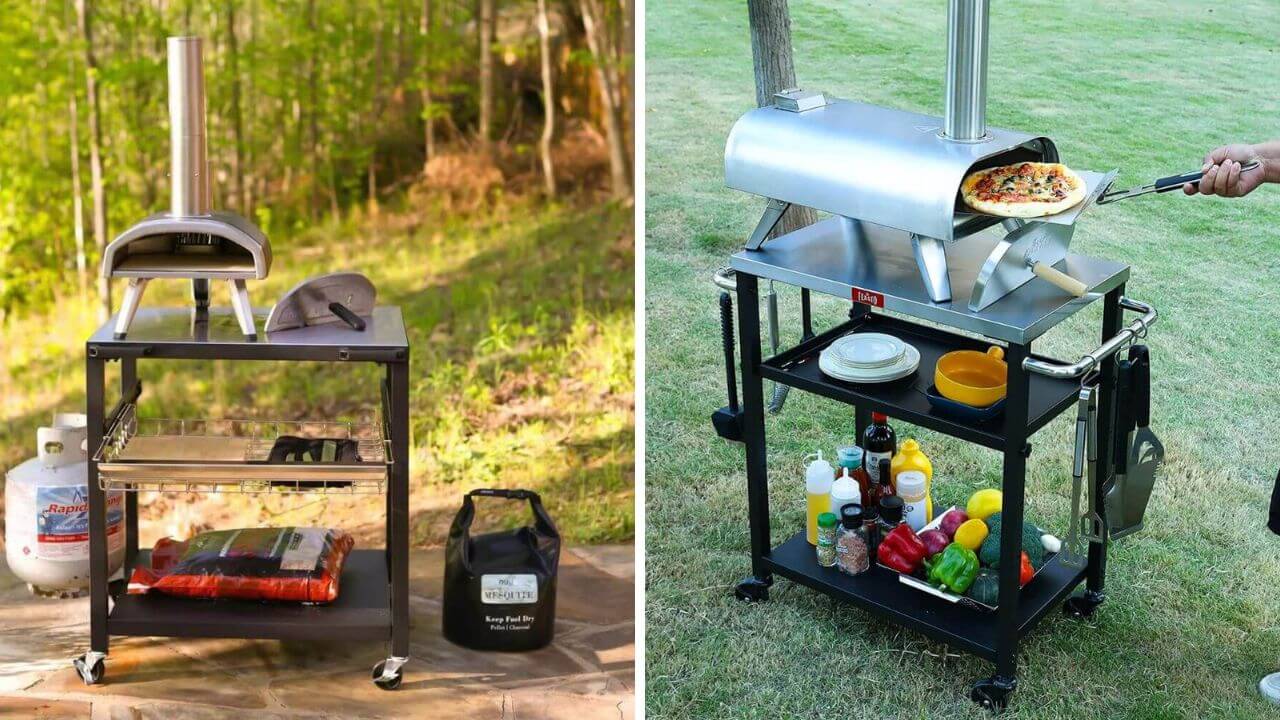 In conclusion, after reviewing the top five portable outdoor pizza ovens, it is clear that there are several great options to choose from.
Whether you're looking for a simple, affordable model or a higher-end portable oven, there is an option that fits your needs. All five ovens offer the convenience of being able to cook delicious pizzas wherever you go, so the only question left is: what topping do you want on your next pie?
Thanks for reading our article on Portable Outdoor Pizza Ovens!