Are you looking for a beautiful copper tea kettle to add a touch of elegance to your kitchen?
We think you may find the perfect one after looking at our favorites. Copper tea kettles have been a staple of kitchens for centuries, offering a classic look and timeless style.  Not only are they visually stunning, but they are also incredibly durable. They heat water quickly and evenly, so your tea will always taste great. Plus, they look beautiful on most any kitchen countertop.
Take pleasure in a delightful cup of tea each morning or afternoon with your very own copper tea kettle! There's nothing like being able to relax and savor the moment while it boils. And no need to hover over the stove - when you're done, simply rinse it out and store it away. Simple as that!
Read further for a list of some of our 5 favorite copper tea kettles.  We hope you'll agree with us and that you'll find one you like.
💡
We hope you find your next favorite thing from the list below! Each product was independently selected by our editors. Some may have been sent as samples for us to fiddle with, but all opinions in this article are our own. Oh, and FYI — LucksList may collect a share of sales or other compensation from the links on this page if you decide to buy something (that's how we stay in business). Reviews have been edited for length and clarity. Enjoy finding your next favorite thing!
How We Choose The Best Copper Tea Kettles
If you're looking for the perfect copper tea kettle to complement your kitchen whether you're a novice or an experienced tea connoisseur, finding the right kettle can be tricky with so many different types and brands available.
Our team of tea lovers has gone through countless reviews on Amazon to find some of the best copper tea kettles for your needs. We've done all the hard work so that you can easily find and purchase the perfect kettle you've always wanted.
Stop wasting time searching through endless listings and let us help you find the ideal copper tea kettle for you! With our list and helpful info, you'll have everything you need to make an informed decision and get brewing in no time.
💡
It's important that we let you know that not all of the copper tea kettles on our list are 100% copper. Some modern copper tea kettles are lined with stainless steel, which is a more durable material and much easier to keep clean. Also, some copper tea kettles are copper plated.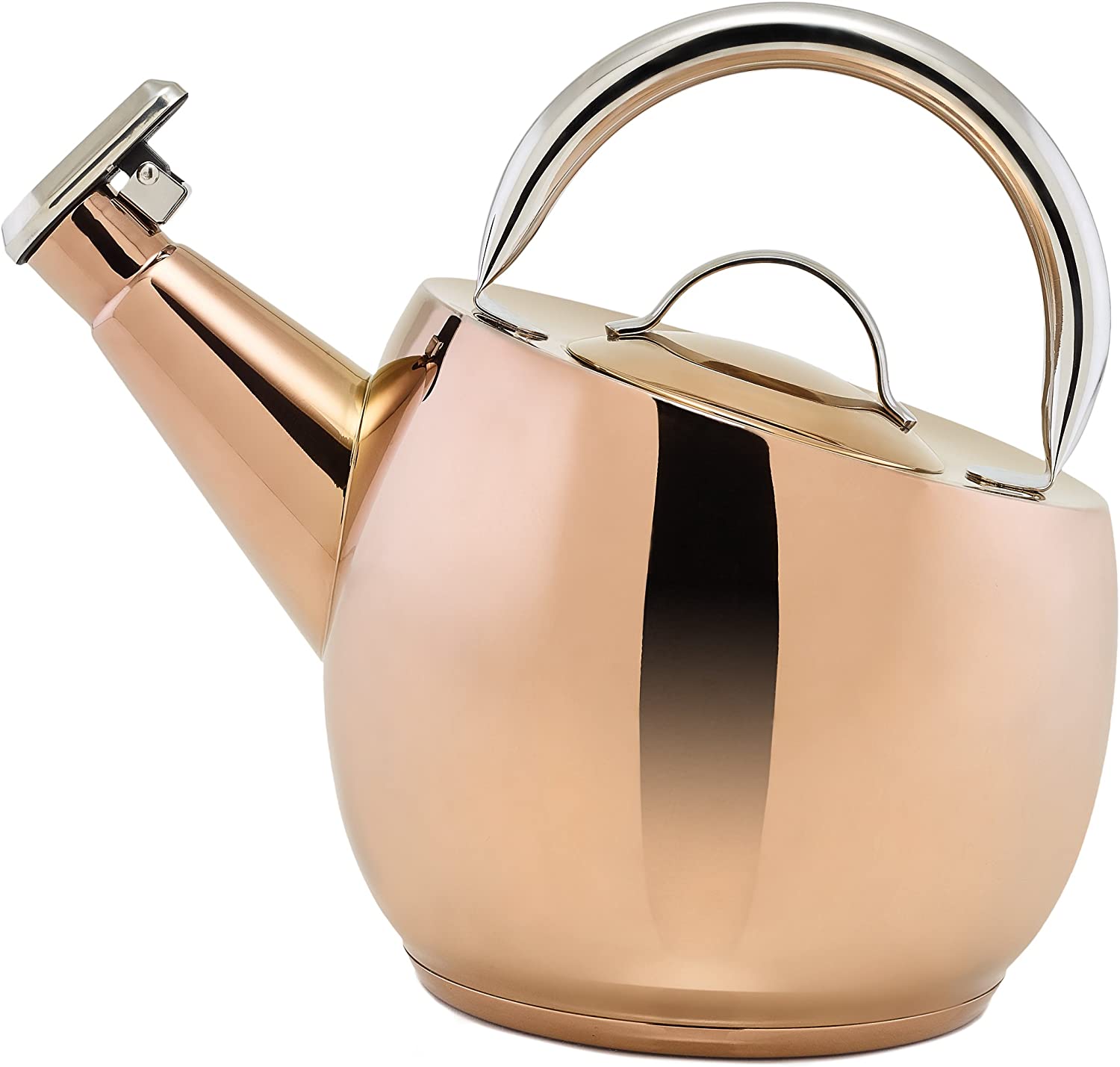 Old Dutch DuraCopper Tea Kettle
Check Price on Amazon
Why We Love It:
The Old Dutch DuraCopper Tea Kettle is an incredibly stylish, timeless, and functional piece of kitchenware that we have come to love.
Its beautiful copper finish is sure to be admired in any home. It also has a lock-open spout cap for convenient pouring.
It truly is an excellent combination of form and function that any avid tea lover would enjoy.
What You Should Know:
With its heavy-gauge, copper-plated stainless steel construction, the Old Dutch DuraCopper Tea Kettle provides optimum heat conduction to boil water quickly and evenly.
This one is not just a conversation starter, but it is built to last with hard-wearing materials and expert craftsmanship.
Plus, its encapsulated base reduces boiling time while being compatible with all stovetops - even induction!
💠
For an effortless, elegant look in the kitchen, DuraCopper has revolutionized stainless steel with their advanced bonding process of titanium dioxide and copper. This durable finish is guaranteed to stay looking brilliant - no polishing required; simply a quick wipe to keep it shining!
The Old Dutch Store on Amazon has even more great products you might be interested in taking a look at.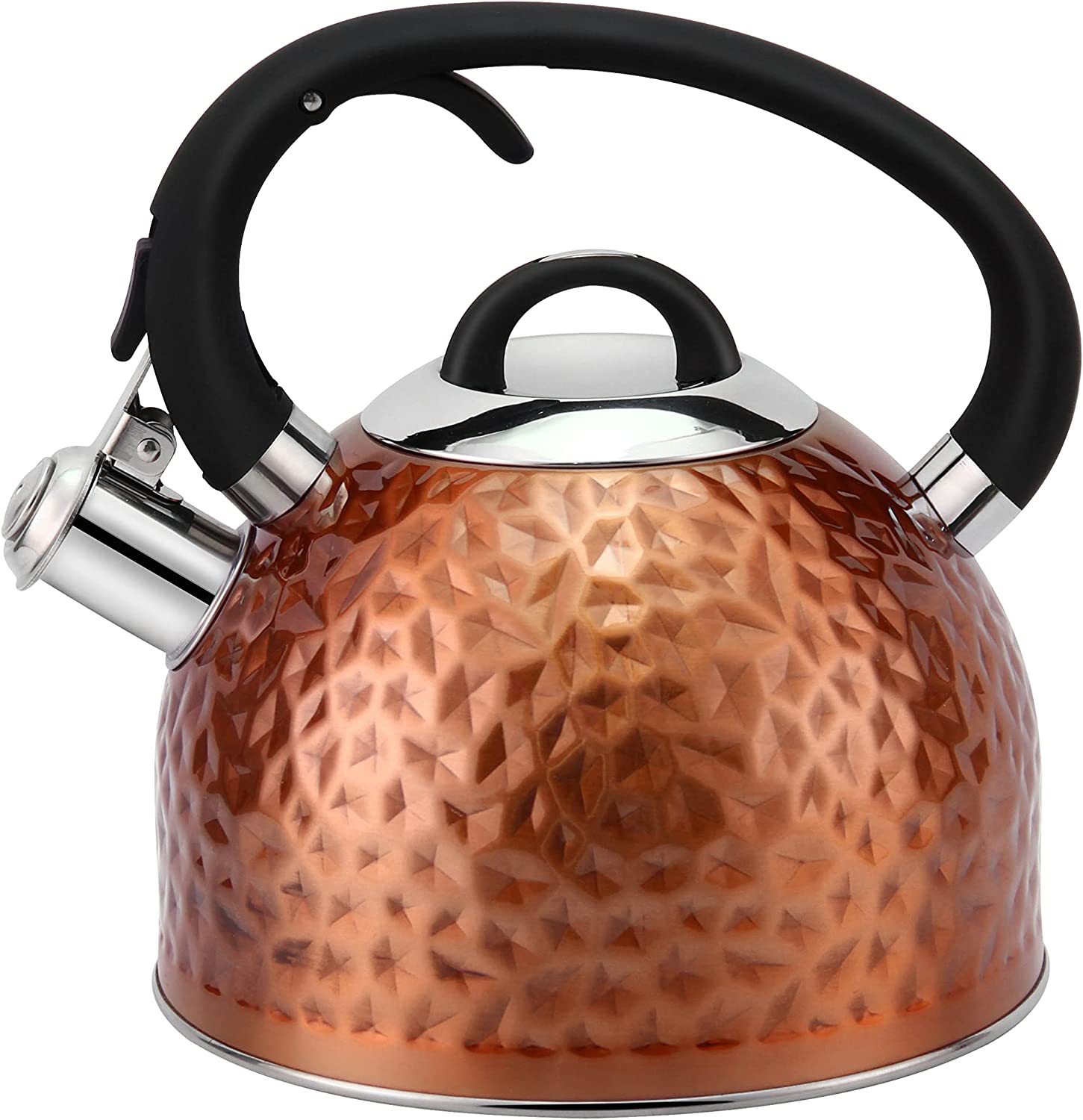 Stainless Steel Copper Tea Kettle
Great Hammered Texture and Copper Look
Check Price on Amazon
Why We Love It:
This large-capacity teapot is perfect for any occasion, offering an eye-catching aesthetic with its sleek stainless steel design.
Not only is it pleasing to the eye, but it is also highly functional - its 3.2 quart/3 liter capacity can accommodate a generous number of servings, and its easy-pour spout ensures that no spills occur during service.
Enjoy your favorite hot beverages without any mess or clean-up needed! This sleek and reliable whistling kettle is the perfect addition to your kitchen, providing 12 cups of hot water with just one boiling.
Whether you're looking for a cup of steaming tea or coffee, a bowl of oatmeal or preparing baby food - this powerful kettle has you covered!
What You Should Know:
You should be aware that before using your teapot, ensure it is clean and boiled according to the directions, to guarantee safe use.
To prevent burning the finish of your teapot, heat on low or medium levels only - avoid high heating for extended periods. After usage, rinse with water then dry immediately; store in a cool area that has adequate ventilation.
For optimal whistle performance, fill no higher than 80% capacity - exceeding this amount may result in an obstructed whistle!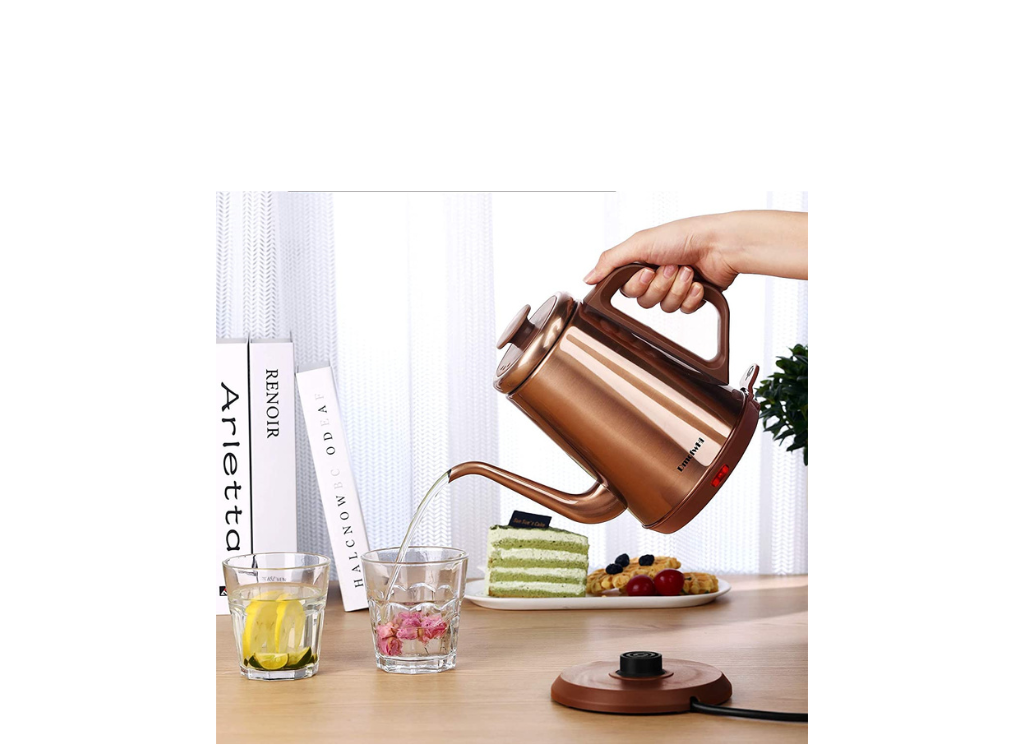 Gooseneck Electric Kettle
Great For Convenience and Versatility
Check Price on Amazon
Why We Love It:
The DmofwHi electric gooseneck copper tea kettle offers effortless precision to make that ideal cup of your favorite beverage.
Its fast heating system, automatic shut-off design, food-grade stainless steel body, and anti-scald handle enhance the overall experience for you with all of its convenience.
With all these smart features incorporated into one appliance, life can be made easier just like that!
The vent on the lid allows air to circulate, thus decreasing pressure and making it easier to open. This efficient system also prevents water from boiling over. Don't you hate it when that happens?  We do too.  And to be extra safe, make sure you don't overfill it.
This copper tea kettle is also equipped with a handy red indicator light at the bottom of its casing which clearly indicates when it's in working mode. When the light is lit red, you'll know that the water has started to boil and will switch off once boiling stops.
What You Should Know:
Boil up to 1 Liter of water with ease using this electric kettle! Safety and efficiency are ensured as the unit will immediately turn off when boiling stops and then can be used again once it cools down.
Crafted from stainless steel and copper for maximum durability, this 110 Volt 1000 watt model is sure to stand the test of time - just make sure not to touch it while heating!
💡
It is recommended by the manufacturer that when boiling water, always make sure to place the lid on top. Failing to do so can cause your electric tea kettle to be rendered inoperable until it cools off completely.
This stainless steel, copper-lined device uses 1 liter of liquid and operates at 110 volts with a 1000 watts power source.
For more great products, why not go over to The DmofwHi Store on Amazon? Who knows what you'll find.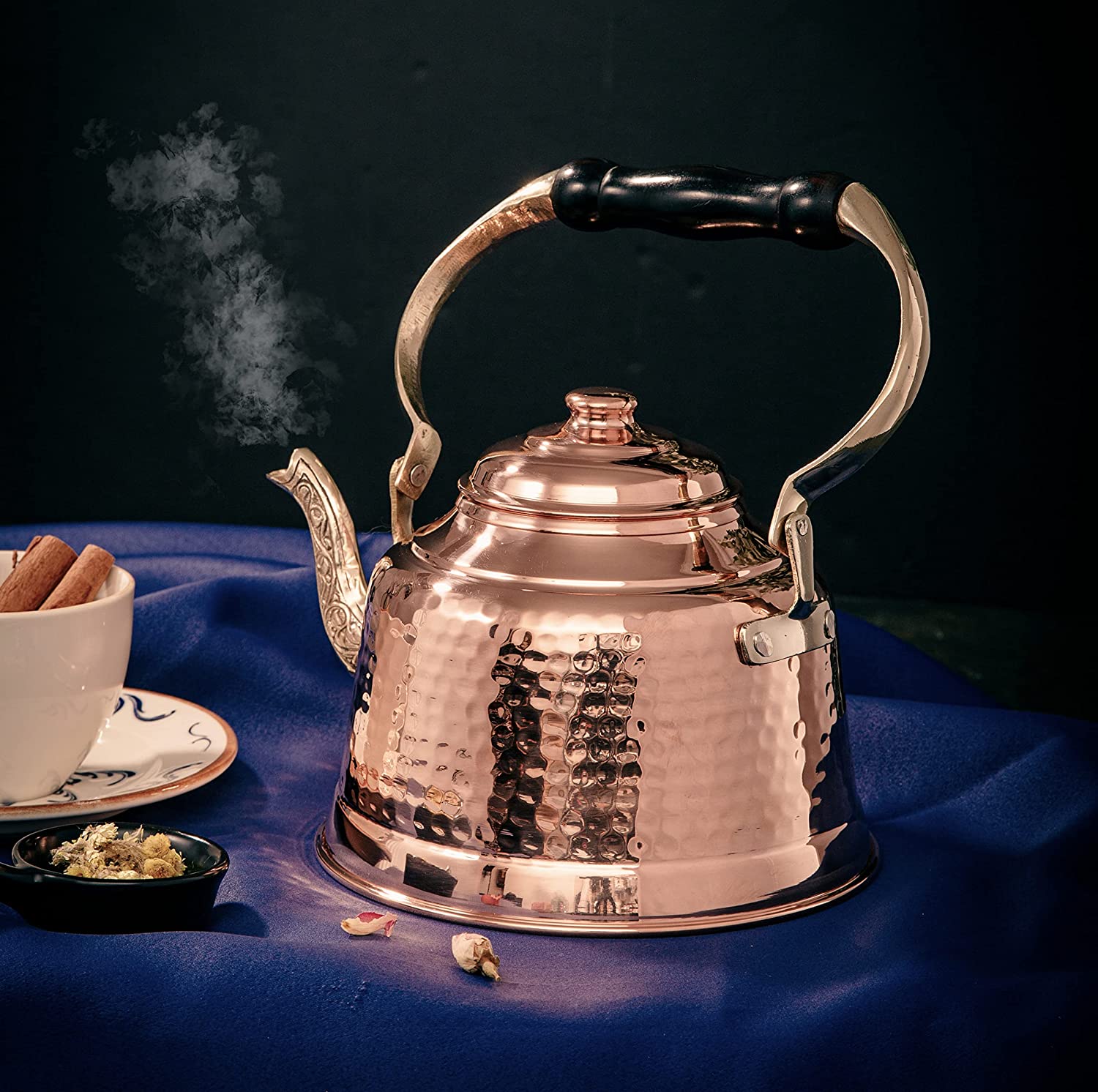 Heavy Gauge Hammered Copper
This One Is Absolutely Beautiful
Check Price on Amazon
Why We Love It:
Crafted from 100% copper and designed with a beautiful aesthetic, this handmade copper tea kettle adds effortless charm to any home and quickly boils water.
When you first open it, the product is vibrant and lustrous. However, over time its luster will further improve with a 'living finish', allowing it to attain an even more beautiful patina.
🔎
What is patina anyway? Patine is a natural chemical process that makes an antique copper pot spot and richen in color.
The rattling sound of the lid when the liquid level is above its hole offers an enchanting auditory experience, while its hinged wooden handle ensures convenience in usage.
What You Should Know:
Crafted with meticulously sourced lead-free tin, this 1.6-quart pot is safeguarded for your utmost safety while in use and while cleaning up.  
As each piece of cookware is 100% handmade in Turkey, you can be sure that every item carries a unique story within its design.
⚱️
This stunning copper tea kettle is forged from the renowned Ottoman Copper of Gaziantep, Turkey by artisans who have been perfecting their craft for generations.
This copper tea kettle is for use on gas or electric stoves, but not induction.
You might also want to check out The DEMMEX Store on Amazon for even more amazing products.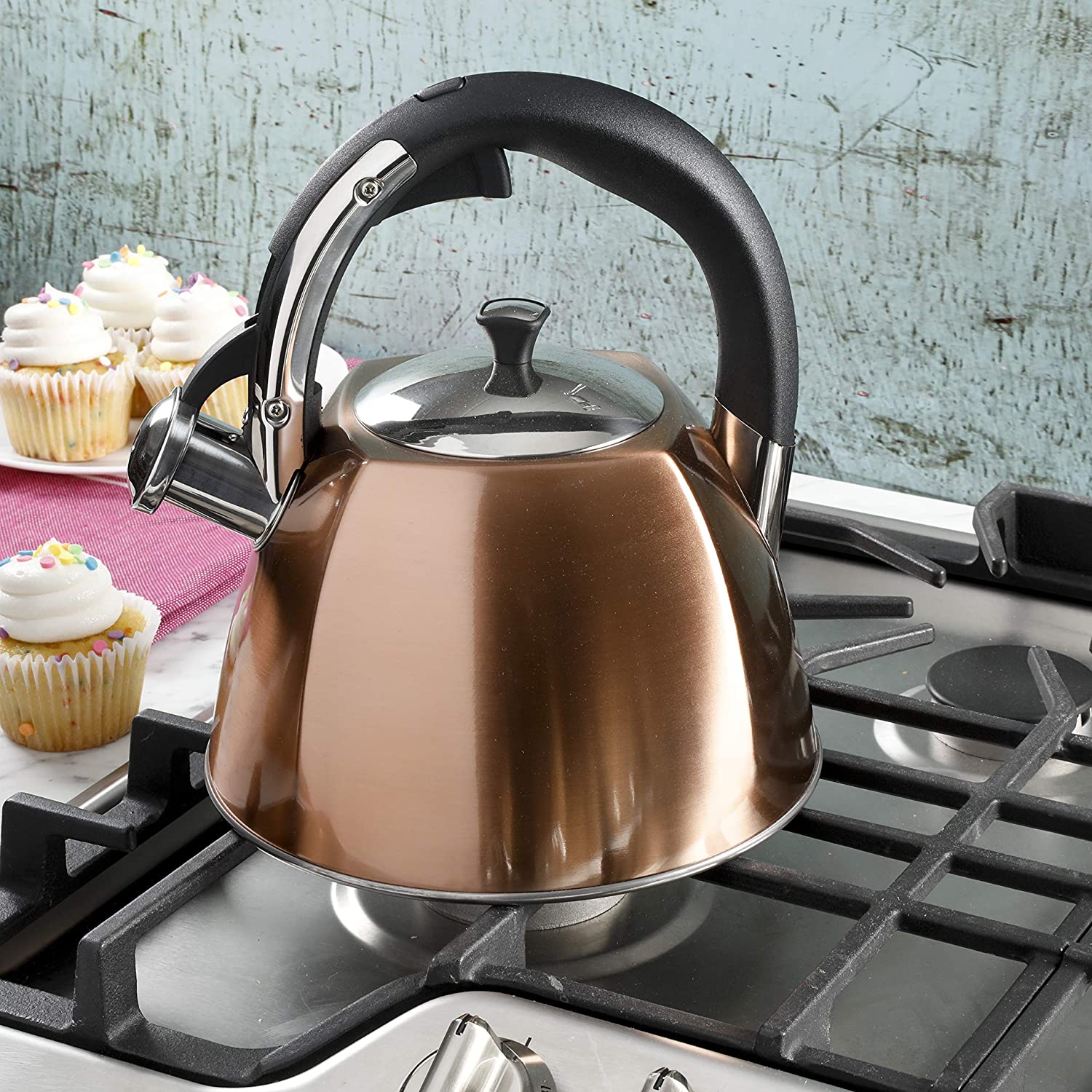 Mr. Coffee 2.5 Quart Tea Kettle
Most Trusted Brand On Our List
Check Price on Amazon
Why We Love It:
Accentuate your kitchen's aesthetics and functionality with this perfect stovetop copper tea kettle!
Its distinctive shape brings visual appeal to the space, while its size makes it ideal for brewing delicious hot cocoa or a medium-sized pot of coffee.
Crafted from pure stainless steel, this tea kettle exudes a sophisticated metallic sheen that will surely command attention in your kitchen.
Boil water with ease and safety - audible whistling alerts you when the optimal temperature has been achieved, while a flip-up spout cover prevents any accidental splashes or spills.
Additionally, its stay-cool trigger is designed to keep you safe and sound during usage!
What You Should Know:
This multifunctional tea kettle measures 17.5 inches in diameter, 22.5 inches wide, and 9 inches high with a capacity of 2.5 quarts.  
Plus, the entire device can be safely washed in the dishwasher after use and only weighs 2.1 pounds - making it conveniently lightweight for everyday use or travel!
The Mr. Coffee Store on Amazon has even more great kettles and pots to browse -- that is if you like browsing as much as we do.
Copper Tea Kettles FAQs
Are you looking for a copper tea kettle, but don't know which one to buy?
It can be hard to find a copper tea kettle you really like because there are so many different brands and types available. How do you know which one will give you the best value for your money?
We've compiled a list of some frequently asked questions about copper tea kettles so you can know more about these cooper kettles. With our guide, we're confident you'll be able to find the perfect tea kettle for your needs and budget.
What are copper kettles used for?
Copper kettles are traditionally used for boiling water and making tea. Copper is an excellent conductor of heat, so it helps to evenly distribute the heat when boiling water.
Copper kettles also have a beautiful aesthetic, making them a popular choice for home decor.
In addition, copper kettles are often used as decorative pieces to store items such as kitchen utensils or even plants.
How do you care for a copper tea kettle?
To care for a copper tea kettle, you should always hand wash it with warm, soapy water and dry it thoroughly after each use.
Be sure to avoid using any abrasive cleaning products or harsh detergents, as these can damage the copper.
You may also need to periodically polish the kettle to keep it looking its best. To do this, you can use a copper polish or a mixture of vinegar and salt.
Apply the mixture with a soft cloth, and then rinse it off with warm water.
How can you tell how old a copper kettle is?
The age of a copper kettle can be determined by looking at the patina, or the layer of oxidation on the surface of the copper.
The older the copper, the more patina it will have. You can also look for signs of wear and tear that come with age, such as dents or scratches.
Additionally, you can look for any markings or stamps that may indicate the age of the copper.
These markings can usually be found on the bottom of the kettle.
What are old copper kettles lined with?
Old copper kettles were traditionally lined with tin to prevent copper ions from leaching into the food being cooked.
Tin is a softer metal than copper and can be easily scratched, so it needs to be replaced regularly.
Some modern copper tea kettles are lined with stainless steel, which is a more durable material and is much easier to keep clean.
What is the black stuff at the bottom of my kettle?
The black stuff at the bottom of your kettle is likely the result of limescale buildup.
Limescale is a natural mineral deposit that forms when hard water is heated. It's composed of calcium carbonate, magnesium carbonate, and other minerals.
Limescale buildup can occur in any appliance that uses water, including kettles, coffee makers, and dishwashers.
To prevent limescale buildup, it's important to use a water softener or descaler.
Can I clean the inside of my kettle with vinegar?
Yes, you can clean the inside of your kettle with vinegar.
All you need to do is fill your kettle with a solution of equal parts vinegar and water and let it sit for about an hour.
After that, pour out the solution and rinse the kettle with clean water.
This should help to get rid of any mineral deposits or limescale buildup.
Does copper turn green with age?
Yes, copper can turn green with age.
This is known as patina, and it occurs when the copper is exposed to oxygen, water, and other elements in the environment.
Patina is a natural process that is caused by a chemical reaction between the copper and the environment, and it creates a protective layer on the surface of the copper.
Patina can vary in color, from light green to dark green or even blue.
Patina can also add an attractive, aged look to copper items, making them look antique or vintage.
Are copper bottom tea kettles safe?
Yes, copper-bottom tea kettles are safe to use.
Copper is a naturally occurring metal that has been used in cookware for centuries.
It is an excellent conductor of heat and is ideal for boiling water quickly and evenly.
Copper is also non-toxic and non-reactive, so it won't leach any harmful chemicals into your food or drink.
However, it's important to note that copper bottom tea kettles should be lined with tin or stainless steel to prevent the copper from reacting with the acidic components in the tea.
Why is copper a good material for making a kettle?
Copper is a great material for making kettles because it is an excellent conductor of heat.
Copper has a high thermal conductivity, meaning it is able to transfer heat quickly and efficiently.
This makes it ideal for use in kettles, as it ensures that the water is heated quickly and evenly, resulting in a better tasting cup of tea or coffee.
Additionally, copper is a durable material, so it can withstand the wear and tear of everyday use.
Finally, copper has a beautiful, classic look that can add a touch of elegance to any kitchen.
How do you stop copper from oxidizing?
The best way to stop copper from oxidizing is to keep it sealed in an airtight container or to coat it with a protective layer of lacquer or wax.
Copper is a reactive metal, so it will naturally oxidize when exposed to oxygen and moisture in the air.
Sealing it in a container will help prevent this from happening, as will coating it with a protective layer. Additionally, you can use a copper cleaner like lemon juice or vinegar to remove any oxidation that has already occurred.
Some Final Thoughts On Copper Tea Kettles
Copper tea kettles are a classic addition to any kitchen. Not only do they look great, but they also offer superior heat conduction and fast boiling times.
Plus, with the right care, they can last for years.
Whether you're looking for a timeless design or modern features, the five copper tea kettles we've highlighted here are sure to provide you with the performance and durability you need.
So pick out the one that's perfect for your kitchen and start making delicious tea in no time!
See you at tea time!
Your friend,
CP