Are you willing to take your crafting abilities to the next level? Then, Cricut Explore 3 and Cricut Maker 3 are ideal for you! Crafted with a crafter's unique needs in mind, these machines will help you make amazing creations.
For those just beginning their crafting journey, the Cricut Explore 3 is an ideal choice. Not only is it simple to use and able to process a variety of materials, but it also comes with an array of tools and accessories that make getting started smoother than ever!
For those already comfortable with their crafting skills, the Cricut Maker 3 is perfect. It offers a larger area for cutting and can handle heavier materials; it has more powerful tools than even its predecessor, the Explore 3--so you don't have to skimp on features!
Are you a crafter? Not sure which machine to choose between the Cricut Explore 3 and Cricut Maker 3 ? Look no further! In this article, we'll make comparing these two machines easy. You won't need any technical know-how or specialist craft knowledge - just read on to discover more about each one, enabling you to pick the perfect machine for your crafting needs. So what are you waiting for? Let's go!
How We Choose
Are you trying to decide between the Cricut Explore 3 and the Cricut Maker 3? With so many features and options, it can be difficult to know which machine is right for your crafting needs.
Our team of experts has done all the research for you. We've read thousands of customer reviews and compared every feature of both machines side-by-side, so that you can make an informed decision about which one is best for your projects.
No more guesswork. No more wasted money on a machine that doesn't fit your needs. Check out our comprehensive comparison guide today and get the perfect Cricut machine for your crafting!
💡
Ready to learn all about the best Cricut machine? We are super excited to show you our review! For your convenience, this post contains various affiliate links. If you make a purchase after clicking one of these links, we will earn a small commission without adding any additional cost to your total!
---
Cricut Explore 3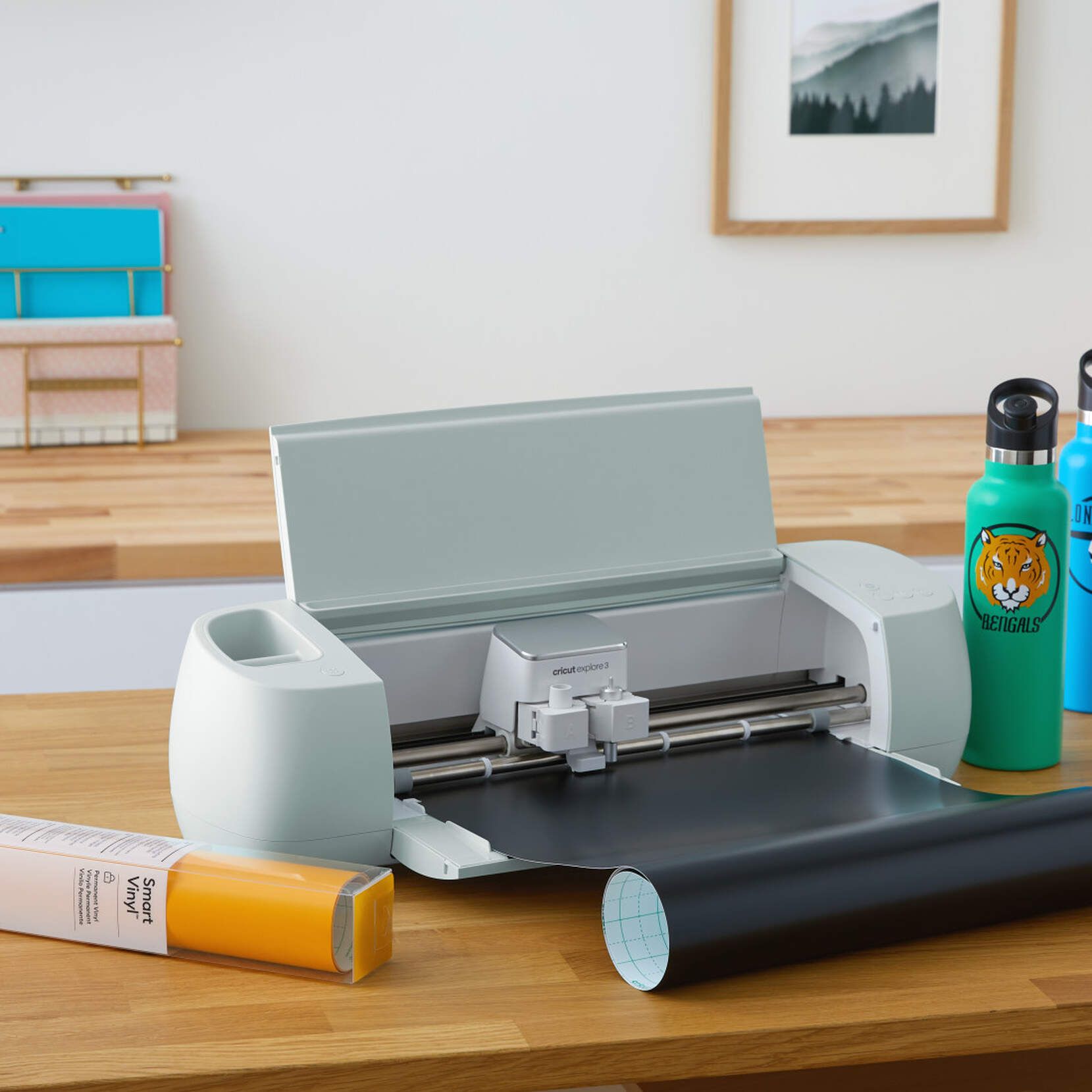 Cricut Explore 3
Unparalleled Versatility - Perfect for Any Project!
Check Price on Amazon!
Cricut Explore 3: Why We Love It
The Cricut Explore 3 is the perfect tool for any project. It is 2X faster and smarter than before, allowing you to make precise, intricate cuts from a variety of materials like cardstock, vinyl, iron-on and more. Plus, it is compatible with the all new Smart Materials (up to 12 ft) like Smart Vinyl, Smart Iron-On, Smart Paper Sticker Cardstock and more - all of them work without a mat. And with the cloud-based Design Space app and wireless-Bluetooth connectivity, you can easily create personalized designs on your phone, tablet or computer.
What You Should Know
The Cricut Explore 3 also comes with optional accessories like the Deep-Point Blade, Foil-Transfer Tool, Scoring Stylus or Cricut Roll Holder, making it a complete crafts package. Plus, it is compatible with 6 tools to cut, write, foil, & more. With so much versatility and convenience, the Cricut Explore 3 is the perfect choice for any project. Get creative and explore a world of possibilities with the Cricut Explore 3. Order yours today!
---
Cricut Maker 3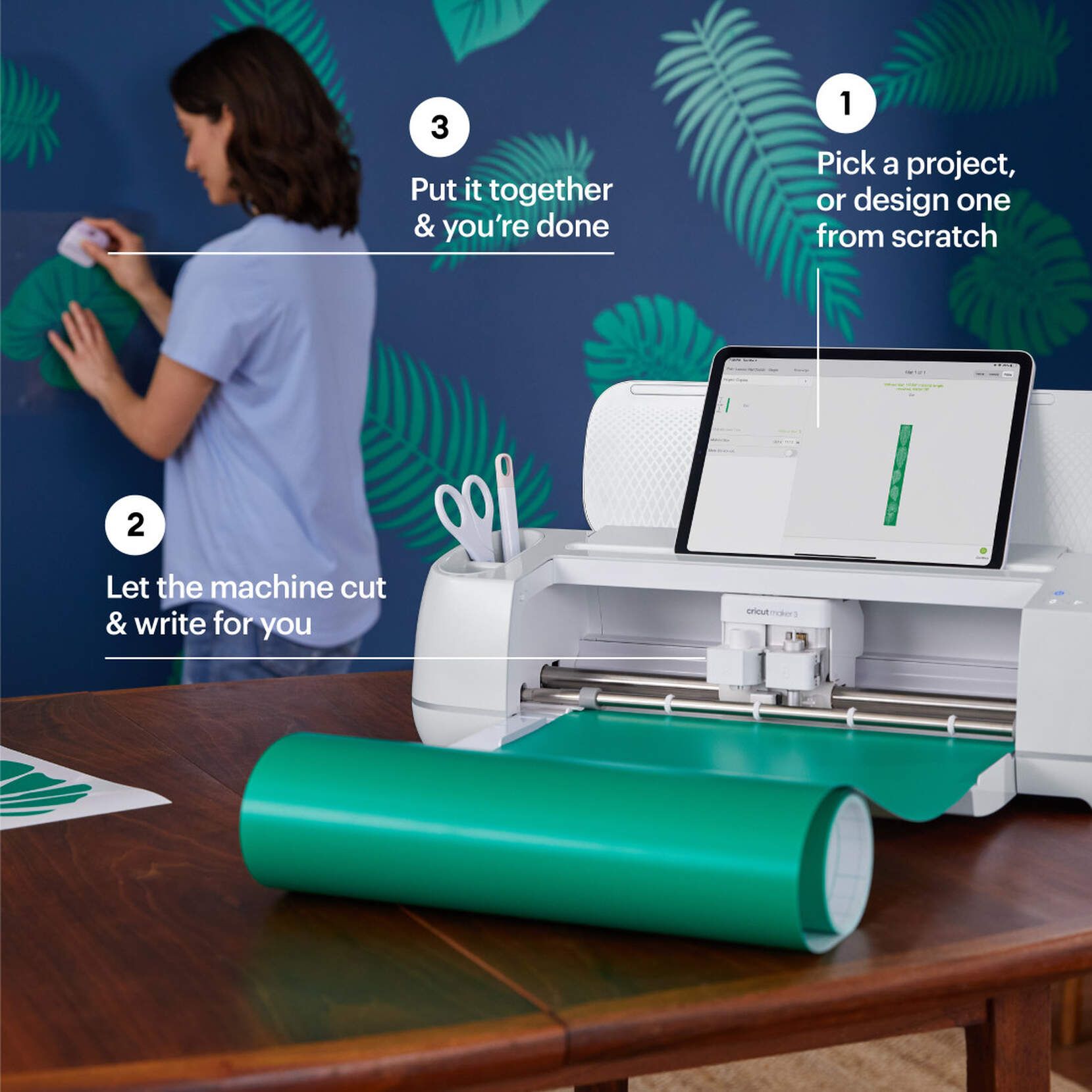 Cricut Maker 3
Maximize your potential with the market's most extensive tool!
Check Price on Amazon!
Cricut Maker 3: Why We Love It
The Cricut Maker 3 is the ultimate craft tool for any project. It is 2X faster and smarter than ever before, delivering a pro-level cutting experience. It can cut virtually any material up to 12 feet long, including paper, fabric, matboard, and leather. Plus, it is compatible with the all-new Smart Materials like Smart Vinyl, Smart Iron-On, and Smart Paper Sticker, light Cardstock, which work without a mat. And with its adaptive tool system, you can customize your projects to fit any style.
What You Should Know
The Cricut Maker 3 is an app-based crafting tool with wireless Bluetooth connectivity. This makes it easy to create personalized and custom designs on the cloud-based Design Space app on your mobile phone or laptop. Plus, it has built-in storage so everything stays neat and organized. And with its docking slot and USB port, you can charge your tablet, mobile device, or computer while you design. So why wait? Upgrade your craft room with the Cricut Maker 3 today!
---
Unleashing the Limitless Potential of Cricut Machines - Discover What They Can Really Do!
The Cricut machines are a crafter's ultimate cutting tool! Unleash your creativity to make detailed projects ranging from cards, paper crafts and quilts to personalized gifts; it can even cut hundreds of different materials including fabric, leather and paper with precision and speed. With the endless possibilities that come with Cricut machines you'll be able create something special in mere minutes – what will you craft today?
The Cricut Maker 3 offers superior capabilities to the Cricut Explore 3, as seen in our comprehensive comparison table.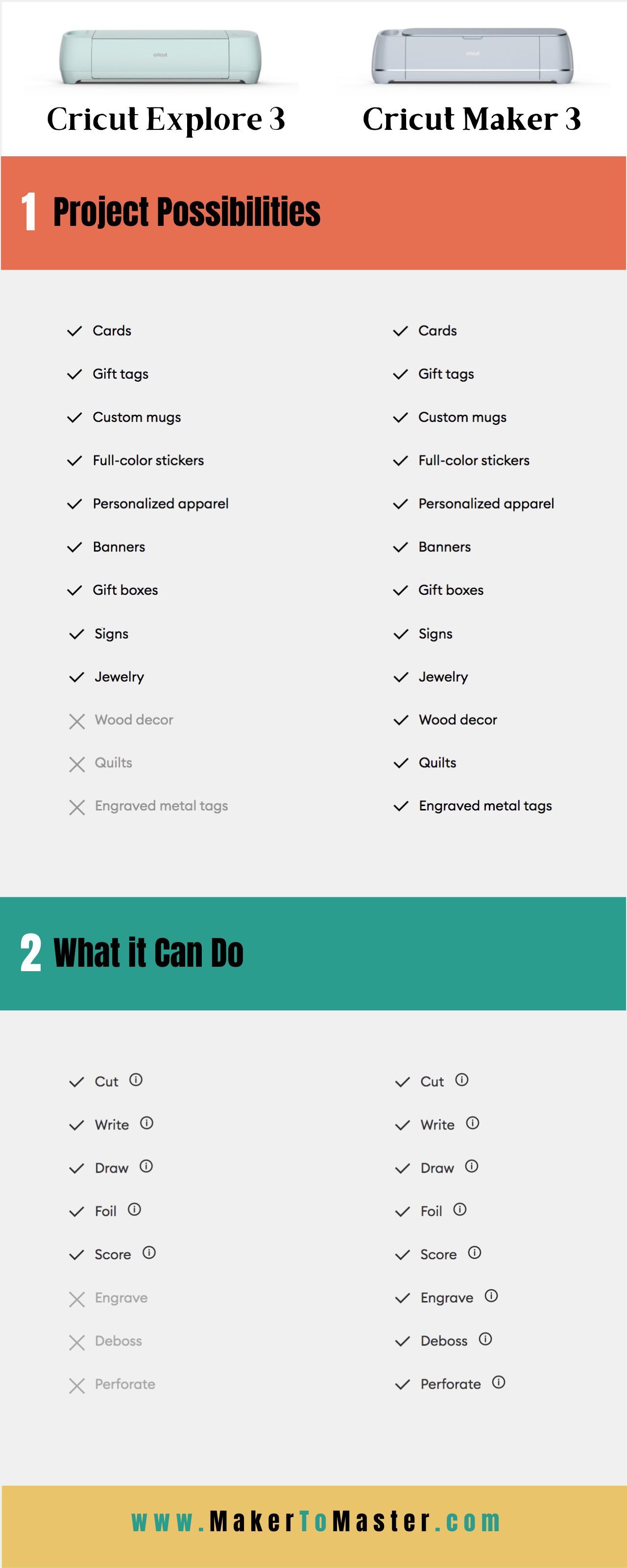 Size:
With the similar sizes of both the Maker 3 and Explore 3, it can be a difficult decision. If you're short on space though, Cricut Joy is an ideal option as it's much smaller in comparison.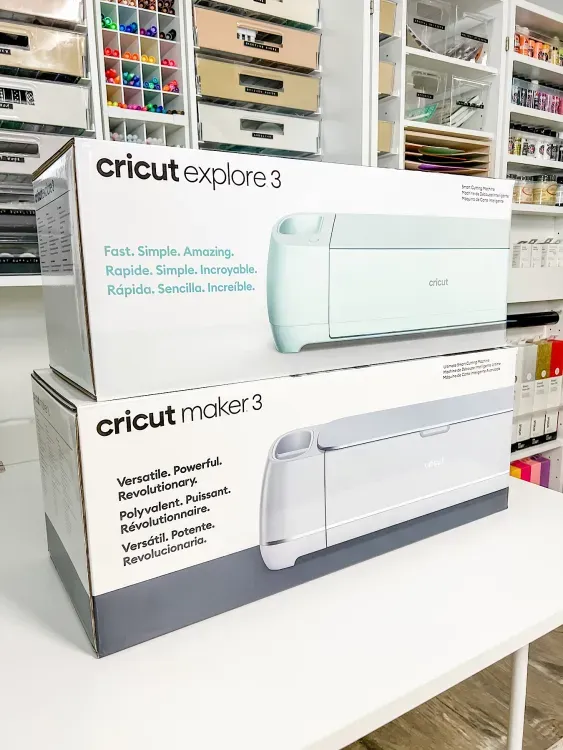 Tools:
With the support of both machines, you can craft a range of projects with the help of various tools such as a fine point blade for delicate materials, deep point blade to tackle tougher tasks, bonded fabric blades for soft fabrics and foils transfers designs on cardstock. Lastly, scoring stylus ensures easy folding after intricate cutting.
For those who prefer pens and markers, both machines also provide that function. From here on out is where the distinctions between them become more apparent. The Maker 3 has a cutting-edge Adaptive Tool System featuring seven tools such as rotary blade knife blade , single/double scoring wheels , engraving tool , debossing tool , wavy blade, perforation blade - plus an unique Adaptive Tool System which allows users to quickly switch their blades or tools during projects.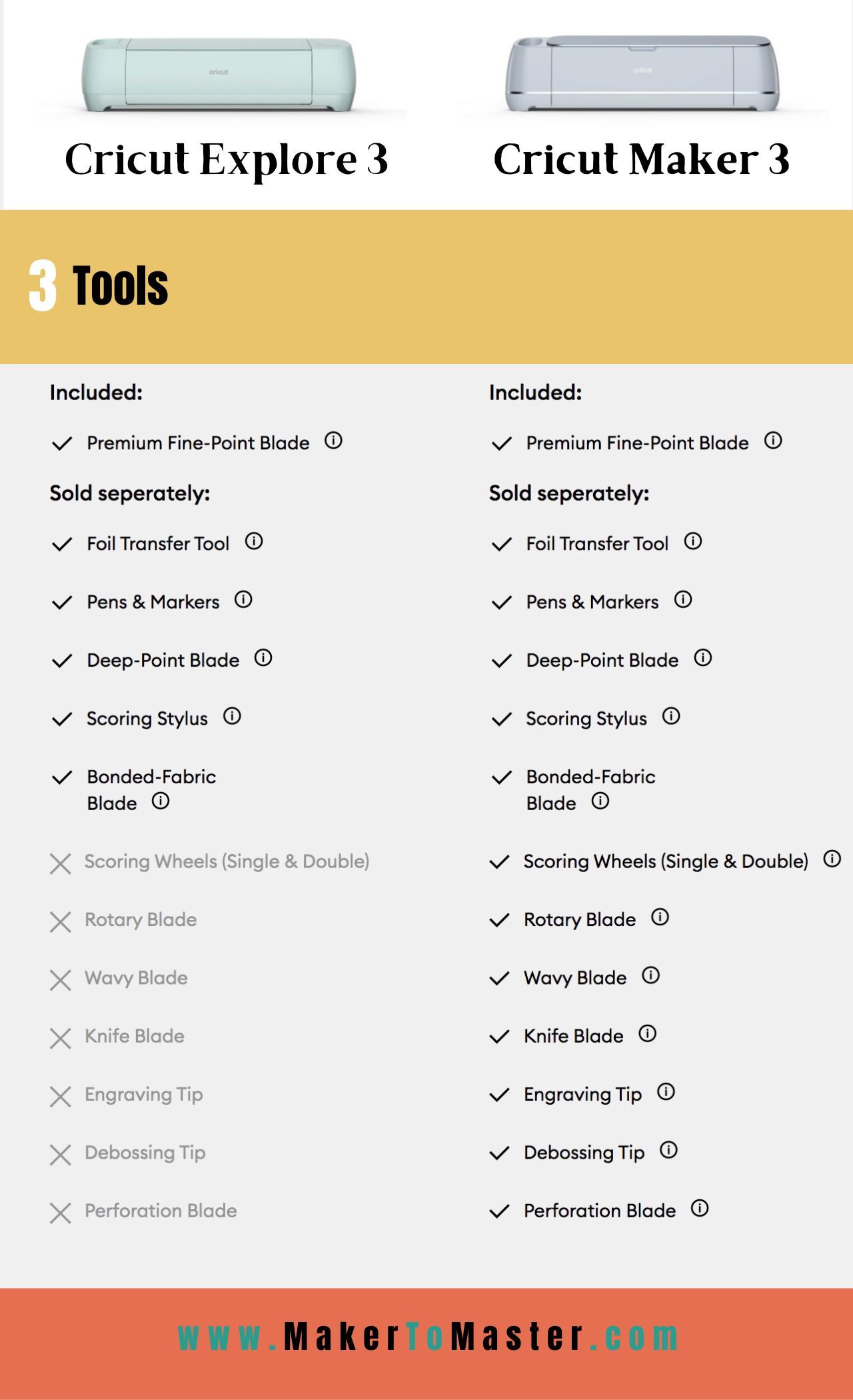 Smart Materials:
While both machines can cut and engrave over 100 materials such as textured vinyls, cardstock, sticker paper, heat-transfer vinyl, Cricut's Infusible Ink and foil transfers—the Maker 3 is the ultimate powerhouse with its capability to handle up to 200+ different types of media. From chipboard and crepe paper to aluminum and wood, you can utilize any of these materials - light, medium weight, felt fabrics or denser options - to craft amazing creations such as engraved metal wall signs, felt floral bouquets and wooden bookmarks. With the right supplies in hand your creativity is truly limitless!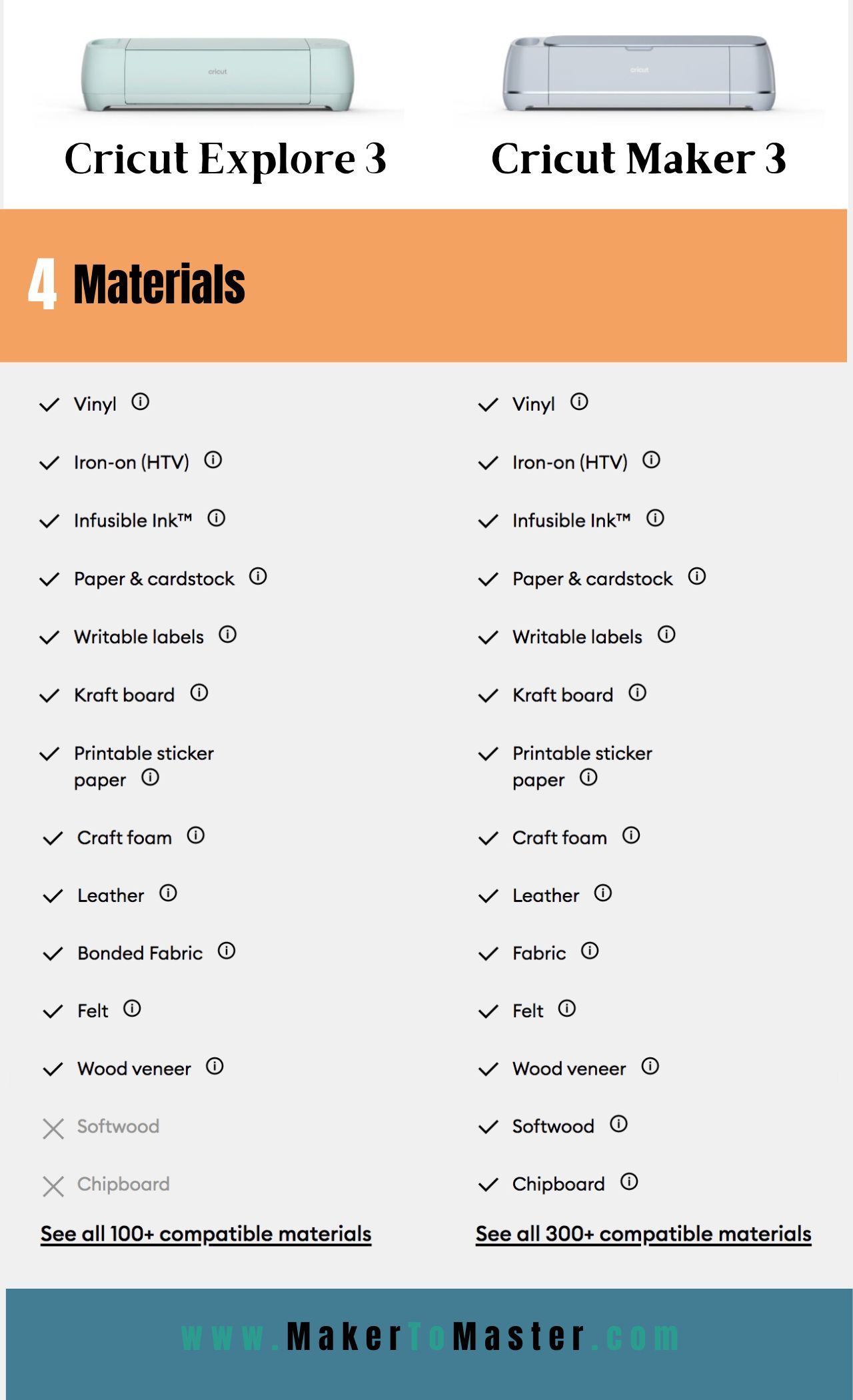 Cut Force & Cut Size:
Are you a modern crafter struggling to decide between the Cricut Explore 3 or Maker 3? The Explore offers an array of materials and standard cut force, while the Maker has that plus up to 10x more power. This means it can easily handle vinyl, cardstock, heat-transfer vinyl and matless cutting that goes twelve feet long - think of all those possibilities! With this level of precision at your fingertips, what projects won't be possible for you?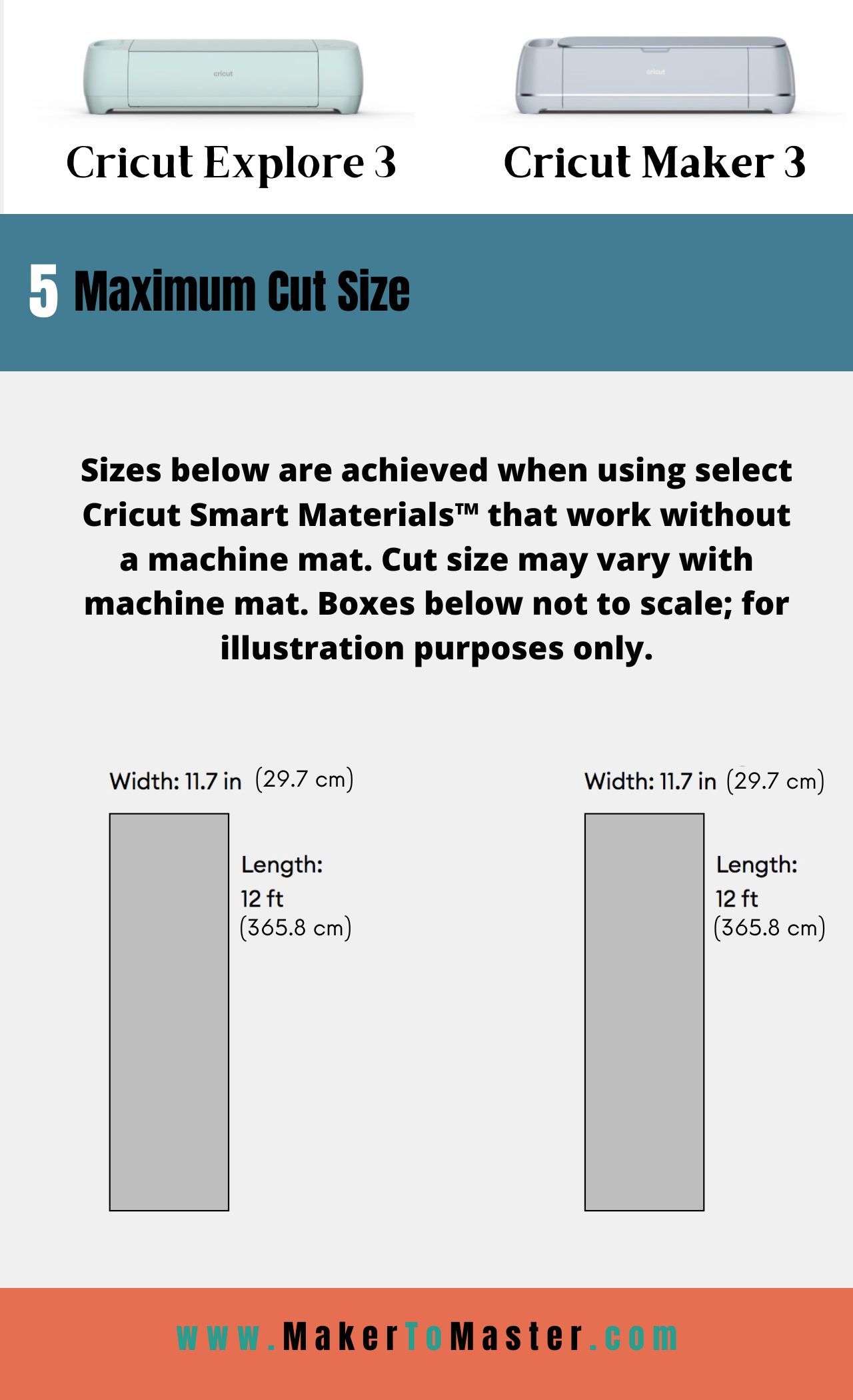 How fast?:
But how does their speed stack up against each other? According to Cricut's official website, both machines cut twice as quickly than their prior counterparts - however in our personal tests with similar projects, we found the Explore 3 was 35 seconds faster on a rather intricate design. The good news is that regardless of which one you choose, they are both incredibly speedy!
Specifications: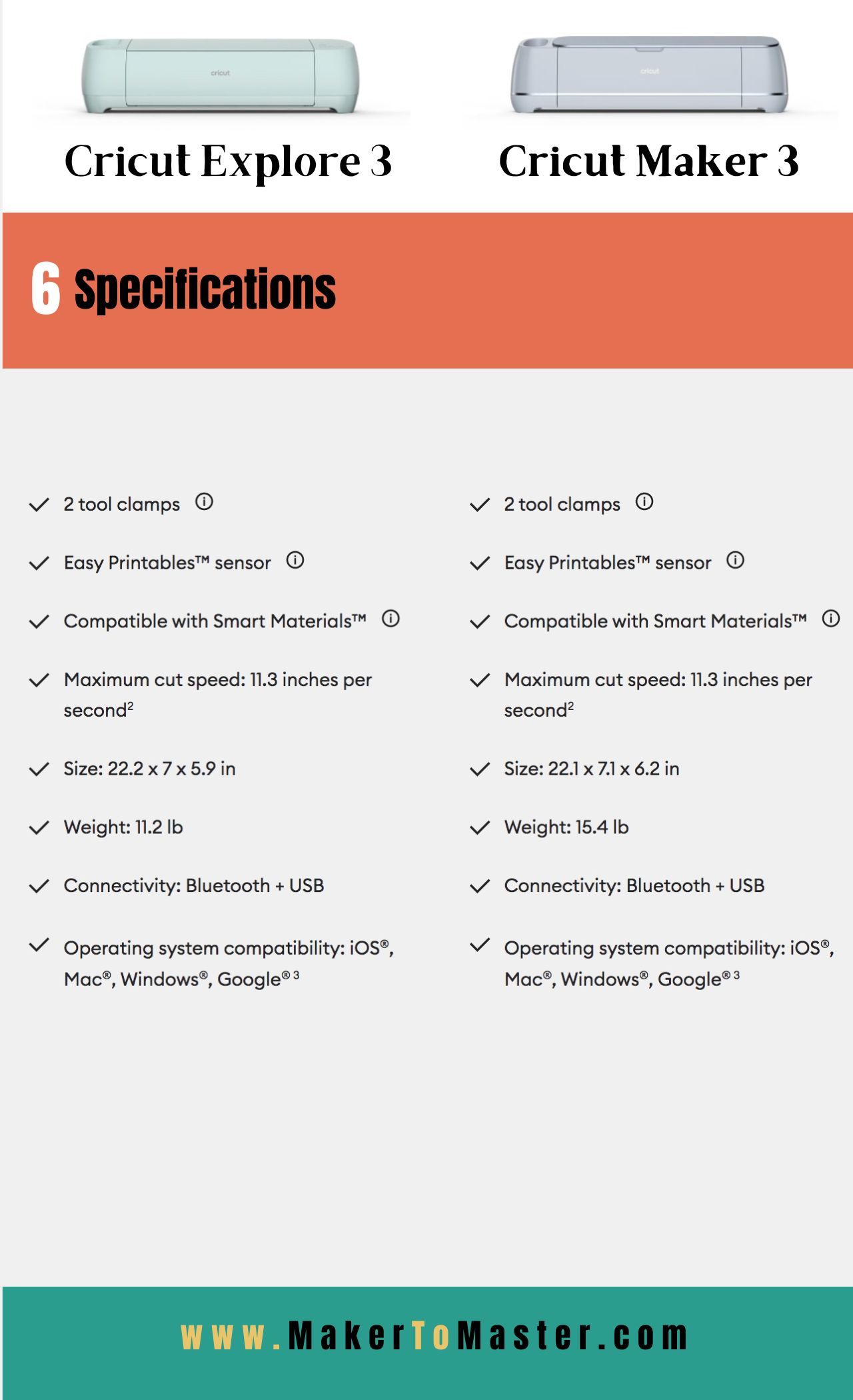 Cricut Explore 3 vs. Cricut Maker 3: FAQ's
Struggling to pick between the Cricut Explore 3 and Maker 3? We understand it can be overwhelming, especially with so many capabilities at your fingertips.
With the Cricut Explore 3 and Cricut Maker 3 both presenting excellent features, it is essential to select which one best suits you. To assist with your decision-making process, we have created a list of FAQs about each machine so that you can feel fully informed prior to purchasing.
Can I engrave with Cricut Explore 3?
If you have the powerful Cricut Maker machine, you can unleash its full potential with the engraving tip. This special tip is designed to work exclusively with this model thanks to its Adaptive Tool System that produces enough pressure for precise and deep engravings. Unfortunately, other machines from the Explore or Cricut Joy family are not compatible with this accessory.
Which Cricut is best for beginners?
Newbies, the Cricut Explore Air 2 is a brilliant choice for you! It comes with user-friendly design software and all of the necessary compatible materials, plus it has variable cutting and writing speeds. Best yet? It's affordable compared to other machines out there, especially when factoring in its suite of tools that come along with it. If even more versatility and power are what you seek - then look no further than the Cricut Maker; this one can't be beat!
Can Cricut Maker 3 cut acrylic?
Absolutely, the Cricut Maker 3 can cut acrylic! This marvelous machine is designed with an exclusive blade that enables it to make precise and intricate cuts on thin acrylic sheets. While this incredible tool gives you access to over 200 smart materials, do keep in mind that thick acrylics are not within its capabilities. Make sure to take advantage of all the amazing possibilities available when you use your Cricut Maker 3 for cutting--you won't regret it!
What Cricut machine do I need to make T-shirts?
The Cricut Maker is the perfect machine for creating T-shirts! It comes with a range of features specifically designed to make crafting shirts easy and efficient, like its rotary blade, deep-cut blade, bonded fabric blade, and scoring stylus. Plus it can accommodate many materials such as fabric, vinyl, paper or leather. With this amazing tool you will be able to create professional looking T-shirts in no time!
Does Cricut explore 3 cut without mat?
Absolutely, the Cricut Explore 3 can cut without a mat. But to preserve your machine and guarantee top-notch results, it's suggested that you take advantage of using one. The Cricut Explore 3 is equipped with the capacity to handle materials up to 2mm in thickness, so thicker material cutting is possible sans mat; however utilizing a mat ensures accurate cuts and maintains stable material placement for optimal performance.
What is Cricut biggest competitor?
Cricut and Silhouette America are the behemoths of the craft world, offering a plethora of electronic cutting machines, vinyl cutters and accoutrements. While Silhouette has slightly more products than Cricut does, they both provide robust software to create projects from nothing or upload existing designs into their devices.
Can Cricut Maker 3 cut metal?
The Cricut Maker 3 is not designed to cut metal, but it can engrave metal under certain conditions. However, with the right materials and supplies you can make a beautiful metal wreath complete with intricate details in no time! In addition to its engraving capabilities, this incredible machine has the ability to cut more than 200 different types of smart materials like paper, cardstock vinyl and fabric - making your crafting dreams come true!
Is the Cricut Maker 3 software free?
Cricut Design Space (the full-featured design app that connects to any Cricut smart cutting machine) is free and you can jump in right away to start making. Cricut Access is an optional subscription plan for Cricut users. You sign-up for an annual plan and save some money, or pay monthly. Paying monthly means you can cancel at any time just like Netflix, Disney+ or Now TV
Can a Cricut Maker 3 cut wood?
Absolutely! The Cricut Maker 3 is adept at cutting wood up to 2.4 mm thick, as well as balsa wood, basswood, chipboard and craft foam. It's important to keep in mind that this device should not be used for thicker materials such as hardwoods or plywood though; it can only handle material up to a maximum of 3/32″ (2.4mm). With the Cricut Maker 3 however you'll have access to over 200 types of smart materials- so start crafting away!
What's the difference between Cricut Explore 3 and Cricut Maker 3?
The Cricut Explore 3 is a cutting machine that uses a fine point blade to precisely cut out shapes, letters, and designs from a range of materials. It is great for papercrafts, scrapbooking, and other creative projects. It has a range of features including Bluetooth connectivity, a built-in scoring wheel, and the ability to upload your own designs.
The Cricut Maker 3 is a more advanced smart cutting machine that uses a rotading blade and a scoring wheel to cut fabric, Cricut smart materials and other materials with precision. It also has a range of features including Bluetooth connectivity, the ability to upload your own designs, and the ability to use specialty blades for cutting thicker materials. It is great for quilting, sewing, and other fabric-based projects.
Is the Cricut Explore 3 worth it?
Are you in need of a reliable and versatile machine for all your crafting projects? Then the Cricut Explore 3 is exactly what you're looking for! This tool is sure to satisfy both beginners and professionals alike, thanks to its multitude of features. Not only that, but it's also quite affordable too! With precision design capabilities alongside its ability to cut through materials like vinyl and cardstock with ease - this trustworthy machine will have you creating stunning custom projects quickly; making every penny spent on it well worth it.
Which is better Cricut Maker 3 or Explore 3?
For the more advanced crafter, the Cricut Maker 3 is your perfect match. Not only does this machine provide a wide range of capabilities for intricate projects, it also provides several different blades such as the rotary blade - capable of cutting fabric - and even a knife blade to handle thicker materials like leather or balsa wood. The Cricut Explore 3 is ideal for beginner craftsmen who are just starting out; this model offers limited options with its ability to cut through paper, vinyl, and cardstock.
How much is the Cricut Autopress? Cricut autopress Price:
The Cricut Autopress is named Cricut EasyPress 3, and is priced at $199.99 USD. This amazing tool can help you to swiftly design and craft a variety of custom creations. Plus, it works well on almost any material; from fabric to paper, vinyls to iron-on papers - there's something for everyone! Let the EasyPress be your ultimate partner in crafting projects that leave an impression. Find the most up to date price of the Cricut EasyPress 3 on Amazon.
---
Trying to decide between the Cricut Explore 3 vs. the Cricut Maker 3? Here's our verdict:
Craft amazing projects with the Cricut Explore 3 and Cricut Maker 3! Both of these cricut machines provide powerful features and precise cutting capabilities, making them well-suited for both experienced crafters and beginners. Experience a whole new level of crafting excellence that you won't find in any other machine.
When all is said and done, the Maker 3 offers a lot of value for your money. Though there may be an additional cost of $110 to acquire its extra features, once you have mastered them, you will find that this small investment can go a long way! With it's powerful abilities, the possibilities are endless - create whatever projects come to mind with ease when using the Maker 3.
For those seeking even more possibilities and potential to develop projects, invest in the Maker 3.
💥
Have a passion for writing and want to share your favorite products? Check out how normal people can make a living by writing on the internet by watching this awesome,
free virtual workshop
!