Have you always wanted real plants in your home but you never have any luck with keeping them alive?  Or are you looking for a great gift idea for someone else?
Fake plants are a great way to go. They come in all shapes, sizes, and colors so you can find the perfect fit for whatever space you're looking to fill. They're also incredibly realistic, so you won't have to worry about anyone noticing that they're not real (But, who really cares what they think anyway, right?) Plus, they're extremely easy to take care of, so no worrying about watering, pruning, or any of the other tasks that come with caring for a real plant. Real plants can be messy too, and who wants that?
Fake plants are an easy, perfect way to add a bit of life to your space without any of the hassle. They look great, require no maintenance, and can last for years. Plus, they come in so many styles, it's fun to look for and find the perfect one(s).
In our article below, we're going to make some recommendations for some really beautiful fake plants that we're confident you'll love, and you can buy them on Amazon!
We hope you find your next favorite thing from the list below!  Each product was independently selected by our editors. Some may have been sent as samples for us to fiddle with, but all opinions in this article are our own.  Oh, and FYI — LucksList may collect a share of sales or other compensation from the links on this page if you decide to buy something (that's how we stay in business). Reviews have been edited for length and clarity.  Enjoy finding your next favorite thing!
How We Choose The Best Fake Plants For You:
The artificial plant lovers and nongreen-thumbers on our team have perused countless reviews on Amazon to bring you some of the finest faux foliage for your space or for gift giving.
So if you want to buy a fake plant, but don't want to go on a wild goose chase all over the Internet, we can help.
It can be frustrating and time consuming to find the perfect fake plant because there are so many different styles and types available. How do you know which one will give you the best value for your money?
Our team has read through more reviews on Amazon than one can shake a stick at to find some of the best fake plants we think you're going to love. We've done all the hard work so you can easily find and purchase the best plant for your favorite space or for a special gift.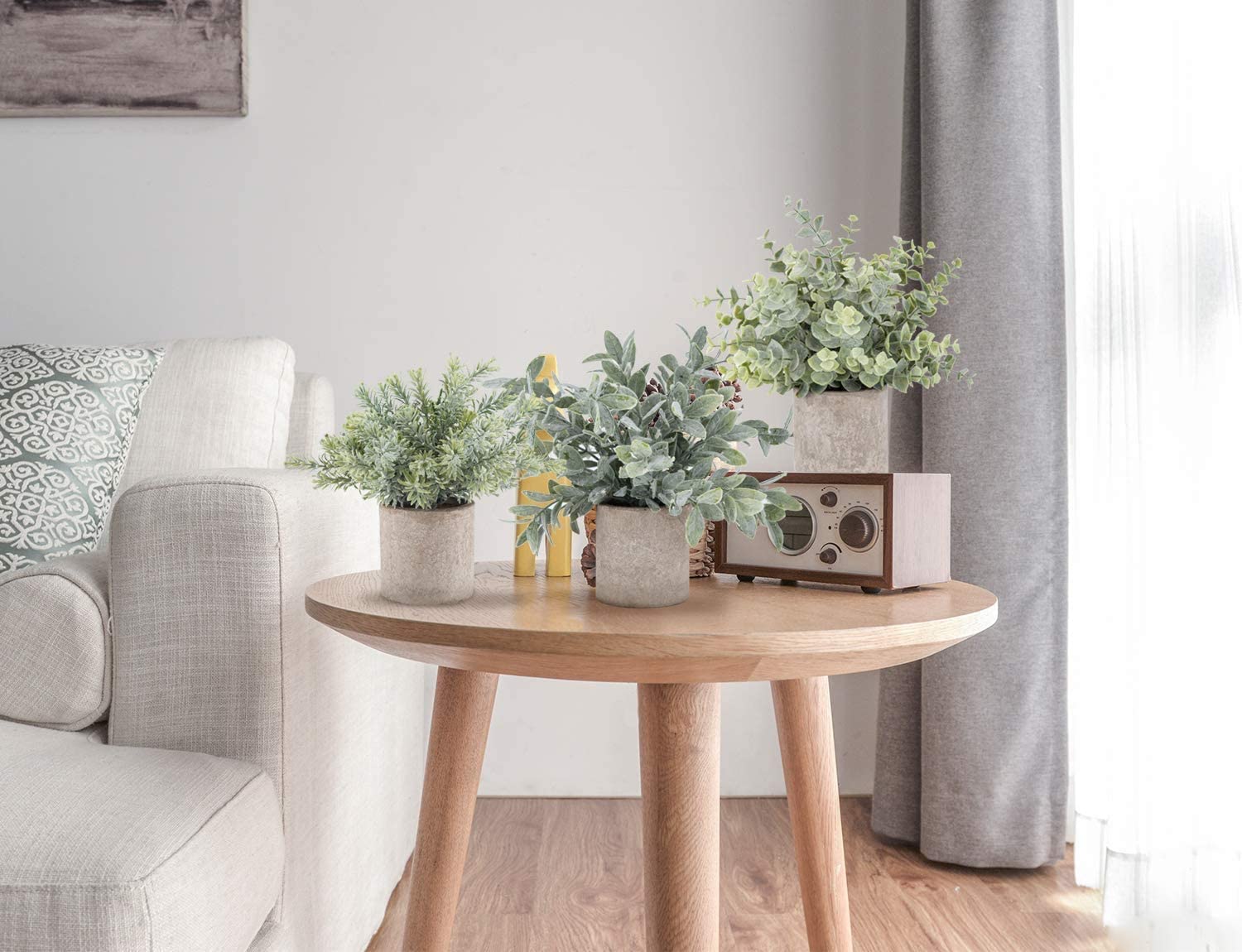 De Rose Mini Potted Plant Set
Great for the Eucalyptus Lover
Check Price on Amazon
Why We Love It:
Eucalyptus leaves aren't just food for those adorable koala bears. They also make a beautiful addition to any room. We think these De Rose Mini Potted Plants are perfect if you're a eucalyptus lover!
If you've never had ecalyptus in your home or office, you're in for a treat. This set of 3 potted artificial plants features 3 different types of eucalyptus that are designed to imitate the frosty gray-green leaves of live eucalyptus, and they will never wither or fade.
The flocked gray-green leaves give an incredibly realistic look to these potted plants, making them a great addition to any space whatever your choice of decor, as they will complement any style.
What You Should Know:
These potted plants measure approximately 9.5" tall and the paper pot is made of good paper pulp, so you won't want to put them in water. The paper pot is approximately 3.65" tall and wide, making it perfect for small spaces.
Plus, these plants are incredibly durable and offer great value for the price. So, if you're looking for a way to dress up your home or office or give an awesome gift (keep one for yourself too), De Rose Mini Potted Plants are a great mini faux option!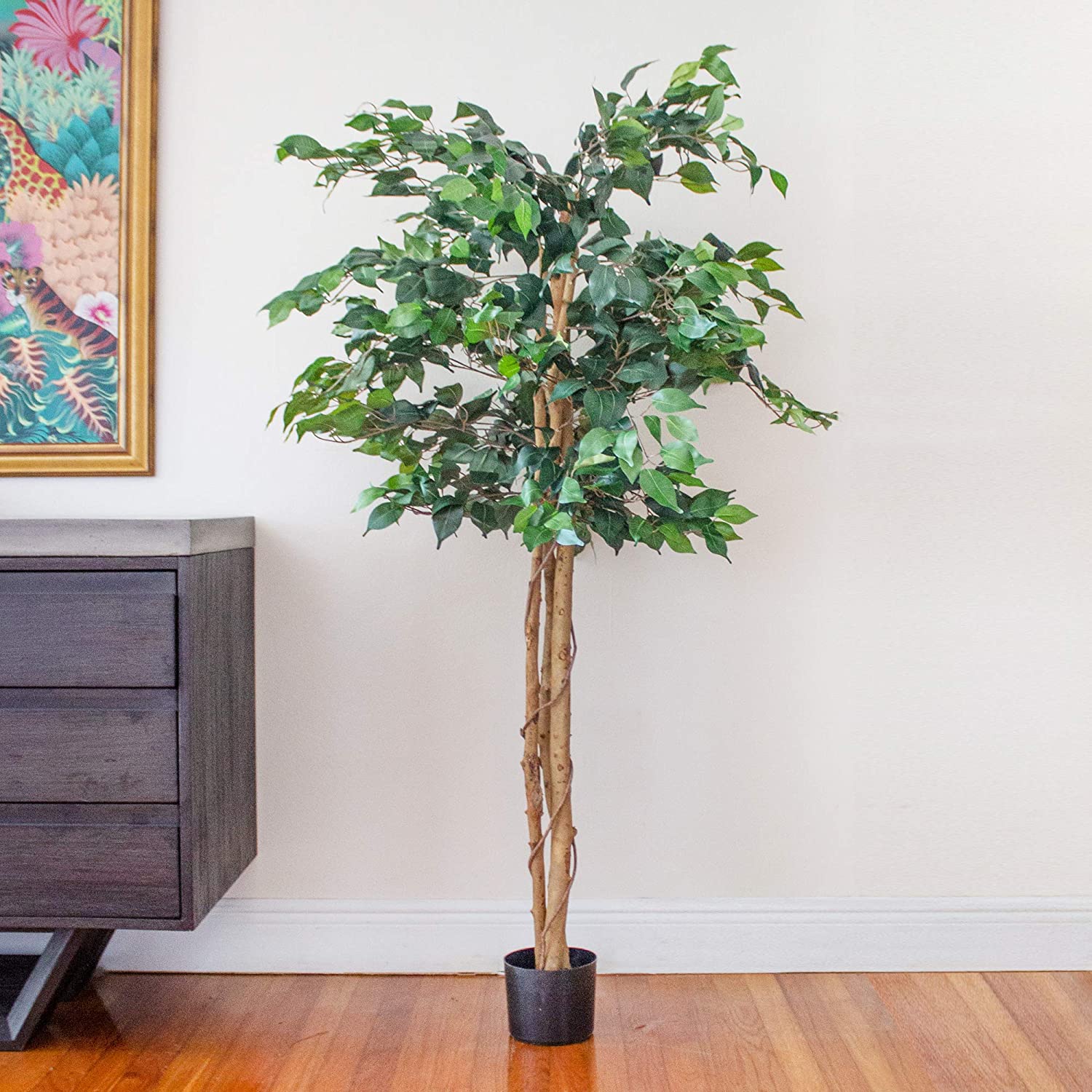 Nearly Natural Ficus Tree
Best For Floor Plant Lovers
Check Price on Amazon
Why We Love It:
Nearly Natural Ficus Tree is the perfect way to bring the beauty of nature indoors without the hassle of trying to maintain real plants. With over 1008 individual leaves, this tree looks full and fresh every day.
It's easy to assemble, light weight, and of course, requires no watering or pruning - the best part, don't you think?
What You Should Know:
This Nearly Natural Ficus Tree stands 6 feet tall and is ideal for any room in your home or office. It's made from synthetic materials, such as polyester material and plastic, and is designed and constructed to be life-like in appearance.
This tree is also a great value, and will last for many years filling an empty spot or just warming up your space.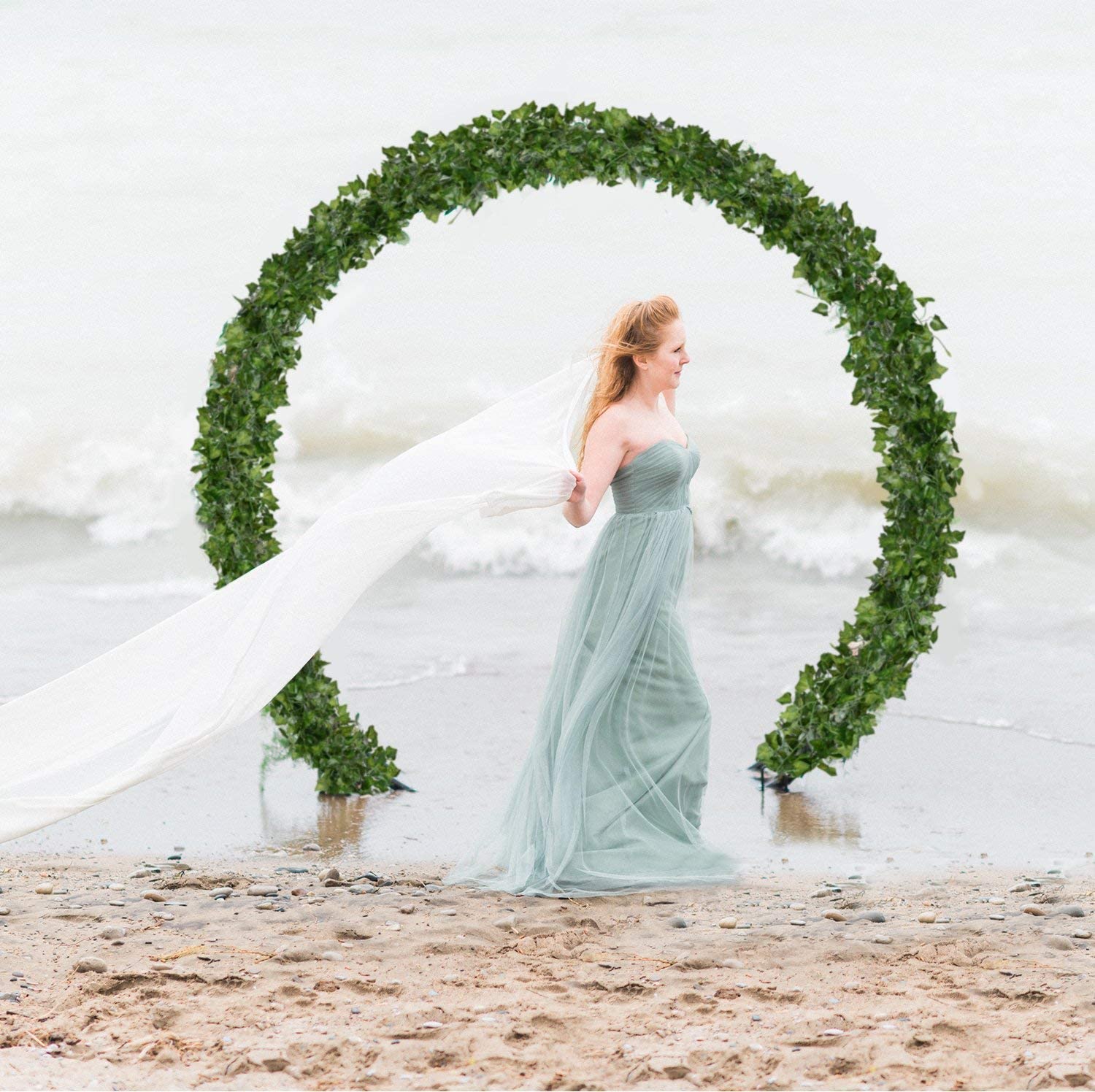 DearHouse Artificial Ivy Strands
Most Versitile Faux Plants
Check Price on Amazon
Why We Love It:
Make your space look more lush and vibrant with DearHouse Artificial Ivy Strands. These 12 strands of pretty ivy are perfect for any decoration project or maybe even a room makeover, and, of course, they don't require any special care.
With each ivy hanging vine measuring approximately 7 feet long, you get a total of 84 feet of greenery, with 80 leaves measuring approximately 1.4-1.8 inches in size.
The plastic vine and silk leaves look lifelike, with wonderful shapely leaves and green hues that add a touch of elegance wherever you like.
What You Should Know:
DearHouse Artificial Ivy Strands are easy to use and can be used for a variety of projects, such as hanging from the ceiling or placed on a mantel piece, for a more natural look.
They are also weather resistant, so you can use them indoors or outdoors and not worry about them being damaged by the weather.
With these artificial ivy strands, you can easily add a touch of nature to your home or event decorations without any of the frustration or inconvenience of live plants.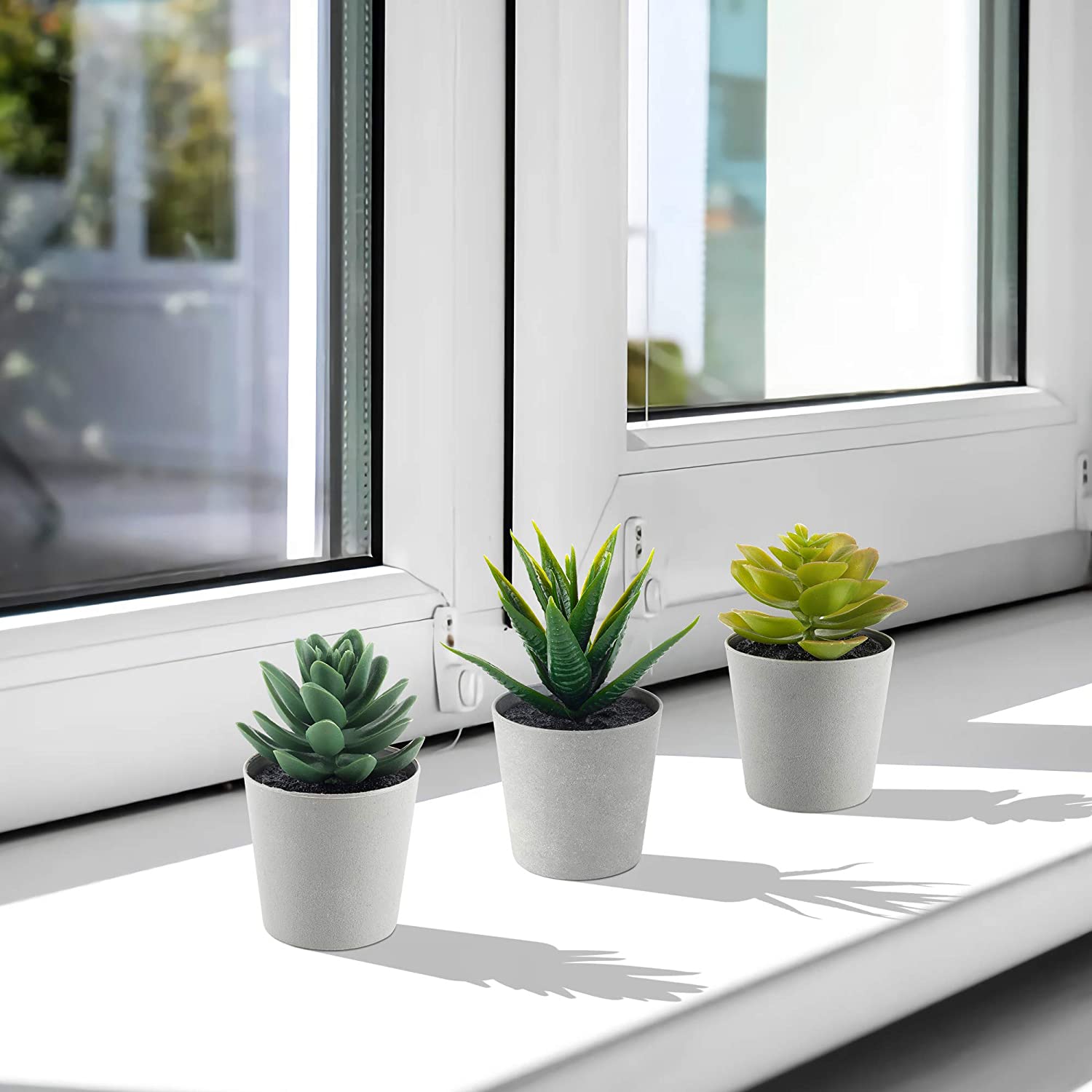 Set of 3 Mini Succulent Plants
For Succulent Lovers (Isn't everybody)?
Check Price on Amazon
Why We Love It:
You can add a touch of greenery to any space with this Set of 3 Mini Succulent Plants!
These faux succulents come in three different varieties, so you can create a unique and vibrant display anywhere, maybe the kitchen window sill, bathroom, or even the bedroom. You could even put them on a patio or front porch.
The lifelike plants look just like the real thing, but without any of the maintenance. Plus, they come in a set of 3, so you can instantly fill up a small space with realistic-looking greenery or give them as a gift to someone special.
What You Should Know:
This Set of 3 Mini Succulent Plants is made from premium quality non-toxic PE & EVA material for safe and durable use. They are eco-friendly and safe for human and pets.
The vivid colors and exquisite workmanship make them look incredibly realistic, and they come with a 1-year quality warranty and 24/7 customer service.
They're very light weight, and their mini size of just 3.5"D x 3.5"W x 4"H makes it easy to find a spot for them. Last, but not least, they're also a great value.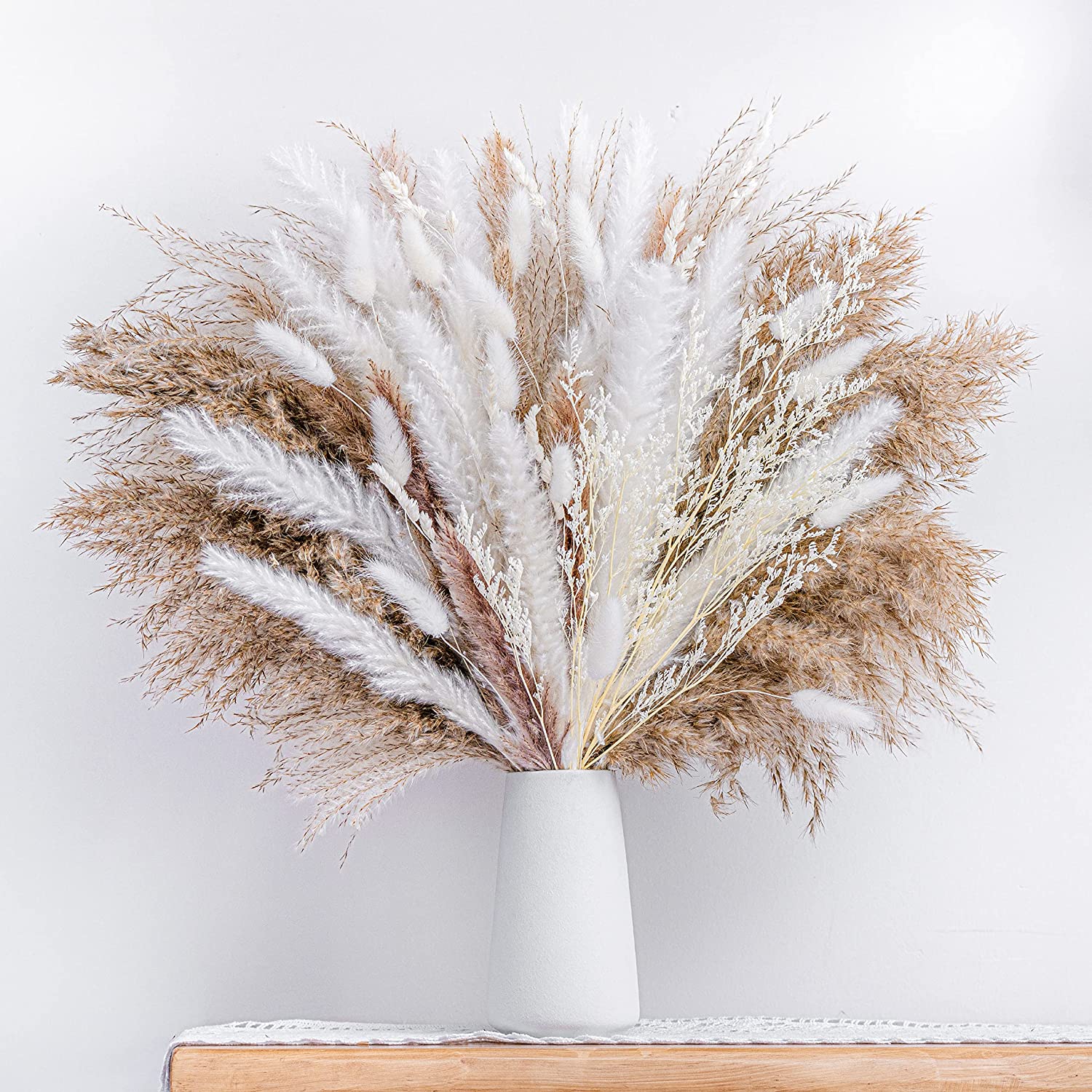 Natural Dried Pampas Grass
Boho or Not - Dried Grass Lovers
Check Price on Amazon
Why We Love It:
Who doesn't love the look of pampas grass in the summer?
Natural Dried Pampas Grass is perfect for adding a touch of nature or a boho vibe to any space. The unique, fluffy texture of the pampas grass adds a unique and eye-catching look to any room.
Best of all, it's easy to maintain and doesn't require any water or sunlight, a must for most of us!
What You Should Know:
This Natural Dried Pampas Grass is made of high-quality materials that are durable and long-lasting. The package contains 86 pieces of natural dried pampas grass.
It also comes with a 1-year risk-free warranty. This faux pampas grass is perfect for any decor because of its neutral coloring. It's a great value for your money, as you can split the pieces up and make several different arrangements for your space or to give some as a gift.
With a really pretty vase and these dried grasses, what a great house-warming gift this could be for any style of living!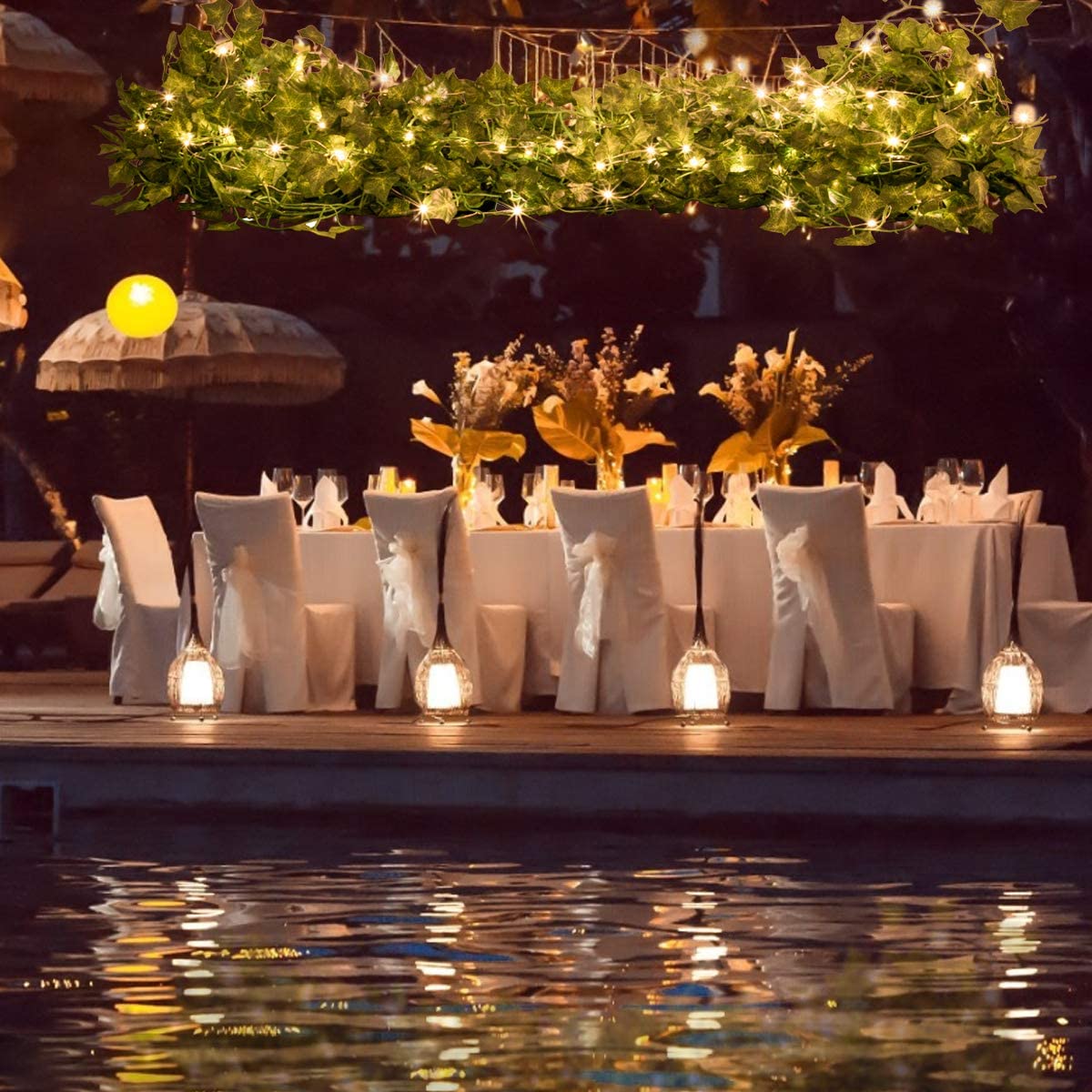 KASZOO Artificial Garland with LED Lights
Great for Evening Events or Parties
Check Price on Amazon
Why We Love It:
KASZOO Artificial Garland with LED Lights is the perfect way to add a touch of beauty and a warm glow to an evening event or party. Of course, they can also be used inside.
The 24 strands of artificial ivy vine are made with high-quality silk and plastic, and they come with 787 inches of LED string light with 160 LED lights.
These lights can definitely be used outdoors as they are IP65 waterproof and electric shock resistant.
What You Should Know:
The LED lights are powered by 2 packs of batteries and come with a remote control that can be used to switch between 8 different flash modes.
The lights are also moldable, so you can adjust them to fit the shape of your display.
And if for any reason you're not satisfied, KASZOO's customer service team will help you return or provide a refund for the product.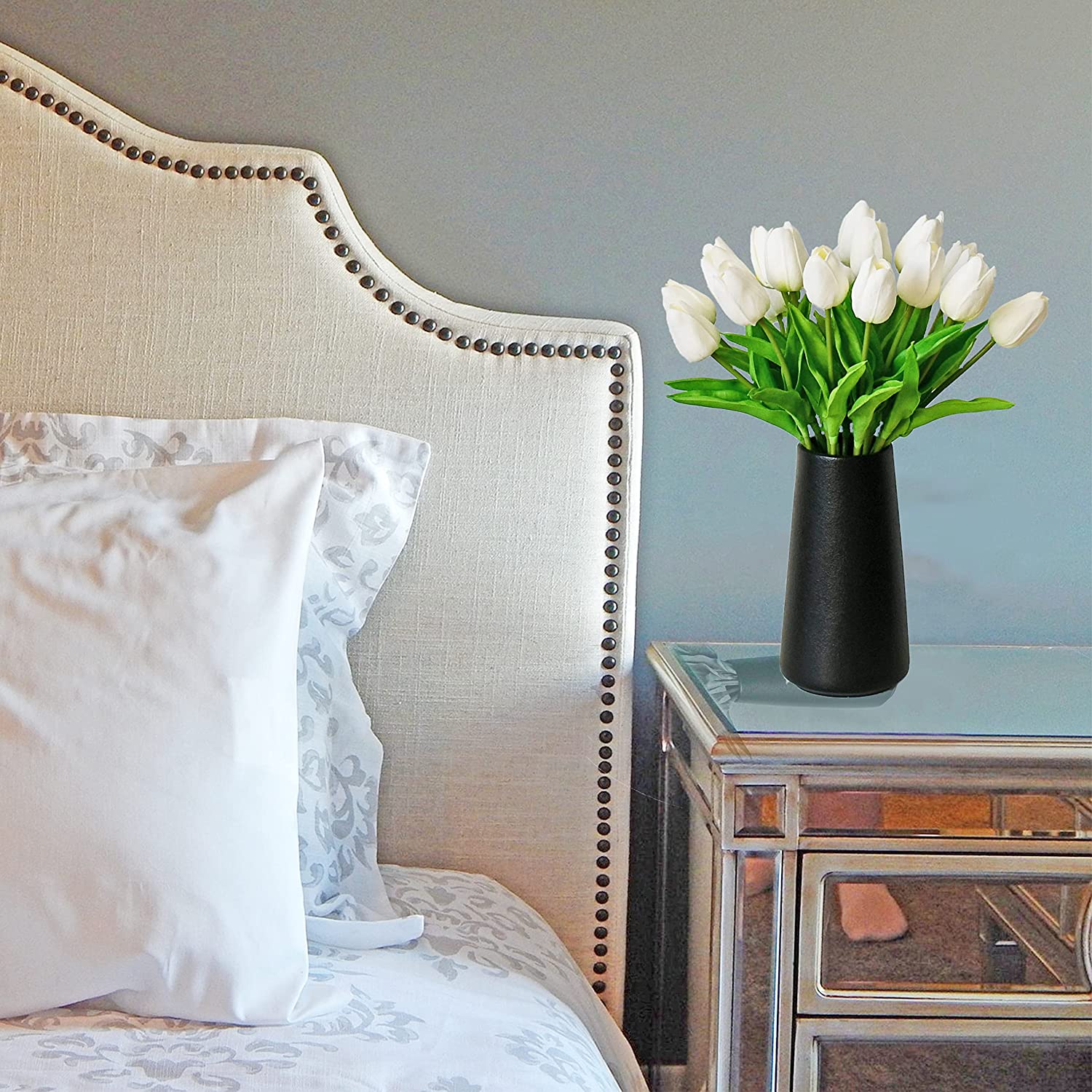 Mandy's White Artificial Tulips
Tulip Lovers, This Is For You
Check Price on Amazon
Why We Love It:
If you love tulips, Mandy's White Artificial Tulips might just become one of your favorites.
They're designed to look just like real tulips, with individual stems that are soft and easy to bend or cut, making they easy to find a display vase or pot for.
They come in a pack of 20, so you can create your own unique arrangements and decorations.
The polyurethane material makes them incredibly lifelike, and their height of 13.5 inches makes them a great size for any table or vase.
What You Should Know:
Mandy's White Artificial Tulips are a great choice for weddings – you can use them as a bridal bouquet or as centerpieces on the tables.
The vase is not included, which is okay, because if you're going to use these as table centerpieces, you'll probably want to use your own special vases.
So, why not tip-toe through Mandy's Tulips and pick some for your home, office, wedding, or event?
Fake (Faux) FAQs
Have you been on the lookout for some really great-looking fake plants, but aren't sure which way to go?
With all of the different types of fake plants out there, it can be hard to figure out which one will look the most realistic and last the longest. It's important to find a fake plant that you're going to love, but it can be tough to know which ones are the best quality and value for your money.
To help you make an educated choice and find the ideal fake plant, we've put together a list of some of the most commonly asked questions about faux plants. Let's take a look.
What does faux mean anyway?
Faux is a French word meaning "false," and it is used to describe items made to look like something else. In other words, faux means "fake." It is commonly used to describe items made to look like something expensive, like faux fur coats and faux leather handbags. Faux items are usually much cheaper than the real thing and can be used to create a similar look without the cost.
What are faux plants made of?
Faux plants are made of a variety of materials, including plastic, latex, foam, and fabric. Some faux plants are made from real plants, such as dried flowers, and then coated with a special sealant to make them look more realistic. Others are made from a combination of materials, such as plastic, foam, and fabric, that are molded and painted to look like real plants. Some faux plants are even made from recycled materials and are designed to look like real plants.
Are faux plants safe?
Yes, faux plants are generally safe. Most faux plants are made of plastic or other non-toxic materials that are not hazardous to humans or pets. However, it is important to check the label of your faux plant to make sure it is free of any hazardous chemicals. Additionally, faux plants should be kept away from small children and pets who might be tempted to put them in their mouths.
Do fake plants look cheap?
It depends on the quality of the fake plant. Generally, fake plants are made from plastic or silk, and the quality of these materials can vary. If you buy a higher quality fake plant, it will look more realistic and less cheap. On the other hand, if you buy a lower quality fake plant, it may look cheap and artificial.
How do you fill fake plants in pots?
Filling fake plants in pots is a simple process. Start by selecting a pot that is large enough to hold the artificial plant without being too large or too small. Place a layer of rocks, gravel, or pebbles in the bottom of the pot to help with drainage and to provide the fake plant with stability. Place the artificial plant in the pot and fill the remaining space with potting soil. Make sure that the soil is firmly pressed around the base of the artificial plant to help it stay in place. Finally, mist the soil with water to help the soil settle and to keep the artificial plant looking realistic.
Do interior designers use fake plants?
Yes, interior designers often use fake plants to add greenery to a space without the hassle of caring for a real plant. Fake plants come in a variety of sizes, colors, and styles, and can be used to add texture, color, and interest to a room. They are also a great way to add a pop of color to a space without taking up too much space. Fake plants can also be used in areas where real plants may not be able to thrive, such as in dark corners or in spaces with limited natural light.
When did fake plants become popular?
Fake plants have been around for centuries, with the earliest known artificial plants appearing in ancient Egypt. However, it wasn't until the mid-1900s that fake plants became widely popular. During the 1950s and 1960s, plastic plants became increasingly available and affordable, and by the 1970s, they had become a common sight in homes and businesses. Today, fake plants are still popular, with many people choosing them for their low maintenance and realistic appearance.
How do you make fake plants look realistic?
Making fake plants look realistic requires some attention to detail. Start by looking at real plants to get an idea of how they look and how they are shaped. Then, when choosing a fake plant, look for one that is made of a material that looks and feels like a real plant. For example, if you're looking for a fake fern, choose one that has leaves made of a fabric that looks like real leaves.
Next, you'll want to make sure that the fake plant is properly positioned. Place it in a location where it can receive the same amount of light that a real plant would receive. This will help the fake plant look more realistic.
Finally, you can add some finishing touches to make the fake plant look even more realistic. For example, you can add some moss or soil around the base of the plant to give it a more natural look.
Do fake plants still make you happy?
Yes, fake plants can still make you happy. Even though they are not real, they can still provide a sense of calm and peace that comes with having plants in your home. Fake plants can also be a great way to bring a bit of nature into your home without the hassle of caring for a live plant. Additionally, fake plants can be moved around easily and are often less expensive than real plants, making them a great way to add a touch of warmth to your home without breaking the bank.
How do you protect fake plants outside?
Fake plants should be protected from the elements in order to keep them looking their best. If your fake plants are exposed to direct sunlight, you should use a UV-protective spray to protect the plastic and paint from fading. If you live in a rainy area, you should cover your plants with a waterproof tarp or a plastic cover to protect them from the rain. Additionally, you can use a sealant to protect the paint and keep the colors looking vibrant. Finally, you should store your fake plants indoors when not in use to ensure their longevity.
Some Final Thoughts On Fake Plants:
We love plants, especially ones that are simple to care for and easy to keep alive. Well, there aren't too many out there that don't need our help. So, we think fake plants can be a really good option. They are so much better than what we remember from the 70s and 80s. They are more realistic looking and there are so many different styles to choose from - some with flowers, some without; some in pots, some not. There's something for everyone, even the pickiest of us.
So if fake plants are what you're looking for, we hope that what we've shown you here will inspire you to try some of our picks.  If so, just click on the "Check Price On Amazon" buttons above and see for yourself.
Thanks for stopping by...and never stop be-leafing!