67 Dinner Ideas If You're Trying To Cut Back On Meat Or Dairy
1. Roasted Cauliflower Enchiladas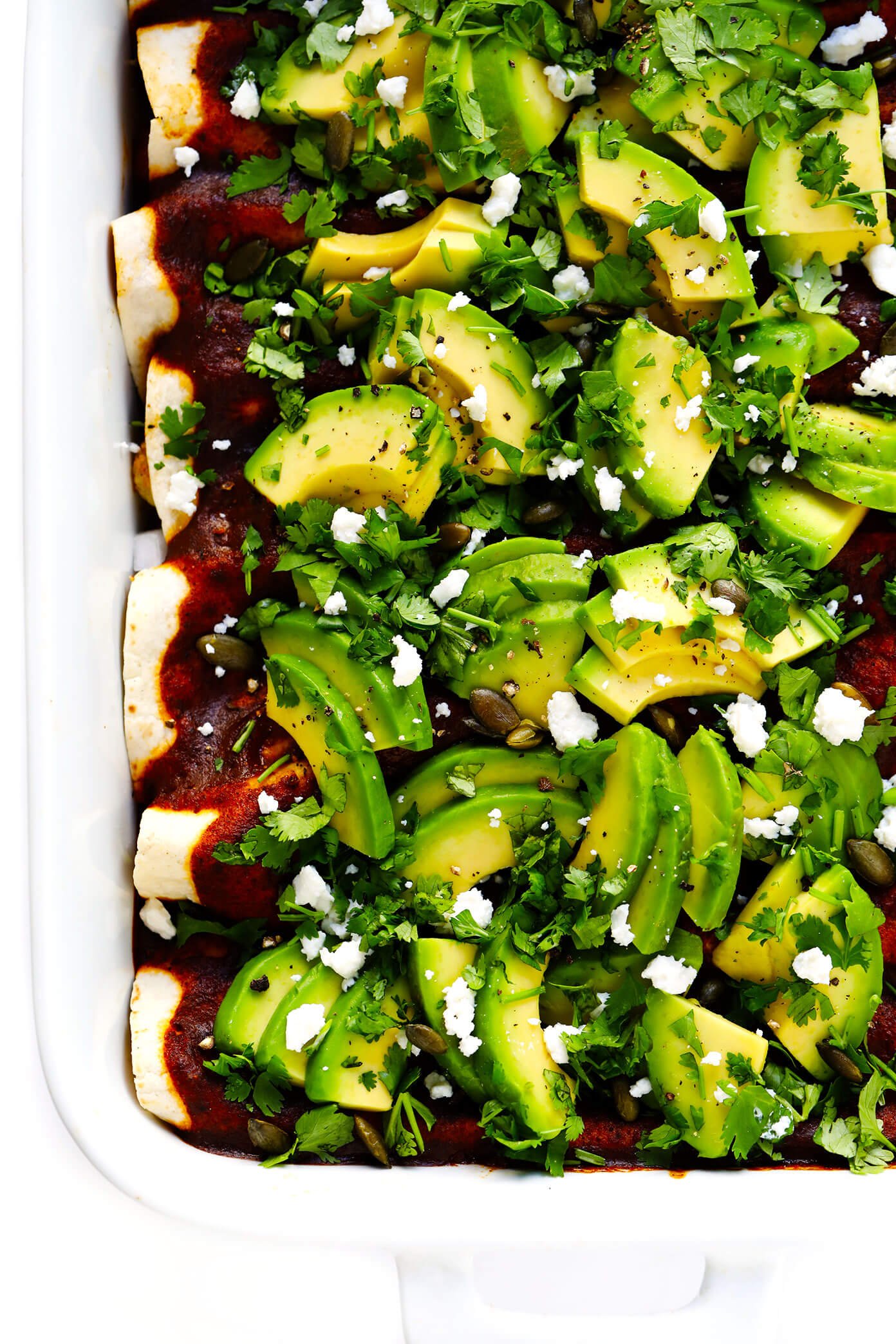 Deliciously vegetarian!
2. Vegetable Jambalaya
Lots of flavor minus the meat.
3.

Spinach-Pesto Pasta
4. Sticky Sesame Cauliflower Bites
5. Roasted Asparagus and Smashed new Potatoes
Easy to whip and practically delicious.
6. Veggie-Cashew Stir-Fry
Must try for those who do not like vegetables.
7. Creamy Mushroom Risotto
8. Vegetable Fritata
Yummy even when hot or cold.
9. Sweet Potato Fajitas
10.
Lentil-Chickpea Yellow Curry
11. Firecracker Vegan Lettuce Wraps
Looks yummy, taste yummier!
12.
Black Bean Green Chili Enchiladas
13. Quinoa Arugula Bowl with Peaches and Avocado
Just whisk the ingredients together and voila – enjoy!
14. One-Pot Spaghetti with Vegetables
15. Cashew Ricotta and Parmesan–Stuffed Shells
16. Pasta with Roasted Vegetables and Sun-dried Tomato Pesto
Simple and great for summer season vegetables!
17.
Veggie Summer Rolls with Chipotle Peanut Sauce
18. Mushroom Lentil Meatless Loaf
19. Meatless Hawaiian Sloppy Joes
20. Veggie Bowl with Tofu Scramble
Scrambled tofu in place of eggs, genius!
21. Pumpkin, Spinach and Lentil Lasagne
Perfect for sharing with family and friends.
22. Vegetable Pad Thai
23. Sweet and Spicy Cauliflower
Curry and cauliflower will surely satisfy your palate.
24.
Thai Curry Vegetable Soup
25. Healthy Veggie Burger
Healthy version of our favorite fast food.
26.

Pesto Zucchini Noodles with Mushrooms and Chickpeas
27. Better that Chipotle Vegan Burritos
Deliciously mesmerizing and satisfying.
28.
Paella
29. Roasted Cauliflower Nasi Goreng
Healthy approach to this classic indonesian fried rice.
30. One-Pot Creamy Hummus Pasta
31. Couscous with Dried Fruit and Feta
The sweetness of the dried fruits balanced the salty feta cheese perfectly.
32.
Watermelon and Soy Poke
33. Loaded Tornado Potato
Spicy baked potato for the win!
34. Buffalo Cauliflower Pizza
35. BLT Endive Bites
Tasty appetizer.
36. Smoky Sweet Potato Quesadillas
37. Spicy Broccoli with Garlic
Easy, simple and delicious.
38. Moroccan Spiced Couscous with Roasted Vegetables
A taste of spring!
39. Vegan Meatball Banh Mi
40.
Creamy Tomato Soup
41.
Sweet Potato Mac and Cheese
42.
Roasted Vegetable Lasagna
43.
Sheet Pan Honey-Sesame Tofu and Green Beans
44.
Mushroom and Cauliflower Shepherd's Pie
45. Healthy Vegan Ramen Noodle Salad
Ramen and salad in one dish, who can resist?
46.
Sabich with Spiced Chickpeas
48.
Vegan Spicy Sushi
49. Crispy Potato Tacos
50.

Sriracha and Lime Roasted Cauliflower Tostadas
51. Rich Lentil Bolognese
52. Spinach, Feta and Broad Bean Pie
Veggies in a crusty pastry.
53.
Grilled Vegetable and Tofu Ramen
54.
Chickpea Parmesan
55. Pulled BBQ Carrot Sandwiches
56.
Cuban Rice and Bean Bowls
57. Vegan Dhaba Chicken-free Curry
When you go curry minus the chicken.
58.
Vegan Pot Pie
59.

Black Pepper Tofu Stir-Fry
 60.
Mushroom Wellington
61.
Vegetable Quiche with Sweet Potato Crust
62. Thai Naan Pizza
63.
Eggplant Parmesan
65.Summer Garden Linguine with Corn, Tomatoes and Fresh Herbs 
Great food when you are feeling a little bit under the weather.
66. Healthy Veggie Egg Scramble
67. Parmesan Vegetable Tian
48 Pictures That Are A Little Too Realistic For Swimmers
Swimmers undergo hours of training to be the best that they can be in their craft. But it's time to take some break and get yourselves rolling on the floor laughing with these pictures that are too realistic for swimmers.
1. When you are a lady swimmer and you cannot wear a two-piece.
2. When you look like this after taking off your goggles.
3. When football players claim swimming isn't a sport.
4. When the lane leader attempts to catch up behind you during training.
5. When you are about to swim the 1650 but have to ask your coach how to do it.
6. When you unintentionally whack the lane line and it seems as though you might sever your fingers.
7. When your friends ask you to hang out.
8. When catastrophe strikes just before the race.
9. When you thought you lost but you actually won.
10. When your coach comes back for more.
11. When you fail to rinse out the chlorine from your hair.
12. When you are clueless about what's going on during practice.
13. When the coach displays the main set on the board.
14. When your meet moves along at a slower pace compared to your molasses.
15. When you just came back from vacation but you need to practice.
16. When you get back home from practice before anyone from the house has even woken up.
17. When you try to turn practice into a fun activity.
18. Or maybe this is more accurate.
19. But actually.
20. When playing make-believe is all you can do during a warm down.
21. When you're gearing up for a big meet.
22. What you think about after a long afternoon practice.
23. When you walk up the blocks and feel like a badass.
24. Yeah right.
25. The difference between how you and normal people set the alarm.
26. The best feeling in the world.
27. When there is no other way to handle the day following a morning training.
28. When you have a long main set.
29. Makes sense to anyone who's swam the 200 fly.
30. When you are challenged with butterfly stroke during a meet.
31. When a hard main set is approaching and all you need to do is get ready for the worst.
32. When you have a weirdo on your team.
33. When there is a difference in your butterfly stroke at the beginning and end of the race.
34. How you feel when you are SO done with the other swimmers in your lane.
35. When you have been used to carrying two back-packs.
36. When the swimmer behind you continuously wants to ride your ass.
37. When you lose count.
38. When you opt to have a bathroom break during training.
39. When you need to wear a tech suit but it would be dangerous.
40. When you woke up early for training but the coach didn't show up.
41. When you have a different suit among all swimmers.
42. When you really need to swim "THAT" event.
43. When you have nearly completed the 500 and you have that OMG moment.
44. When all you need is a little motivation.
45. When you need to load carbo.
46. When swimming turns into a contact sport.
47. When your alarm is bound to destroy you.
48. And finally, this.
37 Cat Pictures That Are Never Not Funny
35 Puppies Who Are Far Too Cute For This World
1. Cutest!
2. This pup is too cute to function! LOL!
3. Awww my baby doggo.
4. Cute as a teacup!
5. I have no words! I wanna cuddle you everyday!
6. Oh so pretty!
7. Puppy or raccoon? Hmmmm.
8. Ugh, like a walking cotton ball!
9. Soooo fluffyyyy!
10. Not cute in size, but this pitbull is loooove!
11. Sooo cute, I can't even!
12. This bull terrier is stealing my heart!
13. My Frenchie loving heart is happy!
14. Aww, don't be sad little one.
15. THREE TIMES THE CUTENESS. I'm dyiiiinnnng.
16. His.ears.are.so.flappy! Eeeep.
17. Awww, I heart you so much!
18. This pup that's dark as the night, but twice as cute!
19. Puppa in a cuppa!
20. This pup is so at home!
21. So squiissshhyyy!
22. How about this really happy pup?
23. This pup is having "me" time. Please don't disturb. Teehee!
24. Coffee for two? Yes please!
25. Did you say cotton candy?
26. I'M DYING! This pup has a crown!
27. Twice the cuteness!
28. My photography assistant is too cute, he can fit into my camera bag!
29. Hey boy, what are you reading?
30. How about this cutie? She has a cute dress!
31. Awww, stop staring at me like that.
32. How about this pug that's all sassy and cute?
33. Who said that cats and dogs are supposed to be enemies? Not me!
34. Awww. Children and puppies are the best combo ever.
35. Whoooo. These doggos are being swept away by the wind!