Do not underestimate the unique purpose of your patios! Adorn your outdoor space with one of the patio furniture on our list that will surely give a relaxing ambiance while enjoying fun moments with families and friends. Show off to your guests a welcoming patio when they arrive!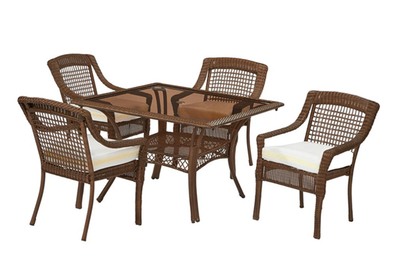 #3: Hampton Bay Spring Haven
This patio furniture is a modern 5-piece all-weather patio dining set with stackable chairs and customizable cushions. It is ideal for those people who prefer the look of wicker that has low maintenance for keeping it clean with its large glass tabletop. Plus, you can change from 10 colors of the cushions made of Olefin fabric, which is designed for UV resistance or upgrade to one of five more durable Sunbrella-brand fabric. The table measures 45 inches square, and 29 inches high while the seat dimensions are 16½ inches wide, 18½ inches deep, and 17 inches high. Although It doesn't seat as many people compared to other furniture at a very affordable price!
#2: Better Homes and Gardens Clayton Court
This patio furniture is a 5-piece low-maintenance steel set that is sturdy that will last years before the rust starts to appear. It has a 42 inches table that is bigger than the table of most sets of this type and large enough to support four full place settings. Most tables of this kind feature a hole in the center for a patio umbrella while this one has a second hole for additional stability. Its chairs have mellow relaxing bounce and with higher-backed chairs to support your back or neck. Its tabletop does not collect rain and dirt which is really great for outdoors. The table measures 42 inches in diameter and 27¼ inches high while the seat dimensions are18 inches wide, 19 inches deep, and 16¼ inches high. This is perfect for people who are on a tight budget!
#1: IKEA Äpplarö
This patio furniture is made of acacia wood, a dense hardwood with a high oil content that tends to be resistant to bugs and rot, which is also not as durable as teak but is much less expensive. Experts said that most people prefer a wood look for outdoor dining sets. This set has the best value compared to other wood sets that put it at the top of our list for the best patio furniture you can buy. Good news, its table can expand up to 10 seats. The drop-leaves can be folded and removed, so you can quickly adjust the table size according to your needs. Without the leaves, the table has a compact 2.5-by-4.5-foot surface area yet with the leaves extended, the table almost doubles in size. Its reclining chairs are the most comfortable overall!