Are you looking for a 3D printer that can produce high-quality prints? Look no further than a resin 3D printer.
Resin 3D printers are the perfect choice for anyone looking for a printer that can achieve professional-grade prints with incredible detail and accuracy. They use a liquid resin that is cured with a UV light to create 3D objects layer by layer. This process allows for prints with high resolution, intricate details, and smooth surfaces.
The resin 3D printer is the perfect choice for anyone looking to take their 3D printing to the next level. It's easy to use, has a fast print speed, and produces prints with stunning detail. Plus, it's affordable and can be used for a wide range of applications, from prototyping to jewelry making.
This article will review the best resin 3D printers on the market today. We'll go over the features, pros and cons of each printer, so you can make an informed decision on which one is right for you. Unleash your creative potential by entering the amazing world of resin 3D printing!
How We Choose our Resin Printers
3D printing technology has come a long way, and resin 3D printers are one of the most popular types of 3D printers on the market. But with so many different models and brands available, it can be hard to know which one is right for you.
Our team of experts has read thousands of reviews to find the best resin 3D printer for your needs. We've done all the hard work so that you can easily find and purchase the perfect machine for your projects.
No more guesswork or wasted money - just the perfect resin 3D printer for your needs! Check out our reviews today and take your 3D printing to the next level!
💡
Ready to learn all about the best 3d resin printer? We are super excited to show you how! For your convenience, this post contains various affiliate links. If you make a purchase after clicking one of these links, we will earn a small commission without adding any additional cost to your total!
ELEGOO Saturn 2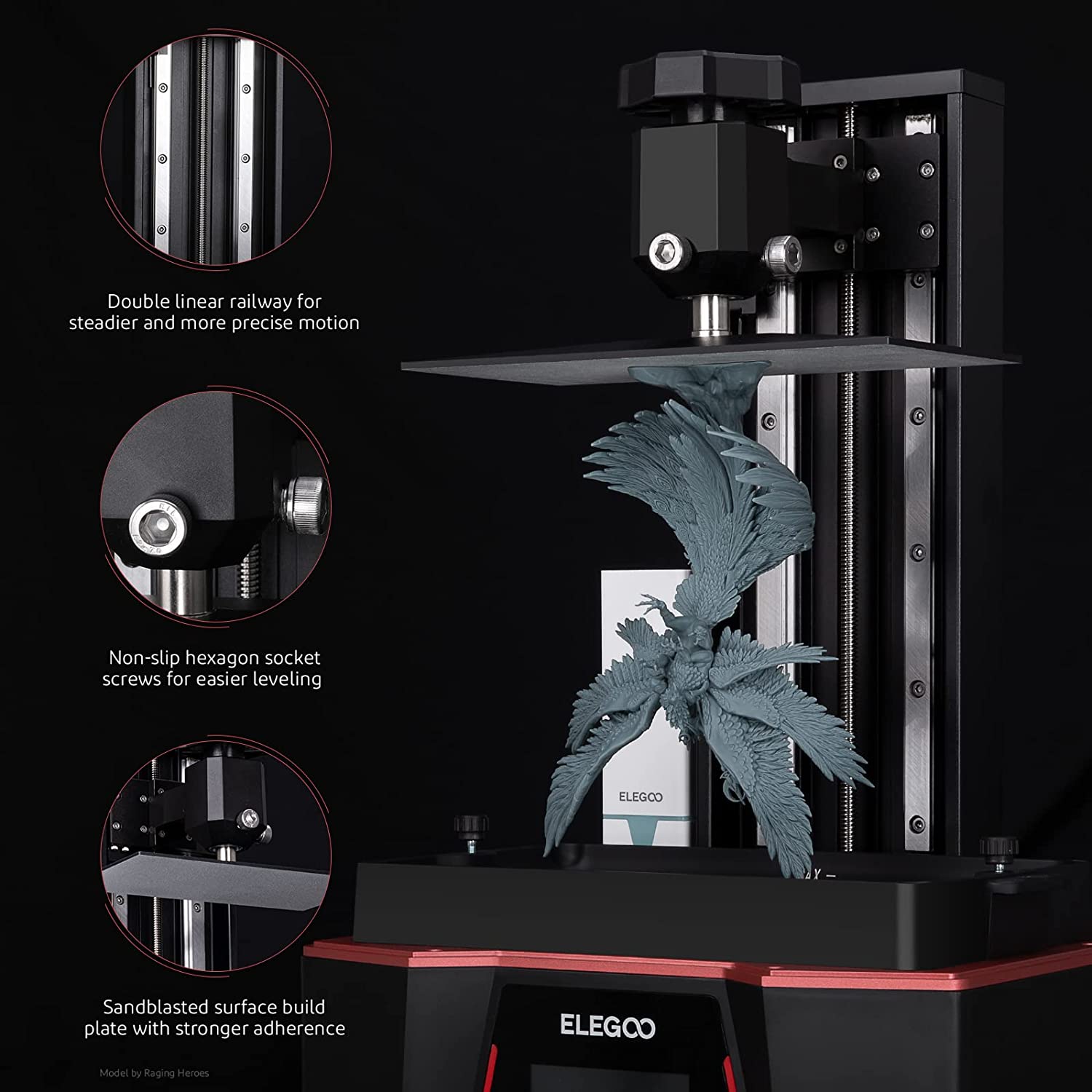 1. ELEGOO Saturn 2
Best mid-sized resin 3d printer
Check Price of ELEGOO Saturn 2 on Amazon!
ELEGOO Saturn 2: Why We Love It:
The ELEGOO Saturn 2 is the best mid-sized resin 3D printer on the market. Its 10-inch 8K mono LCD screen has an HD resolution of 7680x4320 and an ultra-fine XY resolution of 28.5 microns, outputting outstandingly detailed 3D models with a cure time of only 1-3s per layer. The scratch-resistant tempered glass above the LCD screen has 9H hardness for better light transmission and protection. With a build volume of 219x123x250 mm³/ 8.62x4.84x9.84 in³ and a 10" large mono LCD screen, you can print one larger model or multiple smaller models in a single batch.
What You Should Know:
In addition, the ELEGOO Saturn 2 has a filtration system with an activated carbon filter to absorb most of the resin odor, creating an odor-free fresh printing environment. It also utilizes a Fresnel collimating light source consisting of 48 highly integrated UV LED lights that work with free-form surface COB lens and FCL system Fresnel lens to emit a uniform light beam of 405nm wavelength with 92% light uniformity, excellent printing accuracy, and a more smooth surface finish. The Z-axis is designed with dual linear rails and non-slip hexagon socket leveling screws for ultra-steady & accurate movement and remarkable printing performance. Plus, the sandblasted surface build plate provides much stronger adherence, and PFA release liner with easier model removal and less release tension. The double heat-conducting copper heat tubes provide faster heat transfer and better heat dissipation efficiency to prolong its service life. So why wait? Get your ELEGOO Saturn 2 today!
---
ELEGOO Mars 3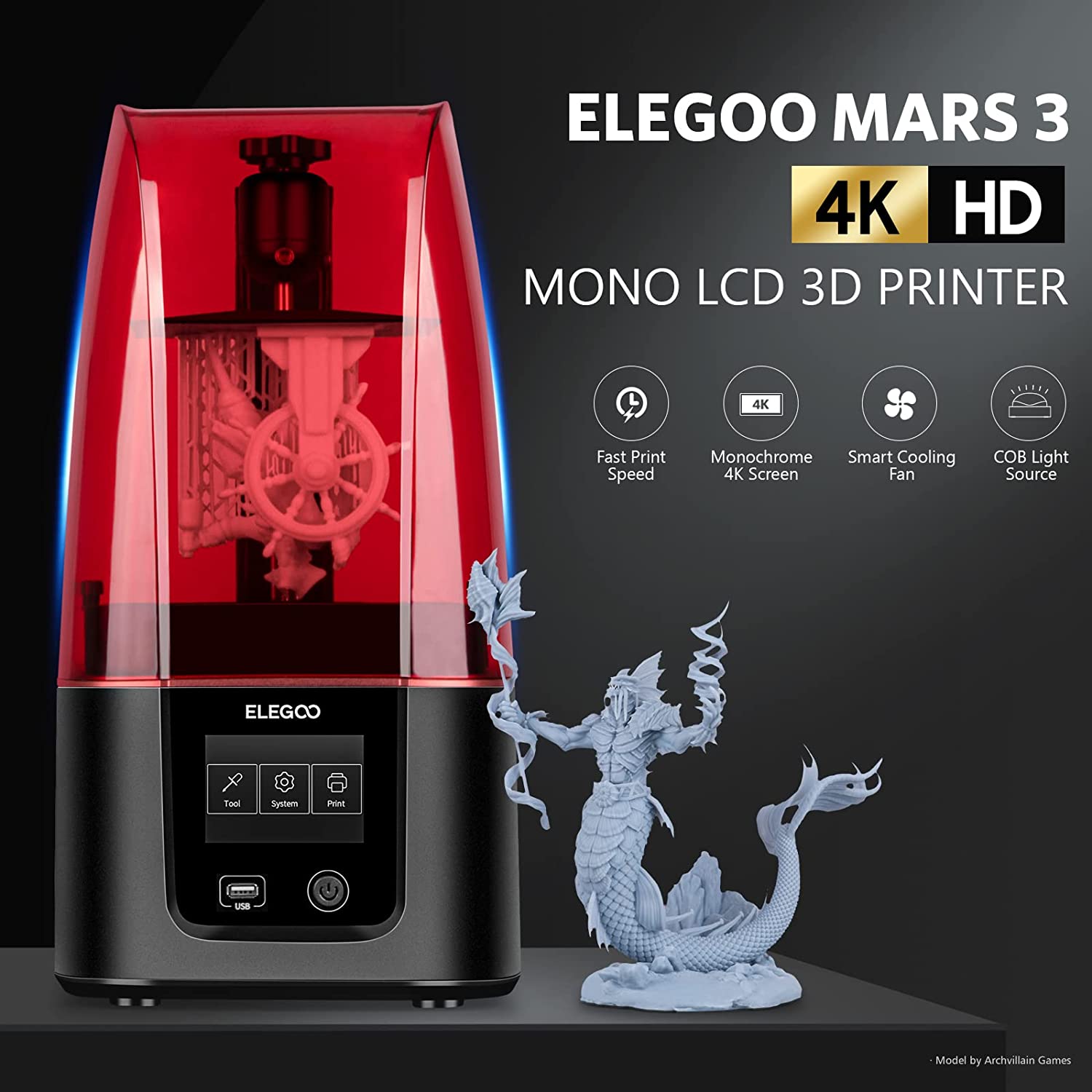 2. ELEGOO Mars 3
High level detail, desktop sized
Check Price of ELEGOO Mars 3 on Amazon!
ELEGOO Mars 3: Why We Love It:
ELEGOO Mars 3 is a desktop sized 3D printer that offers high level detail and precision. It boasts of a 6.66 inches mono LCD with Ultra 4K HD resolution, a 30% higher XY resolution at 35μm, and a 37% higher build volume than the Mars 2. Plus, its upgraded light source with 36 highly integrated LED lights and a brand new COB lens delivers over 90% uniformity of UV light illumination, making the printing accuracy upgraded to another level. As if that weren't enough, it also comes with a 1-year free trial of Chitubox Pro slicer, which is worth 169USD.
What You Should Know:
ELEGOO Mars 3 also features an optimized heat sink unit with copper tubes and a high-quality cooling fan that significantly improves the heat dissipation performance. Plus, its light decay is less than 5% after 6000 hours of printing, extending the longevity of the UV LED lights. Besides Chitubox Pro, Lychee Slicer is now also compatible with Mars 3. So why wait? Get your ELEGOO Mars 3 Pro today and experience amazing 3D prints with maximum accuracy!
---
ANYCUBIC Photon M3 Max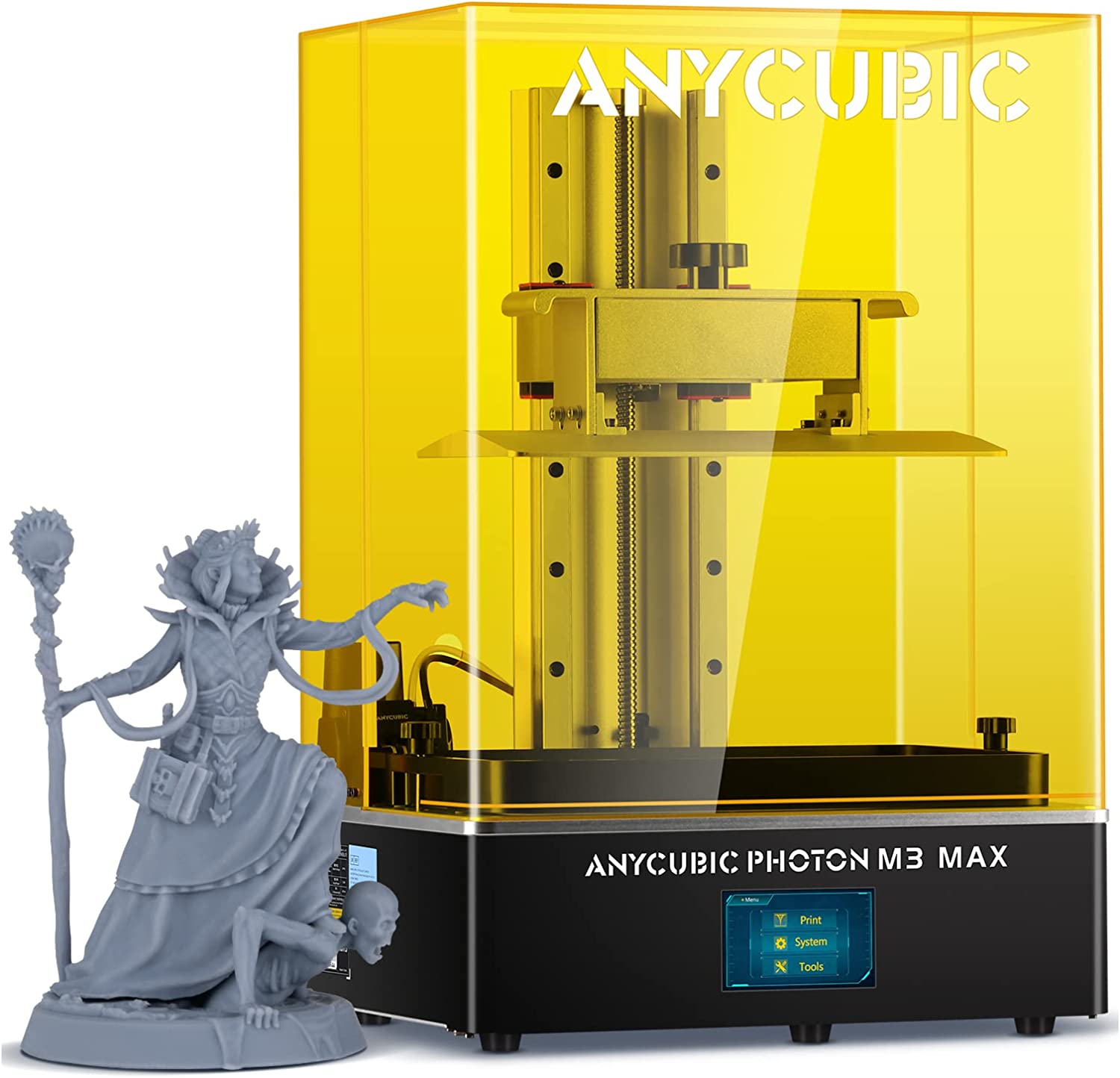 3. ANYCUBIC Photon M3 Max
largest build volume of our reviewed printers
Check Price of ANYCUBIC Photon M3 Max on Amazon!
ANYCUBIC Photon M3 Max: Why We Love It:
ANYCUBIC Photon M3 Max Resin Printer is a fantastic 3D printing tool for makers, hobbyists, and professionals. It has the largest build volume of our reviewed printers and can print up to 13.0" x 11.7" x 6.5"/ 30.0 x 29.8 x 16.4 cm, giving you superior print volume and allowing you to print more models at once. It also features a 7K Ultra HD LCD screen with a super high resolution of 6,480 x 3,600 pixels, providing sharper details around edges and corners and significantly increasing the quality of your prints. Additionally, the 13.6" screen is protected by a replaceable anti-scratch film, and it has a powerful light source that can produce prints at a speed of 60mm/h, making it one of the fastest 3D resin printers around.
What Else Should People Know?
The ANYCUBIC Photon m3 is one the larger models in our current review. Not only is the ANYCUBIC Photon M3 Max one of the most powerful resin printers available, it's also one of the most user-friendly printers. It has an automatic resin feeding feature that helps resin intelligent filling and intelligent stopping after enough. Plus, its laser engraving platform has strong adhesion, which improves the printing success rate. So if you're looking for an ultra-fast and reliable 3D resin printer, be sure to check out the ANYCUBIC Photon M3 Max printer today!
---
ANYCUBIC Photon M3 Premium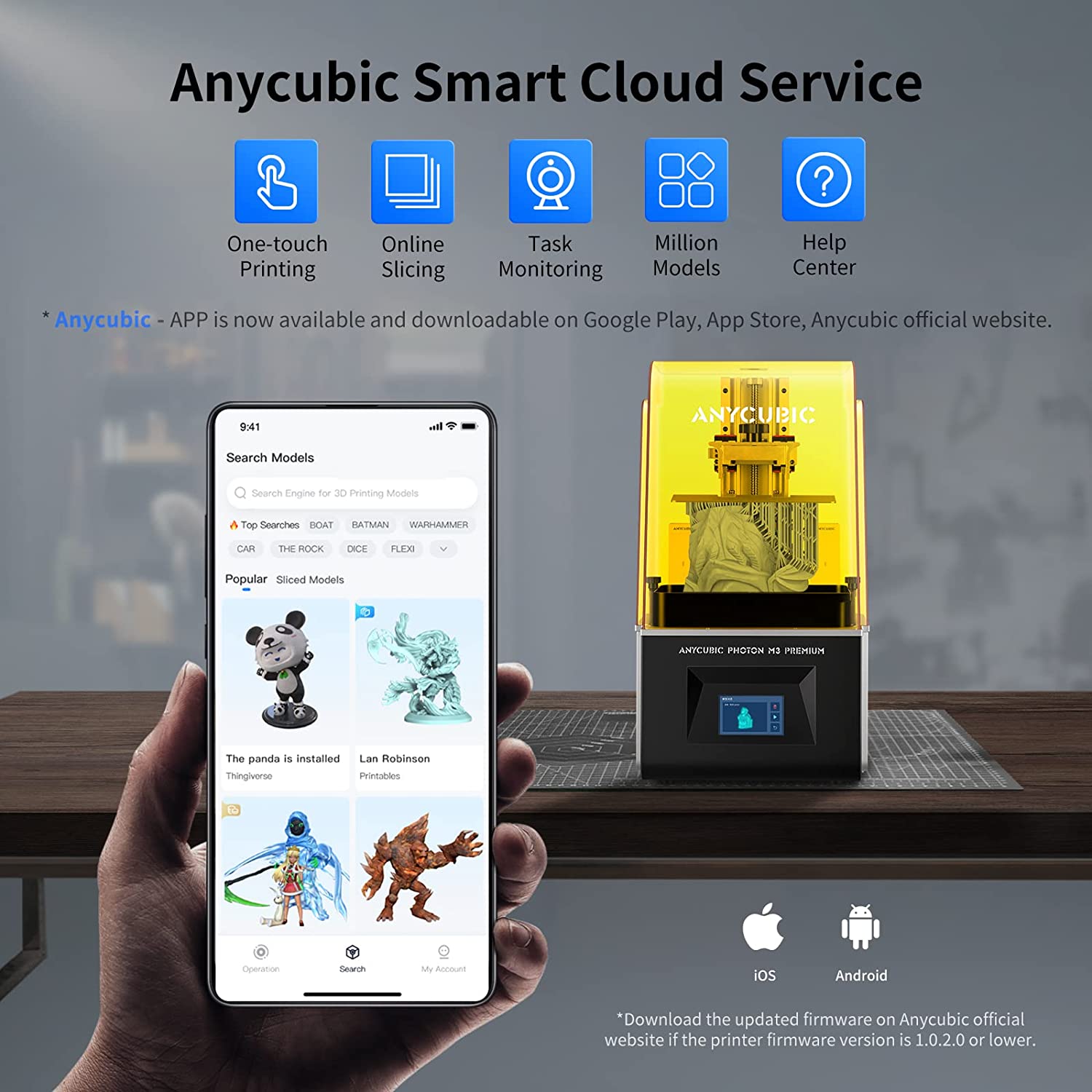 4. ANYCUBIC Photon M3 Premium
second largest printer in our review
Check Price of ANYCUBIC Photon M3 Premium on Amazon!
ANYCUBIC Photon M3 Premium: Why We Love It:
The ANYCUBIC Photon M3 Premium is the second largest printer in our review and is the perfect choice for anyone looking for a high-quality 3D printing experience. This impressive machine features a 10-inch monochrome LCD screen with a 7680x4320 resolution and an XY-resolution of 28.5μm, ensuring each of your 3D models will be printed with sharp corners and delicate edges. Plus, the Anycubic LightTurbo 2.0 light source of Photon M3 Premium provides the high light uniformity of the COB light source system while elimining stray light, creating a delicate and smooth model surface.
What Else Should People Know:
The ANYCUBIC Photon M3 Premium also comes with the Anycubic app, allowing users to select models, slice online, print in one touch, and monitor printing progress with their smartphones. In addition, this model adopts the ball screw double-threaded rods, offering even more lifting structural precision at 0.005 mm, half that of a regular T-shaped rod printer, significantly reducing the layer line effects. The 3d printing size is 250*220*120 mm (HWD), and the maximum printing volume reaches 6.7L, giving creators more creative space while ensuring printing accuracy. Finally, the machine features an efficient and replaceable built-in dual activated carbon odor absorption system and dual cooling system to keep temperatures within 65℃, effectively improving the light source's lifespan.
---
ANYCUBIC Photon D2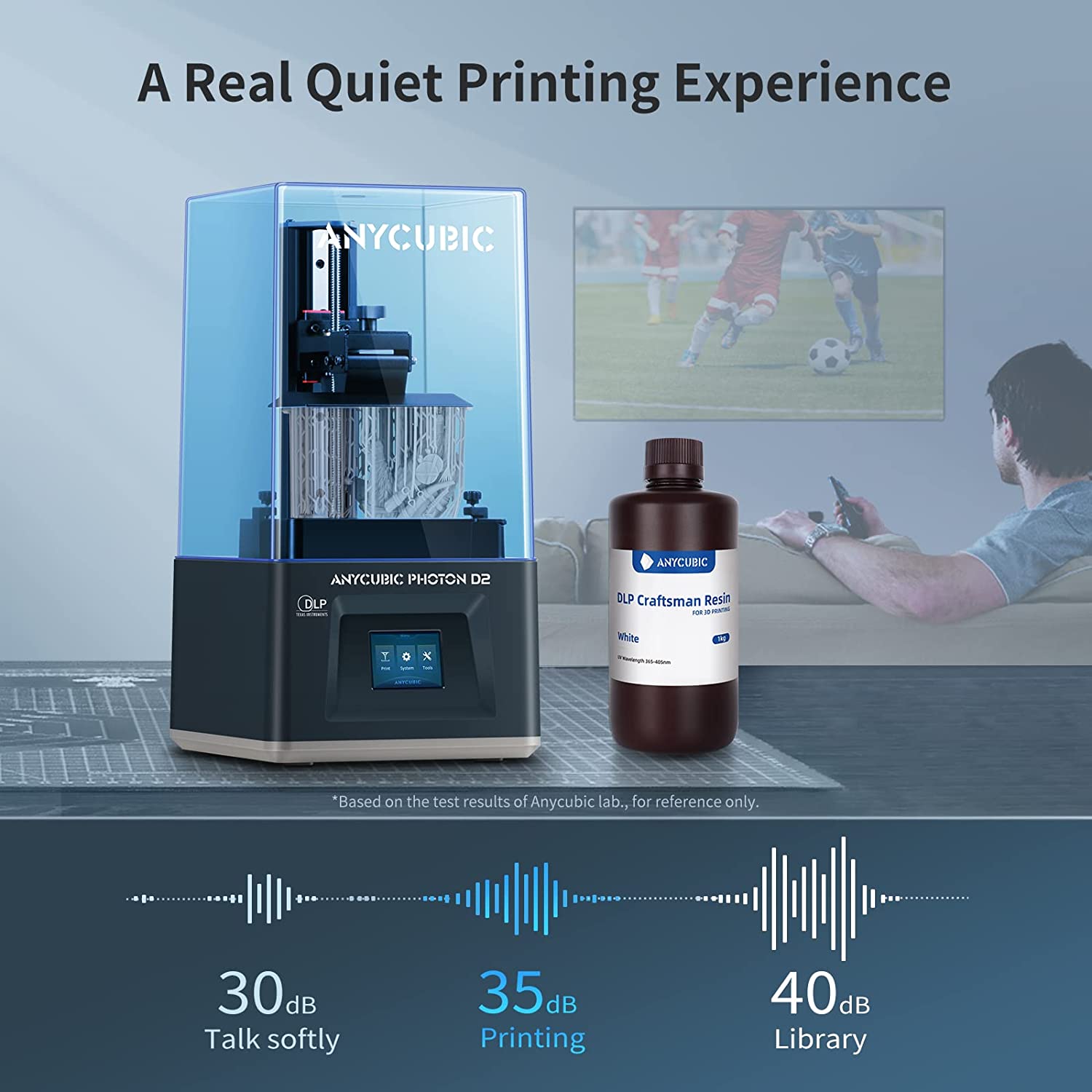 5. ANYCUBIC Photon D2
DLP technology and quiet printing
Check Price of ANYCUBIC Photon D2 on Amazon!
ANYCUBIC Photon D2: Why We Love It:
ANYCUBIC Photon D2 3D Printer is one of the best 3D printers when it comes to DLP technology. It uses thousands of mirrors (DMDs) to concentrate light directly to the bottom of the 3D Printer resin tank, minimizing light source distortion and diffusion, achieving better printing accuracy than LCD 3D machines of the same resolution. The Double light uniformity algorithm also increases light uniformity up to more than 92%, while the anti-aliasing algorithm enhances anti-aliasing effect for better details.
What You Should Know:
Powered by a DLP projector with a lifespan of 20,000 hours, this 3D printer consumes low power of just 15W, 1/4 of an LCD printer, and produces a low sound of only 35 dB. The ANYCUBIC Photon D2 is great for printing miniatures and other 3D models, with a print volume of 130.5mm x 73.4mm x165 mm/5.13 in x 2.88 in x 6.49 in. It is also more efficient than ordinary 3D printers as it generates low heat which can be directly dissipated without fans. Get your own ANYCUBIC Photon D2 3D Printer today! Take note that this model is not eligible for the Anycubic Cloud service.
---
Creality HALOT-ONE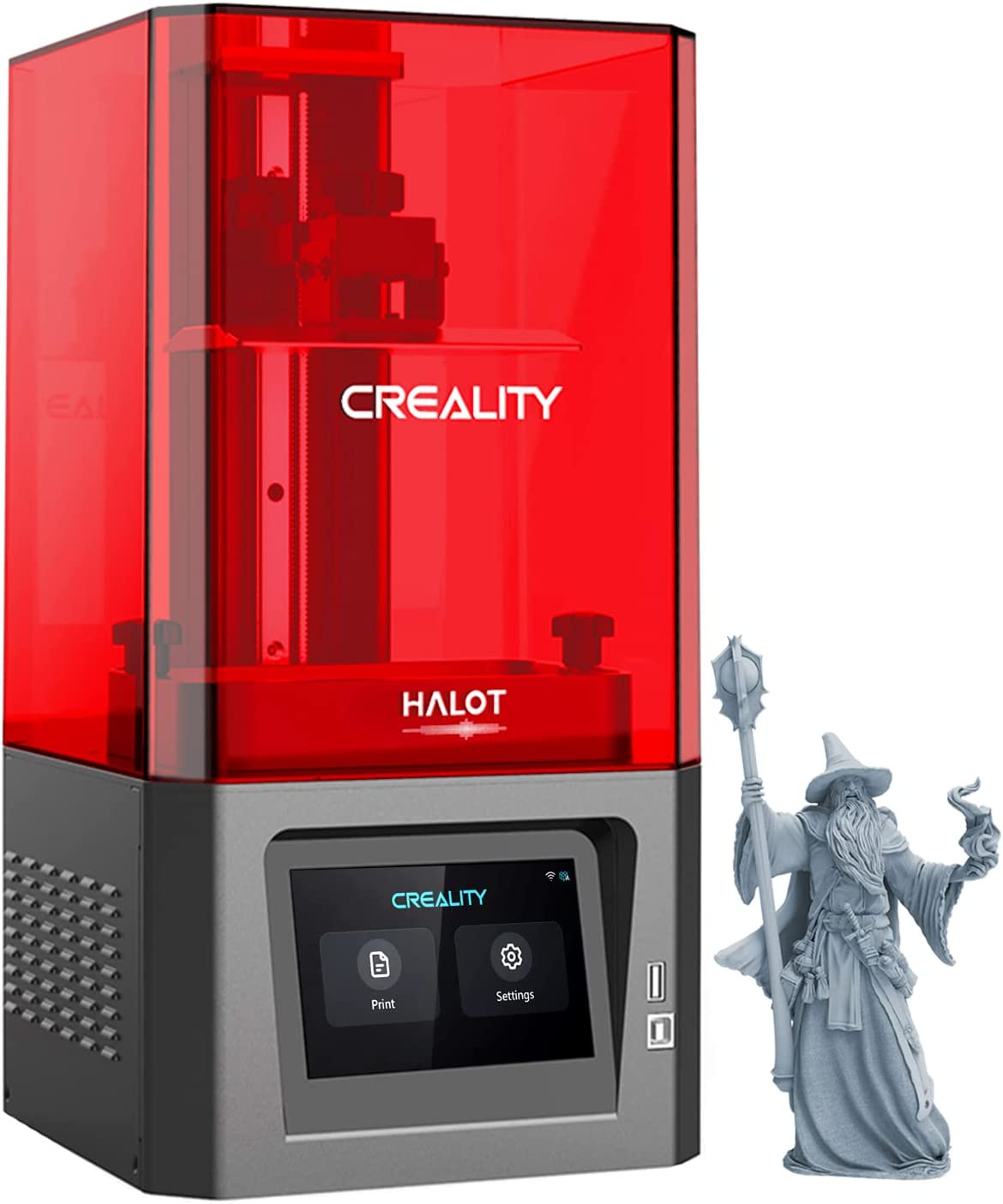 6. Creality HALOT-ONE
the smallest of our reviewed printers
Check Price of Creality HALOT-ONE on Amazon!
Creality HALOT-ONE: Why We Love It:
Creality's HALOT-ONE 3D Printer is the smallest of our reviewed printers and it packs an incredible punch! It is equipped with a self-developed optical system and main board of new generation which boast 20% higher precision, 30% higher uniformity and 99% higher saturation, as well as a powerful ARM cortex-A53 64-bit processor and 5.0" monochrome 2K LCD with 1620*2560 resolution. It is also equipped with dual cooling systems for quick heat release and an activated carbon air filtration system to reduce odor emission.
What You Should Know:
HALOT-ONE 3D printer is the perfect choice for anyone looking for a small and efficient printer. It has a smaller build volume and delivers good print quality. It is incredibly easy to use with a friendly UI interface and clear display of printing status, functions, and parameter setting.
---
Creality HALOT-ONE Plus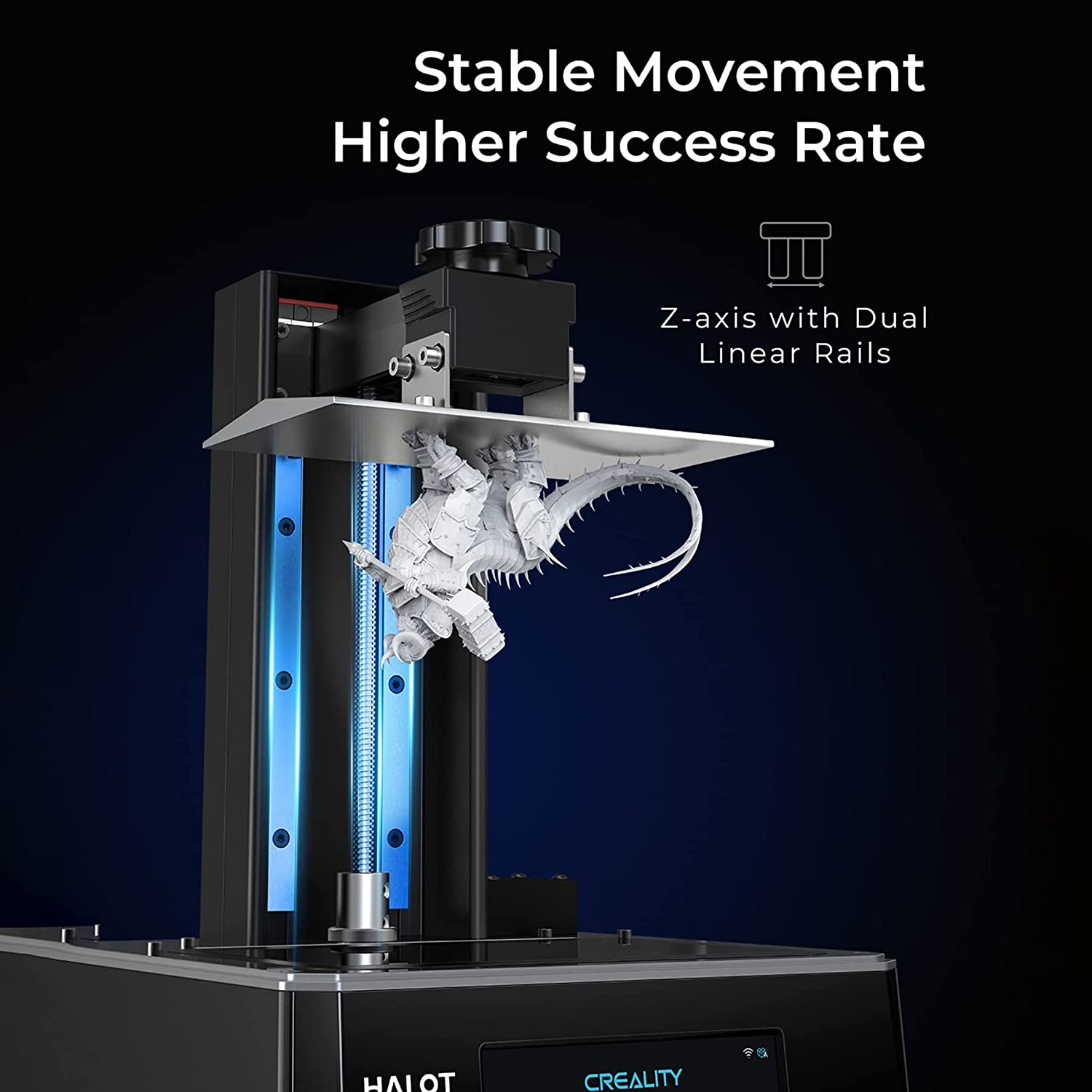 7. Creality HALOT-ONE Plus
Check Price of Creality HALOT-ONE Plus on Amazon!
Creality HALOT-ONE Plus: Why We Love It:
The Creality HALOT-ONE Plus 3D Printer is the perfect choice for precise printing! It features a Z-axis with dual linear rails, a 7.9 inch large LCD screen, easy leveling, WiFi support, and a 5-inch large touch screen. It has a build volume of 172*102*160mm and supports 14 languages. With this 3D printer, you will see vivid details in every print and have a worry-free after sale service with lifetime technical assistance and 12-months hardware warranty.
What You Should Know:
The Creality HALOT-ONE Plus Resin Printer is designed to help bring your creative projects to life. With its dual linear rails, easy leveling, and WiFi support, you can easily manage your prints from anywhere. Plus, its 5-inch HD full-view multi-touch screen and 4K mono LCD ensures that you will be able to see every single detail in your designs. So why wait? Get the machine today!
---
Things to consider before buying the best resin 3D printers
Buying a 3D printer can be overwhelming. Resin and machines range in price, from $300 to upwards of $2000, so you must consider what purpose the machine will serve before making your choice. If big prints are desired then it's wise to select a unit with ample build volume; on the other hand if small details matter most than opt for one designed for precision detailing. Identifying your needs helps determine which type of printing machine best suits you! While 4K printers are obtainable at cost-effective rates presently, 6k printers may dramatically spike up the price tag.
---
The Best Resin 3d Printers For You
From high-resolution prints to large-scale builds, these seven resin 3D printers provide an array of features that can help you bring your creative visions to life. With advanced technologies and reliable performance, these resin printers are sure to provide you with the quality results you're looking for.
Whether you're a hobbyist or a professional running small businesses, a resin printer can help you take your projects to the next level. So don't wait - check out the products above and find the one that's perfect for you today!
---
The best Resin 3d printer: FAQ's
Are you looking for a resin printer that can help you create amazing 3D prints? It can be hard to know which one is the best for your needs, especially when there are so many different brands and types on the market.
We understand the challenge of choosing the right resin printer for your projects. That's why we've compiled a list of the most frequently asked questions about resin 3D printers to help you make an informed decision. With this information, you can make sure you get the best value for your money and find the printer that meets your needs.
💥
Have a passion for writing and want to share your favorite products? Check out how normal people can make a living by writing on the internet by watching this awesome,
free virtual workshop
!
What is a resin 3D printer best for?
Resin 3D printers are best for producing highly detailed and accurate parts with a smooth surface finish. They are ideal for prototyping, creating intricate models, and producing small production runs of parts. Resin printers are also great for producing parts with complex geometries and tight tolerances.
When it comes to resin printing, Stereolithography (SLA) and digital light processing (DLP) are the two most popular processes. Resin printers make creating high-accuracy components with fine features that have smooth surface finishes a breeze! With a range of advanced materials available, these machines can render watertight prototypes in no time at all.
How much does 1 kg of resin cost?
The cost of 1 kg of new resin varies widely depending on the type of resin and the supplier. Generally speaking, you can expect to pay anywhere from $10 to $100 or more per kg of resin. Additionally, the cost of shipping and handling may also affect the total cost of the resin.
What is a low cost method of 3d printing?
3D printing expenses vary depending on the technique utilized. Selective Laser Sintering (SLS) is the priciest, while Fused Deposition Modeling (FDM) is undoubtedly your most economical option of all three technologies including Stereolithography (SLA). Therefore, if having your projects printed at low cost matters to you, then FDM would be an ideal choice for your business needs!
What is the most detailed 3d resin printer?
The Anycubic Photon M3 Premium is unmatched in the resin 3D printing realm. This resin printer produces clear, intricate details that are on par with more costly machines and has an expansive build plate enabling it to make larger objects than its peers. If you're searching for superior quality, look no further - this printer offers 4K+ resolution!
Which is better resin or filament?
Filament printers are ideal for fabricating strong, larger components, while resin printers excel in creating intricate details and boast a high-accuracy rate when printing on small parts.
How do resin printers work?
By utilizing a UV-laser beam to expose photosensitive liquid resin, resin printers are able to construct an object with layers of intricate detail. With each layer hardened in the desired pattern, models can be created which are complex and precise. Resin printing is an ever-evolving technology, and there are numerous outstanding resin printers available.
What is the difference between the Anycubic Photon Mono 2k and 4k?
The Anycubic Photon Mono and its 4K counterpart provide different resolutions, creating the perfect combination for MASLA (Masked Stereolithography) technology. Specifically, this means that you can achieve finer prints with 4K display of 3840 x 2400 pixels. With such remarkable resolution capabilities, higher quality printouts are guaranteed!
What is an FDM printer?
Fused Deposition Modeling. In 1989, Scott Crump patented Fused Deposition Modeling (FDM), and it has since become the most widely used 3D printing process - also known as fused filament fabrication (FFF). Fast forward to today, and you can see just how far this revolutionary technology has come.
Are budget model resin 3d printers worth it?
For only $200, you can have stunning introductory 3D resin printers ready to go in minutes. Our first list of tips covers the filament side of 3D printing. These machines are some of the best values for money when it comes to producing excellent works with PLA, PETG, ABS and other standard thermoplastic filaments!
How much does an entry level resin 3d printer cost?
Starting out with a 3D printer? And you are looking for low cost resin 3d printers? You are in luck! Entry Level and Hobbyist models range from $300-$500, while higher-end Enthusiast and Professional options can cost anywhere between $1,500 to an eye-watering $20,000. Whichever you choose will depend on the capabilities of your chosen device.
What are FDM printers?
Fused deposition modeling (FDM), otherwise known as fused filament fabrication (FFF), has become the most popular form of 3D printing among consumers.
What is a resin print?
With resin printing, engineers, designers, artists and hobbyists alike can 3D print top-notch objects that otherwise would be difficult to create with a FDM machine. The method works by sending UV light into a tank of liquid resin; this reaction then solidifies the fluid substance into durable plastic!
What is the difference between filament printers and resin 3d printers?
Filament printers have an advantage when it comes to constructing tough, bigger parts, but resin 3d printers are the clear winners for producing more delicate details and crafting smaller components with highly accurate precision.
Are resin 3d printers safe to use indoors?
Inhaling resin fumes can be hazardous to your health, so it is crucial to take precautionary measures when utilizing 3D printing. To mitigate this risk, only use a printer in an area with ample ventilation - even outdoors if possible. Additionally, we recommend wearing a half-mask respirator or another protective face mask while operating the machine. If you're worried about indoor exposure to harsh chemicals, there is a partial solution.
Activated carbon filtration can provide some relief from resin fumes, however it's not foolproof and should never be relied upon as the only solution for protection.
What to do with excess resin?
Once you are finished with a print, there is almost always some residual resin left in the vat. Don't let it go to waste - take advantage of its value and put it back into its container so that it can be recycled!
Should I empty my resin vat?
After removing the resin from the vat, proper cleaning is a must to make sure that no residue remains. While some individuals wait until it is empty before they clean the vat, others prefer to do so after each use. Failing to adequately clean or not doing so at all can lead to obscured FEP films and printing errors down the line. It's best practice then to always thoroughly wipe out your 3D printer's resin tank!
What is the printing speed of ELEGOO Saturn 2?
Printing speed starts at 30 mm/h with a max print speed of 70 mm/h
What is the printing speed of ELEGOO Mars 3?
30-50 mm/h. That comes down to 1.5-3 seconds/layer, depending on the used resin and the layer height.
What is the printing speed of ANYCUBIC Photon M3 Max?
The Photon M3 Max offers lightning-fast print speeds of up to 60 mm/h, taking merely two hours for a 120 mm tall object. A superlative LCD screen with 450:1 contrast ensures sharp edges and an astounding surface finish that will leave you breathless!
What is the printing speed of ANYCUBIC Photon M3 Premium?
A print maximum print speed of 95 mm/h
What is the printing speed of ANYCUBIC Photon D2?
Print speed is less then 50 mm/h
What is the printing speed of Creality HALOT-ONE?
Print speed: 1-4s per layer, depending on the resin used
How to achieve the best print quality for a resin print?
To get the highest quality print, you should use a resin layer height of between 0.01 to 0.05 millimeters (10-50 microns). If your main goal is speed and efficiency, then it's best to opt for a layer height of 0.05mm; however, this will not compromise on print quality!
Do resin prints need a lot of post processing?
To achieve the highest-quality parts in SLA 3D printing, post processing is a crucial step. Understanding how long post processing resin prints takes, and what methods should be used can help you achieve outstanding results. With resin-based technologies such as stereolithography (SLA), curing cannot be overlooked; it's an absolute must!
Do resin printers need to be assembled?
With their smaller shape and uncomplicated design, most resin printers come almost completely assembled when shipped.
What is SLA printing?
Stereolithography (SLA), an additive manufacturing process, enables you to 3D print parts with precise details, tight dimensional accuracy and unparalleled surface finish.
Stereolithography is a 3D printing process that utilizes "vat polymerization." Essentially, UV light shines onto liquid photosensitive resin stored in a vat and selectively hardens it. With each layer of the object solidifying as per instructions from the projected UV light, what was once just resin becomes a tangible formation - your finished product!
What are resins made of?
Synthetic resins are organic compounds composed of carbon, hydrogen, oxygen, nitrogen and sulfur atoms that are chemically combined to form a bonding agent. Resins are the main ingredient in plastic products and provides strong adhesion for various materials.
When it comes to making resin prints, you have plenty of options. Standard Resins, Clear Resin, Tough Resin, Flexible Resin, Water-Washable Resin and Dental Resin are all available with their own set of special characteristics and different applications.
Why wear gloves with 3d resin?
The liquid chemicals of 3D printing resin can be a hazard to your skin and breathing, as the possibility for contact dermatitis is real. Exposure over time could even cause an allergic reaction in some people; therefore, it's important to always keep bare skin away from this particular chemical.
When handling epoxy resin, ensure you use premium quality tough Nitrile gloves instead of latex. Latex is not strong enough to block the transmission of dangerous amines which can be hazardous for your health. Tough Nitrile gloves provide a better protection and should always be worn when dealing with this type of material.
Are ELEGOO Mars models worth it?
Printing with the Elegoo Mars 3 Pro offers a final product of great quality, outperforming many other printers. Those who have purchased this printer are overwhelmingly satisfied with the results and report that it works perfectly right out of the box! A test print on the USB reveals a glimpse into just how great these models look–it's truly impressive! With such high-end performance at a fraction of the cost, you simply can't go wrong with an Elegoo Mars machine.
What large models of resin printers have the largest build volume?
Phrozen has created a revolutionary 3D printer: the Sonic Mega 8K. It is widely regarded as the highest-performing, large volume desktop resin printing technology available for its price point. With an impressive build volume of 330 x 185 x 400 mm with a bigger build plate, you can print larger parts and achieve unparalleled results with this machine - put simply, it offers one of the biggest print volumes on any desktop out there!
What printer has a small build volume?
One ambitious maker is breaking the boundaries of what's possible by unveiling an 18 x 31 x 41mm (0.7 x 1.2 x 1.6 inches) 3D printer that outputs crisp prints, weighing only 17g (0.03 pounds). Not just remarkably small in size and weight, this machine is more than likely the tiniest 3D printer in existence - a feat its inventor can proudly boast about! The creator of the small models goes by the username My N Mi on Youtube. Could it be possible to print miniature models of mini figures on his device?
What are the uses of resin 3d printers?
Budget resin 3D printers with smaller build volumes can be used in the hobby of creating precise figures or figurines that the FDM printers cannot reach. The newest generation of these are primarily employed for 28 mm models for tabletop modeling.
💥
Have a passion for writing and want to share your favorite products? Check out how normal people can make a living by writing on the internet by watching this awesome,
free virtual workshop
!