Mandoline Slicers That Will Help You To Be A Creative Cook
Check this out! High-quality mandoline slicers for kitchen lovers to aid you in preparing fruits and vegetables in a very creative way. Show off to your families and guests your dicing and slicing skills in preparing a variety of decorations for your food table. They will surely enjoy your most creative food presentations!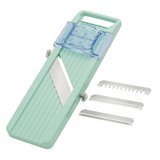 #5: Benriner Old Version
This mandoline slicer is extremely basic while having a professional look at a very affordable price. The blades are stainless and can cut various of fruit and vegetable using other accessories included inside. The cons to this slicer are that it needs more stability and crinkle cuts are not available.
#4: OXO Good Grips V-Blade
An outstanding mandoline slicer with sharp V-shaped blades of hardened stainless steel that is capable of simply slicing firm vegetables and so fruits with four adjustable slice. Available with julienne blades for French Fries or fine julienne strips and straight and wavy blades for straight or crinkle cuts. Plus, your hands are safe with its food holder, soft handle and turning knob for non-slip feet. The downsides to his slicer are that the exposure of blades unless the plate is being removed and no protective gloves included.
#3: HomeNative
This budget-friendly mandoline slicer has an outstanding performance with its five-blade types: julienne and normal slicer, cheese, veggies and fine grater plus having enough space with the food container. It has a soft grip/non-skid base to keep mandolin in place while working on a flat surface. The only con is that it does not include safety gloves in the package.
#2: Mueller Austria V-Pro 5 Blade
This mandoline slicer has a number of sharp blades and has a lot to offer at a budget-friendly price. This is the only slicer with knob-controlled, adjustable slicer for more options compared to other products. Surprisingly, it has a full lifetime warranty, a smart choice to add to your kitchen aids at home!
#1: Progressive International PL8
#1 on the list for the best mandoline slicers you can buy, this slicer is constructed for the safety of a strong plastic/stainless steel that holds the food securely. It is the latest slicer for decades of slicing expertise. It has julienne and cube with 4 adjustable slicing thicknesses. Great choice for those who would like to pay for a high-end quality slicer!