Are you tired of the same run-of-the-mill dog toys that your pup always ignores after a few weeks?
Are you keen to find something more fun and longer-lasting to keep Fido amused for hours on end?
We may have just the thing – squeaky dog toys! Available in a wide variety of sizes, shapes and designs, these durable chewable goodies are not only delightfully entertaining but also help reinforce important dental health habits.
Read on to learn how squeaky dog toys deliver endless entertainment as well as lasting value.
💡
We hope you find your next favorite thing from the list below! Each product was independently selected by our editors. Some may have been sent as samples for us to fiddle with, but all opinions in this article are our own. Oh, and FYI — LucksList may collect a share of sales or other compensation from the links on this page if you decide to buy something (that's how we stay in business). Reviews have been edited for length and clarity. Enjoy finding your next favorite thing!
How We Choose Squeaky Dog Toys For You And Your Pup
Squeaky dog toys are a great way to keep your pup entertained for hours, but it can be hard to find the ones that will last.
When shopping for squeaky dog toys, you want something that won't easily break and will provide your pup with hours of fun. But with so many different types and brands available, how do you know which one is right for your furry friend and your budget?
No more guesswork or wasted money - just the perfect squeaky toy for Fido! Check out our list of some of our favorite squeaky dog toys today and give your pup hours of entertainment!
---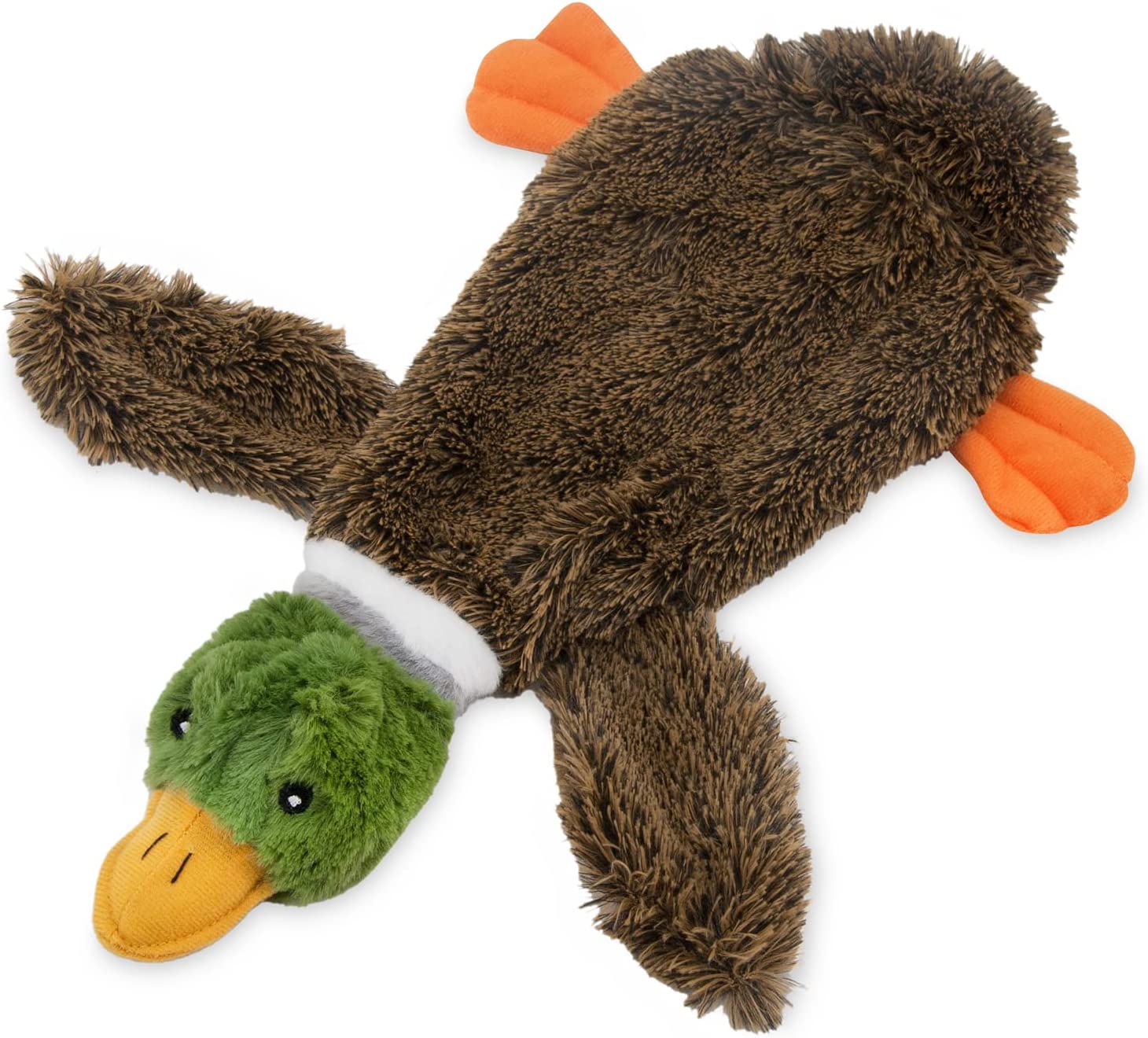 2-in-1 Stuffless Squeaky Dog Toy
Double Squeakers In This One
Check Price on Amazon
Why We Love It:
If you're looking for a squeaky toy that won't make a mess while your pup plays, then the 2-in-1 Stuffless Squeaky Dog Toy is a great choice.
Get wild with the durable and exciting no-stuffing animal squeaky dog toys! Choose from a variety of styles including duck, fox, raccoon, deer, hare and snow leopard to keep your pup entertained for hours.
This toy features two squeakers, one in the head and one in the tail so your pup can have twice the fun!
Plus, it has a self-fastener at the bottom that you can open up and place a plastic bottle in, so he or she can enjoy the crunchy sound of a plastic bottle while they play.
Hmm...I wonder why they like plastic bottles so much.
What You Should Know:
Each of these fun skins comes in small, medium, and large sizes to fit your dog's size and age.
Crafted from 100% non-toxic materials to provide safety for your pup, this product is designed with a natural shape and texture that will ignite their instincts.
Not only that, but it can be easily washed to get rid of dirt and foul smells without trouble - all at an unbeatable price! Get the most bang for your buck with this incredible value!
If you're looking for more fun toys for your dog, you should visit the Best Supplies Store on Amazon.
---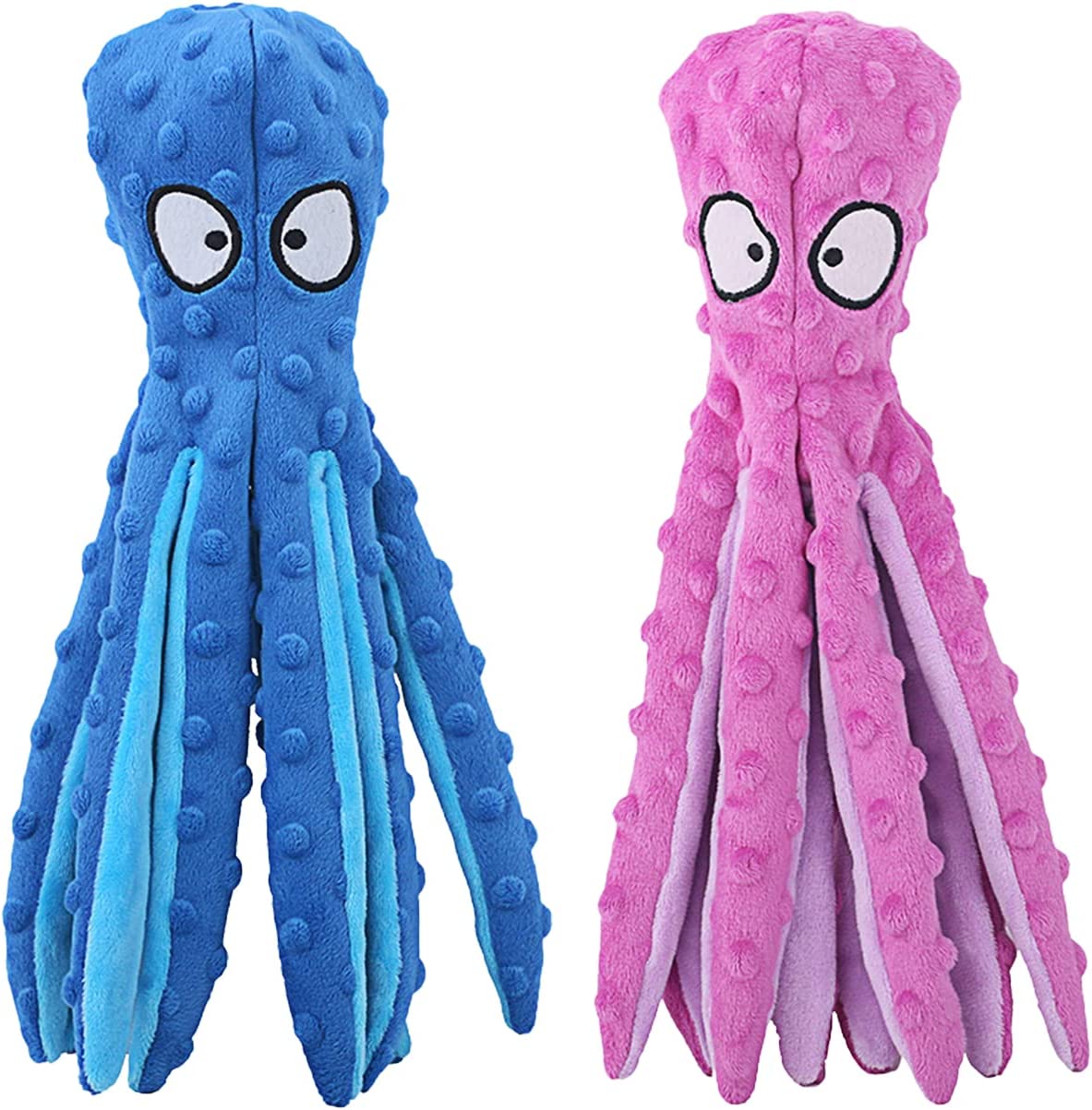 2-Pack Squeaky Octopus
Check Price on Amazon
Why We Love It:
We love the 2-Pack Squeaky Octopus because it is so darn cute. The bright colors and cute look of the octopus make it an irresistible toy for dogs and puppies.
Plus, it's soft and lightweight, making it easy for pets to carry, toss and roll around with. It's a great gift for puppies, and small, medium, and large dogs.
These funny squeak dog toys with hard-to-resist crinkle paper sounds will be great toys for your dog to interact with, get more exercise with, and reduce anxiety and boredom.
What You Should Know:
These squeaky dog toys are 100% without stuffing, which means no dangerous stuffing is hidden inside.
The premium quality polyester material ensures the durability of the toys to be stretched and bitten without being easily broken.
They're not only machine washable and simple to clean, but they're also the perfect size for non-aggressive chewers. Each measures 8cm x 3.2 cm (3.14in x 12.6in).
🐶
The company wants you to know that they are committed to providing customers with quality products and services, letting you enjoy the best products with your lovely pets. So, feel free to contact them if you have any questions, as they are always at your service.
The HGB Store on Amazon has a lot of other great products for your pup.
---
Hartz 3-pack Squeak Ball
Check Price on Amazon
Why We Love It:
Hartz Dura Play bacon scented dog toys are the ideal addition to your pup's toy box - no matter if they prefer indoor or outdoor play.
Not only do these toys have a tough exterior, but they also feature lightweight foam on the interior that makes it easy for you to throw them and get creative with their playtime!
Plus, they also come in other shapes and each shape has its own squeaker and delicious aroma of bacon which will keep even inactive dogs begging for more fun.
What You Should Know:
Crafted with natural latex, this chew toy provides a soft and tooth-friendly chewing experience for your pup that won't hurt their gums.
It's made with a non-toxic material, so you don't have to worry about any harmful chemicals.
Plus, it's designed to last, so you won't have to replace it anytime soon. Don't wait any longer to get your paws on these Hartz squeak balls!
If you want to see more of these adorable toys, you can visit the Hartz Store on Amazon today.
---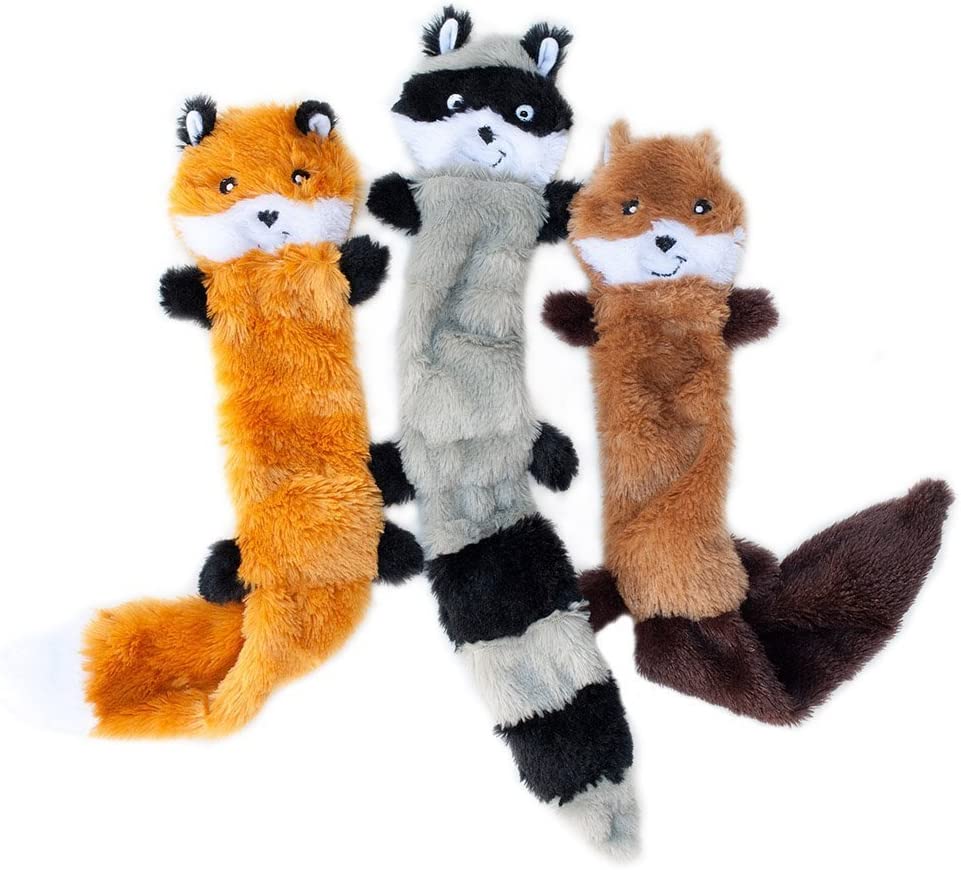 Skinny Squeaky Plush Dog Toy
Check Price on Amazon
Why We Love It:
Skinny Peltz squeaky dog toys are the perfect way for your furry friend to have hours of squeaking fun!
These no-stuffing plush characters include a fox, raccoon, and squirrel that were crafted with wordless love using only the best materials.
Each squeaky toy contains 3 round squeakers and encourages interactive playtime between you and your doggy without the need to worry about cleaning up any mess!
🐶
With three core values in mind - design, value and safety - this product was crafted by dog-lovers themselves to meet the needs of fellow canine fanatics.
What You Should Know:
At ZippyPaws, squeaky dog toys are more than just fun for your furry companion; they are a reflection of their uncompromising commitment to quality.
They use top-notch materials in every toy they make and inspect each one thoroughly to ensure that it's durable and safe enough for your pet.
Their squeakers are tested multiple times during production to assure an optimal squeak volume and squeaker life.
All of this is done with your pup's safety in mind - because they understand all too well the importance of finding trustworthy, high-quality toys for their own furry friends!
See for yourself more great pet toys at the ZippyPaws Store on Amazon.
---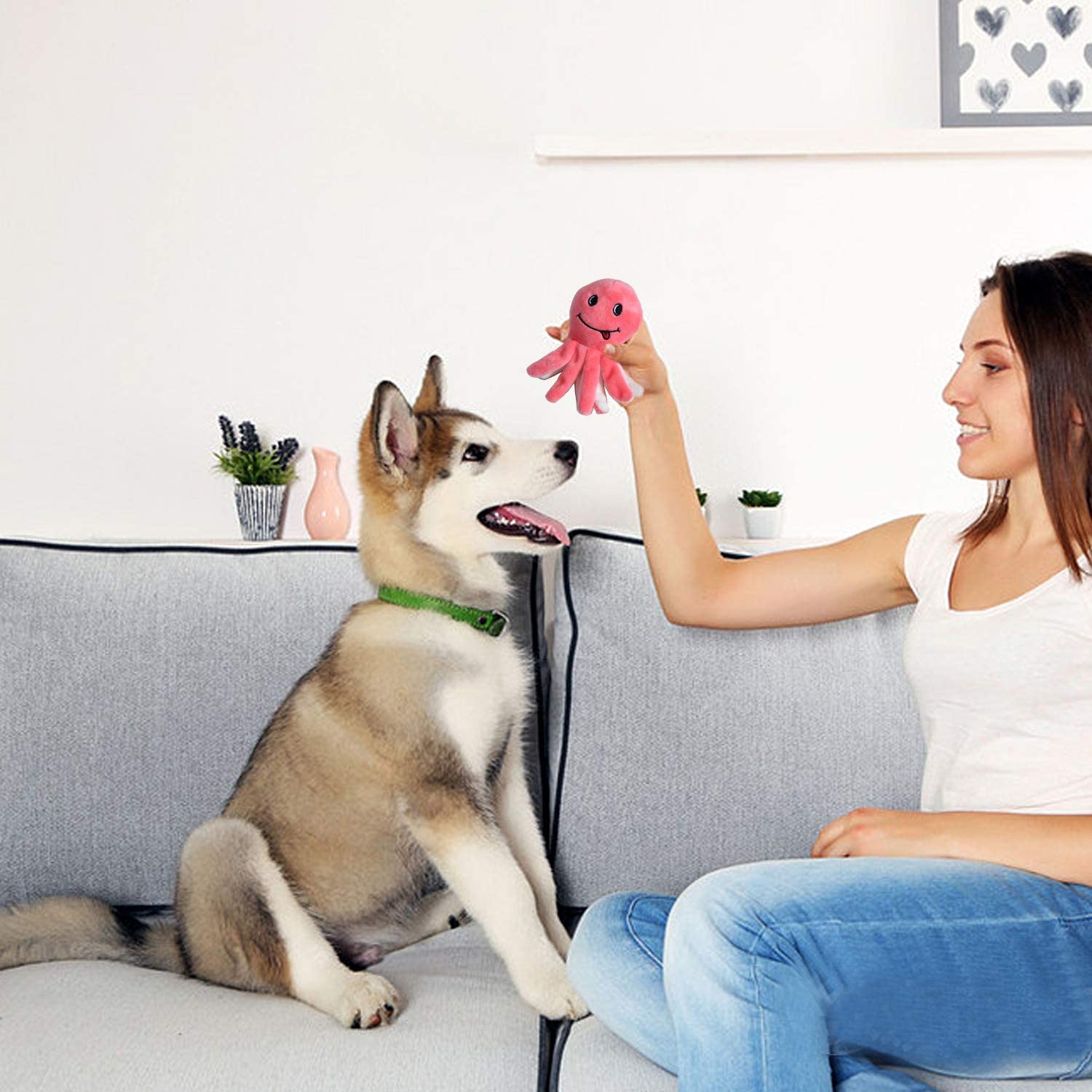 Squeaky Plush Dog Toy Pack
Wow - 12 Squeakies For Small Dogs
Check Price on Amazon
Why We Love It:
Plush Squeaky Dog Toy Pack is the perfect gift for your small pup or pups – after all, there are 12 squeaky toys in this set!
With a variety of animal shapes, including dinosaurs, giraffes, pandas, chickens, lambs, frogs, lobsters, octopuses, whales, turtles, squirrels, and pigs, your pup will love playing with these fun and soft toys.
Plus, they're made of non-toxic cotton and plush, making them perfect for teething and dental cleaning.
Another great feature is that these squeaky toys for dogs come packaged in an alluring transparent drawstring bag with bright colors and vivid animal shapes.
Not only is the bag aesthetically pleasing, but it's also highly practical since it's easy to carry and scrub, making sure doggie has a safe place to store the new toy while they're out on walks.
What You Should Know:
The Plush Squeaky Dog Toys in this pack are hand stitched instead of just being glued, making them extra durable.
Plus, they're machine-washable so you can keep them clean and fresh.
🐕
You will want to note that the puppy chew toy pack is not indestructible and not suitable for strong chewing, therefore, it is suggested that your puppies play with them only under your supervision.
Take a minute and visit the Legend Sandy Store on Amazon.  
---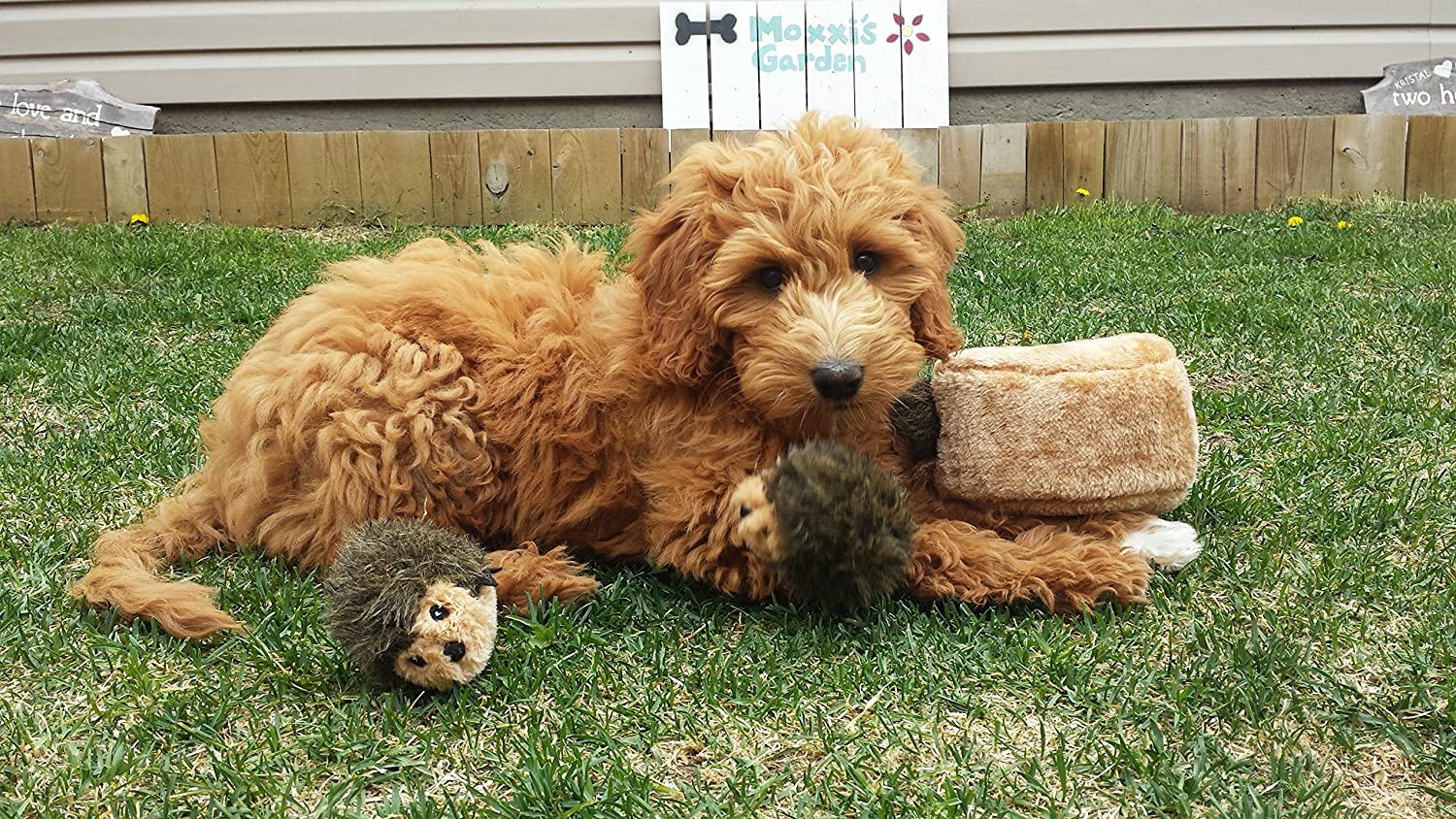 ZippyPaws Woodland Friends Burrow Dog Toys
Check Price on Amazon
Why We Love It:
The ZippyPaws Woodland Friends Burrow Dog Toys are the perfect interactive toy for keeping your pup busy and engaged.
And just look at how adorable they are. We found them hard to resist.
It's a hide-and-seek game that encourages your pup to dig out the hedgehogs from their burrow den.
Plus, the fabric, stitching, and squeakers are of the highest quality, so you can trust in the durability of the toy.
What You Should Know:
The ZippyPaws Woodland Friends Burrow Dog Toys are designed with your pup's safety in mind.
They are made with no small parts that could be swallowed and are non-toxic and BPA-free.
Plus, the squeakers are specially engineered to create more ways to squeak and make the toy even more fun!
Indulge your pups with this amazing interactive toy today and watch them have the time of their life.
Squeaky Dog Toys FAQs
You love your dog and want to find the best squeaky toy for him or her.
We know the feeling. That's why we've created a guide with 6 of our favorite squeaky dog toys – so you can find one that will make your pup happy without driving you crazy at the same time.
Not only is your furry friend sure to adore these squeaky toys, but you will too because now he'll be occupied for much longer. And with a multitude of sizes and shapes available, your pup certainly has hours upon hours of entertainment ahead!
Check out our FAQs below.
What do squeaky toys remind dogs of?
Squeaky toys often remind dogs of prey animals. When a dog hears the squeak, it may trigger an instinct to chase and capture the toy, as if it were a small animal.
This instinctive behavior is known as predatory drift, and it is common in many species of animals.
The squeak of the toy may also remind the dog of its vocalizations, such as barking or whining, which can also be rewarding for the dog.
Why do dogs carry around toys?
Dogs carry around toys for a variety of reasons. It can be a way to show off their prized possession, a way to entertain themselves, or a way to relieve boredom or stress.
It can also be a way for them to express themselves, as some dogs may have a strong bond with a particular toy.
Some dogs may also use toys as a form of comfort and security, especially if the toy has been with them for a long time.
Do dogs get emotionally attached to toys?
Yes, dogs can get emotionally attached to their toys. Dogs form strong bonds with their toys and will often carry them around with them, cuddle them, and even sleep with them.
Toys can be a source of comfort and security for dogs, and they form an emotional attachment to them.
Dogs may even become possessive of their toys and guard them against other dogs or people.
Why is my dog afraid of squeakers?
It is not uncommon for dogs to be afraid of squeaky toys, as the sound can be startling or even scary to them.
Dogs may also be wary of squeaky toys because they are unfamiliar with the sound and may not recognize it as harmless.
Additionally, some dogs may have had a negative experience with a squeaky toy in the past, which can lead to fear and anxiety when they encounter similar items.
To help your dog become more comfortable with squeaky toys, start by introducing them to the toy in a low-pressure environment and rewarding them with treats when they interact with it.
Why do dogs destroy toys they love?
Dogs can destroy toys they love because they are trying to release energy or stress.
Dogs may also chew on toys as a way of exploring the world around them. Chewing can also be a way for dogs to release pent-up energy, especially if they don't get enough exercise.
Additionally, some dogs may chew more when they are anxious or stressed, so if your dog is destroying toys it could be a sign that they need more mental stimulation or exercise.
Why does my dog lick his lips when I squeak his toy?
Your dog may be licking his lips when you squeak his toy because the sound of the squeak is exciting to him.
Dogs often lick their lips when they are excited, as it helps to calm them down and helps them to focus on the task at hand.
It also releases endorphins, which can help to reduce stress and anxiety.
Additionally, it could be a sign of anticipation, as dogs often anticipate treats or rewards when they hear certain sounds.
Should dogs have access to toys all the time?
The answer to this question depends on your dog and its personality.
Some dogs may benefit from having access to toys at all times, while others may become overwhelmed or overstimulated by having too many toys around.
It's important to observe your dog and see how they respond to having toys around all the time.
If your dog is the type that loves to chew and play with toys, then having access to toys all the time can be beneficial. It can help keep them entertained and mentally stimulated while you're away, and it can also help reduce destructive behaviors.
However, if your dog doesn't seem to be interested in the toys, then it might be best to limit their access to just a few toys at a time.
Why does my dog gently mouth my hand?
Your dog may be gently mouthing your hand to show affection, and it is similar to the way a puppy will nuzzle its mother.
It is your dog's way of showing love and appreciation. It is also a way for your dog to express its need for attention and interaction.
Dogs also use their mouths to explore and investigate the world around them, and this behavior is also seen in puppies.
What toys should dogs not have?
Dogs should not have toys that are too small, as they may be a choking hazard.
They should also not have easily destructible toys, as the pieces can be a choking hazard or can be ingested.
Toys with strings, ribbons, or cords should also be avoided, as these can become entangled around the dog's neck or body, leading to injury or strangulation.
Additionally, toys with hard edges should be avoided, as these can cause injury to the dog's mouth or throat.
Our Final Thoughts on Squeaky Dog Toys:
If you're looking for a toy that will keep your pup entertained and engaged, then squeaky dog toys are a great option.
Not only are they fun and interactive, but they also help keep your pup's teeth and gums healthy. Plus, squeaky toys come in a variety of shapes, sizes, and colors, so you can find one that's perfect for your pup's personality.
So go ahead and pick up a squeaky toy for your pup today! With the wide selection available, you're sure to find something that both you and your pup will love.
Thanks for visiting us today.  
We hope you enjoyed it and that you have found something special for your furry buddy.
Happy Squeaking!