Time and time again we hear the saying "It's all about the journey" - well, here are 16 Amazon items that will make that journey fun all the way.
We hope you find your next favorite thing from the list below!  Each product was independently selected by our editors. Some may have been sent as samples for us to fiddle with, but all opinions in this article are our own.  Oh, and FYI — LucksList may collect a share of sales or other compensation from the links on this page if you decide to buy something (that's how we stay in business). Reviews have been edited for length and clarity.  Enjoy finding your next favorite thing!
1. If you're sick of paying overweight baggage fees, then this Etekcity Luggage Scale is for you. With its high-accuracy sensor and rubber-textured handle surface, you can hook your suitcase and get an instant weight reading.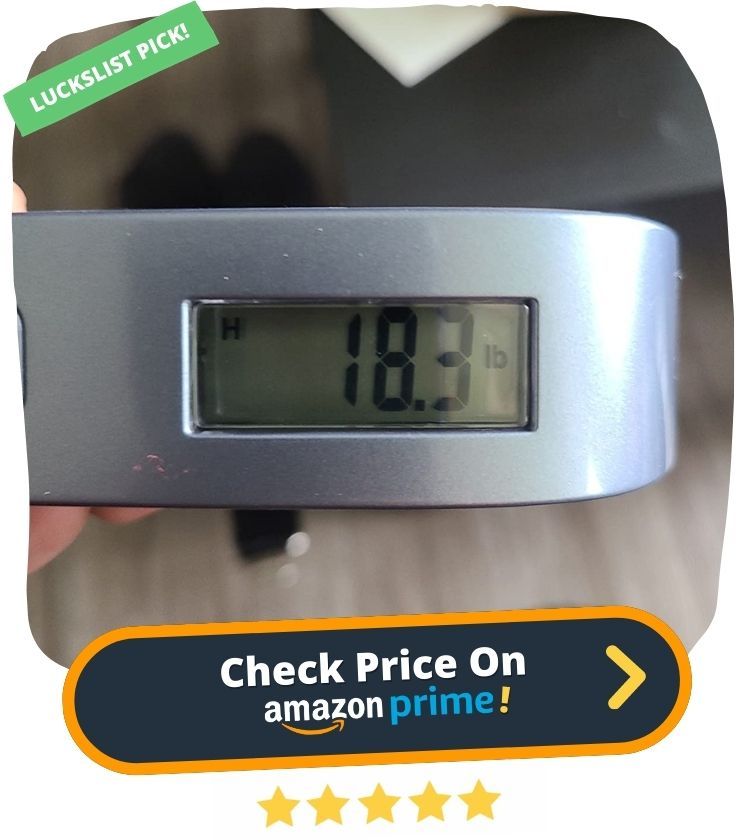 "No frills scale accurate to 2.5 up to 0.5 lbs!!! I tested first my 20 lbs dumb bells as they are a known standard weights. Several measurements came to 18.3 lbs to 18.5 lbs. Then I weighed my new 29 inch luggage which claimed on the label to weigh 8.5 lbs. I weighed it with this scale at 8.7 lbs twice!! This is as accurate as I expect a tiny cheap scale to be! Now I understand the calibration might be off on some units, but if you take several attempts with different known weights you have at home, you can know with the certainty the deviation of your specific scale. It certainly is much better than going blind to the airport or going some place to pre-weigh your luggage."
Amazon Review By TED
2. If you're looking for an inflatable travel pillow that will allow you to sleep comfortably on your next long flight or road trip, look no further than the Inflatable Travel Pillow for Airplane Travel.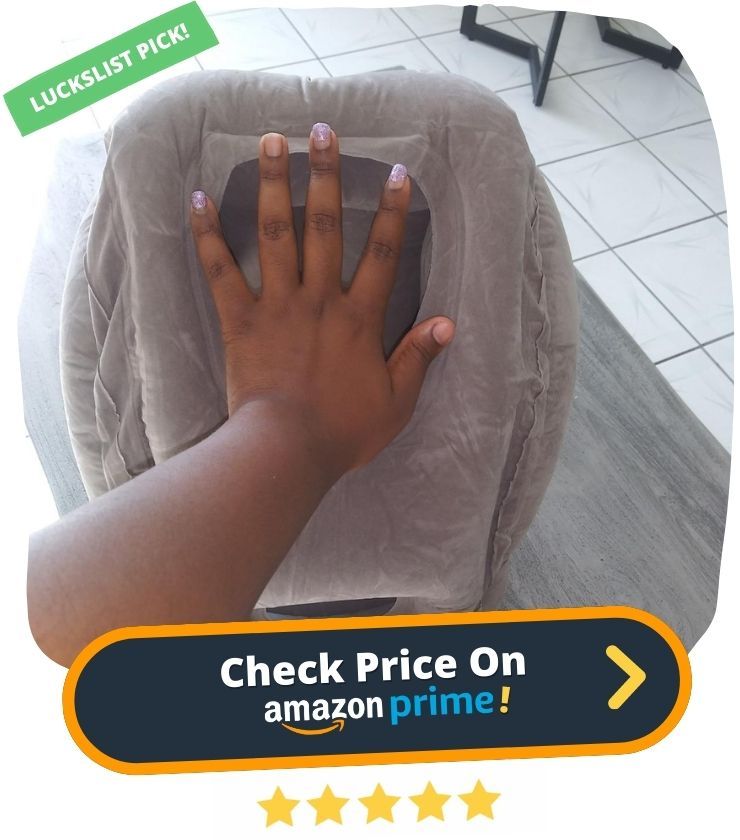 "This travel pillow was amazing! My flight was delayed 6 hours, and I even used this to sleep in my chair at the airport! I slept so good with this! I used it on the plane and was able to fall asleep within a few minutes because it was so comfortable!"
Amazon Review By Kimberly Mozuch
3. The Universal International Travel Power Adapter is the perfect travel companion for your next trip. With 4 USB ports and 1 Universal AC Socket, it can charge 5 devices simultaneously. It is also covers over 150 countries, so you can use it almost anywhere in the world.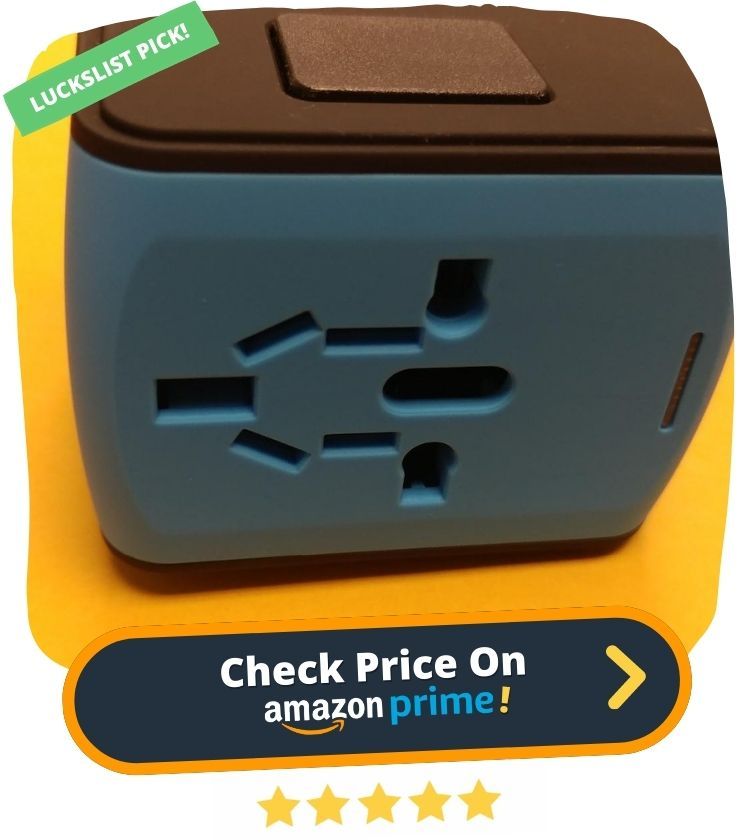 "I was apprehensive ordering this as there are so many different similar ones available on Amazon and it seemed unclear which actually worked. We took this on a trip to London, Iceland, Norway, and Denmark to charge our phones, iPad, baby monitor, and MacBook Pro. Worked great!! Since most of the plugs are USB it did not fall out of the socket in the Airbnb's that we stayed, since it wasn't being weighed down by multiple heavy plugs."
Amazon Review By firekrkr
4. Looking for a dependable and stylish piece of luggage to take on your next trip? Check out the American Tourister Hardside Expandable Luggage. This 21" spinner luggage is perfect for maximizing your packing power, and it meets most carry-on size restrictions for domestic travel.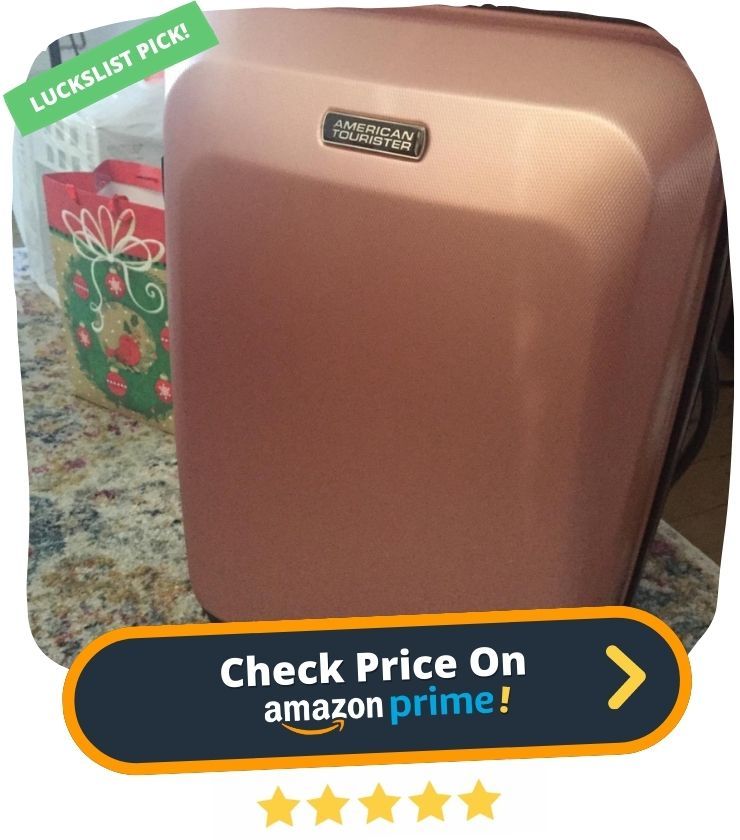 "I love this carry on. It is lightweight and fits a lot! I was able to pack 5 days worth of clothes, 3 pairs of shoes, plus my everyday travel items, a travel blanket, and a box of granola bars even! Very easy to handle also."
Amazon Review By Jami L. Kaltenbronn
5. Looking for a pair of joggers that are stylish and comfortable? Look no further than the WATERWANG Men's Slim Jogger Pants. Made from a breathable cotton blend, these joggers are perfect for working out or just lounging around. The elastic waistband ensures a comfortable fit, while the cinched cuffs give the pants a sleek, tapered look.
"I bought a size small of these for my 16-year-old son who is 6 ft 2 in 2 in weighs 145 lbs. They fit him but he said they were too tight for him and the butt area. I was calling to return them of my wife wanted to try them on. she tried them on and liked them so much that she kept them. My wife is 5'8 tall and weighs around 115 lbs. I uploaded a couple of photos so you could see what the sweats look like on her."
Amazon Review By Kevin & Liz
6. Introducing the PU Leather Small Jewelry Box, the perfect travel companion for all your precious jewelry. This sleek and stylish box is made from high quality deluxe synthetic PU leather exterior, and high quality flannel interior, ensuring your jewels are always well protected.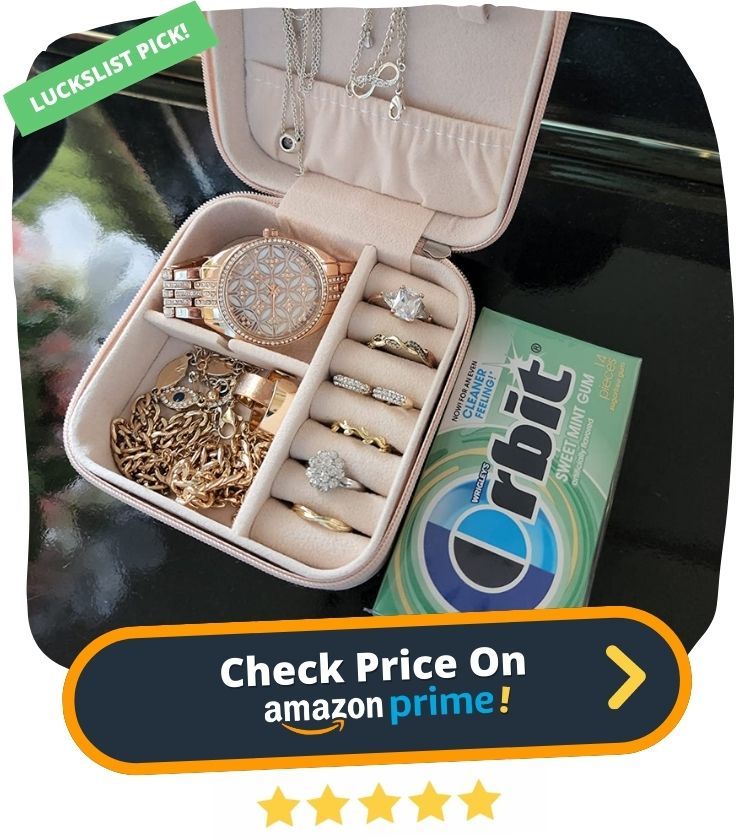 "Love this compact jewelry box so far, its exactly what I was looking for. I would say, if you're someone who wears a lot of jewelry or wears big jewelry, this might be too small for you. For the most part I have the same 3 sets of earrings, necklaces and bracelets in rotation and I never wear anything different so this is perfect, especially for travel!"
Amazon Review By Dena
7. Looking for a way to reduce the pain and discomfort that can come with changes in cabin pressure during air travel? Say hello to EarPlanes® ear plugs! These amazing little devices are specifically designed to help relieve the pressure that can build up in your ears during take-off and landing.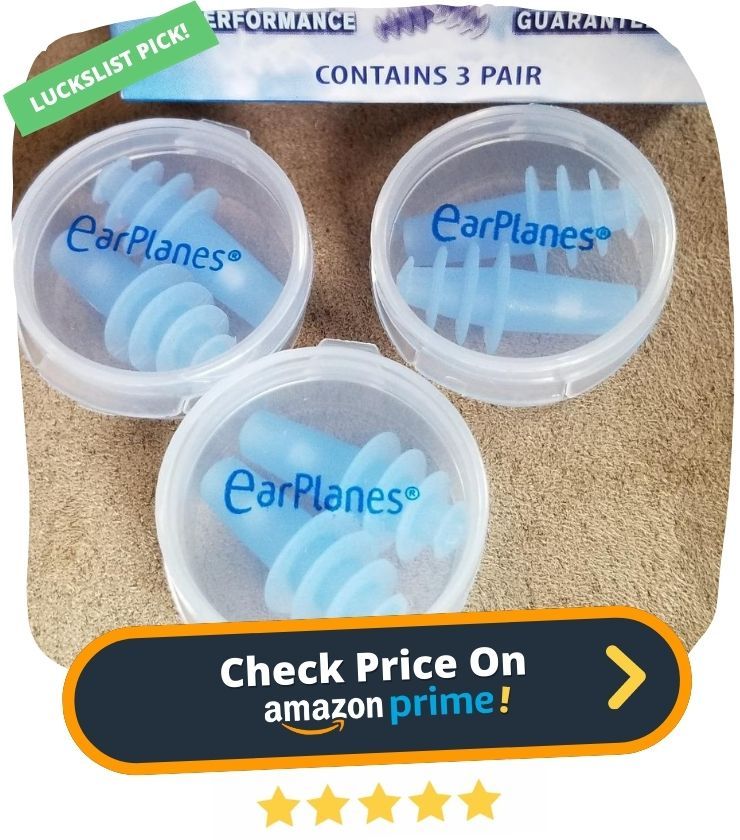 "I've had ear issues pretty much my entire life. The issue with air pressure has affected me so badly that I couldn't fly for about 15 years because of how dizzy I would get when I flew. I would feel even the slightest movement of the plane and my ears would wig out and I would get horrible vertigo. I tried Dramamine, Bonine, and the patch behind the ear, and they never worked. My new job required me to travel, so I knew I needed to figure out how to not lose sleep worrying about flying so as a last ditch effort I bought these on Amazon. I couldn't believe how well these worked, it was completely life changing for me."
Amazon Review By John Taylor
8. Sheet Mask by Glam Up Facial Sheet Mask is a skincare essential that brightens, hydrates, and calms the skin. Made with natural ingredients like shea butter, aloe, tea tree, peppermint, green tea, and lemon, this facial mask is perfect for all skin types.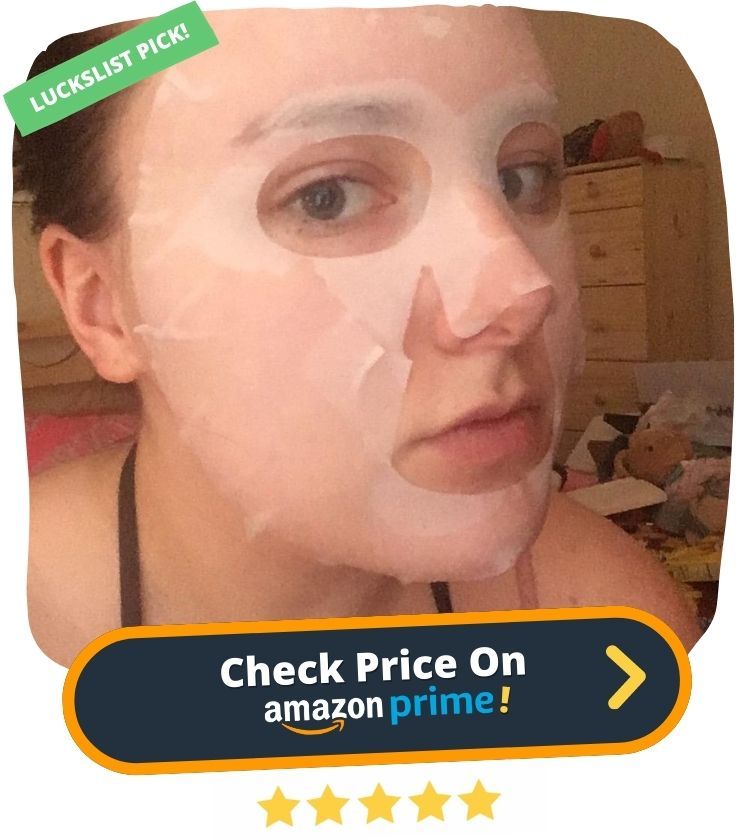 "Sheet masks are a great tool in general, perfect for marinating your face in good skincare ingredients. I try to maintain a habit of using cheap sheet masks on a regular basis as part of my overall skincare routine. After noticing these were cheaper than the drugstore masks I pick up sometimes, and then available even further discounted on subscribe-and-save, I looked at the reviews and decided to give them a shot. These are GREAT."
Amazon Review By Emerald Bixby
9. If you're looking for a powerful and portable steamer that will make quick work of wrinkles, look no further than the Hilife Steamer for Clothes. This steamer has a 240ml capacity and can emit wrinkle-busting steam for up to 15 minutes at a time.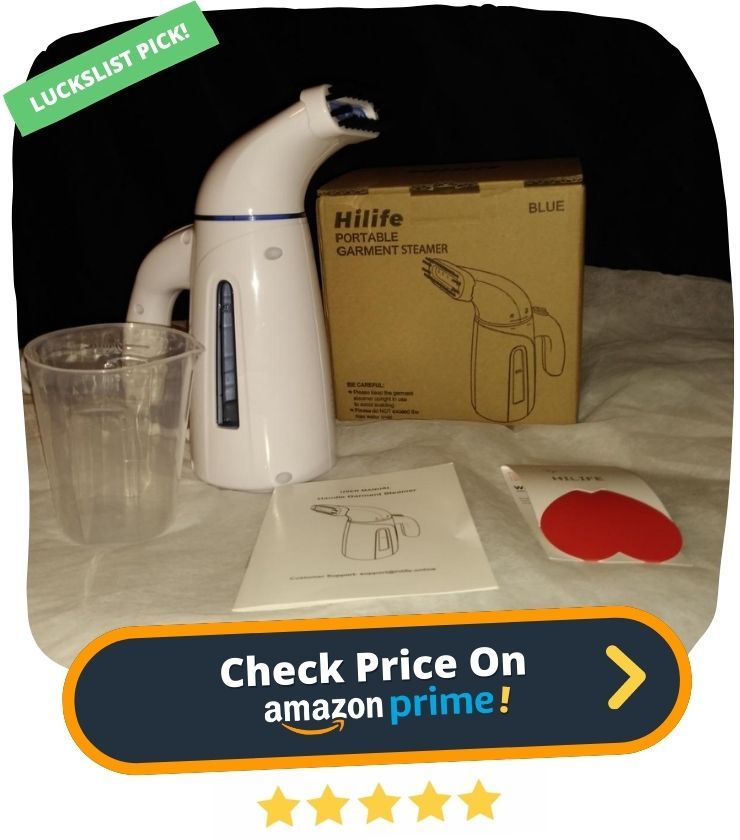 "I bought this little guy because I never put my clothes away and they get all wrinkled. Seriously, I'm one lazy person. Lol This steamer is small and compact but packs a punch for getting out wrinkles. It takes no time at all and is super easy to use. Literally fill with water and turn the switch on. I've attached a video so you can see how easy it is to use. Hope this give you an idea of how good it works."
Amazon Review By Kamryn Walden
10. Looking for a stylish and functional passport holder? Look no further than the Zoppen Mulit-purpose Blocking Passport Holder! This must-have travel accessory features a RFID blocking shield material to protect your personal information from identity theft.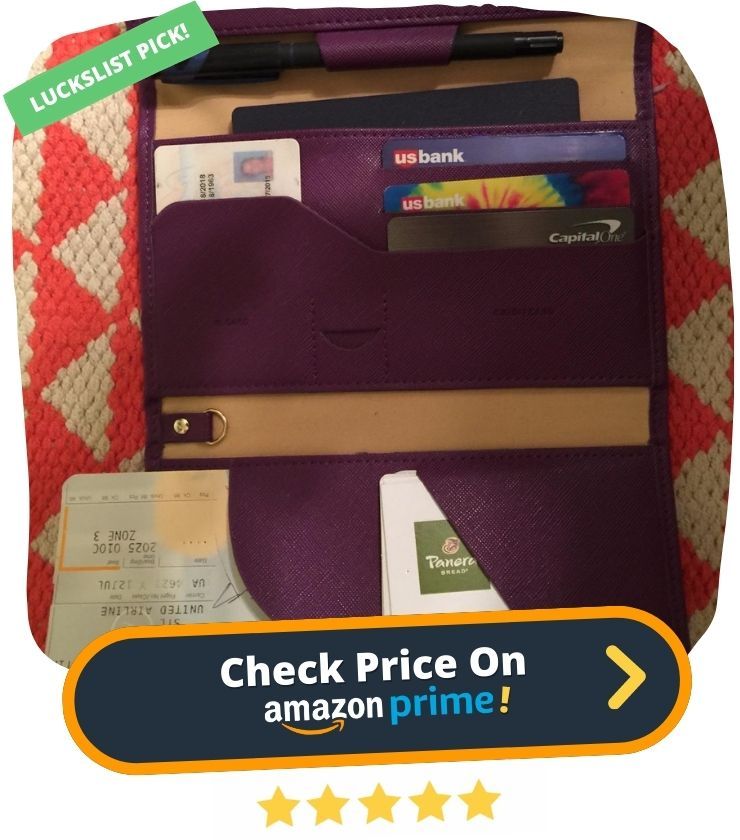 "I like the way this wallet is organized, it opens up flat and you can exactly what you need for easy retrieval. I also like how I can put my iphone 6 pro inside and still be able to snap the purse shut. The photo of the airline ticket being tucked away neatly isn't really true, see my photo. That being said, I didn't mind because I actually used a eticket on my phone. As you can see from my photo my passport fits neatly inside. This wallet is nicely built and feels sturdy to hold. I used this wallet while traveling through Europe for a month and it help up great."
Amazon Review By Chinderliter
11. The Lugz Women's Clipper Sneaker is the perfect choice for anyone who wants a fashionable and comfortable sneaker. The 100% canvas upper and rubber sole make this shoe durable and stylish, while the padded insole and breathable lining provide outstanding comfort.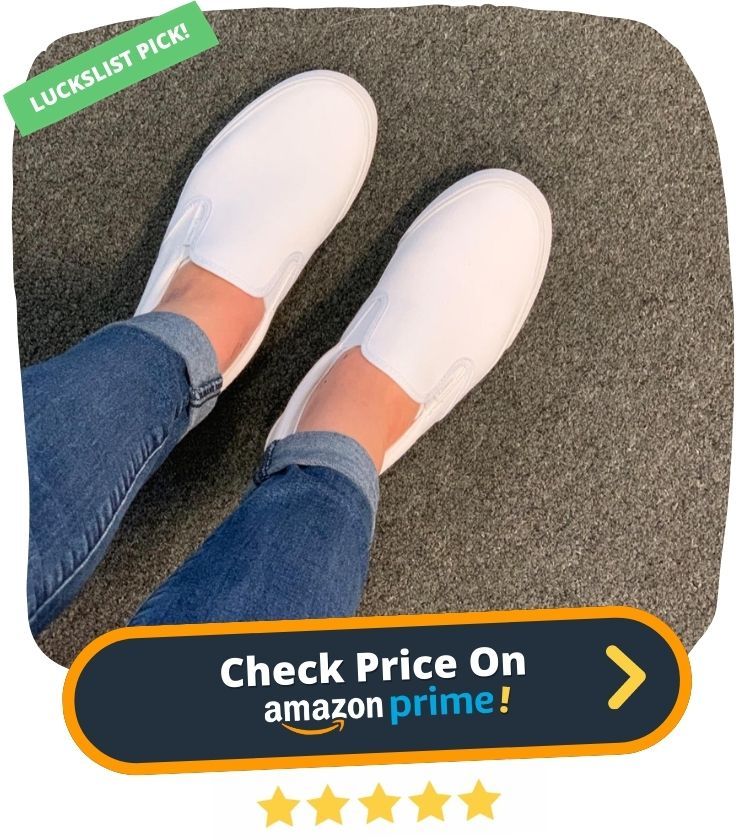 "I was actually kind of surprised by these. I wanted Vans, but didn't want to pay $60 for trendy spring shoes.. I ordered these and wore them for an entire weekend walking around NYC. We walked like 30 miles in two days and these were surprisingly comfortable, I didn't regret wearing them. I'll definitely buy more in the future."
Amazon Review By Lauren Kennedy
12. Introducing the MZOO Sleep Eye Mask! This super soft and comfortable eye mask is made of low-rebound memory foam and is designed to offer a pressure-free experience for your eyes. The unique heat-bonded technology ensures that the mask stays sturdy and durable, while the top quality fiber fabric ensures that it won't stain your bed sheets or pillows.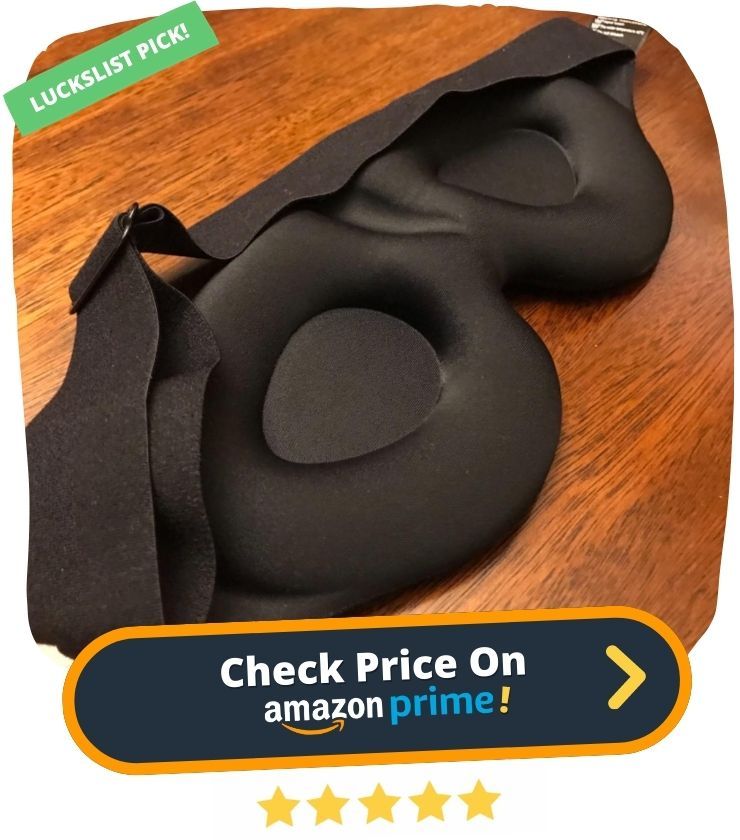 "So, I ordered one brand of sleep mask on amazon, I won't name the brand, but it was my first sleep mask, and I liked it. I ordered another one as a travel one, of the same brand and it broke. They have good customer service and are replacing it, but in the interim I decided to order another brand, to try it. This is the one I decided to order."
Amazon Review By TheMovieHero
13. Looking for a high quality, portable mini first aid pouch? Look no further than ours! This emergency medicine case is made from durable polyester material and features high quality double zippers. The pouch is also lightweight and portable, weighing only 60g and measuring 5.11 * 3.93 * 1.57in.
"The most handy little thing! I'm reorganizing my purse and I wanted to have a first aid kit that was cute and portable. When I looked at the reviews for this I was having a hard time seeing if it was going to be small enough to practically carry around in a purse... IT IS! I was able to fit almost an entire first aid kit in here minus the extra large gauze pad. I even for the cold press pack and tongue depressors! I love the double zipper to help get it closed when it's bulged up. The inside zipper mesh pocket is super handy for quick access items like cough drops or medicine."
Amazon Review By Courtney H
14. Whether you're headed out on a business trip or a much-needed vacation, the last thing you want to worry about is forgetting something important. With the Pack This! Pad Packing List, you can rest assured that you'll have everything you need for a successful journey.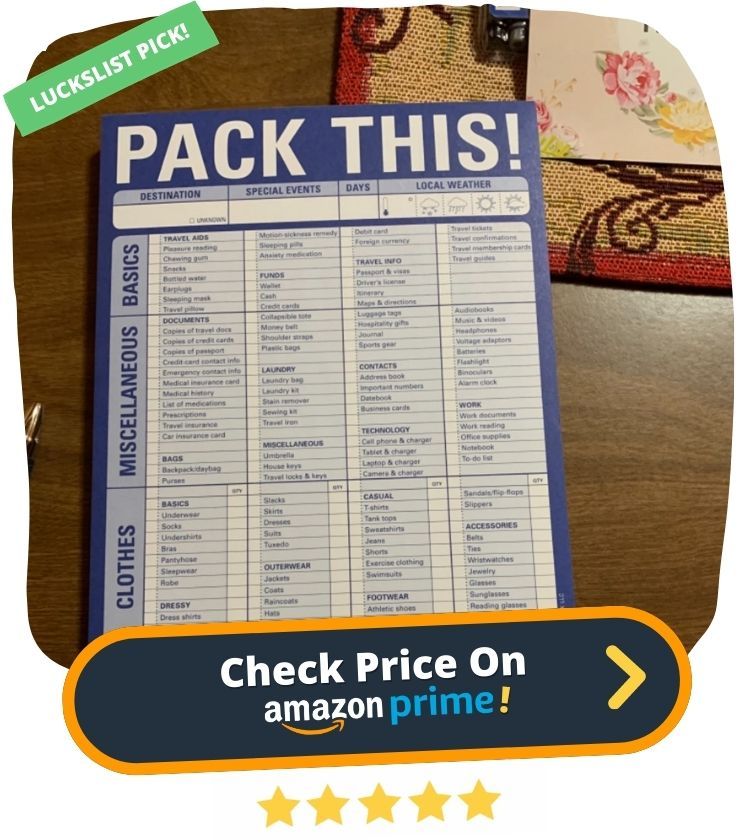 "I just used this for a recent trip to Florida from California. It made it easier to remember things. I used to have a list, that I made, on my computer to remind me, my husband and child what to pack. My daughter is out on her own now and my husband passed away recently. So, I just need a list for me. This helped me think of things I NEVER thought to put on my list. It has extra lines for you to add anything extra like crochet project, handicapped parking plaque, etc."
Amazon Review By Connie Woods
15. Looking for an easy way to get through airport security with your toiletries? This clear, TSA-approved toiletry bag is exactly what you need. The 7.5 x 5.9 x 2.2 inch bag is made of durable, clear PVC and features reinforced seams to prevent splitting and leakage.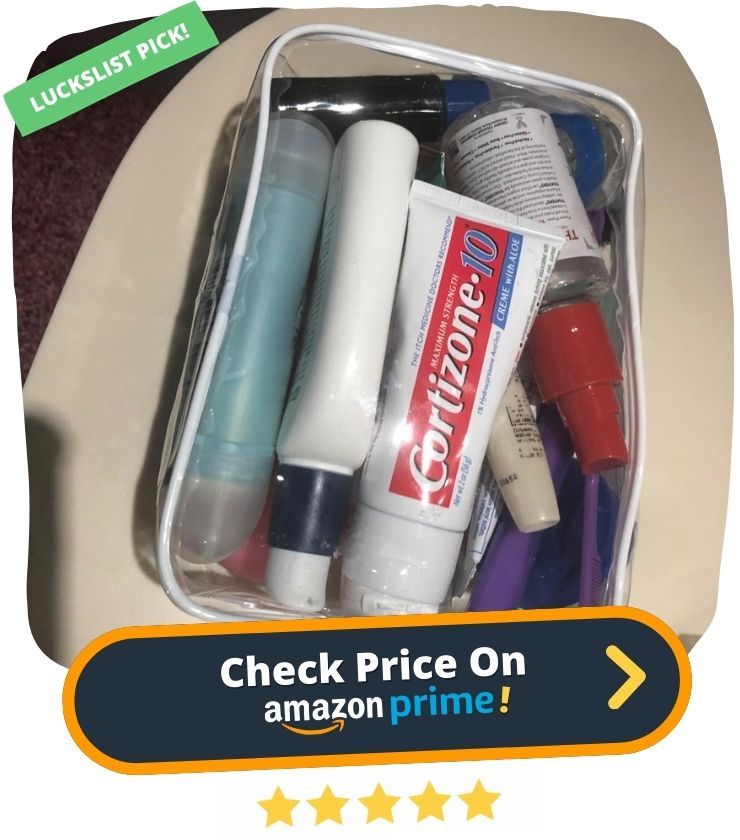 "These were great for my last trips, one was within the continental US and the other international to Thailand. No issues with TSA you can really fit a lot into these clear bags. So much better than a quart bag. Ladies I def recommend! I didn't think I would be able to fit all my makeup, travel shampoo and other travel bottle liquids but I had no problem."
Amazon Review By Lys
16. Is your old way of packing leaving you feeling frazzled and disorganized? Say goodbye to travel woes with Veken 6 Set Packing Cubes. This smart packing solution will help you sort, organize and find your things in a flash. The cubes are made of 26% thicker fabric than other brands, so they're durable enough to use every day.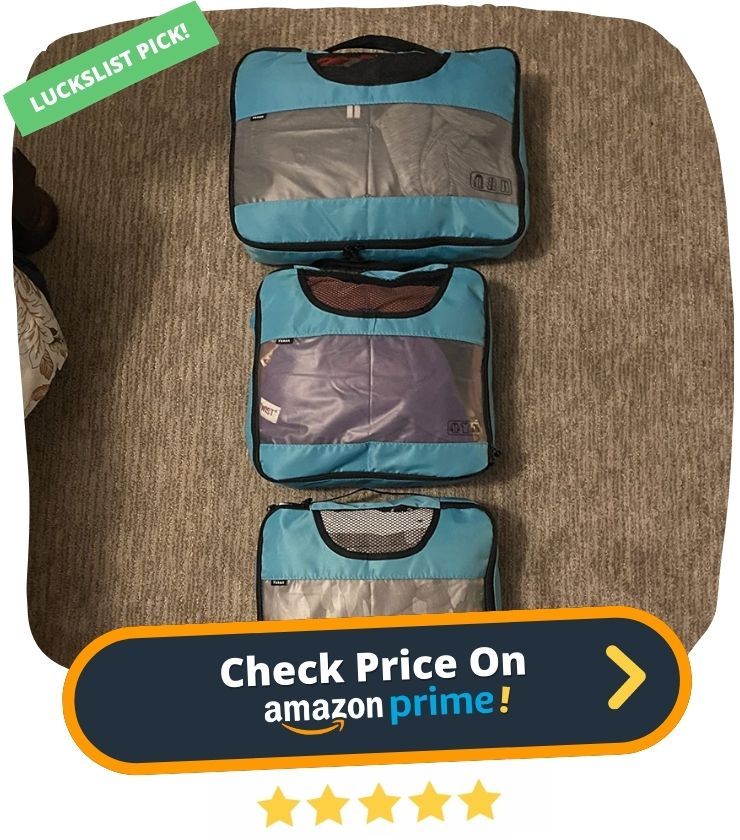 "These little things are the bomb! I would highly recommend using packing cubes. I always thought they might be just an extra thing to deal with, but let me tell you they helped me so much on my recent trip to Scotland. We were gone for 14 days and had a limited amount of luggage that we could take. In addition we were staying at different places and traveling throughout the country. Separating your items into these little cubes really made me feel like I got more packed into my bag. Who knew something so simple could make such a difference!"
Amazon Review By Tammy L. Kilgore