We hope you find your next favorite thing from the list below! Each product was independently selected by our editors. Some may have been sent as samples for us to fiddle with, but all opinions in this article are our own. Oh, and FYI — LucksList may collect a share of sales or other compensation from the links on this page if you decide to buy something (that's how we stay in business). Reviews have been edited for length and clarity. Enjoy finding your next favorite thing!
1. Looking for a way to organize your desk drawers? Look no further than the SimpleHouseware Desk Drawer Organizer Tray! This six-pack of assorted tray organizers is perfect for any office or home. The multi-functional design is great for organizing makeup vanity drawers, bathroom drawers, office supplies, and more. The clear design and different sizes make it easy to find the perfect fit for any drawer.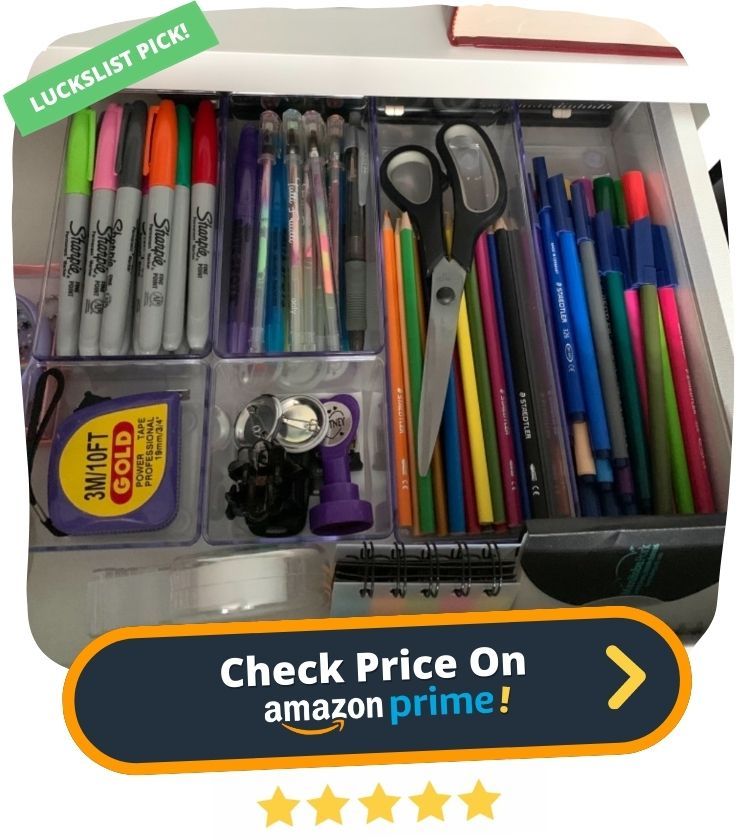 "For the price, these are pretty much worth it. They come with little pads for slippery drawers, although they are not pre-assembled. The pads work really well, I'm fairly aggressive with drawers and they stay in place."
Amazon Review By Olivia
2. Looking for a no-mess litter box solution for your cat? Check out the Amazon Basics No-Mess Hooded Cat Litter Box. This large litter box features a snap-on hood for added privacy and to help contain litter inside the pan. A plastic swinging door provides easy in/out access for your cat, and the hood lifts off for easy cleaning. The box is made of stain and odor resistant polypropylene plastic and wipes clean with a damp cloth.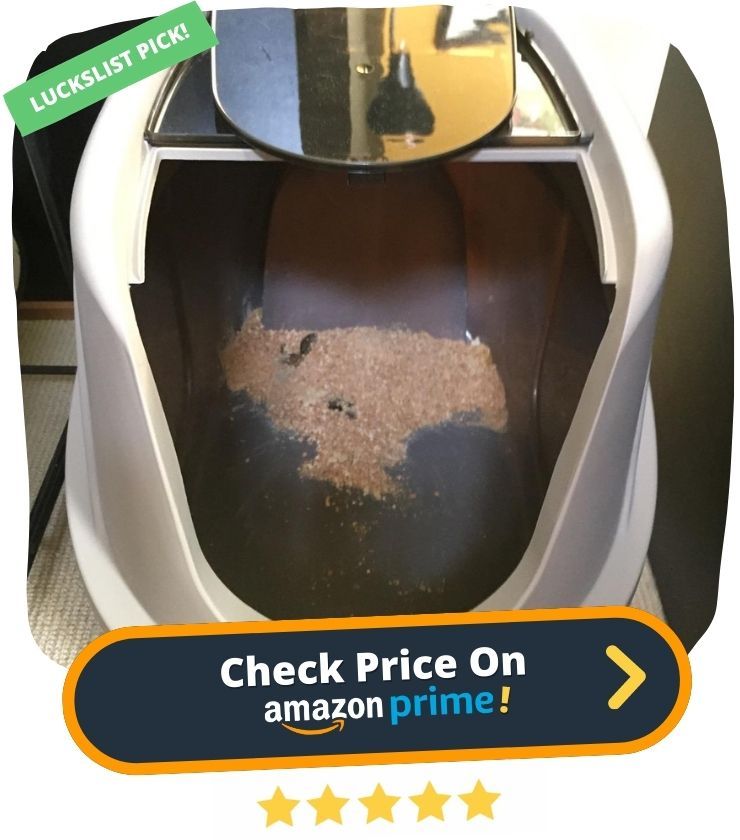 "This litter box works perfectly for my mini Rex. He used it immediately and had no troubles switching from an uncovered one. I love the fact that it is covered, it keeps the dogs from eating all of his hay!"
Amazon Review By Courtney
3. Looking for a stylish and functional way to organize your bathroom? Look no further than the HapiRm Shower Caddy! This versatile bronze rack has 11 hooks and two shelves, perfect for storing all your shower essentials like shampoo, soap, razor, etc. Plus, the adhesive design means you don't have to damage your walls to install it – simply stick it on and wait 24 hours for it to set.
"It took me a long time to decide on which ones to get for the shower because I both did not want the pole caddy nor drill holes on tiles. I decided on this first because it was a 2 pack and second the reviews and rating was good."
Amazon Review By Scoobylove
4. What do you do when your water bottle just doesn't seem to be getting clean? The answer is simple: reach for a Scotch-Brite Bottle Scrubber! This little scrubber is designed specifically for cleaning those hard-to-reach places in your water bottle, and it's also safe to use on other types of containers like vases and carafes. Plus, it's dishwasher safe for easy cleanup.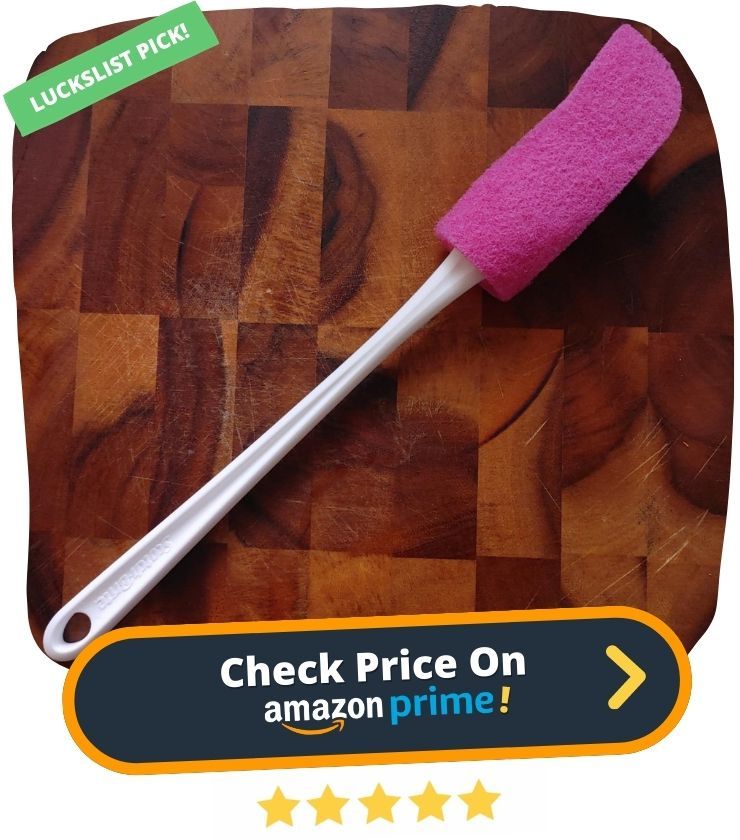 "I wanted a small cleaning brush and found one that works beautifully. Nice thing is that it takes up minimal space. I hate the idea of putting a wet brush under the sink to drop water on the wood cabinetry and possibly cause the finish to bubble over time."
Amazon Review By Karen VK
5. Introducing the Boon Cacti Bottle Cleaning Brush Set! This fun and functional set includes everything you need to keep your baby bottles, sippy cups, and pump parts clean and fresh. The set comes with a bottle brush, straw brush, nipple brush, and a detail brush, all with durable nylon bristles that will last wash after wash. The easy-to-use vase keeps the brushes contained and drains water for easy cleaning. Plus, the set is made without BPA or PVC for your peace of mind.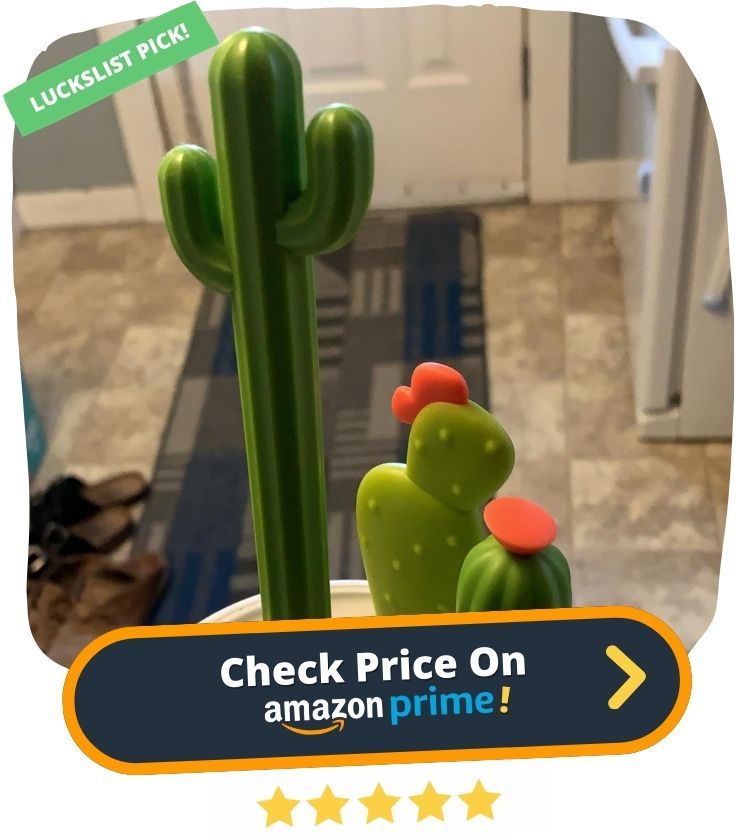 "These brushes are amazing quality and i love the different sizes. I got the terracota set and my oh my they are super cute. I struggle with the biggest size brush though."
Amazon Review By A K.
6. Looking for a way to organize your cans and jars? Look no further than the SimpleHouseware Stackable Can Rack Organizer! This handy dandy organizer is perfect for anyone who wants to get their can collection in order. With six adjustable plastic dividers, you can perfectly align and organize your cans, jars, and beverage cans. The stackable design means you can get multiple sets and stack them together in a second.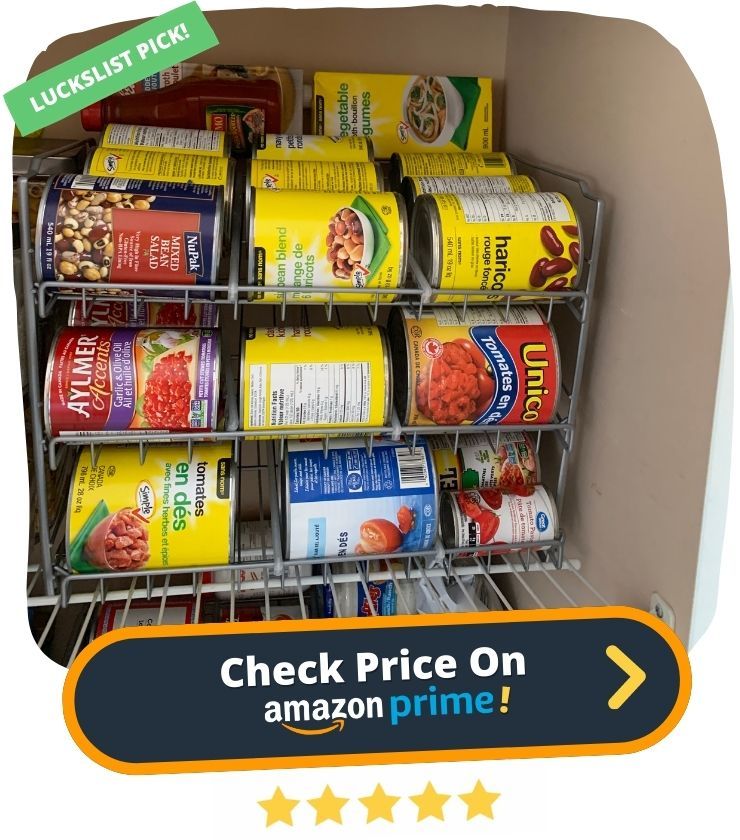 "So easy to assemble, make my pantry look so much more organized and so much easier to see what I have in stock and easier to access all the cans."
Amazon Review By Martine Coulas
7. Looking to get your silver sparkling again? Simple Shine has the solution – these silver cleaning wipes! Our wipes are pre-treated with a gentle yet effective silver jewelry cleaning formula, making it easy to restore shine in one step. Just wipe to remove dirt, tarnish, and buildup, then discard the wipe. It's never been easier to clean silver jewelry!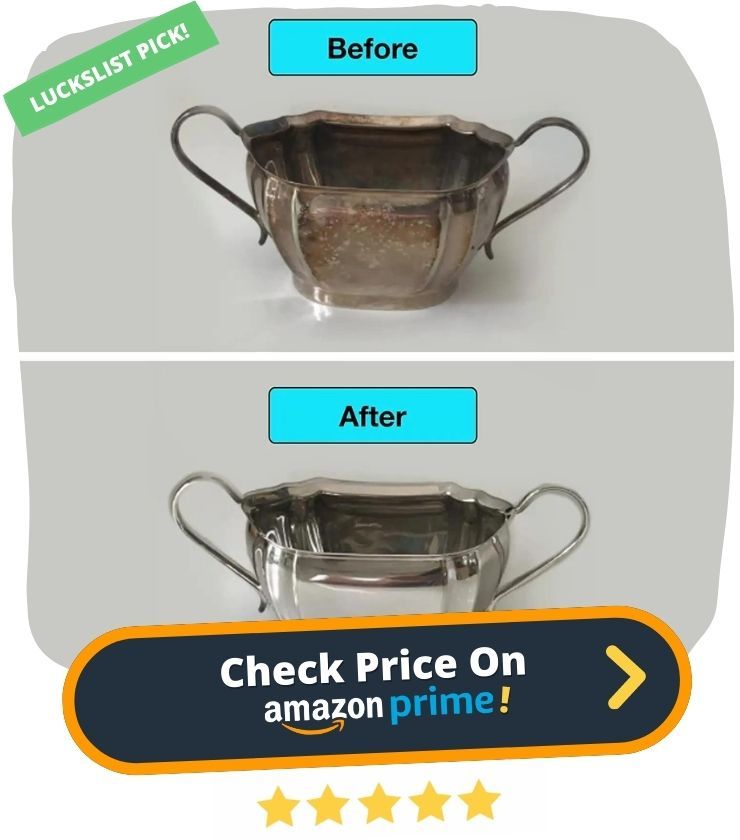 "Certainly worth the money. I'll use them for quick shine-ups and use more robust cleaners for big jobs.It took a long time to clean heavily tarnished jewellery."
Amazon Review By MARY S.
8. Looking for an environmentally friendly and effective way to clean your home? Look no further than Molly's Marvelous Scrubbing Sticks! These helpful toilet sticks are made from non-toxic and recycled material, so you can feel good about using them without inhaling harsh chemicals. They're also great for removing stubborn stains from hard water, calcium, lime, soap scum, and rust.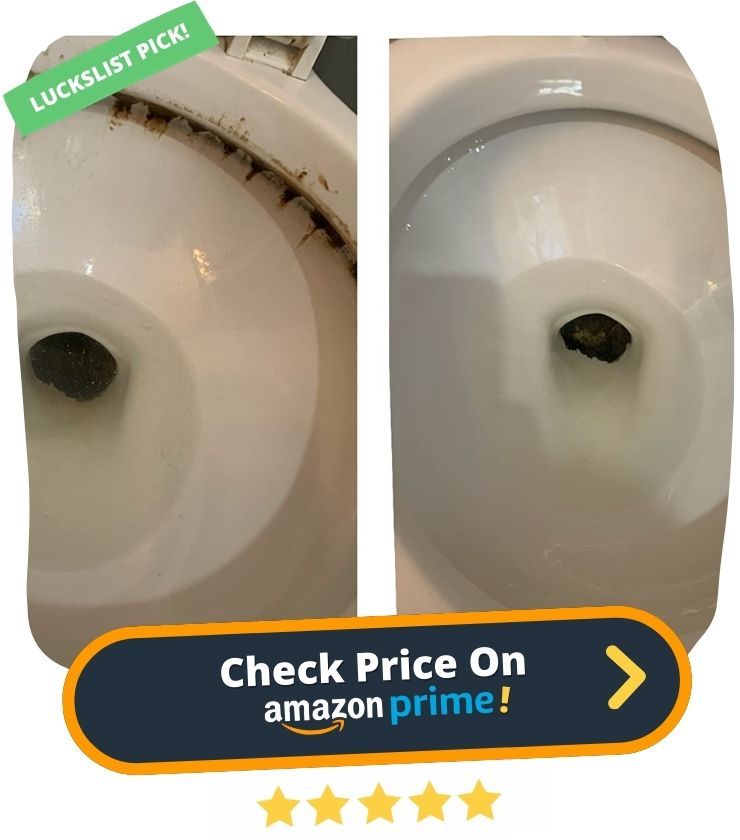 "I've tried for years to clean my gas stove top, many different products and many failed attempts. I'm blown away by this. its amazing! one day 98% improvement. and I haven't even gotten to the toilet yet!!!!!"
Amazon Review By Samantha Ellison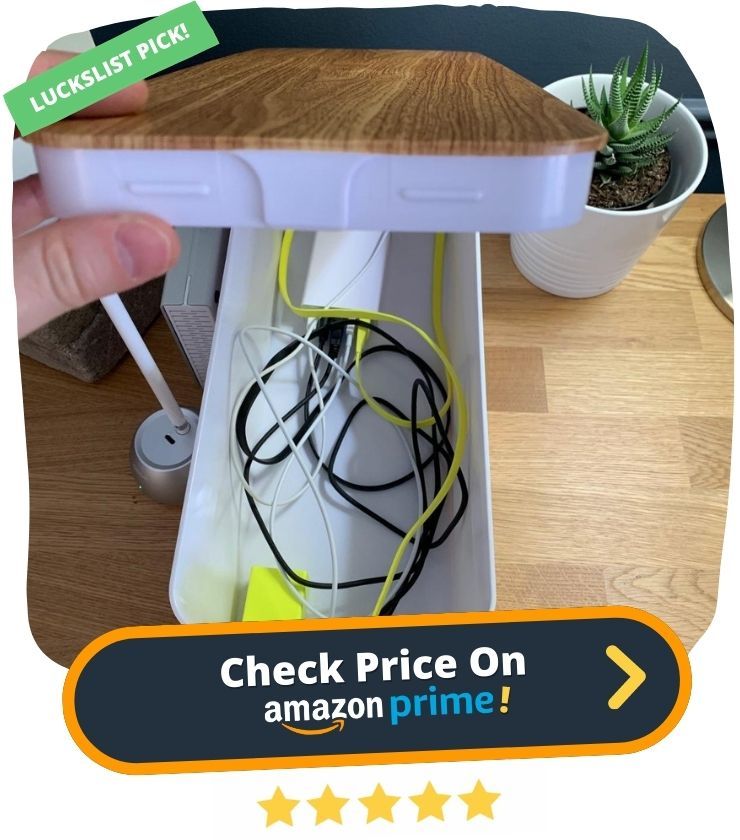 "This box - when I received it was unsure as it seems a little large. But once I put it in place, it fit my giant long cords and tucked away so nicely, I don't even notice it's there."
Amazon Review By Tonya A
10. Hagibis Cleaning Pen for Airpods Pro is the perfect way to keep your earphones clean and dust-free! The separated dual head design includes a flocking sponge, high-density brush, and metal pen tip to meet all your cleaning needs. The flocking sponge is delicate and soft, making it perfect for cleaning the dust in the wireless charging case of the earphone. The high-density brush easily cleans the dirt on the sound outlet hole of the earphone and other parts.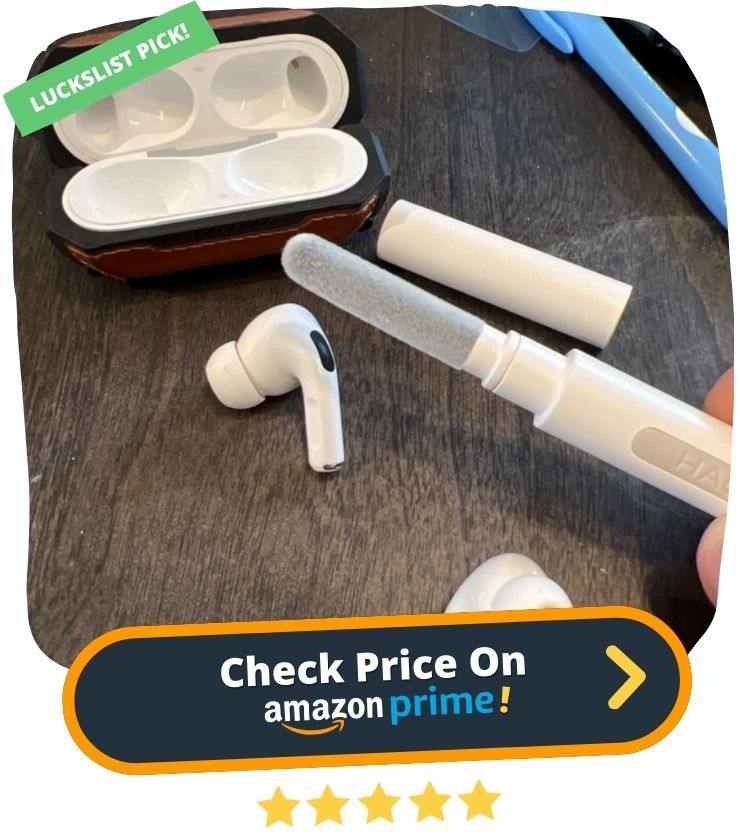 "Simple to use and exactly as exce, nothing fancy. Just wonder how you clean the actual tool once you're done, especially the fuzzy part."
Amazon Review By Bacel
11. The Atlas Cup is the essential laundry room accessory for large laundry detergent bottles. Positioned for convenience, the Atlas Cup sits directly under the detergent spout to capture all the liquid. The integrated grooves prevent spills and catch any drips. Easy to store, the Atlas Cup keeps your cap on the ideal storage spot of the next laundry load.
"I have a love/hate relationship with the laundry cup. I love that I don't have to lug the dispenser, I hate that the cup is "gooey". Typically I solve this little dilemma by throwing the cup into the washing machine with whatever load is on the go. Sometime said cup even gets dried. It's the cleanest piece of plastic on the planet."
Amazon Review By Effie
12. If you're looking for a shoe rack that is both stylish and functional, look no further than the Rolanstar Shoe Bench. This 3-tiered shoe rack can accommodate up to 12 pairs of shoes, making it perfect for either your entryway or bedroom. The rustic raw materials and durable metal frame not only give the bench a vintage look, but also ensure that it will last for years to come. Plus, the smooth finish is easy to clean, so you can keep your shoes looking their best.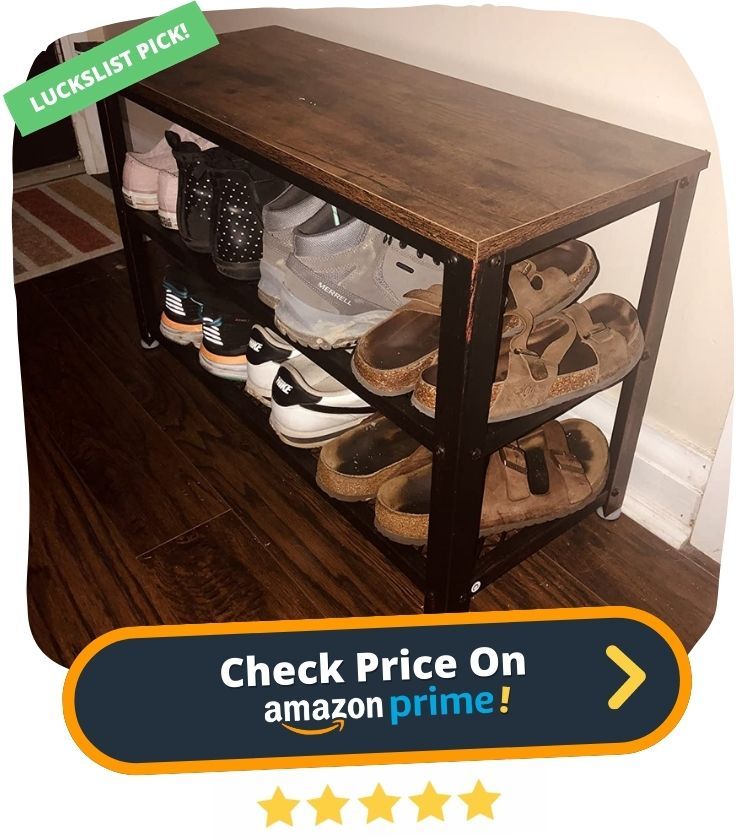 "I am so impressed with this bench. All the ones I loved at the stores and online elsewhere were priced at $300+ so we decided to go with this one until the kids were older. This one will last us much longer than anticipated and it's much more beautiful in person."
Amazon Review By Amazon Customer
13. Looking for an effective way to remove pet hair from your furniture, clothing, and car seats? Look no further than the Pet Hair Remover Roller! This unique roller is made of a static charge material that will grab onto even the stickiest of hairs, collecting them in an instant. Just a couple of passes are all you need to make your surfaces fur-free! Plus, the roller is self-cleaning – simply pinch one of the two silicone leather pads and swing it a few times to get rid of any collected hair.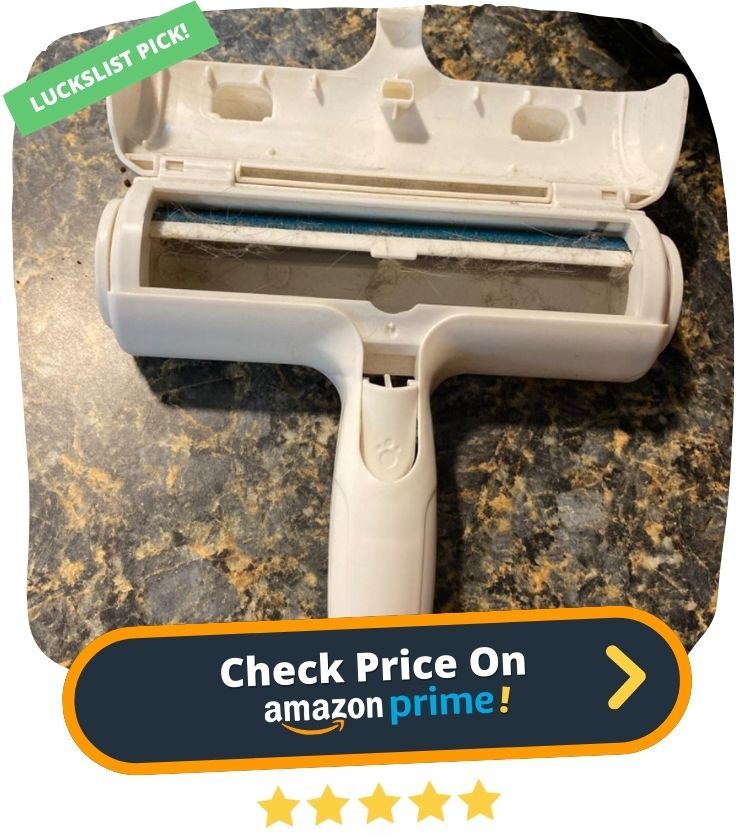 "I have a small beater attachment for my vacuum that works well on pet hair - but often I just don't want to lug out the vacuum."
Amazon Review By Deborah
14. Looking for a versatile, powerful hand vacuum to tackle pet hair and dirt around your home? Look no further than the Bissell Pet Hair Eraser Hand Vacuum! This powerful little vacuum is designed specifically for picking up pet hair, and features a cyclonic cleaning system that makes short work of dirt and debris. The specialized rubber nozzle attracts hair and removes dirt from stairs and upholstery, while the 16-ft power cord lets you clean farther without having to unplug.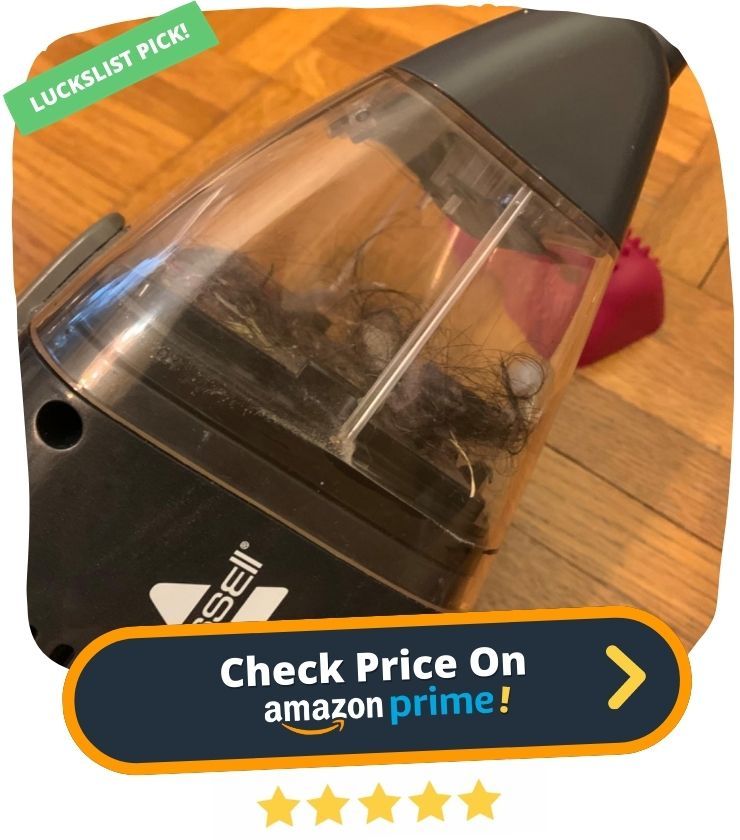 "I held off on buying this for the longest time. I had it in a wish list, uncertain that it would be a good purchase because the price is so cheap. Well... colour me surprised! This was AMAZING. I have a pseudo-tweed tufted sofa, i.e. all but impossible to fully clean by hand or my crappy floor vacuum."
Amazon Review By Aliana
15. Looking for a way to Organize Over the Door? Look no further than the Home-Complete HC-2301 Over The Door Organizer! This great product is perfect for anyone who wants to keep their home neat and clutter free. The 8 shelves are conveniently adjustable, and there are 3 stoppers to prevent taller items from falling out. Plus, the versatile design allows you to use it as one long rack or two shorter ones. And installation is quick and easy, with both over the door hooks and mount screws included.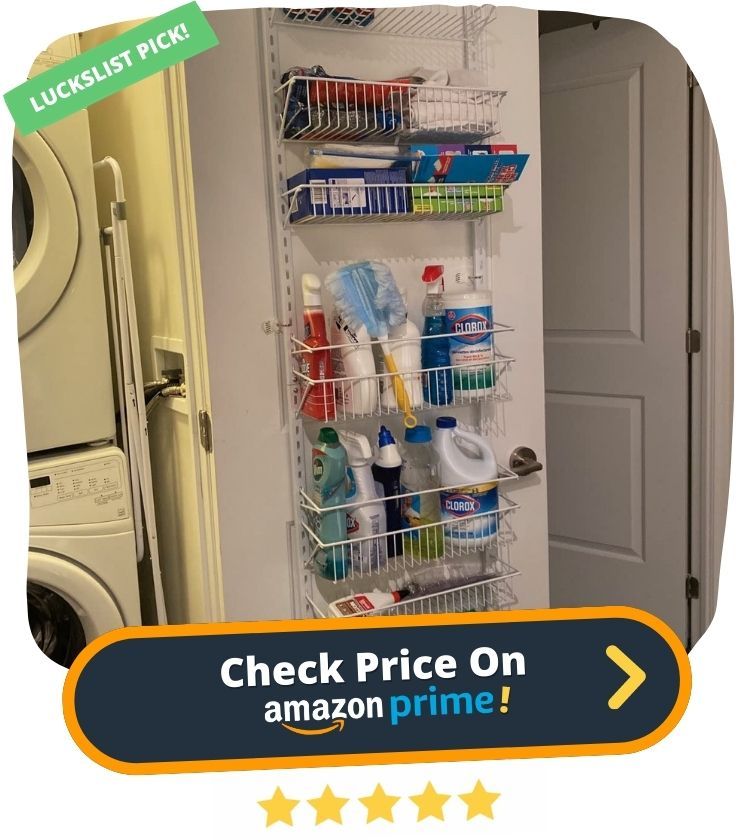 "I bought this rack for the kitchen. It comes with 4 rails and connectors to make it into 2 rails at 72" long. But I didn't connect them, I made 2 racks out of it instead. One for the kitchen wall (see pic), and one to hang on the back of my bedroom door."
Amazon Review By Dolphin
16. Looking to improve the efficiency of your clothes dryer? Or maybe you're just tired of paying someone 150 dollars every time you need to clean your dryer vent. Well, never fear, the Holikme 30 Feet Dryer Vent Cleaning Brush is here! This great product includes a high quality synthetic brush head and 18 piece flexible durable rods that extend up to 30 feet, so you can easily reach any lint buildup in your vent, duct or exhaust port.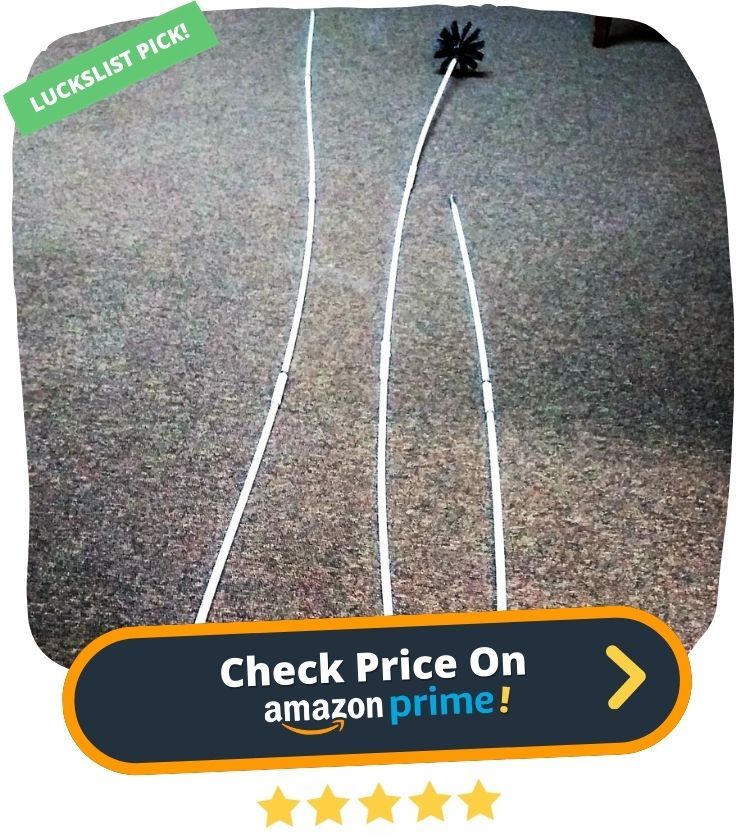 "This thing hauled out a ton of lint (and a gross amount of hair) from my dryer vent. It screwed together easy. Rookie mistake- I assembled the rod in two lengths and then took it outside between mine and the neighbours home."
Amazon Review By Amazon Customer
17. Looking for a little extra storage space in your bathroom? Check out this Space Saver 4-Tier Over The Toilet Storage Rack! This handy rack easily fits over most toilets and provides 4 shelves of additional storage space. Perfect for holding towels, candles, plants, and other bathroom accessories, this rack is a must-have for anyone tight on space. Our stable metal frame and sturdy construction ensure that this rack will last you for years to come.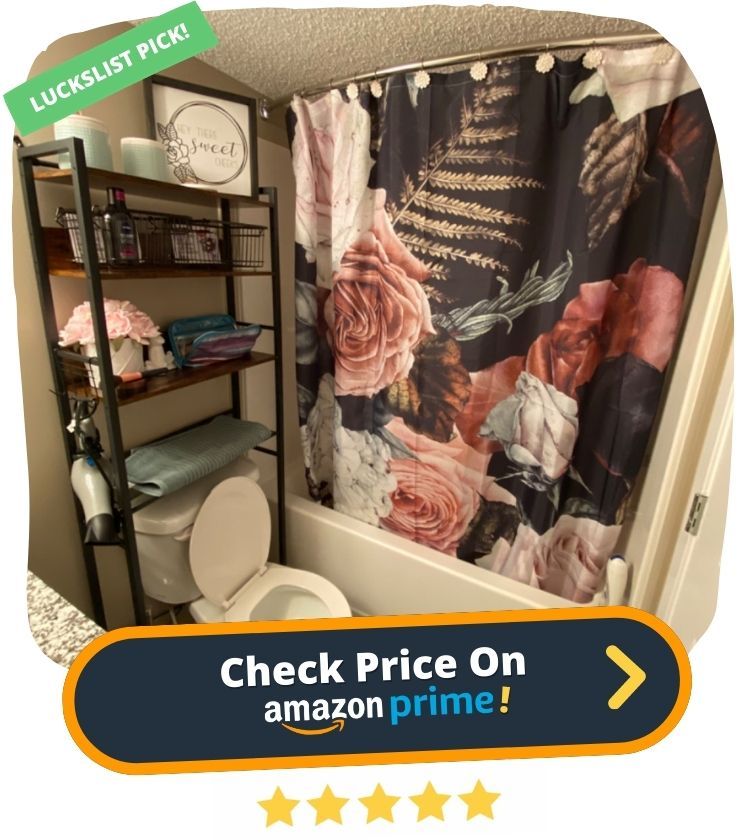 "I absolutely love this shelf! The wood veneer is actually beautiful and looks high end. I was expecting it to look cheap. It feels like it will hold up well and be able to withstand moisture. It holds a lot of different items and the added hooks are great for my styling tools!"
Amazon Review By Charity Hanselpacker
18. Ah, the kitchen. It's the heart of the home, where we cook up delicious meals and memories. But it can also be a bit of a disaster zone, especially when it comes to coffee mugs. They always seem to end up scattered around, taking up valuable counter space and making the place look cluttered. But with this handy mug rack, you can keep all your mugs neatly organized and out of the way.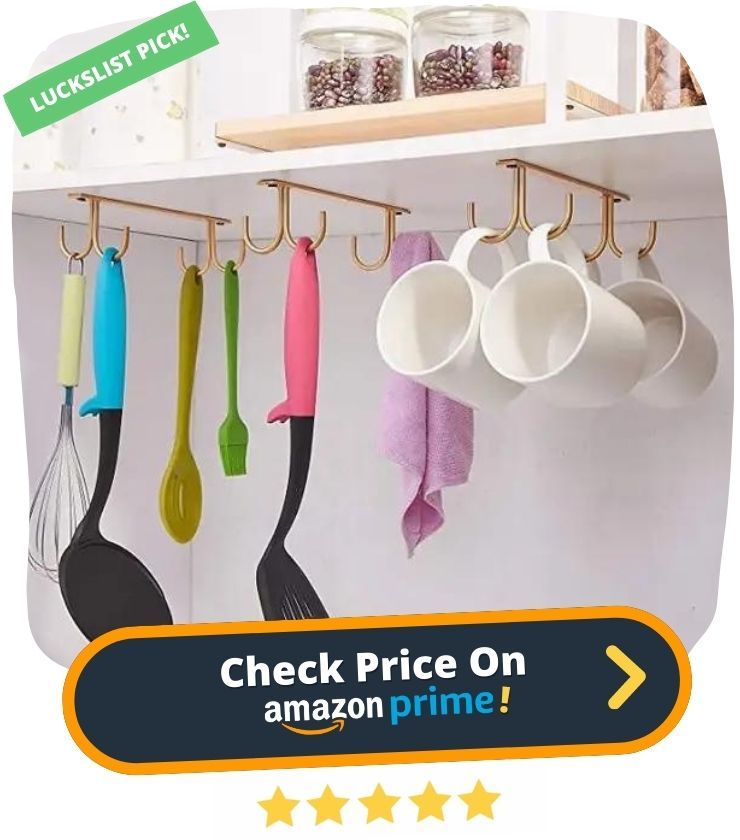 "These are sturdy and a great value for the price. They work really well and save so much storage space in my small kitchen."
Amazon Review By Rachel
19. The LONGTEAM Hanging Purse Handbag Organizer is perfect for organizing your handbags, purses, small blankets, sheets, towels, clothes and other accessories. This organizer is made from high quality materials and is anti-dust, large capacity, breathable, space saving, durable and convenient. It is also environmental friendly and can be hung on standard closet doors, shelves, etc.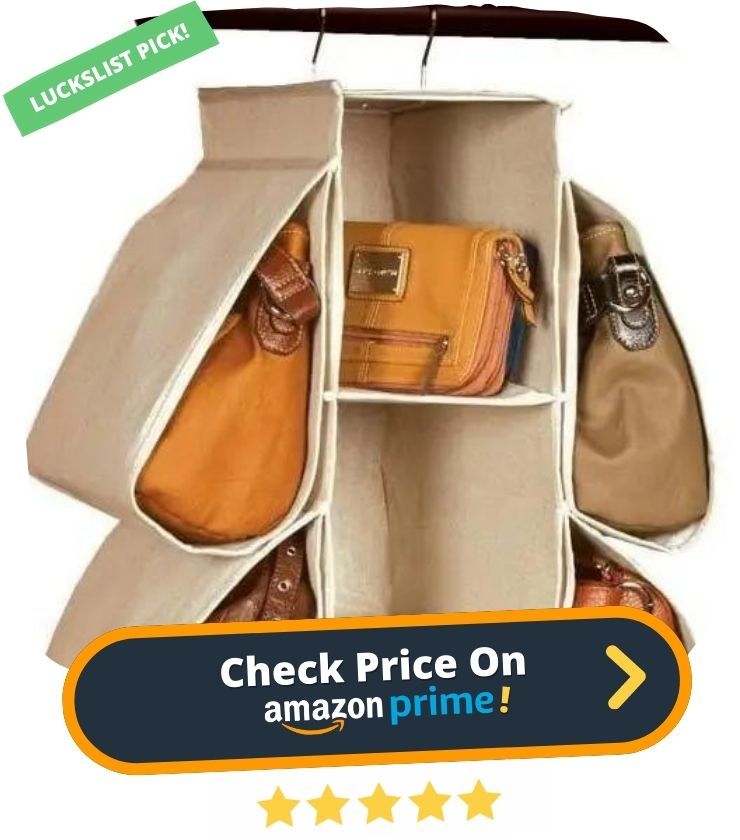 "It's very practical and quality is good as well. It's big enough for different types of purses and even bags."
Amazon Review By maryam
20. If you're looking for a fresh and clean toilet bowl with every flush, then the Scrubbing Bubbles Fresh Gel Toilet Cleaning Stamp is perfect for you! These little gel stamps provide ongoing freshening action and prevent stains and build-up, all without any scrubbing or touching required. Simply apply the stamp inside your toilet bowl and let the Scrubbing Bubbles do their job! Plus, they come in three fabulous scents (Rainshower, Fresh Mountain Morning and Citrus) to keep your bathroom smelling great.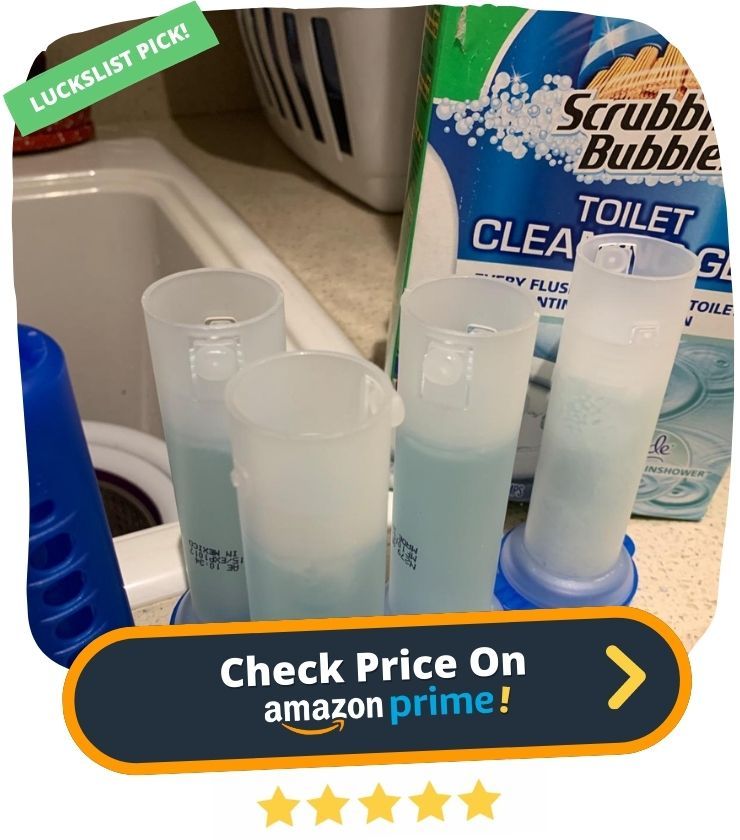 "I find this helpful in terms of keeping the toilet bowl cleaned and smelling fresh. I have not had to clean the toilet as much as I did before, I appreciate a good product that allows you to save time from cleaning all the time."
Amazon Review By gill24k