Are you a writer in need of a little inspiration? Look no further than sudowrite, the perfect tool to help you get your creative juices flowing! Our Sudowrite review will help you unlock your inner author and make your writing dreams come true.
What Sudowrite is, explained in simple terms?
Sudowrite is an AI-powered writing assistant designed for fiction authors. It enables writers to create new stories or make improvements to their existing work. To achieve this, users can provide the model with a "seed" text, which may consist of a few words or a sentence. The model then generates the next word or phrase based on the preceding words.

Are you wondering how Sudowrite could help you?
Sudowrite can enhance your writing experience with the following benefits:
Overcoming Writer's Block: When you find yourself stuck, Sudowrite can provide you with fresh ideas to help move your story forward.
Complimenting Your Writing Style: As your story progresses, Sudowrite develops an understanding of your unique style of writing and offers suggestions that complement it.
AI-Provided Feedback: Sudowrite offers valuable feedback on your writing, including suggestions on how to improve it.
Character Creation Made Easy: Sudowrite's tools can help you create characters and establish relationships between them.
Succinct Summaries: Sudowrite excels at summarizing long passages of text, helping you get to the heart of your story.
Finding the Right Words: If you're struggling to find the right words to describe an object or setting, Sudowrite's word-finding tool can help.
Unleashing Your Inner Poet: Even if you're not a skilled poet, Sudowrite's feature for crafting poetry can help you express your ideas in verse.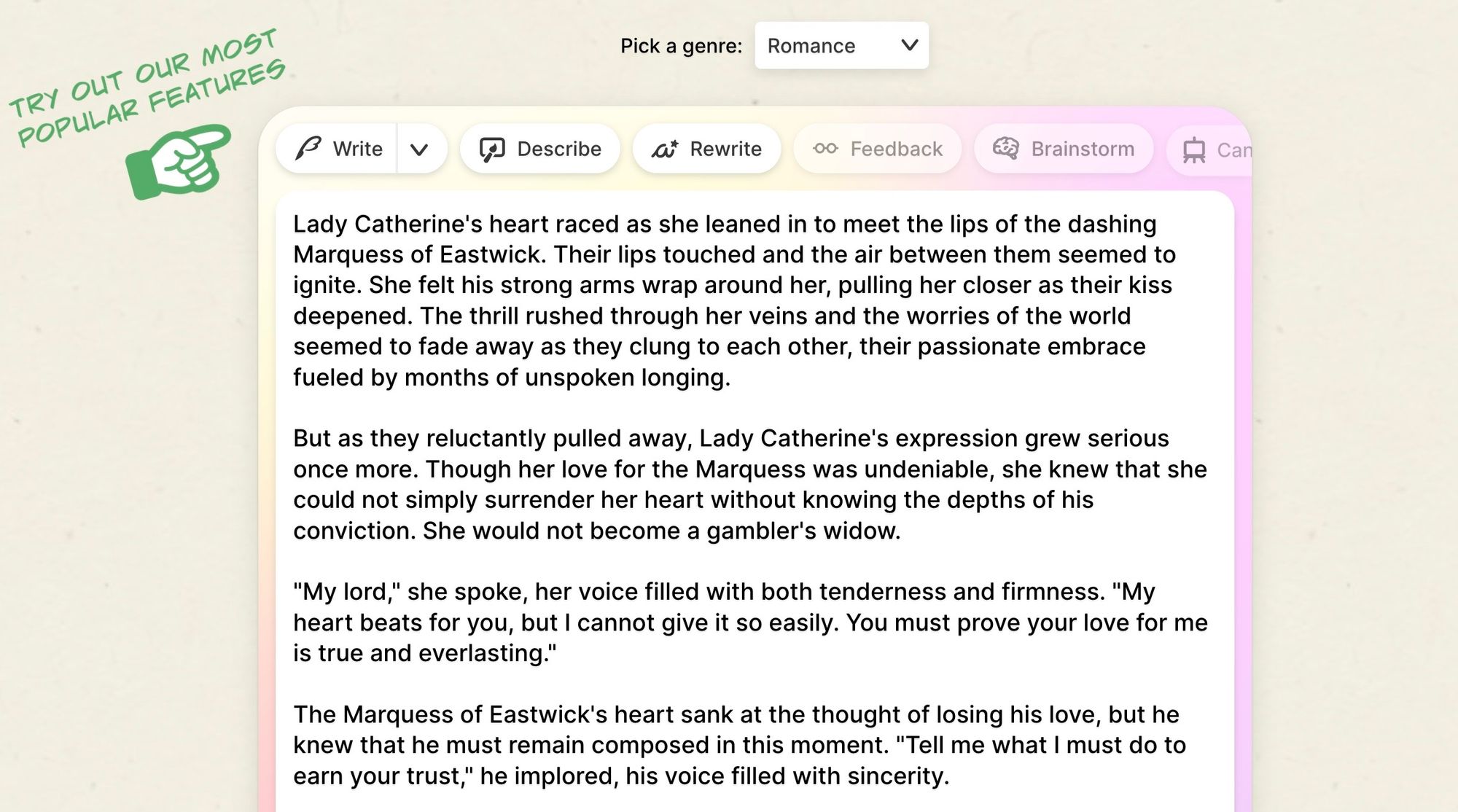 Are you looking for a writing platform that can help you take your writing to the next level?
Introducing Sudowrite – the ultimate writing platform that helps you create amazing content quickly and easily. With Sudowrite, you can write, edit, and publish all in one place – no more switching back and forth between programs. Plus, you can access your work from anywhere, so you can write on the go.
Sudowrite is an all-in-one writing platform that will help you write faster and smarter. With built-in editing tools, you can easily improve your writing and make sure your content is top-notch.
Sudowrite is the perfect platform for any writer – from beginners to professionals. Whether you're a student, a blogger, a freelancer, or a business owner, Sudowrite has everything you need to take your writing to the next level.
Are you ready to write better? Get started with Sudowrite today and experience the power of a streamlined writing platform. With Sudowrite, you can write faster, smarter, and better than ever before. Get ready to be amazed by the power of Sudowrite – the ultimate writing platform!
How We Chose Sudowrite As Our Favorite AI Fiction Writing Assistant
If you're looking for a writing tool that can help take your words to the next level, then our Sudowrite review is here to answer your prayers.
Writing can be hard, but with the right tools it doesn't have to be. Sudowrite offers an array of features such as grammar and spelling checks, word count tracking, and even personalized feedback from its team of experts. Plus, it's completely free to try!
Our team has read hundreds of reviews to find out what makes ai writing assistant in Sudowrite stand out among its competitor AI writing tools for writing stories.
We've done all the research so that you can easily find and access this amazing writing tool without having to worry about cost or quality.
Try out Sudowrite today and see how it can make your writing shine!

Sudowrite
Best For Fiction Creative Writing!
Open Sudowrite
Why We Love It:
Sudowrite is a revolutionary cloud-based tool for fiction writers to speed up the process of writing fiction and create more captivating stories.
It helps you brainstorm characters, plots, worlds, and more with its visual canvas.
With Sudowrite, you can expand plot points, describe things for the 5 senses, generate twists, and get AI book blurbs, outlines, and hooks from your manuscript.
You can also get AI beta user feedback, that mimics "human" readers, or fellow writers.  And a great bonus - you get a 4000-word free trial with all features included.
What You Should Know:
Sudowrite is a great tool for those writing fiction and looking to speed up the writing process and create amazing stories. It can help you structure your story and generate ideas that you may not have thought of on your own.
However, it does not have an in-built plagiarism checker, so you need to be aware of this when using the product.
Overall, Sudowrite is a great AI creative writing tool for fiction writers who are looking to create captivating stories with less time and effort.
Artificial intelligence AI ai writing tools, and story tools will never replace human writers, but all the features can act like your junior writer in your fiction writing.
Are you curious about Sudowrite, the AI-powered writing tool, but hesitant to sign up?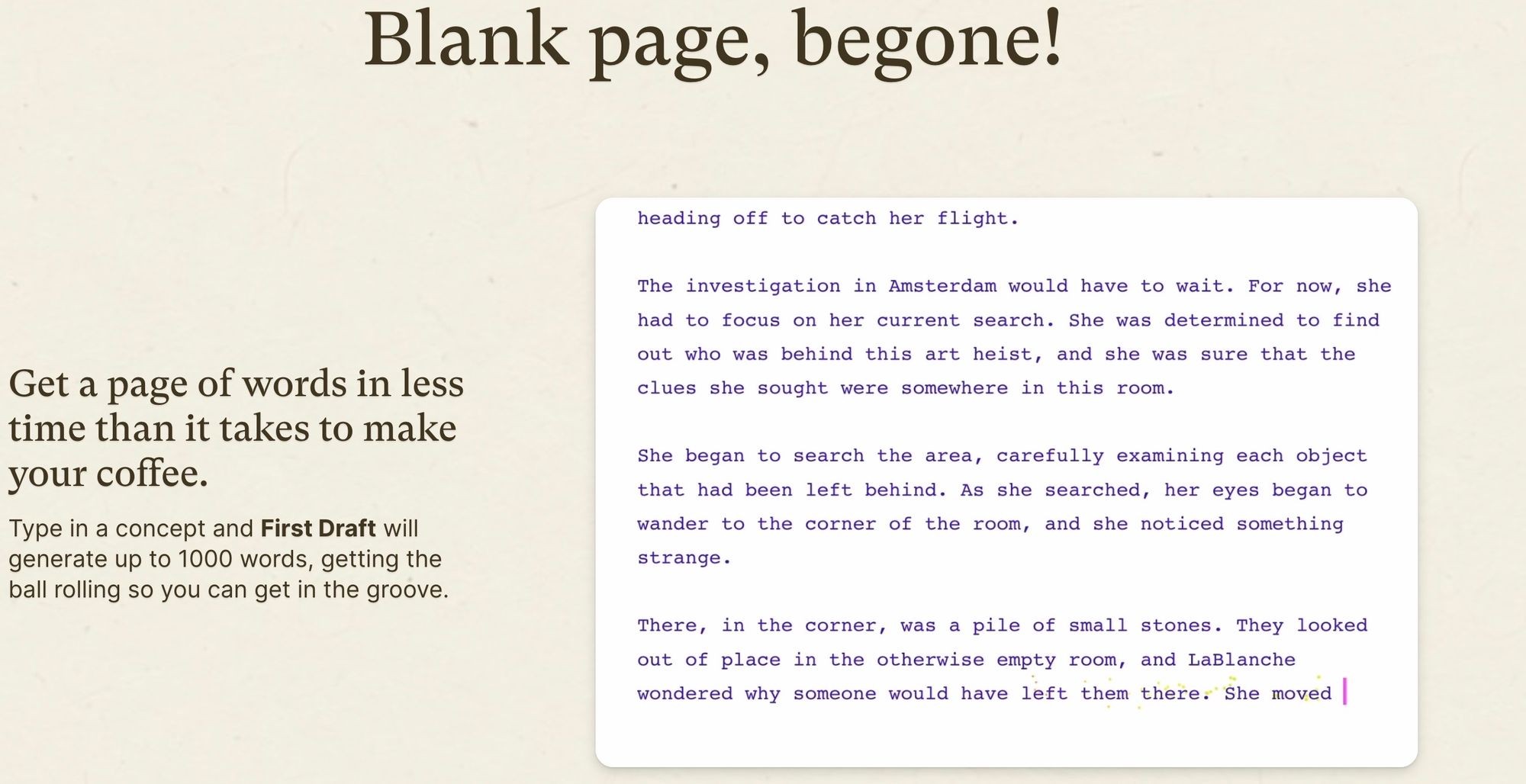 Here 7 reasons why you should give it a try - and the best part is, Sudowrite is completely free to try!
Enhance your writing: Sudowrite's AI model analyzes your text and offers alternative suggestions to improve your writing in real-time.
Real-time feedback: As you write, Sudowrite provides real-time feedback and alternative suggestions to improve your writing.
Sudowrite is able to provide real-time feedback by analyzing the text that the user inputs and running it through its AI model.
The AI analyzes the context, grammar structure, and other factors of the text and can offer alternative suggestions and corrections to improve the user's writing.
As the user types, Sudowrite predicts what they are likely to write next based on the context of the text and provides suggestions that can help the user adjust their writing for better clarity and precision.
Additionally, Sudowrite's AI model uses machine learning to improve its suggestions over time, based on usage patterns and feedback from users.
This allows Sudowrite to provide tailored feedback that becomes more accurate and personalized the more it is used.
Overall, Sudowrite's real-time feedback feature is an essential tool that can help writers generate quality content more effectively and with less effort.
Personalization: Sudowrite can be personalized to work however you like to work, allowing you to add commonly used phrases, names, and other linguistic hooks.
Personalization in Sudowrite refers to the ability of users to customize and tailor the platform's features to suit their personal preferences and needs.
Sudowrite allows users to personalize different aspects of the writing process, such as vocabulary, style, tone, and formatting.
These personalized features are learned by Sudowrite's AI model over time, which allows the platform to provide more accurate and tailored feedback to the user.
Save time: With Sudowrite, you don't have to worry about writer's block. Its powerful AI model can suggest ideas, generate content, and even complete sentences for you.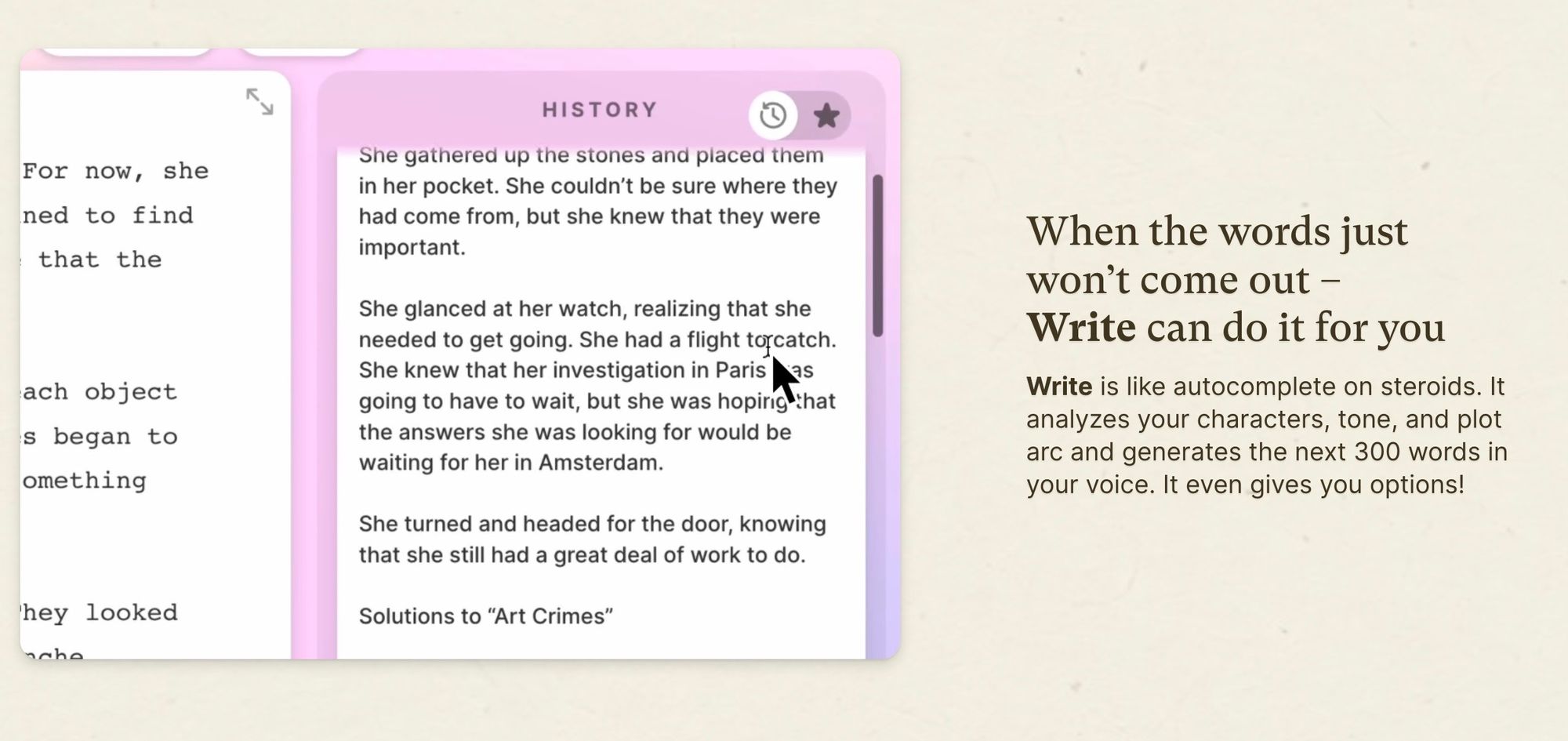 Idea generation: Sudowrite can assist with topic suggestions for fiction writing and provide related research that saves time and effort.
Sudowrite has a powerful feature for idea generation that is designed to help writers to generate new ideas and content and overcome writer's block.
The tool uses advanced algorithms to provide suggested topics, themes, and related research, which helps writers to explore new angles and perspectives for their writing.
When using the idea generation feature, the user inputs a keyword or a phrase related to the topic they want to write stories about, and Sudowrite's AI model provides a list of potential ideas or research topics based on the input.
This feature is particularly helpful for users who are experiencing writer's block and need a starting point or direction to continue.
Additionally, the idea generation feature of this ai tool is customizable, allowing users to tailor the suggestions based on specific criteria, such as the type of content, audience, or the tone they are aiming for in their story writing.
Overall, Sudowrite's idea generation is a powerful tool that can spark creativity in users, which can lead to new and exciting writing ideas.
AI story generators are a handy feature to add more detail in your story writing.
Increase productivity: With Sudowrite's auto-complete features, you can work faster and more efficiently. You can quickly generate a list of ideas, research topics, and more.
Auto-complete: Sudowrite's auto-complete feature saves time by predicting what you might write next, based on the context and topic.
Sudowrite's auto-complete feature saves time by predicting what the writer might type next based on the context of the text.
As the user types, Sudowrite's AI model uses machine learning algorithms to suggest potential next words, phrases, and sentences based on the patterns of the text.
This feature is particularly helpful when writing complex sentences or long paragraphs, where it can be challenging to keep track of the structure and maintain coherence.
The auto-complete feature also speeds up writing by reducing the time and effort needed to generate each word, allowing the writer to focus more on the creative aspect of writing.
Overall, the auto-complete feature is an essential tool that can help writers to work more efficiently and productively, which can be a game-changer when working on larger writing projects.
Accessible anywhere: Sudowrite can be accessed from any device with an internet connection. It's also compatible with different browsers.
Safe and secure: Unlike other writing tools, Sudowrite doesn't store your data. Any work you do on the platform remains confidential and secure.
Don't wait any longer - take advantage of  the Sudowrite free trial today and experience a better way of writing!
Best in Class Features of Sudowrite:
First Draft Feature
The First Draft feature takes your input for the idea for your story and generates up to one thousand words – giving you a great first draft of your idea, so you don't have to just stare at a blank page.  This can aid in speeding up your own creative writing process by creating your rough first draft.
Expand Feature
Previously named Wormhole, Sudowrite's Expand feature is a tool that works similarly to autocomplete for writers. As you write, Sudowrite analyzes the text and suggests potential directions for subsequent paragraphs.
The suggestions are often so seamless that they integrate perfectly into your writing style, blurring the lines between your words and those provided by the AI.
It's important to note that this feature isn't infallible. Occasionally, the suggestions may take your story in a completely different direction than you intended.
However, with practice and experimentation, you can refine your use of Sudowrite AI tools and make it a valuable asset in your process of writing.
Rewrite Tool
Sudowrite's rewrite tool is a powerful article rewriter that helps you create unique and quality content quickly and easily.
It is powered by advanced natural language processing algorithms that can take any piece of content and reword it to make it more readable and unique.
It can also be used to rewrite existing content to create new versions with fresh and original content or to change the tone of the story elements.
You can now even rewrite in the style of a famous author!
The rewrite tool is easy to use and can help you create engaging content quickly and efficiently.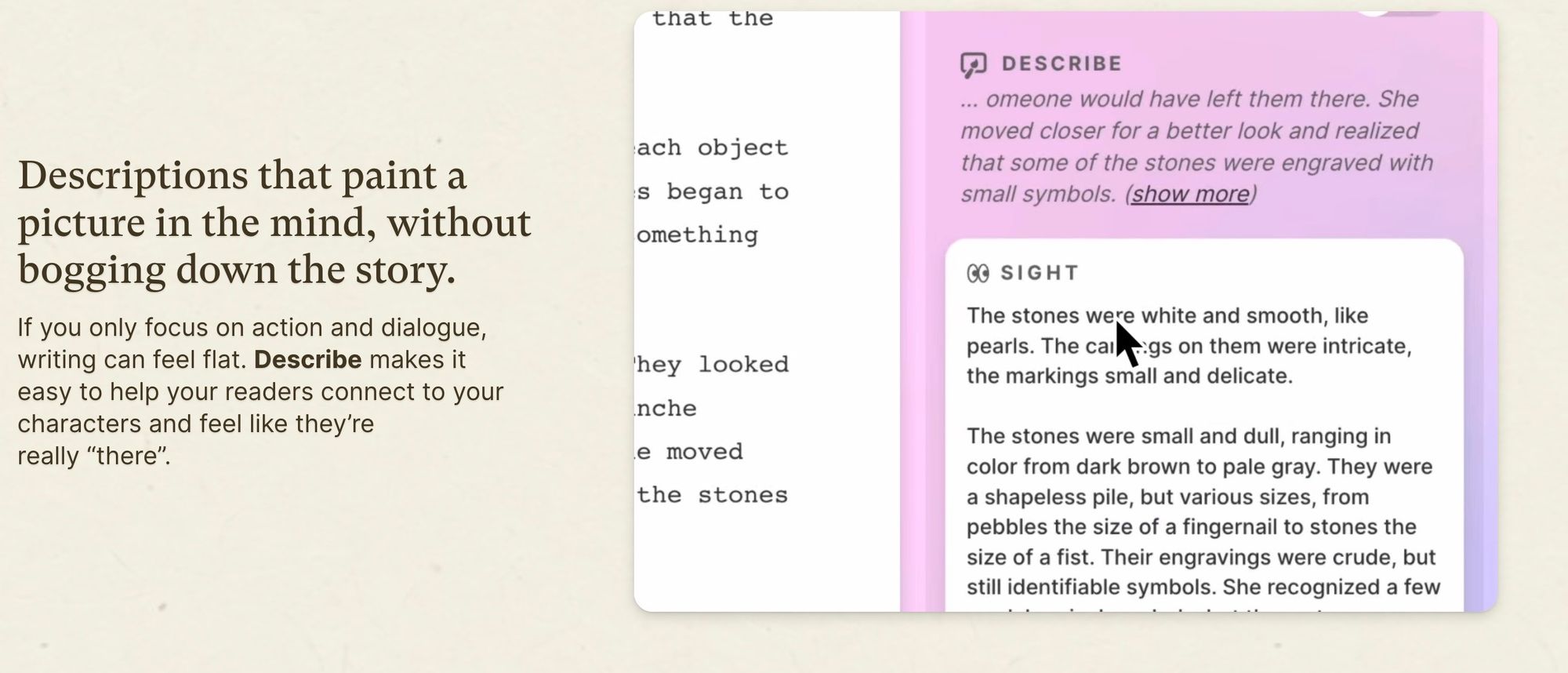 Describe Feature
Sudowrite's "Describe" button has proven to be a valuable tool for many writers who find themselves struggling to find the right words.
For instance, if you're having difficulty describing a boat, simply press the "Describe" button and Sudowrite will provide you with helpful suggestions that incorporate sensory details.
In addition to literal descriptions, Sudowrite can also offer metaphorical descriptions to help you add depth and complexity to your writing.
This feature can help you find the perfect words to evoke emotions or paint vivid mental images in the minds of your readers.
To utilize this feature, simply highlight a word and click on the "Describe" button.
Sudowrite will generate paragraph-level suggestions, drawing on sensory details from the five senses (sight, taste, touch, smell, and sound), rather than just providing single word suggestions.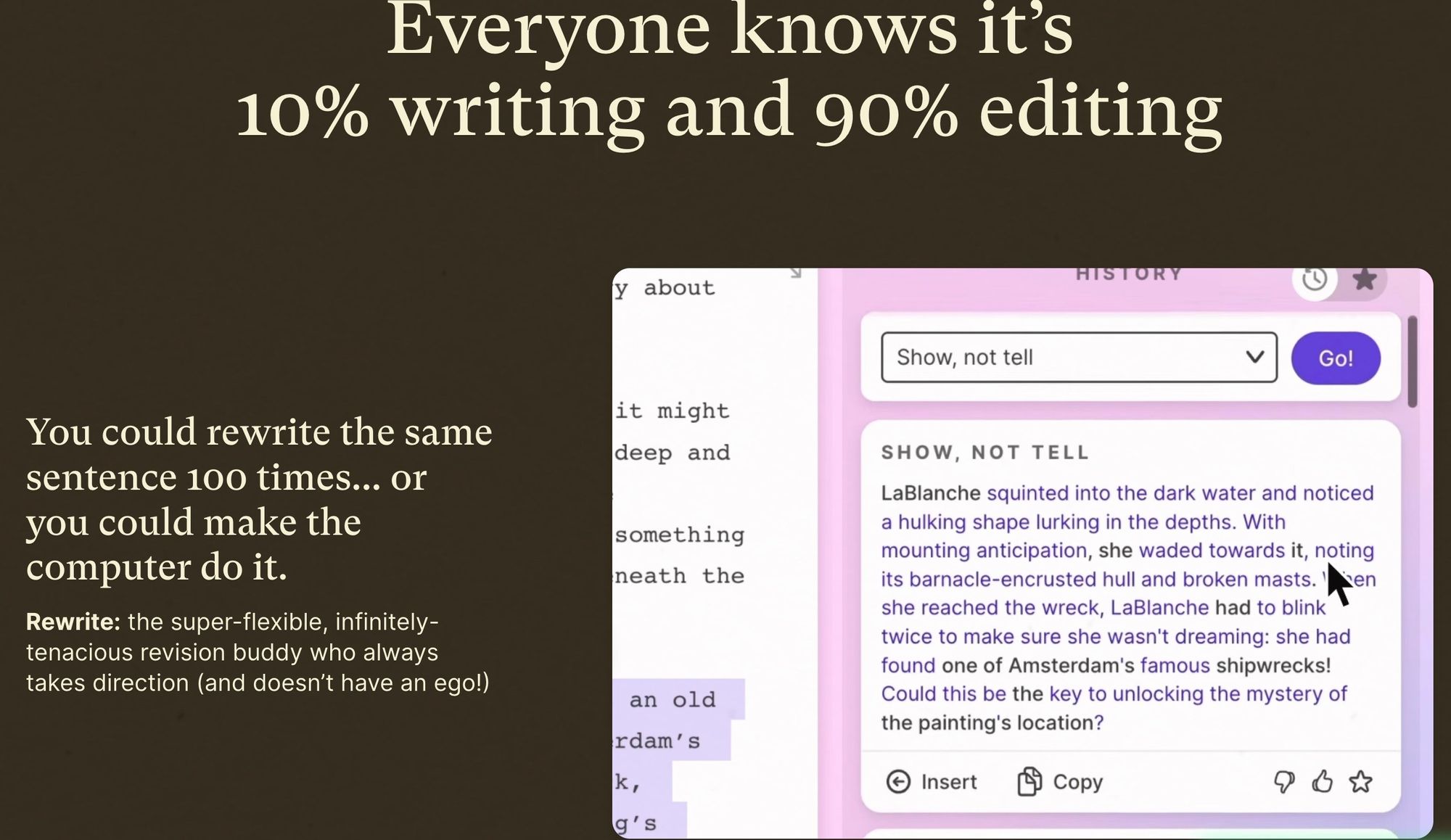 Brainstorming Features
If you've ever found yourself struggling to create plot points without painting yourself into a corner, Sudowrite's own brainstorming tool and feature can be a valuable tool. To use it, simply provide Sudowrite with the problem you're trying to solve.
For instance, if you're trying to come up with a survival plan for your protagonist after they've been injured, you can give Sudowrite context for the scene by suggesting things like "using their belt as a tourniquet" or "being found and helped by the teen boy delivering a pizza."
Sudowrite will then generate possible outcomes, offering suggestions to help you move your story forward.
As you review these suggestions, you can give a thumbs-up to the ones you like the most. Sudowrite will then use this information to tailor future suggestions to your preferences, helping you refine and improve your writing over time.
Summarize Feature
Sudowrite's Summarize feature lives up to its name by condensing large blocks of text into concise summaries.
For instance, you can input several chapters from the first draft of your book, and Sudowrite will generate an outline for each.
Currently, Sudowrite's developers are working on improving the software to allow it to summarize entire books into a single page.
This enhancement could potentially be useful for literary agents and publishers who need to sift through large volumes of submissions, allowing them to quickly and efficiently create summaries for the books in their slush piles.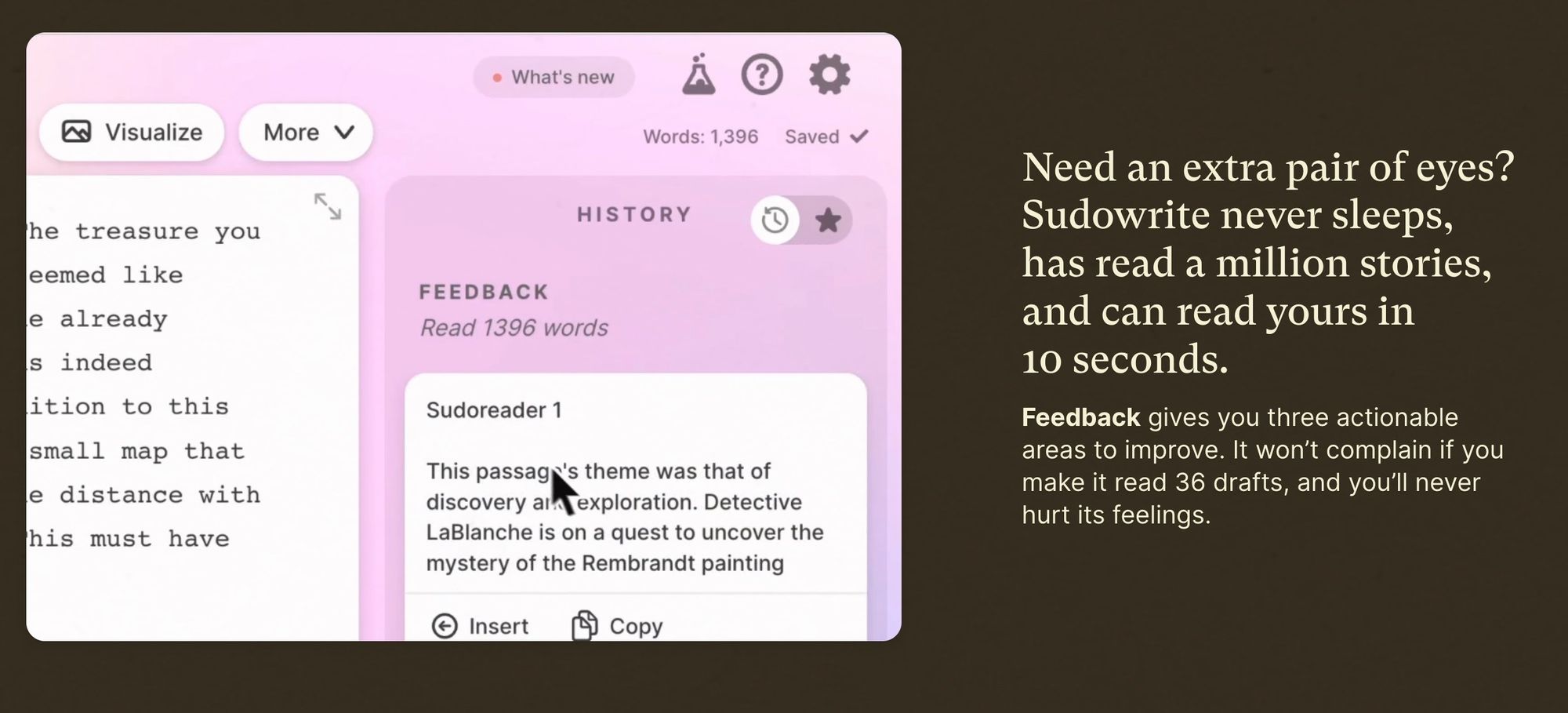 BetaReader Feature
If you're hesitant to share parts of your story with human readers but still want feedback, Sudowrite has a solution.
Its BetaReader feature creates three virtual beta readers who can provide helpful criticism on various aspects of your ai content or chapter, offering feedback on what they liked and didn't like about ai feedback your writing.
It's important to note that the BetaReader feature is currently an experimental feature, so results may vary.
However, this tool can be a helpful resource for writers who want to refine their work before sharing it with others.
Character Generator
Sudowrite's Character Generator is a useful tool for brainstorming new characters and developing their relationships in your story.
If you've already fleshed out a few areas for your main characters but are struggling to come up with additional characters for them to interact with, this tool can help.
To use the Character Generator, simply provide Sudowrite with descriptions of your existing characters, including their age, physical characteristics, and occupation.
Sudowrite will then use this information to generate suggestions for an almost endless number of new characters and the dynamics of their character arcs and relationships with your main characters.
Even if you don't find a character that fits perfectly with your story, you can use Sudowrite's suggestions as a starting point and piece together a unique character by combining elements from ai writing different suggestions.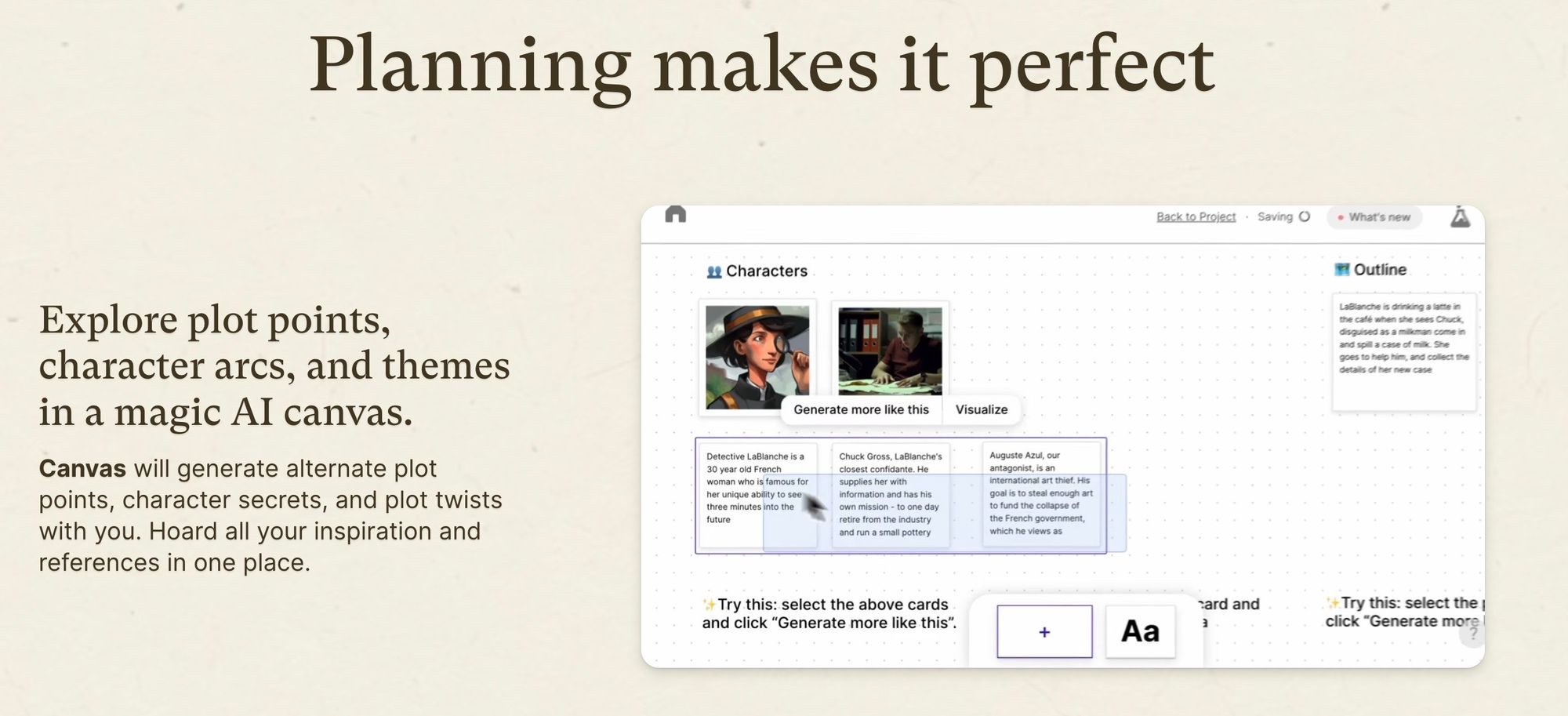 Twist Feature
Sudowrite's Plot Twist feature is another remarkable tool that this software offers.
As the name suggests, this feature allows you to incorporate plot twists into your story and lets you choose the genre of twist you want to include.
If you struggle with character arcs or coming up with plot twists, this tool can be an invaluable resource.
To use the Twist feature, simply provide Sudowrite with a brief description of your story, plot points, and the AI will use that information to send your plot in an unexpected direction.
It's important to note that, like the BetaReader feature, the Twist feature is still experimental and may not always generate a twist that makes sense.
Poetry Tool
Sudowrite is not only helpful for writing stories, but it also has a Poetry tool that you can use to create poems.
This feature can be used to generate poems written by a character or song lyrics sung by a character in your novel or to help you write poetry if you're not confident in your poetic abilities.
What are the Reasons to Love and Room for Improvement for Sudowrite?
Reasons to Love Sudowrite:
The Brainstorming feature can be helpful in resolving story problems.
Sudowrite offers affordable plans, with prices starting from $10 at the time of writing.
The Rewrite tool can assist you in achieving the appropriate tone for sections of your story.
Sudowrite can provide beta-reader feedback on your writing.
The software has the ability to generate an endless number of side characters.
Its Describe feature is particularly useful for writers who struggle with sensory descriptions.
Sudowrite has a Chrome extension, making it convenient for those who prefer working in Google Docs.
This list could go on and on!  I absolutely love Sudowrite.
Room for Improvement for Sudowrite:
Some of its features are experimental and may not function as intended.
Sudowrite does not offer a plagiarism checker.
Sudowrite offers many attractive features, including affordability and tools such as Rewrite, Describe, Brainstorming ideas, and Character Generator, which can make story writing a more enjoyable experience.
However, the software does have some drawbacks, such as the absence of a plagiarism checker and experimental features that may not always function as intended.
Given that Sudowrite utilizes the OpenAI GPT-3 engine, which draws on information available on the internet, a plagiarism checker would be a useful addition to the software.
Fortunately, there are many different tools and other AI writing tools available, as the following section will illustrate.
Sudowrite Cost
Sudowrite has three plans, and the following costs are if you pay yearly:
Hobby and Student Plan – costs $10/month and provides 30,000 words.
Professional Plan – costs $20/month and provides 90,000 words (doubled from 45,000).
Max Plan – costs $100/month and provides 300,000 words.
When you subscribe on a monthly basis, all plans will be more expensive.
If you need a plan with enterprise-level features, you can contact the team.
Frequently Asked Questions
What is it like to use Sudowrite?
Using Sudowrite is a seamless experience, thanks to its user-friendly interface and powerful AI model.
Here are a few benefits you can expect when using Sudowrite:
Overall, using Sudowrite can significantly improve your writing experience by providing a range of innovative AI writing tools capabilities, including assistance with idea generation, generating options, ai creative writing tool twist feature, more experimental tools, brainstorming tools, AI copywriting, and writing quality focusing on clarity and precision.
It's certainly worth giving a try!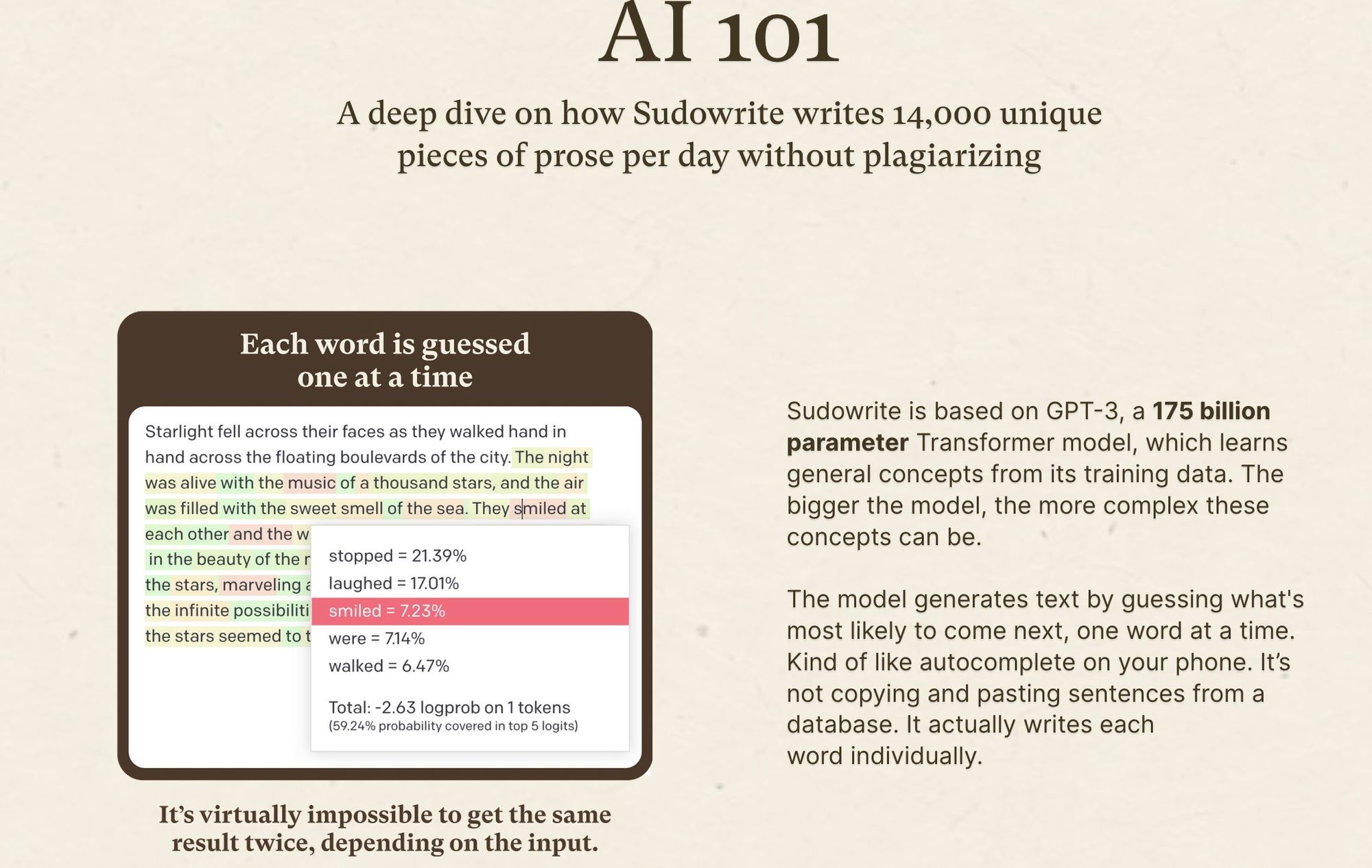 Does Sudowrite plagiarize?
Sudowrite is designed to prevent plagiarism and is highly unlikely to produce the same words verbatim or copy and paste chunks of text.
Sudowrite's AI model works by guessing one word at a time based on what it has learned from billions of samples of text. Therefore, unless you explicitly force Sudowrite to plagiarize, which is against the platform's terms of service, it won't do so.
One way Sudowrite could potentially plagiarize original writing is if you input verbatim text it has seen before, such as lyrics from a popular song or a paragraph from a famous book.
However, as long as your own writing is original, you can expect Sudowrite to produce original content.
As an additional measure, you can use plagiarism checkers to verify the originality of your work. A plagiarism checker is not currently a part of Sudwrite, so you need to run your own work through a plagerism checker to ensure originality.
What does it mean for Sudowrite to personalize your writing?
Specifically, Sudowrite offers several personalization features, including the ability to:
Create custom phrases: Users can create frequently-used phrases or keywords that the AI tool will recognize and suggest.
Set tone and style: Users can set the tone and style of their writing and receive feedback that is tailored to match this tone.
Customize vocabulary: Users can teach Sudowrite new words, technical terms, names, and other words specific to their industry or field.
Set formatting preferences: Users can customize specific formatting preferences, such as font size or heading styles, which Sudowrite will remember and apply to all future writing.
Sudowrite's personalization features are designed to help users work more efficiently, reduce errors, offer a more creative and personalized writing experience, and help them reach their goals faster. Many writers find this especially helpful.
Ultimately, personalization is a key feature that sets Sudowrite apart from other writing tools, making it an essential choice for writers looking to improve their writing performance and effectiveness in actual writing that makes sense based on their own work.
What does it mean to rewrite to "show not tell"?
To rewrite to show not tell means to use descriptive language and vivid imagery to paint a picture for the reader, rather than simply stating the information outright.
When writing novels, it's often more effective to show the reader what is happening or what a character is feeling, rather than just telling them.
This approach helps to engage readers and make them feel like they are experiencing the story rather than just reading it.
For example, consider the following sentence: "She was very scared." This sentence is telling the reader how the character is feeling, but it doesn't provide any context or detail that helps the reader to understand why she is scared or what it feels like.
A better approach would be to show the feeling by describing the character's physical reactions and the environment around her, such as "Her palms were slick with sweat as she clutched the door handle, her heart racing as she heard footsteps growing louder in the dark hallway. The floorboards creaked and she knew they were getting closer. She couldn't help shaking with fear."
By focusing on the character's physical reactions and the environment around her, the writer is showing the reader the character's fear instead of just telling them. This approach makes the writing more engaging and helps readers to connect with the story on a deeper level.
What languages can Sudowrite write in?
With Sudowrite, you have the freedom to write your own notes in virtually any language of your choice.
Simply click on the "Write" button, and Sudowrite will adapt its suggestions to match the language you are using.
While using certain features, Sudowrite may rely on English as a fallback option if it is uncertain about your language.
We invite you to test it out yourself during a free trial and discover how it can benefit your writing experience!
How long is the Sudowrite free trial?
You get a 4000-word free trial with all features included.
What public language models does Sudowrite use?
Sudowrite uses a variety of public language models, including BERT, GPT-3, and XLNet. They also use our own proprietary models, which are designed to generate more natural and accurate natural language processing.
Their models are trained on a variety of data sources, including scientific papers, books, and news articles. This allows their models to generate more accurate and natural language for a variety of contexts.
What kind of stories can I create with AI?
AI story generators have the ability to produce not only short stories but also assist in the writing of a novel.
With the assistance of an AI, you can request the creation of any genre of story, as it is trained on millions of stories from various genres.
This allows for the creation of AI-generated horror stories, comedies, and other genres.
Does sudowrite have an outlining feature?
Yes, Sudowrite does have an outlining process. It allows you to easily organize your ideas and create a clear structure for your writing and creative process. You can create outlines for any type of writing project, from essays to novels, and use it to organize your thoughts, research, and ideas. The outlining process also helps you to stay focused on the main points of your writing and make sure that all of your ideas are connected.
How do publishing companies feel about Artificial Intelligence content?
Publishing companies are generally positive about content produced with the aid of artificial intelligence because it can help to reduce costs and speed up the process of creating content. AI can also help to improve the accuracy and consistency of content, as well as enable publishers to quickly create content in multiple languages. Additionally, AI can help to identify trends and topics that are popular with readers, allowing publishers to create content that is more likely to be successful.
Who should use Sudowrite?
Sudowrite is an online writing platform of AI tools designed to help students, professionals, and creatives create high-quality content quickly and easily.
It offers a range of features, including a drag-and-drop editor, an AI-powered grammar checker, and a library of templates to help you get started.
Sudowrite is suitable for anyone who wants to write better, faster, and more efficiently.
Who is behind Sudowrite?
Sudowrite is a writing platform owned and operated by a Sudowrite team of experienced writers, editors, and developers, basically techy sci fi enthusiasts.
Their mission is to provide a platform for writers of all levels to hone their craft, get feedback, and find success in the world of writing.
They are passionate about helping writers reach their full potential and create the best possible content. That is why they created Sudowrite.
The founders are writers Amit Gupta and James Yu. They created the sudowrite ai system.
Sudowrite Live Classes, Author-Led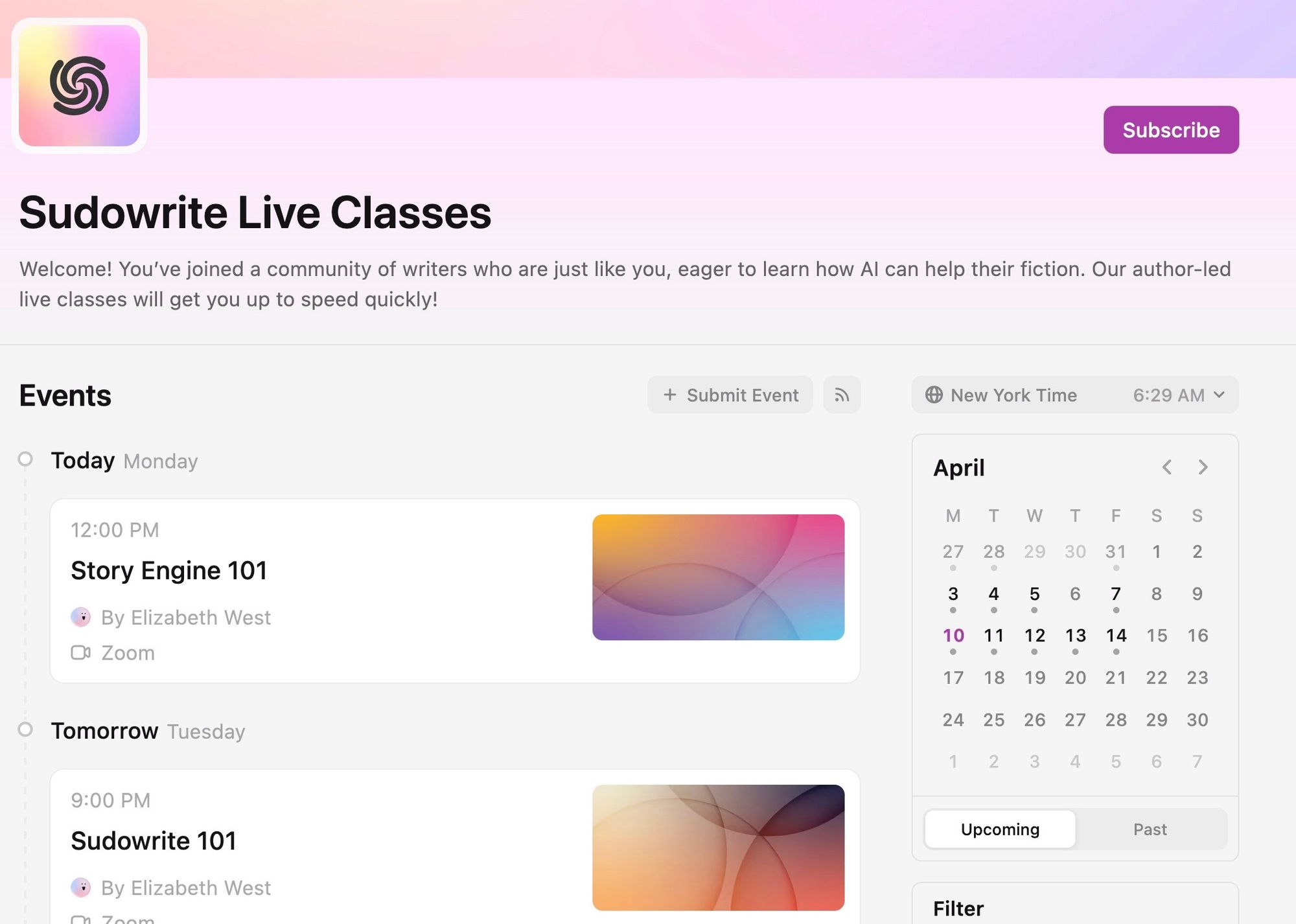 What Are People Saying About Sudowrite?

Alternative Software to Sudowrite:
If you're looking for alternative software to Sudowrite, here are a few options to consider for creating works of fiction: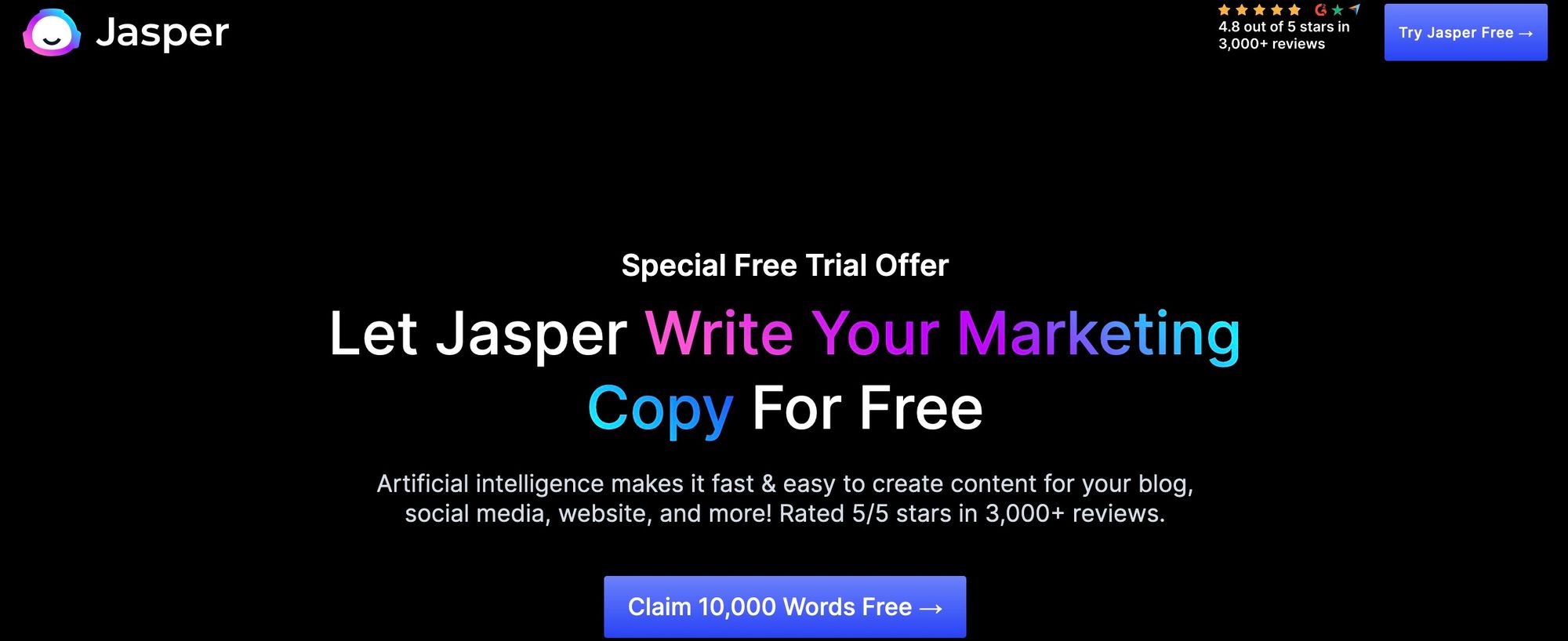 Jasper
Open To Try Jasper For Free!
Jasper is a popular AI writing software that, unlike some other alternatives to Sudowrite, is not solely focused on creative writing.
Instead, Jasper is primarily designed for crafting content intended for digital marketing purposes. However, it still offers several features that make it a compelling alternative to Sudowrite.
Jasper is an excellent tool for brainstorming, and its Jasper Chat feature is especially noteworthy, as it allows users to generate text using natural dialogue.
Additionally, Jasper's "creative story" feature can help writers create stories using the hero's journey outline.
Another valuable feature of Jasper is its AI art generator, Jasper Art, which can generate images that help writers visualize their characters and scenes from their novel. Jasper also supports translations into 25+ languages.
If you purchase Jasper through the provided links, you can receive 10,000 words for free. To learn more about Jasper Art, you can read the full review here.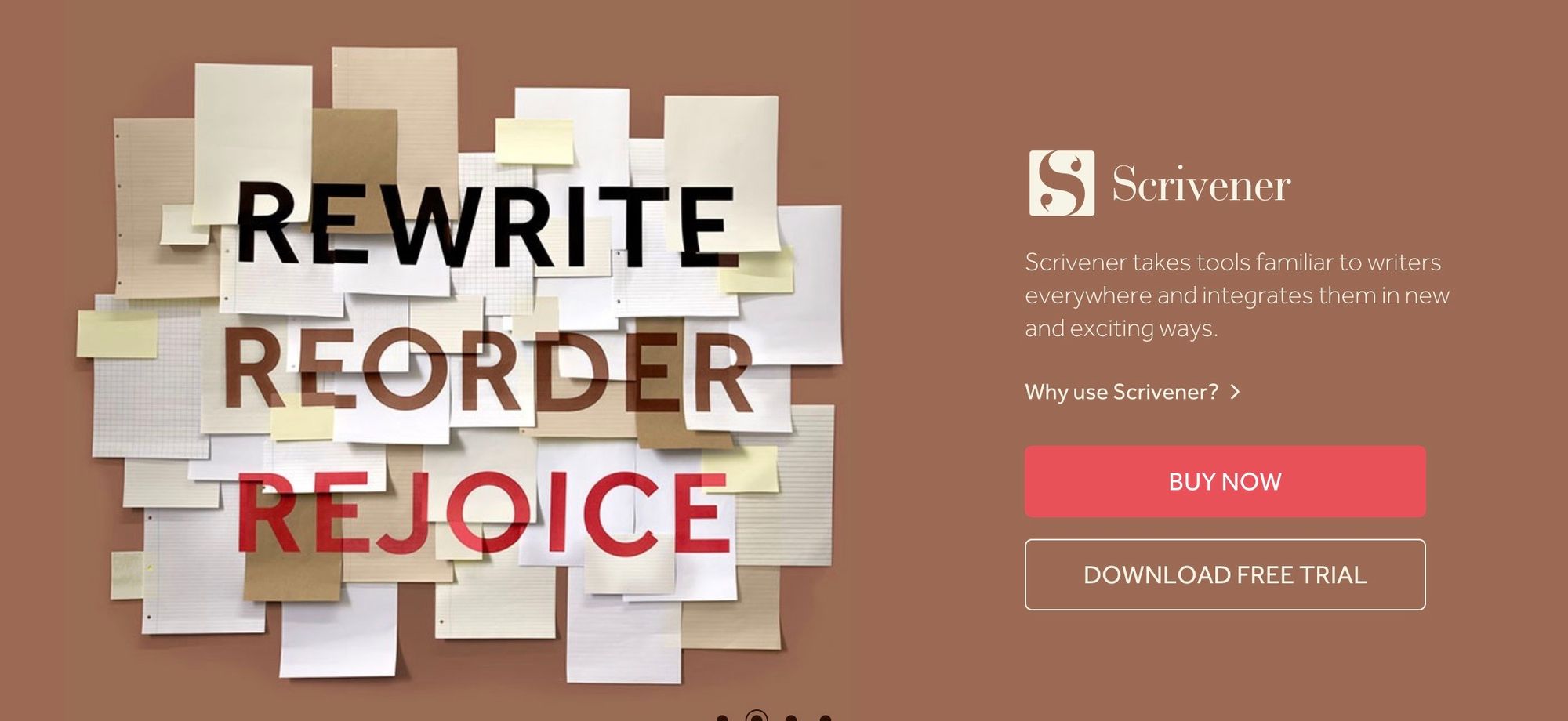 Scrivener
Open Scrivener
Scrivener is a novel writing software that is just as feature-packed as Sudowrite, though its features are primarily geared toward organization rather than content generation.
As such, it is an ideal tool for writers who prefer to go from a blank page to a final manuscript unassisted by artificial intelligence.
Scrivener includes several built-in tools for planning scripts and novels, such as a digital bulletin board that can be used to organize ideas.
Additionally, its editor is designed to be familiar to writers who are accustomed to using word processors like Microsoft Word.
Conclusion
If you're looking for a tool that can help you write fiction faster, more efficiently, and with better quality, then Sudowriter is the perfect choice for you. With its intuitive design, powerful features, and useful integrations, Sudowriter is a great choice for writers of all levels and disciplines.
Whether you're an experienced writer or just starting out, Sudowriter is a great way to take your writing to the next level. So why not give it a try? With its user-friendly interface, powerful features, and useful integrations, Sudowriter can help you take your writing to new heights. So what are you waiting for? Start using Sudowriter today and unlock the full potential of your fiction writing.