We hope you find your next favorite thing from the list below! Each product was independently selected by our editors. Some may have been sent as samples for us to fiddle with, but all opinions in this article are our own. Oh, and FYI — LucksList may collect a share of sales or other compensation from the links on this page if you decide to buy something (that's how we stay in business). Reviews have been edited for length and clarity. Enjoy finding your next favorite thing!
1. Looking for a fun and challenging game to play with your family and friends? Pickleball is a great option! And the JoncAye Pickleball-Paddles set has everything you need to get started. This set includes 4 paddles, 2 outdoor balls, 2 indoor balls, a mesh ball bag, 4 replacement lead tapes, and a carry bag - enough for four people to enjoy a game of doubles. The paddles are made of fiberglass for durability, and they're lightweight for easy maneuvering.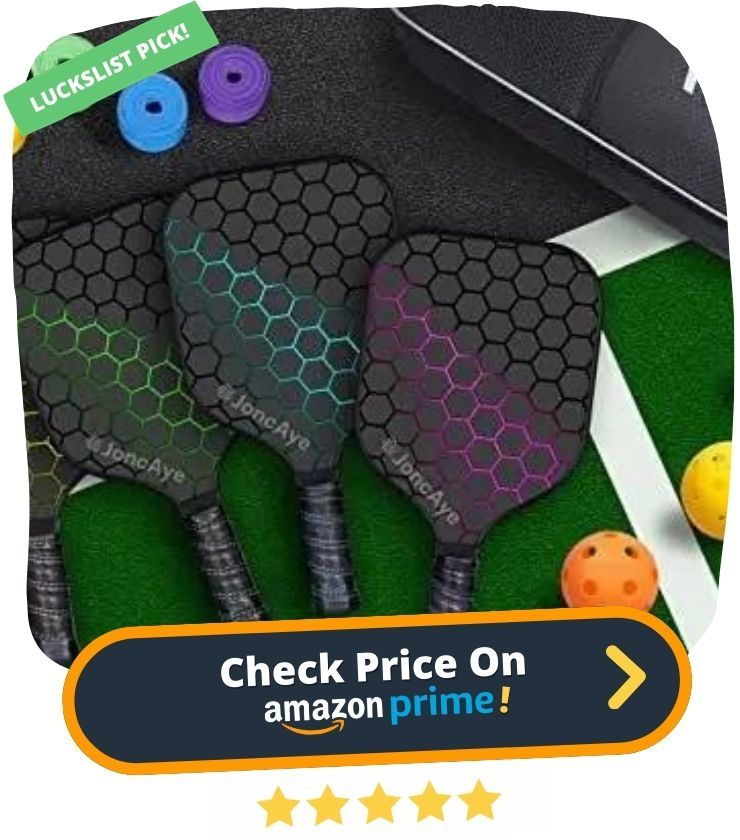 "The set came quickly. The bag works great to transport the paddles and balls. We've played a few times and it was really fun. The paddles are comfortable and well made."
Amazon Review By rodster
2. Neutrogena Ultra Sheer Dry-Touch Sunscreen provides broad spectrum UVA/UVB protection with an SPF of 60. It is fast-absorbing, non-comedogenic, and oxybenzone-free. This sunscreen is also water- and sweat-resistant for up to 80 minutes, making it ideal for any outdoor activity. Its light, clean feel makes it perfect for everyday use.
"After reading many reviews I decided to give the Neutrogena Sunscreen Dry Touch sunscreen a try and SO glad I did. I have oily skin and trying to find a sunscreen that doesn't leave my face feeling oily has been difficult."
Amazon Review By Pammy
3. Looking for a stylish and practical way to serve up your favorite beverages? Look no further than the 3.5 Gallon TRITAN Beverage Dispenser from Tomlinson! This sleek dispenser is perfect for everything from everyday hydration to hosting guests. The Tomlinson no-drip faucet means you won't have to worry about any messy spills.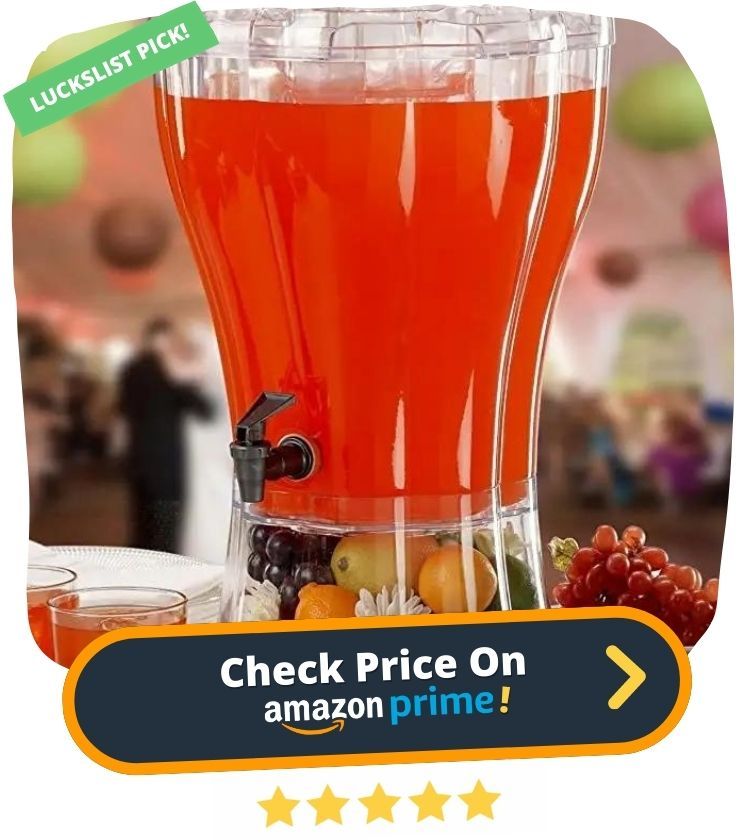 "Excellent."
Amazon Review By Richele Nelson Wall
4. If you love your wine, then you need the HOST Wine Freeze Cooling Cup. This set of stemless wine glasses is perfect for achieving the ideal serving temperature for any wine. The insulated walls are filled with a proprietary cooling gel that keeps your wine at the perfect temperature. You can pop a tumbler in the freezer for white wines or cool in the fridge to keep red wines at cellar temp.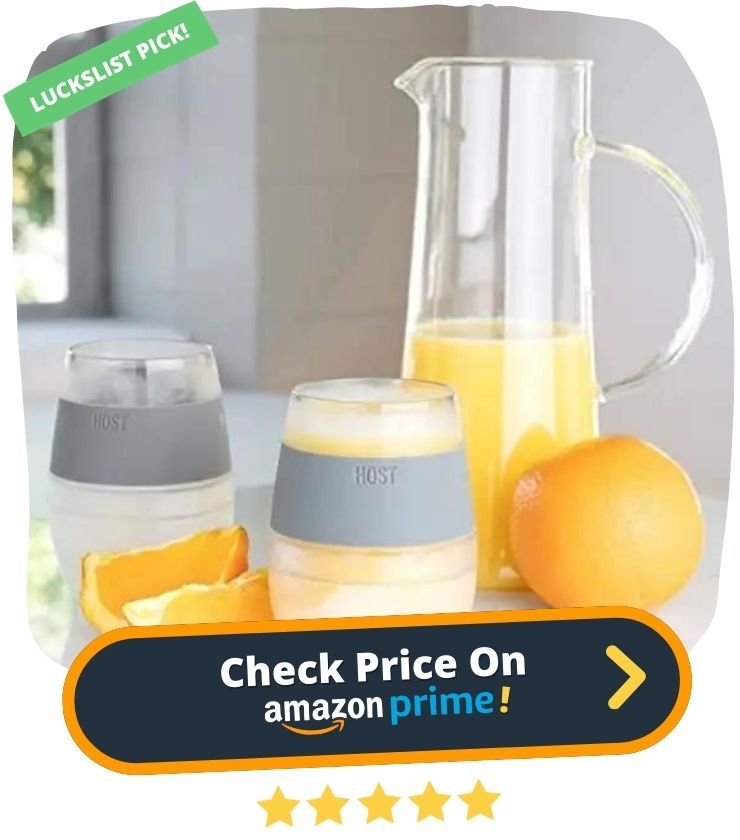 "Love the feel and shape of these , I keep mine in the freezer door , and they really keep your drinks cold and are durable. Love the silcone line on it , for grip."
Amazon Review By Canada
5. If you're looking for a beach read that's a little bit different, pick up a copy of Beach Read by Emily Henry. This unlikely romance between a literary fiction writer and a romance novelist is sure to keep you hooked until the very last page. Augustus Everett is a well-respected author of literary fiction, but he's currently in a rut. January Andrews writes bestselling romance novels, but she's starting to lose faith in love. When they meet by chance one night, they strike a deal: Augustus will write a romance novel and January will write a literary fiction novel.
"Well, it doesn't look like there's going to be many beaches in our near future, so I was happy to let Emily Henry bring the beach to me. I have read all of Henry's books, The Love That Split The World is still one of my favourites and I think about it often."
Amazon Review By a. lloyd spanton
6. If you're looking for the best Kindle money can buy, look no further than the Kindle Oasis. With its large 7" display and high-resolution 300ppi flush-front Paperwhite screen, it's perfect for reading books, magazines, and newspapers. And with itsadjustable warm light, you can easily shift the screen shade from white to amber to suit your reading needs. But that's not all the Kindle Oasis can do. It's also waterproof (IPX8), so you can take it with you into the bath or by the pool without worrying about accidental splashes.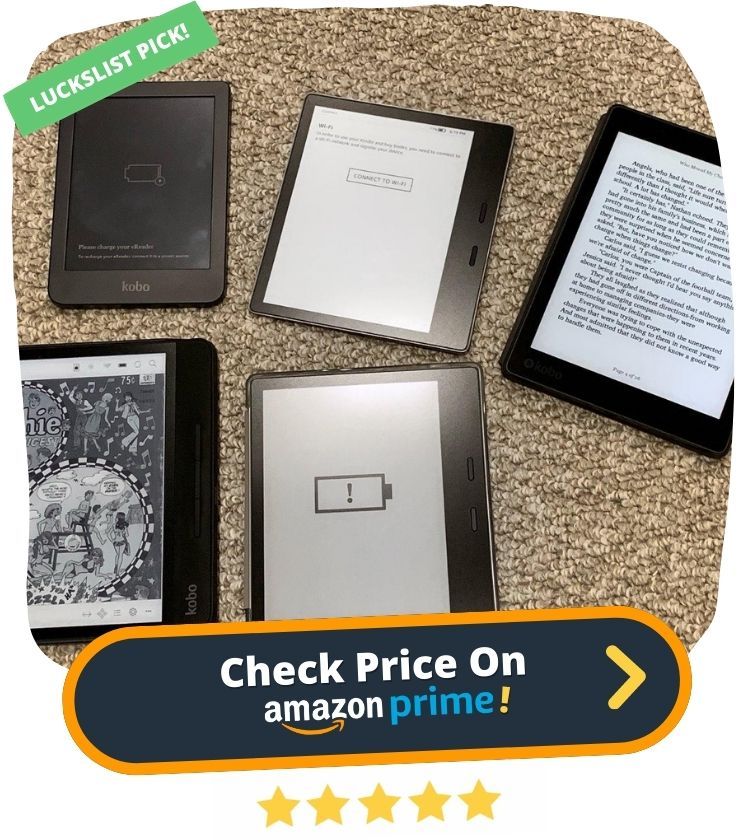 "I've been using Kindles for several years now. As an avid reader I can't but applaud the many improvements Oasis brings to the family: an elegant plus design, crisper text, and for what I find being for me a deal breaker: the automatic warm light sensor."
Amazon Review By F. Bailo
7. With its stylish design and roomy interior, the Women's Travel Bags Weekender Carry on bag is the perfect choice for your next weekend getaway or business trip. The bag is made of durable materials and features a zipper closure to keep your belongings safe and secure. The integrated trolley sleeve slides over rolling luggage handles for easy transport, and the shoulder strap is removable for your carrying comfort. The Multi-purpose Design also allows you to use the bag as an extra external pocket when not in use.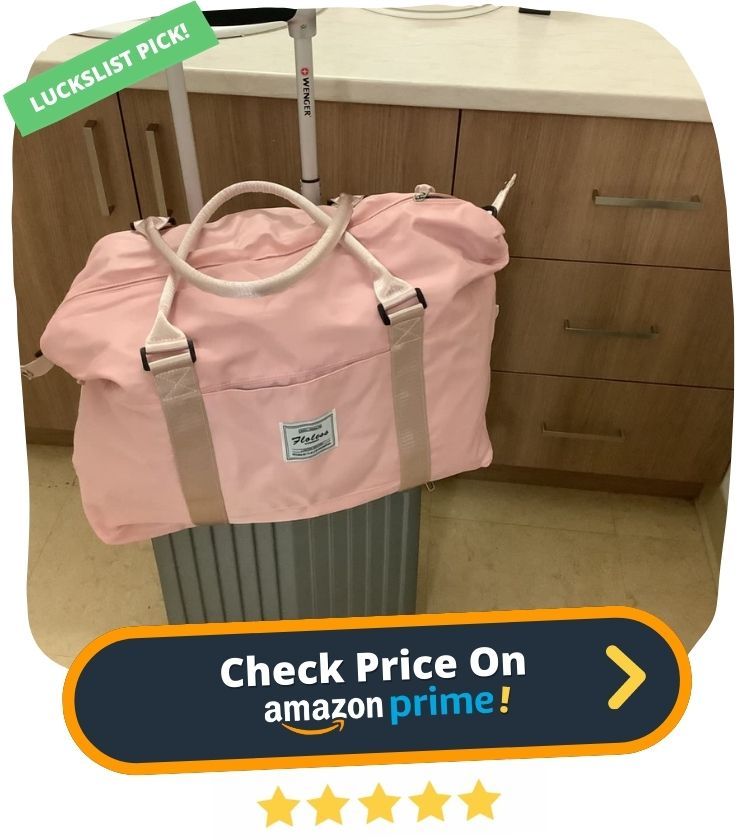 "I bought this bag for swimming. It will fit everything! My large towel, my bathing suit, my toiletries, wallet, headphones, cellphone, journal and more! I love the color, it's cute and a nice shinny pink. I love the fact that I have a zipper part for wet things."
Amazon Review By Julia
8. Looking for a pool float that's uniquely Canadian? Look no further than the Float-Eh Beaver Pool Float! This one-of-a-kind float is patented and designed in Canada, with a thick, durable vinyl that's built to withstand our cold climate. The adult size float is approximately 5x4 ft and comfortably fits one adult. It also includes easy-inflate valves and a loop attachment for support and tie-downs.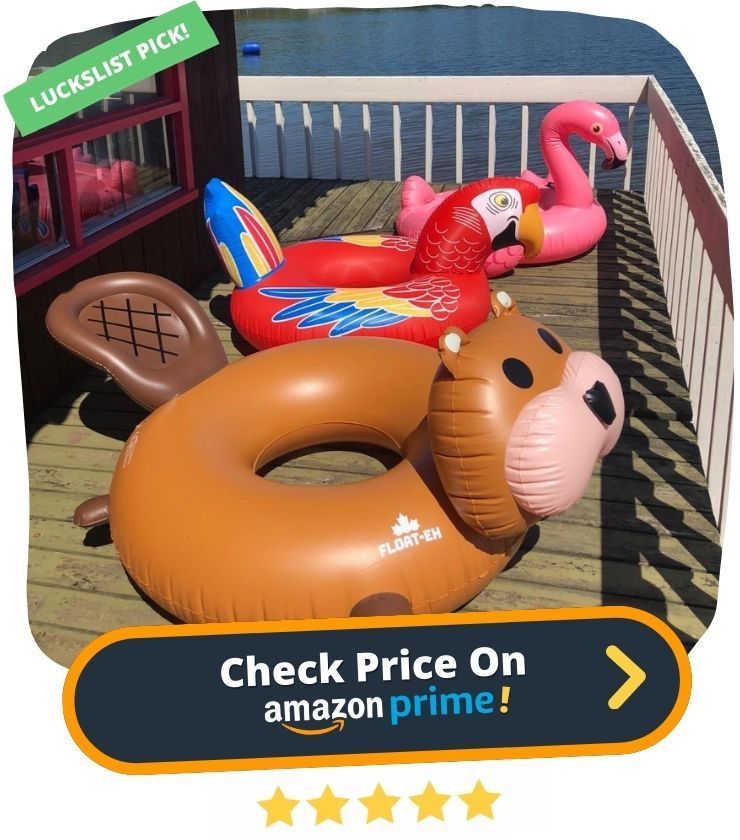 "This is one of the best pool float-eh's I have ever purchased. I stumbled upon this awhile back and thought it was cute, but a bit more than I wanted to spend. I've been trying to make a point of purchasing more Canadian products and when my daughters unicorn died I purchased the beaver (we named him Berry)."
Amazon Review By TRP
9. Looking for an insulated backpack cooler that can hold a ton of cans? Look no further than the Everlasting Comfort Insulated Backpack Cooler! This large capacity cooler backpack can hold up to 54 cans, perfect for those big group picnics or days spent at the beach. The thick layer of waterproof insulated foam keeps your drinks and food items cool for up to 24 hours, while the leakproof hard liner and waterproof zippers make sure there's no spills or leaks.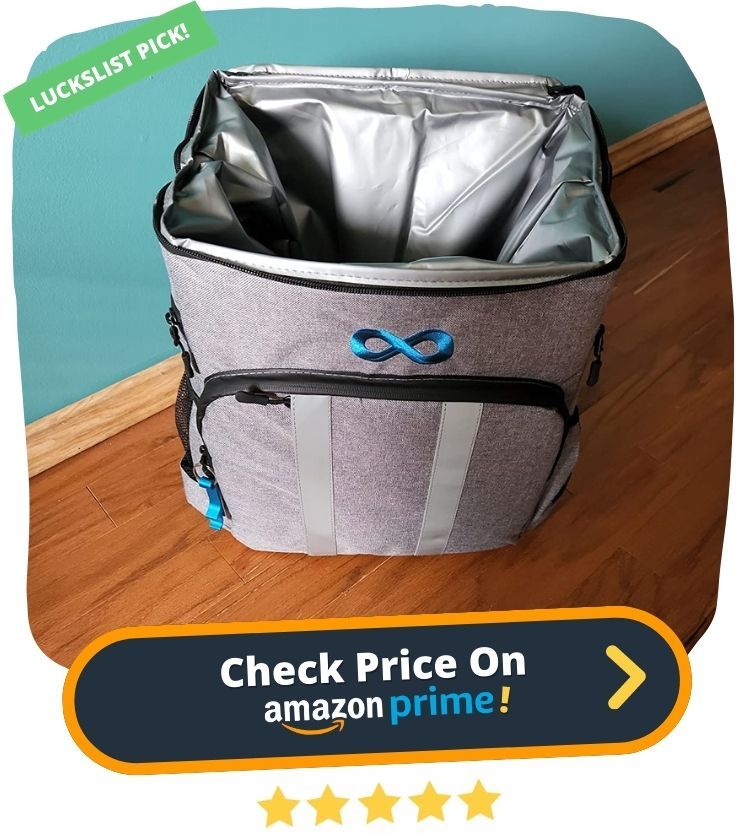 "Made well, and somewhat reasonably priced. Zippers are hard to maneuver only because of the way the bag and lid were folded. People who pack clearly suck cus they don't think about where they are folding and the impact of that fold!"
Amazon Review By L
10. The Anker Soundcore 2 is a powerful Bluetooth speaker that offers unbeatable sound quality. With 12W of audio power, dual neodymium drivers, and an advanced digital signal processor, this speaker delivers pounding bass and crystal-clear sound at any volume. The IPX7 waterproof rating protects against rain, dust, snow, and spills, making it ideal for outdoor use. The exclusive Bass Up technology and patented spiral bass port deliver intense bass that will make your music sound even better.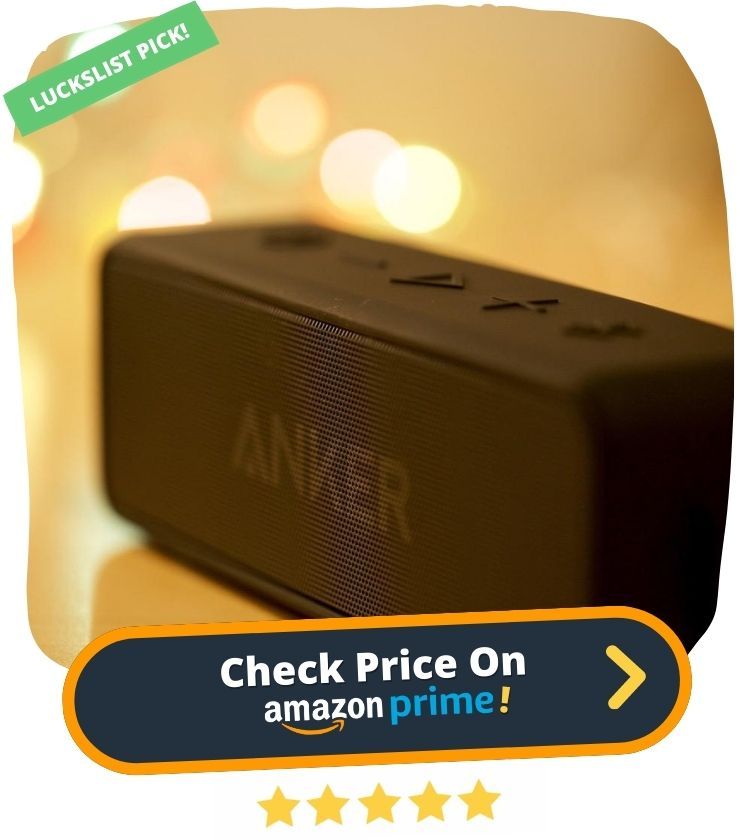 "Have been around powered speakers since the days of the original Bose Roommates. Bought an Anker SoundCore Mini on a whim and was amazed by the performance. Went on and bought the SoundCore 2 and it turned out to be 10 times better!"
Amazon Review By James L from YVR
11. Dogs need to stay hydrated just like we do, and the Dog Water Bottle from Diyife is the perfect way to make sure your furry friend always has access to fresh water. Made from high-quality antibacterial food-grade ABS material that's FDA certified, lead-free, and BPA-free, this handy little bottle holds 12oz/350ml of water and can be easily carried when you're out and about with your dog. The leak-proof design means you don't have to worry about water spilling in your bag.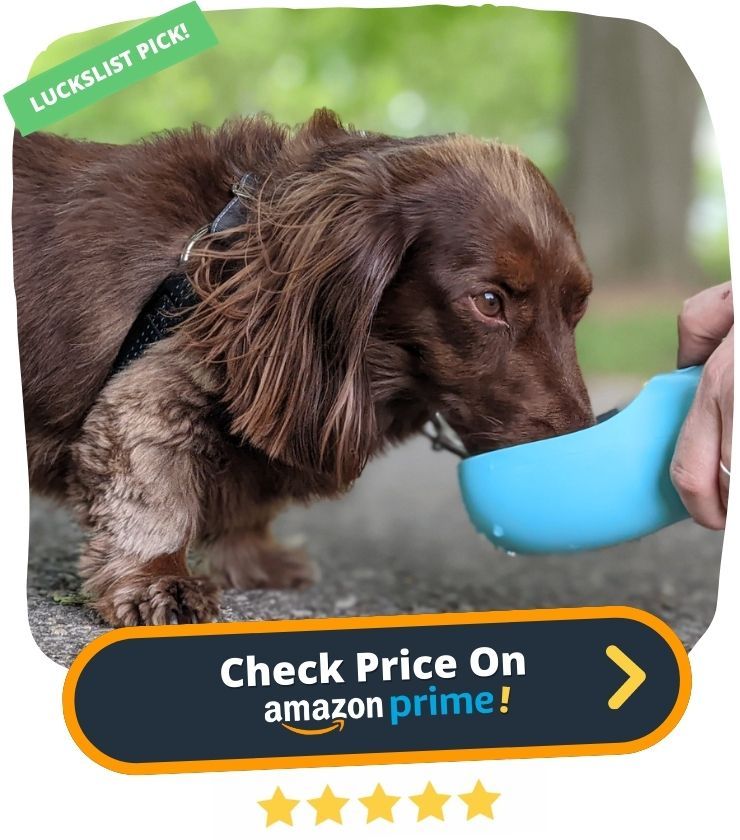 "Easy to set-up, fill-up and use. I was worried that the water trough would be too small/narrow- but it was perfect. My dog is on the smaller side of the medium dog scale."
Amazon Review By Mechelle
12. Looking for a beach umbrella that will provide both stability and shade? Look no further than the AMMSUN 8ft Beach Umbrella with Sand Anchor. This umbrella is supported by 6 strong fiberglass ribs and a sturdy aluminum pole, making it windproof and durable. The polyester fabric provides UPF 50+ UV protection, filtering out 98% of harmful UV rays. The air-vented design helps to facilitate air flow, making the umbrella more stable in windy conditions.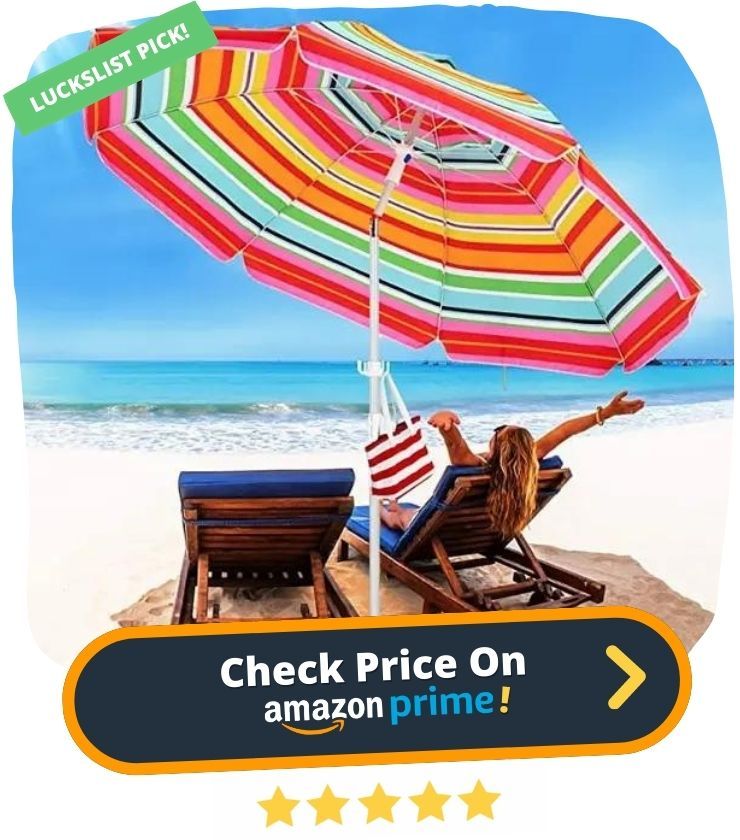 "I took this umbrella twice on different beaches. The first time I couldn't use the anchor, as the sand layer was very thin and I couldn't anchor it into the soil. We just tied it to the chair with umbrella bag and it was standing without anchor well."
Amazon Review By 12bookstops
13. If you're looking for a non-slip splash pad for your kids or dog, look no further than the VISTOP Non-Slip Splash Pad! Made of durable PVC material, this splash pad is thicker and more durable than other similar products on the market, making it perfect for kids and pets to play on. The non-slip texture ensures safety while the 5mm widened circular edge sealing helps to bear water pressure and prevent cracking.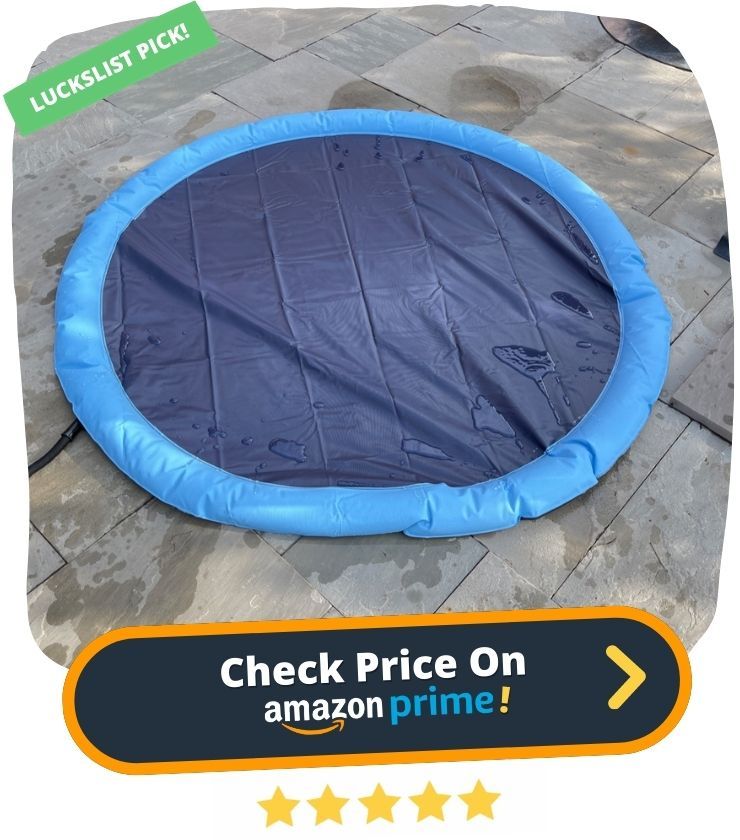 "I'm always looking for ways to keep cool & keep my dog cool in the summer heat & this is a fun way to do both. To be honest I wasn't expecting such heavy duty materials given the price point but this far exceeded my expectations the rubber isn't like those cheap blow up pools & my dog didn't destory it on the first use."
Amazon Review By Clickable Tech
14. Looking for a fun way to beat the heat this summer? Then check out these Popsicle Molds! These molds are made of premium food grade silicone, so you can rest assured that your popsicles will be healthy and safe. They're also super easy to use and reusable, so you can make as many as you want!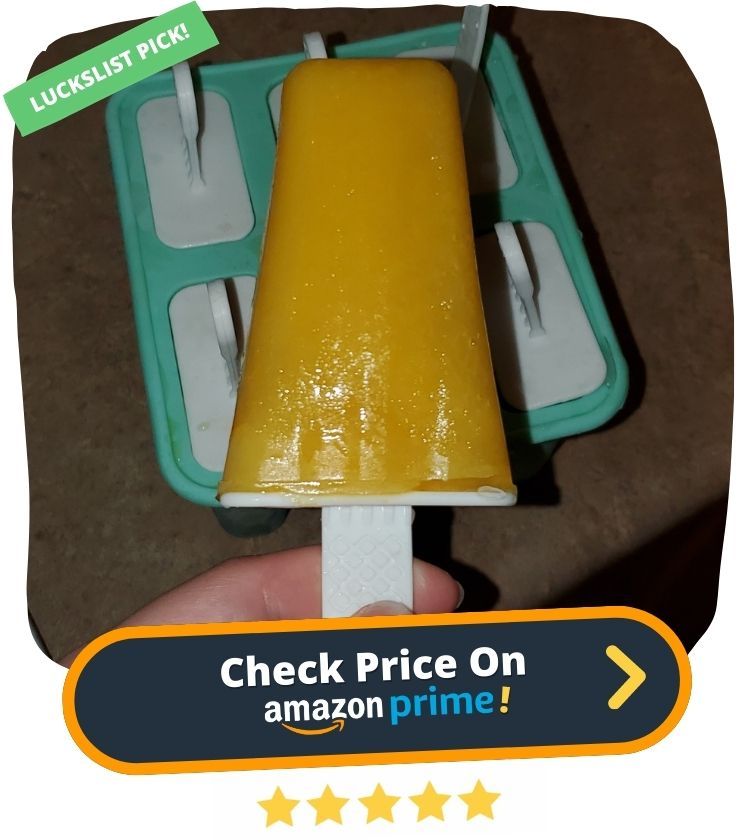 "This product took over 2 months to get to me but just in time for summer and it works great. I've had other molds that were not silicon and getting the popsicle out was very difficult."
Amazon Review By Marsha Alvares
15. Looking for a fun and easy way to make your own delicious ice pops at home? Look no further than Hiagkmet's 100 pack of 2 x 11" disposable ice pop bags! Made of premium quality material, these zip-top bags are the perfect size for kids and adults alike, and feature a convenient zip seal design that makes them mess-free.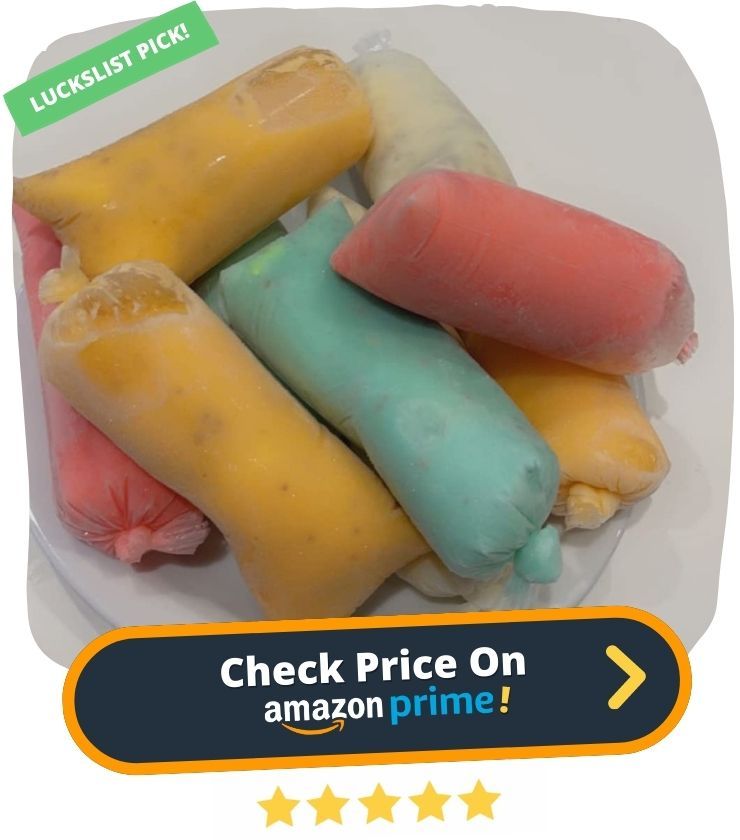 "These Mr. Freeze-style baggies are easy to fill and freeze. You can fill them with any liquid you'd like, opening up your tastebuds to a vast number of flavours for your frozen treat."
Amazon Review By Tyrone Newhook
16. Looking for a safe and chemical-free way to relieve your kids' itch? BuzzPatch Magic Patch Itch Relief Patches are here to help! These patches use grid technology to mechanically adjust the skin and help the lymphatic system drain the saliva injected by insects, providing relief from itch within 30-60 seconds. They're also waterproof and can be left on for up to 7 days, making them perfect for life on the go.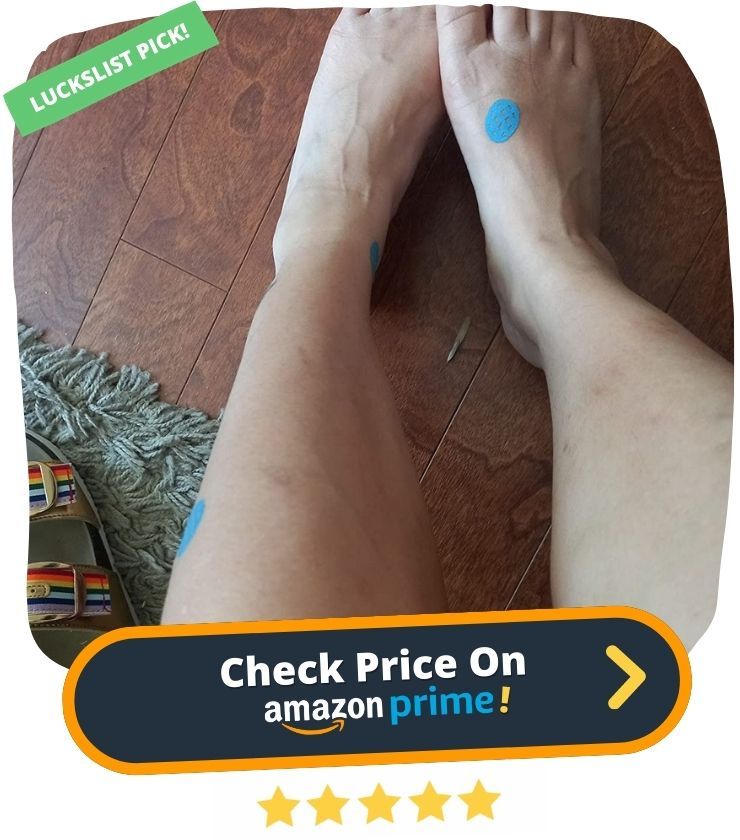 "This product worked quickly to remove the itch and reduced smelling for both children and adults. They stick well. No reaction to the patch. They are worth the price for the relief."
Amazon Review By Laura Lee