We hope you find your next favorite thing from the list below! Each product was independently selected by our editors. Some may have been sent as samples for us to fiddle with, but all opinions in this article are our own. Oh, and FYI — LucksList may collect a share of sales or other compensation from the links on this page if you decide to buy something (that's how we stay in business). Reviews have been edited for length and clarity. Enjoy finding your next favorite thing!
1. This patio furniture set is perfect for anyone who wants to enjoy the great outdoors in style and comfort. The easy-to-assemble design means you can put it together quickly and easily, and the thick cushions and contemporary looks make it both comfortable and stylish. So don't hesitate – buy this set today and enjoy all that nature has to offer in comfort and style.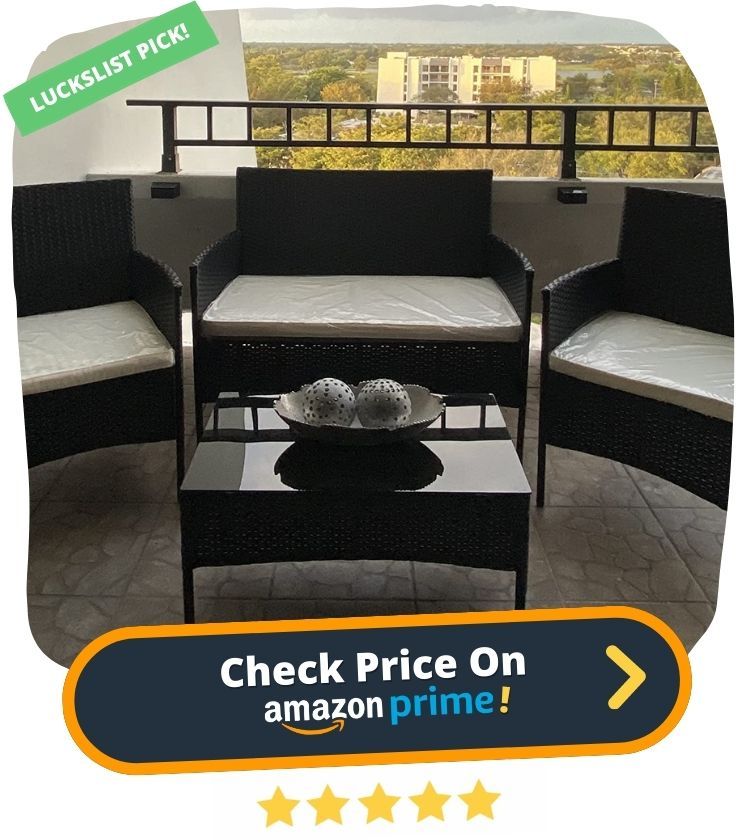 "It took 2 to assemble which made it go quicker and was very pleased once all pieces were ready and set up."
Amazon Review By Donna Matthews
2. Looking for a sofa that won't break the bank? Look no further than this modern sectional sofa! This stylish piece is perfect for any décor style, and features simple lines and square armrests atop tall tapered legs. The chaise can be moved to either end to accommodate your room's layout, and the hardwood frame and solid beech legs are built to last. The best part? Our sofa is easy to assemble - just attach the legs and you're good to go!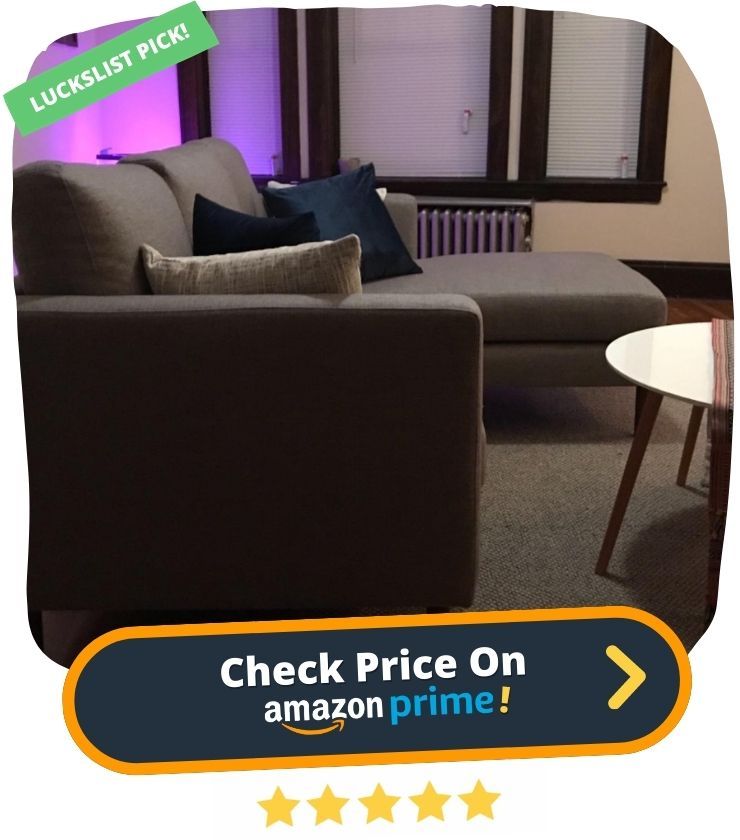 "The Amazon delivery guys did help us but we checked the option to have them help. I believe it was free but you should definitely tip them. The legs are inside the couch and all you do is twist them in and done!"
Amazon Review By Alex
3. Looking for a high-quality queen bed frame that will last you for years to come? Look no further than this newly improved queen bed frame! This frame is made with 11 steel slats to prevent sagging and increase the life of your mattress. Plus, our double middle rows of support system with 10 legs make this bed frame more superior and heavy-duty. It can support around 350-550lbs, so you can rest assured knowing that it can handle whatever you throw at it.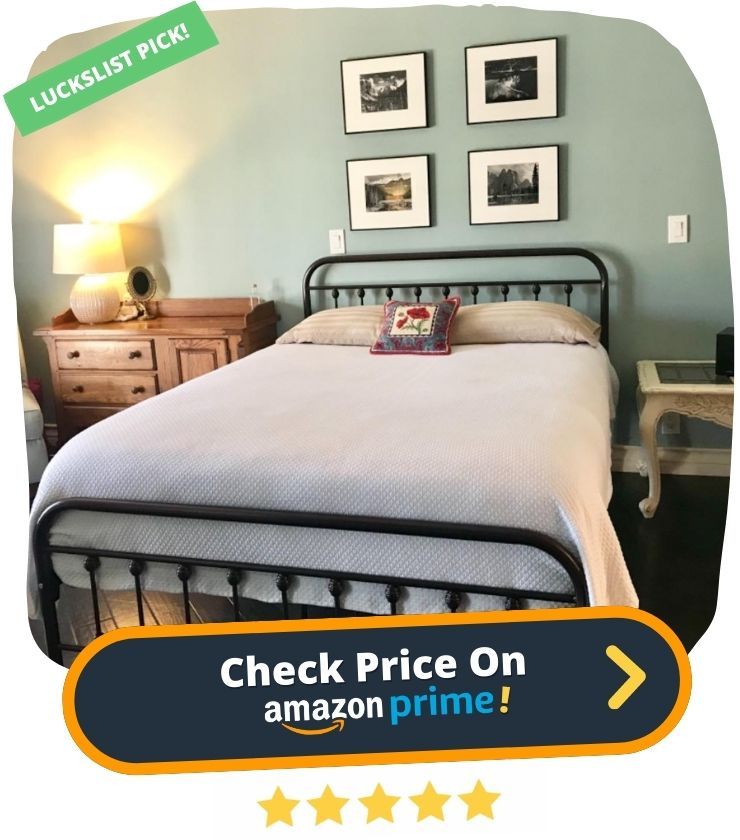 "I purchased 2 twin bed frames and am very happy with them. They are sturdy and make no noise when turning at night. I put a 12 inch hybrid mattress on them with no box spring and are quite comfortable."
Amazon Review By Debra D.
4. Introducing this Ashley Dellbeck Rectangular Dining Room Table! This gorgeous table is perfect for hosting dinner parties or enjoying family meals. The inlaid veneer tabletop and 4-post trestle base are stunning and built to last. The dark brown finish and diamond-matched veneer inlay tabletop are simply gorgeous. And with two extension leaves, you can easily accommodate unexpected guests.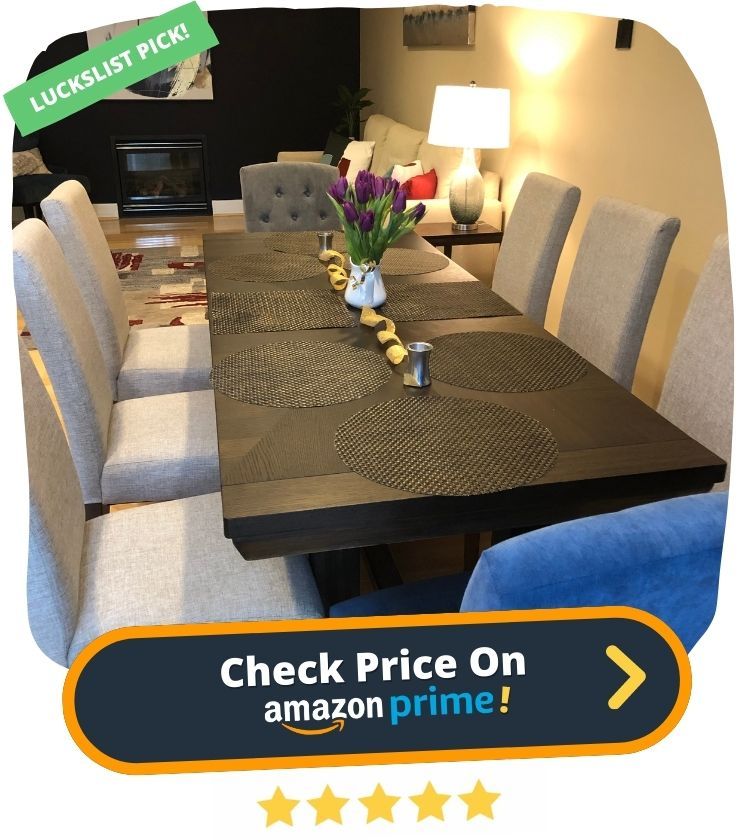 "This table is exactly what I've been looking for! It is very sturdy and well made. The reclaimed wood is such a beautiful aesthetic. It comfortably fits eight chairs around it, although it claims it fits six. Overall, I could not be happier!"
Amazon Review By Susannah L. Atwater
5. Looking for something a little different in your end table? Check out this freshwater pearl mussel shell end table! This beautiful piece is hand-crafted in Vietnam and features reflective, opalescent mussel shells cut into hexagons and hand-inlaid in a honeycomb pattern. The neutral hues of the shells glisten throughout, including light beige, taupe, pearl, and bluish-gray with natural patterns.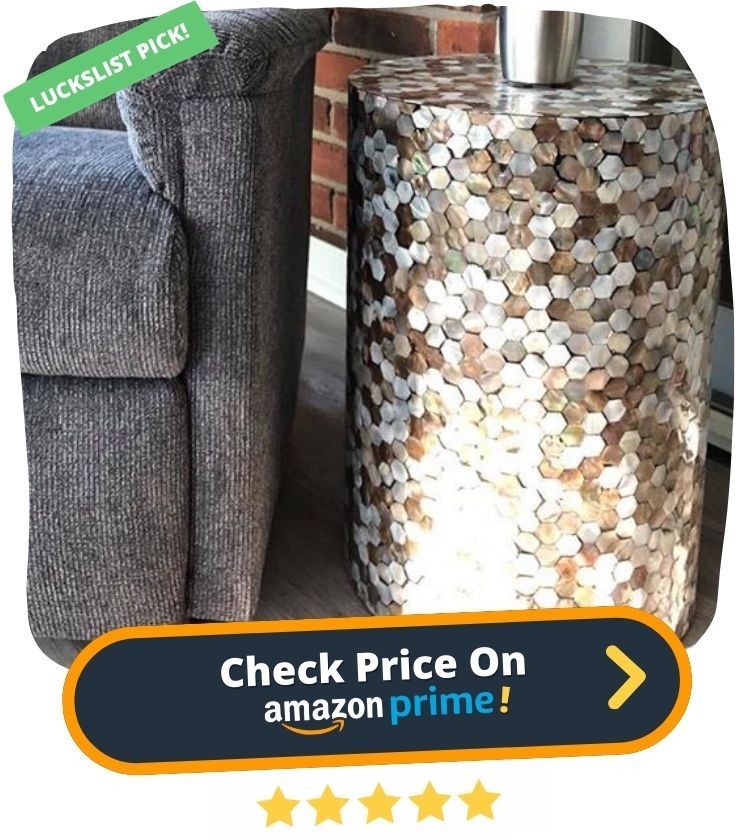 "This side table adds the perfect amount of style to a very "wheat/sand/stone" colored room. I recently moved to an apartment and have no place for any of my area rugs. This table still adds a very nice glam touch to a corner of my house that is deserving of it."
Amazon Review By Roman L. Veladiaz
6. Looking for a kitchen island that can do it all? Look no further than this Dolly Madison Off-White Mobile Kitchen Island! This handy little island is perfect for small spaces - extend the leaf when you need more surface area, and fold it down when you want to save space. Plus, it comes with three storage drawers and two adjustable shelves, so you can store everything from pots and pans to kitchen appliances.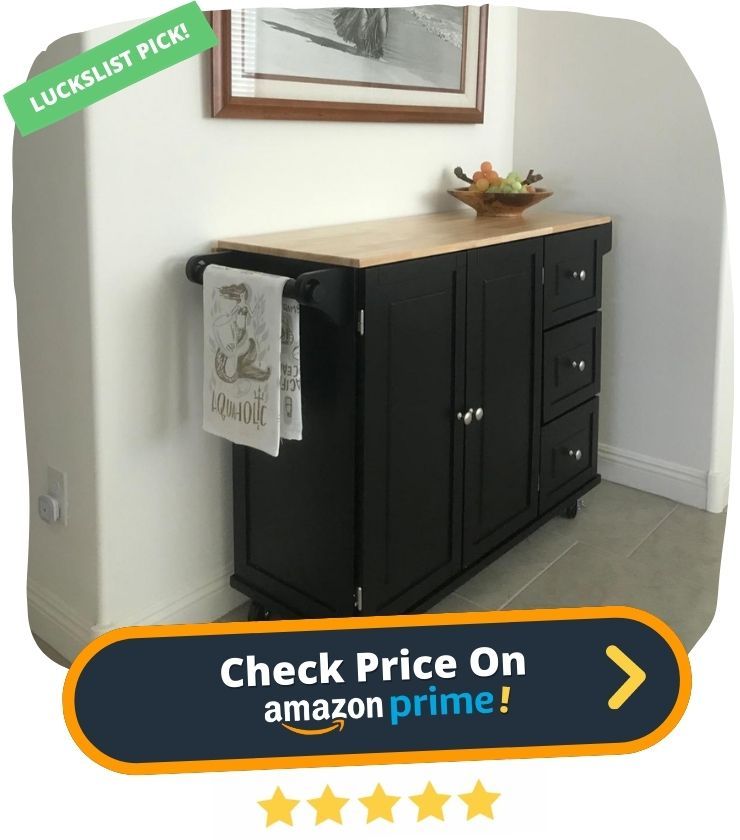 "This island will give me some much needed work space in a pretty small kitchen with only one counter. I was looking at different choices on Amazon and other sites, but kept coming back to this. I love that it has a drop leaf."
Amazon Review By Norma J
7. Looking for a chic and glam way to store and display your wine collection? Look no further than the Ketia bar cart! This beautiful piece features a rose gold finish with an ornate design on each tier, providing a soft and sophisticated accent that's perfect for any home. The tiers and metal frame are made from a resilient metal, ensuring that your bar cart will last for years to come. Plus, the three tiers are large enough to hold wine bottles, spirits, ice buckets, glasses, or even succulents and decorative accents.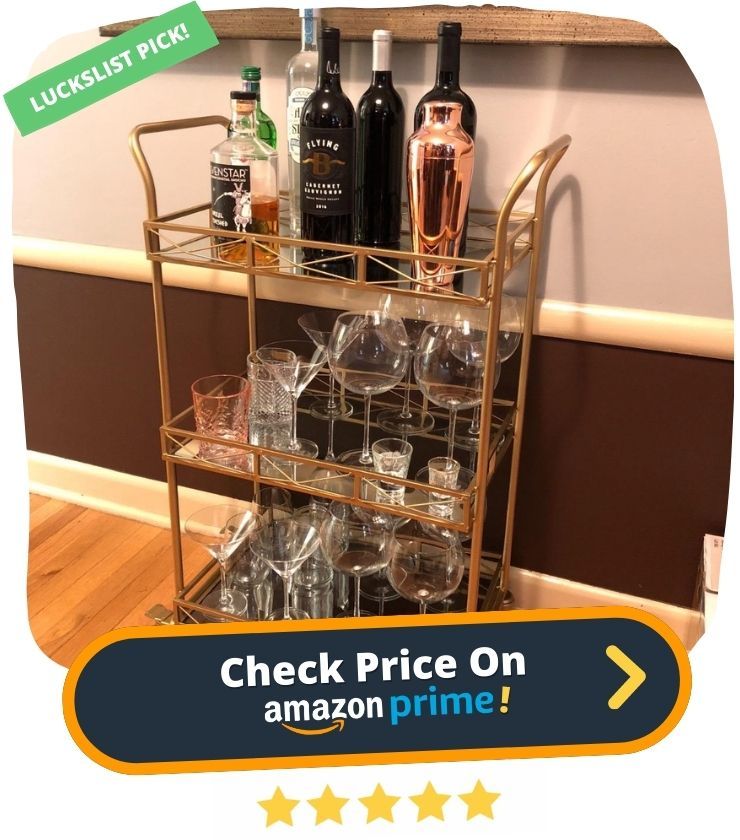 "This is a sturdy, portable cart that looks great in a bedroom, office environment. Easily styled to owner's preference, need and imagination."
Amazon Review By Susan Smith
8. Looking for a fun and unique vase for your home? Check out this vintage-inspired orange juice carton vase! This ceramic vase is adorned with a retro orange juice design by artist Dustin Williams, making it a stylish and eye-catching addition to any room. Perfect for small spaces, this vase measures 9.75 inches tall x 2.75 inches wide.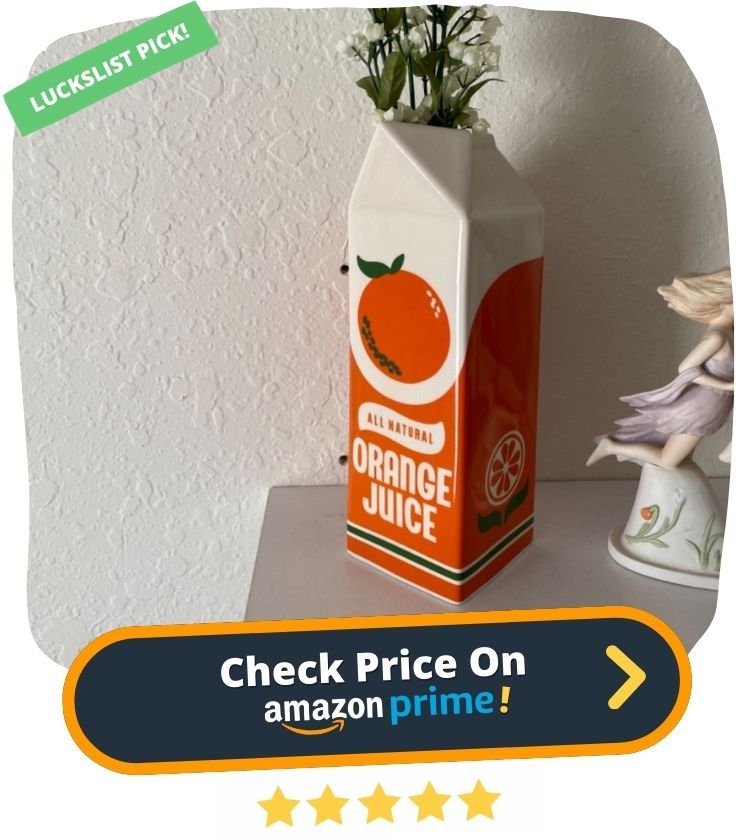 "The vase is much higher quality than I thought it would be! It has a decent weight and sturdiness to it and doesn't seem like it will break easily. The pattern on it is very vibrant and I've received many comments on it since I've gotten it!"
Amazon Review By Alice
9. Looking for a fun and funky accent chair? Look no further than this retro-inspired design Lexicon Accent Chair! Upholstered in an orange linen-like fabric, it's sure to add a pop of color to any room. The solid wood frame has a walnut finish and the show-wood design adds a touch of nostalgia. Best of all, it ships in just one box and requires easy assembly.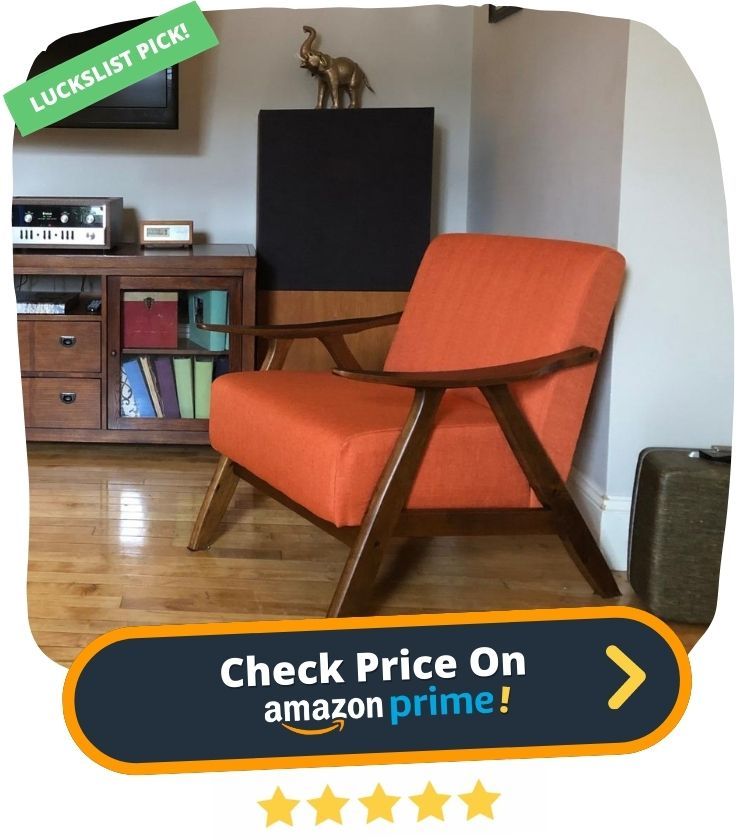 "This chair is incredibly comfortable. I bought it for my moms bedroom. She's 5 ft tall and not very mobile. Most chairs bother her back. The height of this chair, the angle of the back, position of the arms, and the width all make it comfortable enough for her to sit in it for as long as she wants."
Amazon Review By EC
10. Looking for a chair that's both comfortable and stylish? Look no further than the VODUR wishbone chair! Made of solid European beech or American ash wood, this chair is built to last. The unique rattan seat is soft and breathable, making it perfect for long periods of sitting. And the best part? The VODUR wishbone chair comes in a variety of colors to match any décor.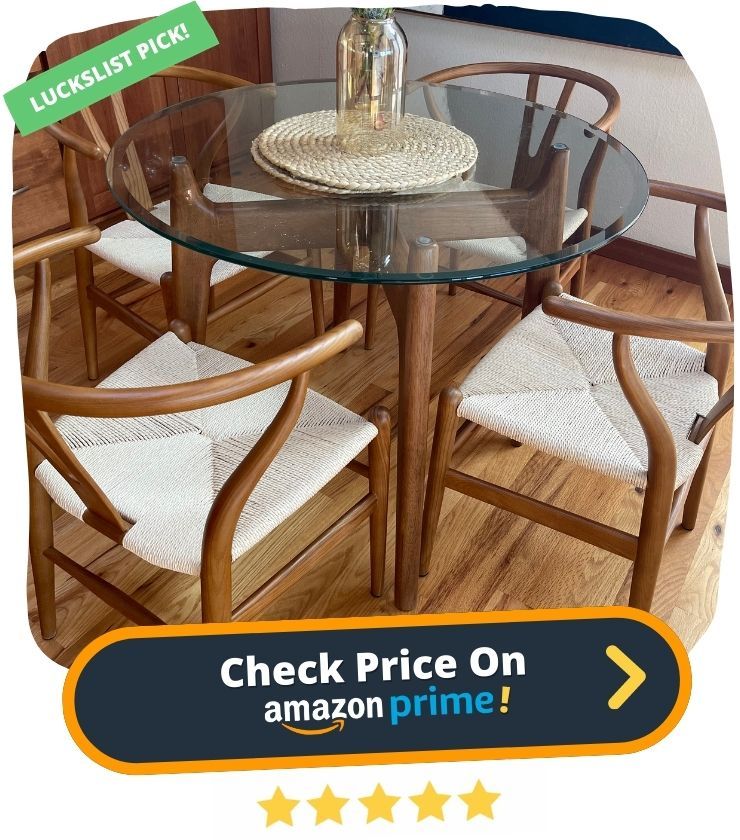 "Love the modern all black look! These wishbone chairs fit our dinning room table perfectly and matches well with mango wood. They are quite comfortable too!"
Amazon Review By Evan Walsh
11. Looking for a dresser that is both stylish and functional? Look no further than this Strong & Sturdy Wood Dresser! This dresser is made of solid wood and wood composites, so you can rest assured that it is built to last. It features 3 spacious drawers, perfect for storing all of your clothes and belongings. Plus, the smooth metal drawer glide system ensures that the drawers open and close smoothly, while the safety stops prevent them from being pulled out completely.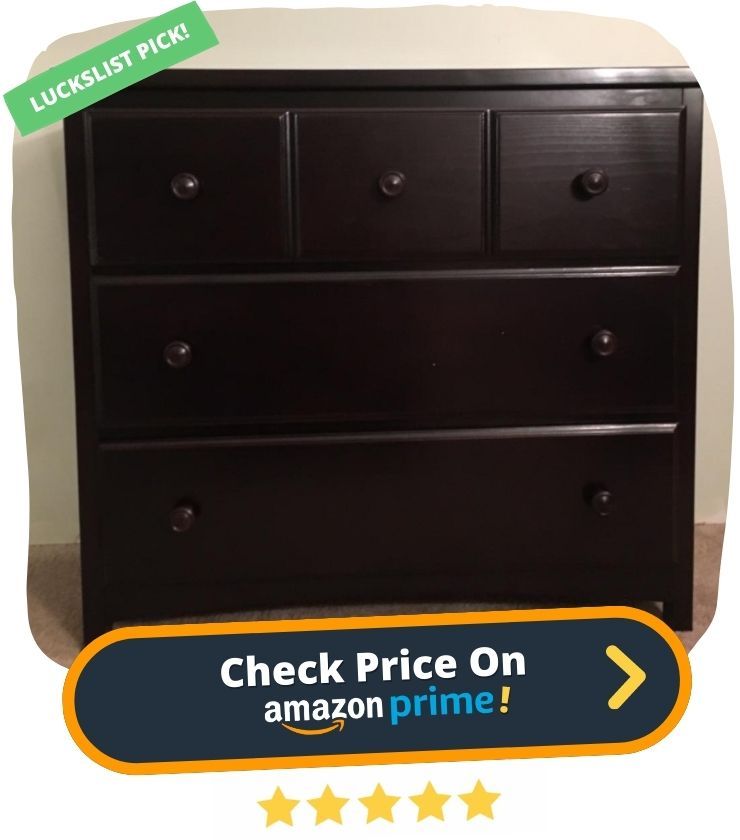 "Dress looks and feels great! My toddlers room looks amazing with this piece in it! Just the right size for his cloths too."
Amazon Review By Michael
12. Looking for a stylish and modern accent velvet chair that will elevate your home décor to the next level? Look no further than our classic and elegant lounge chair! Perfect for any room in your house, this chair is designed for comfort and durability. The soft, padded seat and tall backrest will provide you with ample support and the high-quality velvet fabric will add a touch of luxury to your space.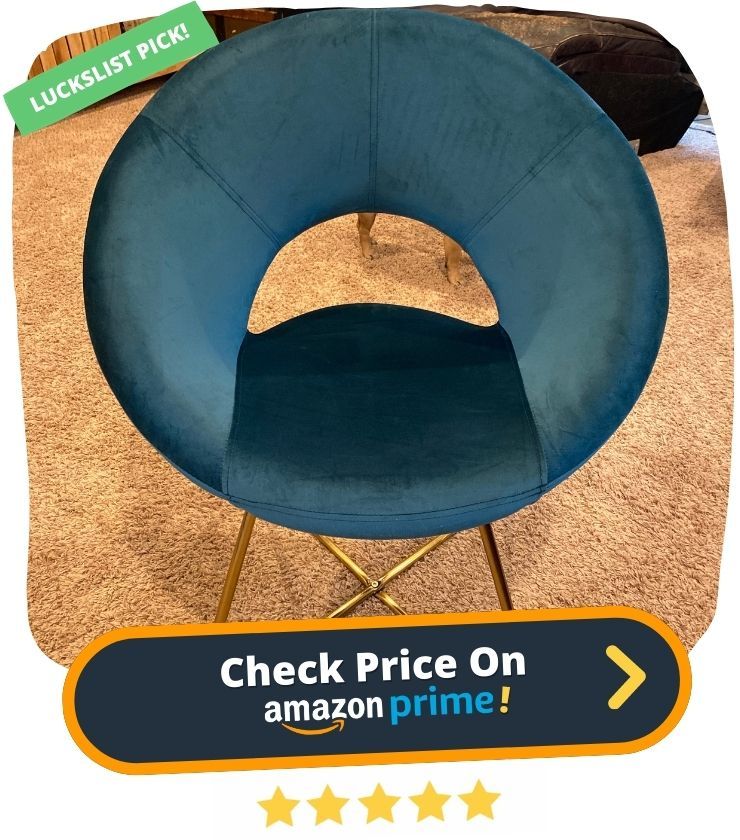 "Love the style of this, was easy to assemble and looks great!"
Amazon Review By Abby Waterstreet
13. Looking for a lamp that will fit in with any décor style? Look no further than this vintage industrial-style floor lamp! This free-standing lamp features three beautiful teardrop-shaped cages, making it a perfect fit for industrial, farmhouse, vintage, rustic, retro, and contemporary decors. And at 65" tall, it's the perfect size for any home or office. Plus, the long power cord makes it flexible in placement.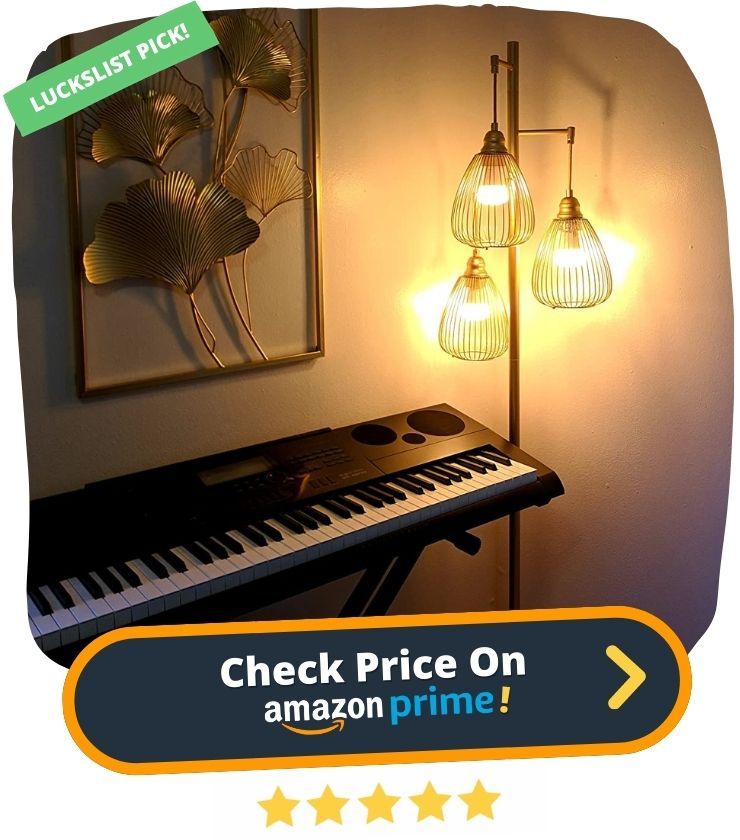 "Very cool floor lamp, creates additional comfort in the room! I really liked it!"
Amazon Review By Kateryna Simdianova
14. Looking for a versatile sofa that will fit in any kind of décor? Look no further than this comfy and modern upholstered 2 piece couch! Upholstered in soft linen material, it features a simple contemporary design with classic color that will surely complement your existing furniture. The best part is, it's extremely comfortable with its cushioned back and firm padding - perfect for relaxation after a long day. Additionally, the eucalyptus materials used in its construction makes it sturdy and durable, while the memory foam provides superior comfort and stability.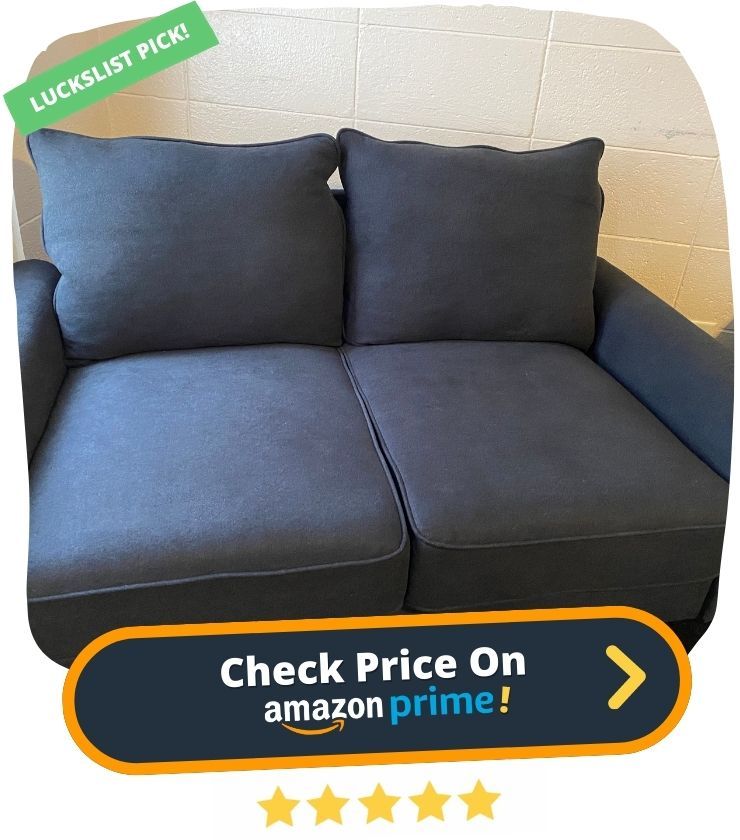 "Great buy! I love my new set. It is easy to assemble and it fits perfectly in my living room area. I'm currently redecorating and i wanted something chic yet comfortable, big but gives more space and this set does exactly that."
Amazon Review By Nik
15. Looking for a sturdy and stylish TV stand that will make your living room look complete? Check out this Solid Pine Wood TV Stand! This elegant piece of furniture is made with responsibly-sourced pine wood, so you can be sure that it's durable and eco-friendly. It has a top surface that can support up to 100 Ibs, perfect for your TV set. The stand also has cord management ports to keep your cables tidy and organized.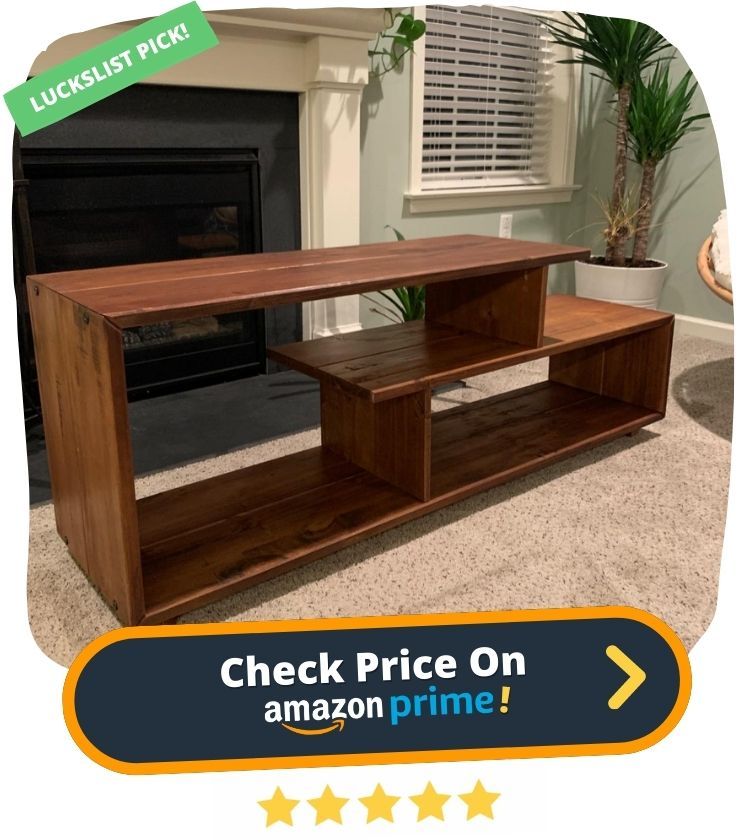 "It's perfect! Love the style. It immediately elevated the room. I am terrible at reading directions, so it was hard to put together (literally only because of me though). But, my husband seemed to have no problem, and we worked together to put it together in about an hour. It's well made and super stylish! 10/10."
Amazon Review By Jenny K.
16. Introducing the newest addition to your home décor: the Gilded Steel and Tempered Glass Table! This beautiful piece is perfect for adding a touch of luxury to any room. The hand crafted gold finish is applied to the steel frame, and the tempered glass top gives it a modern and sleek look. The table is also easy to assemble, so you can enjoy it in your home right away. But the best part of this table is its durability. You can clean it with a soft, dry cloth and no harsh chemicals or abrasive materials, so it will last for years to come.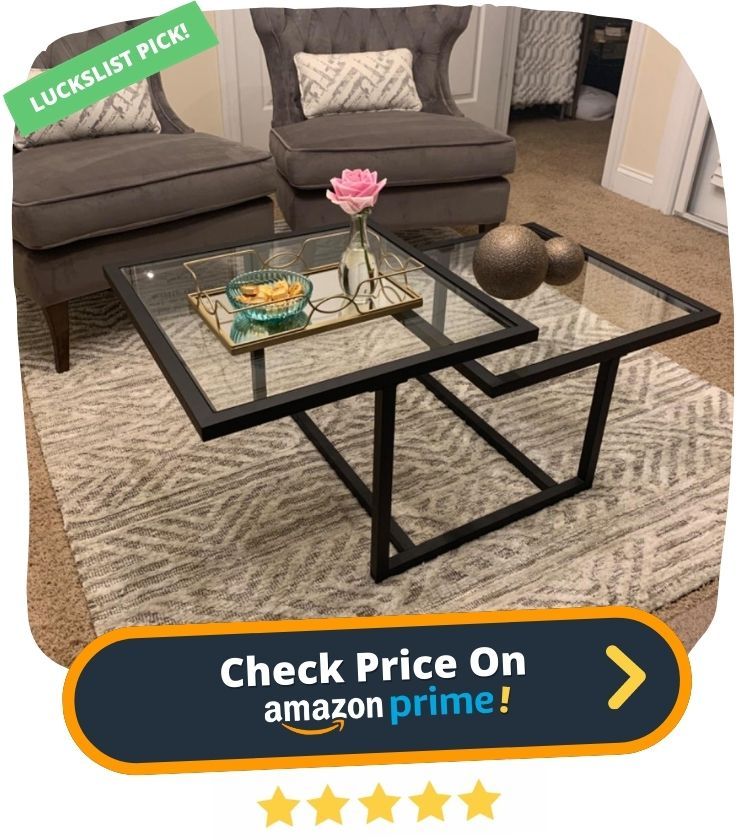 "This coffee table was exactly what I was looking for. It's cute and small with a expensive feeling. Definitely a great buying for being bougie on a budget and very easy to assemble alone."
Amazon Review By Desiree jones
17. Looking for a TV stand that will make your living room look more stylish and organized? Look no further than the WYNDENHALL Normandy Rustic Storage TV Media Stand. This TV stand has a sleek design with two adjustable shelves, perfect for holding your DVD player, gaming console, and other media devices. The Normandy Rustic Storage TV Media Stand also has a cubby hole for storing your DVD collection or books.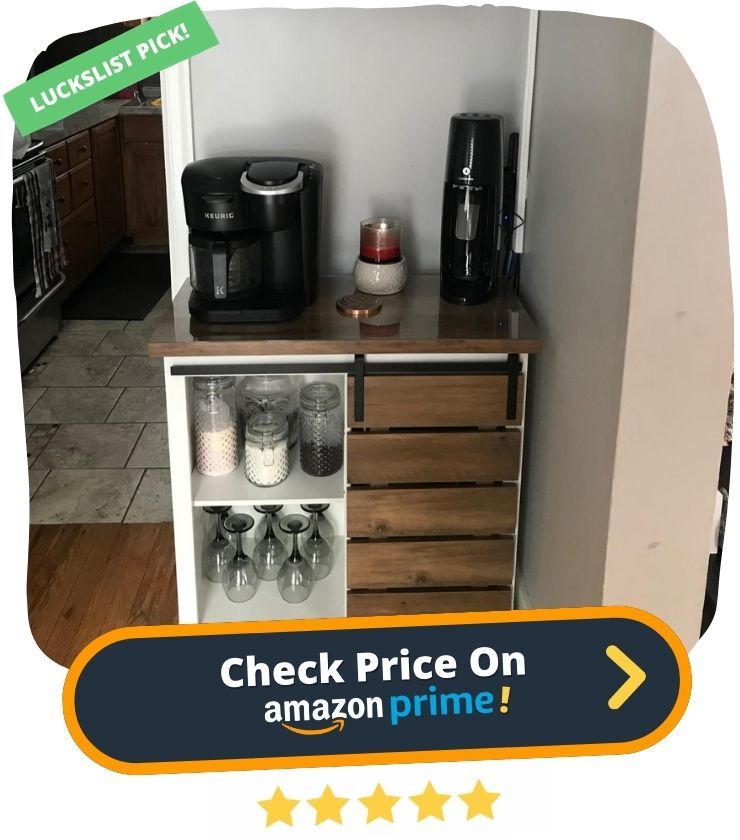 "Just what I needed for my kitchen. I absolutely love it, it was easy to assemble and I haven't had any issues with it thus far!"
Amazon Review By Joi Marsh
18. Looking for an ottoman that's both stylish and comfortable? Look no further than this Velvet Upholstered Ottoman! This versatile piece of furniture is perfect for any room in your home, and its luxurious velvet upholstery and sturdy gold metal legs are sure to impress your guests. The thick cushioning provides a plush place to sit or to rest your feet, and the ottoman is also the perfect addition to any room that is in need of an extra seat.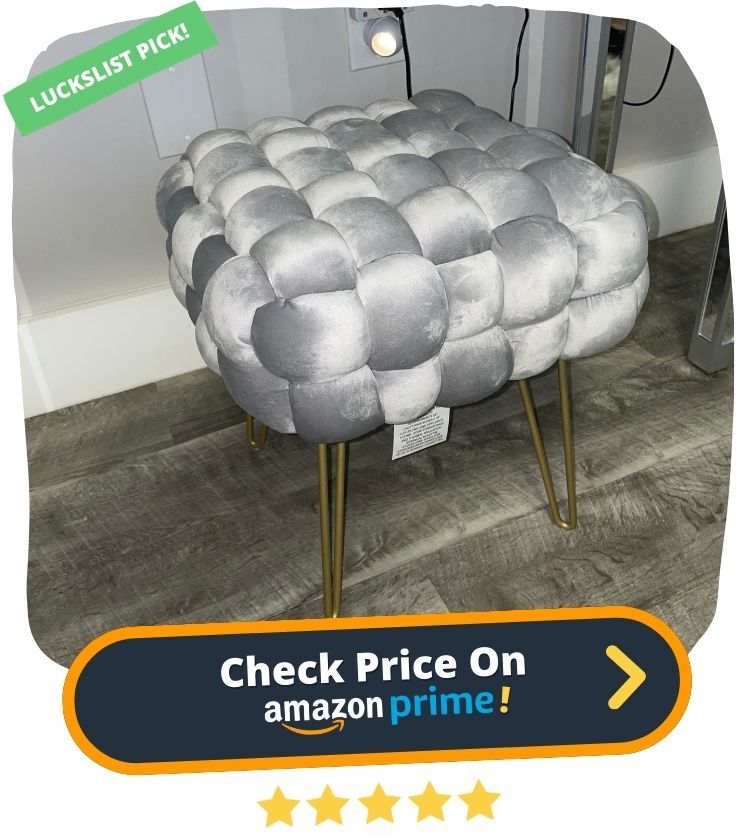 "This ottoman is nice, and easy to assemble. It comes with the necessary tool to install the feet, which I appreciated because it saved me the time and money of having to buy separate tools."
Amazon Review By grace truex
19. Introducing the Turkish Chandelier! This hanging light fixture is handmade in Turkey with hand-cut mosaic glasses and glass beads. It's perfect for adding a touch of elegance to any room. The globe diameter is 6.5", and it comes with an on/off switch and a North American socket. It uses a small size E12 candelebra/chandelier bulb (not included).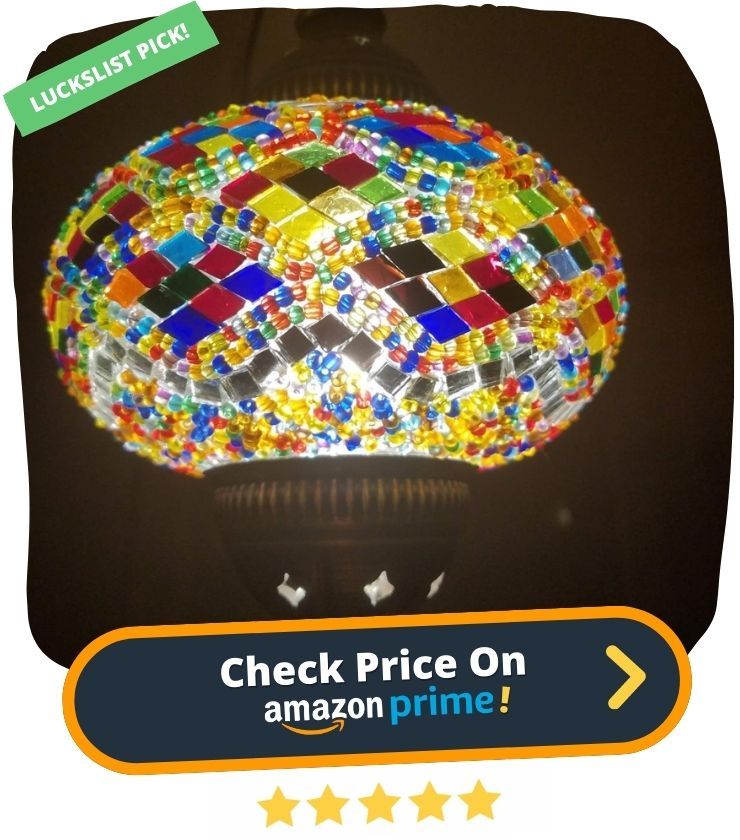 "Photos do not do this lamp justice. It is absolutely gorgeous! I included a photo of the light bulbs I bought (at Home Depot) as it did take a little experimenting. I hope that this helps someone else, too :)"
Amazon Review By A. Michelle
20. Introducing the macrame wall hanging 'Soft Hills' that's truly a work of art. This beautiful piece is made with natural cotton cord and wool yarn, using both classic macrame knots and weaving techniques. It's perfect for any occasion, from Christmas decor to weddings and parties. With its rich texture and warm colors, 'Soft Hills' is sure to add a touch of elegance to any space.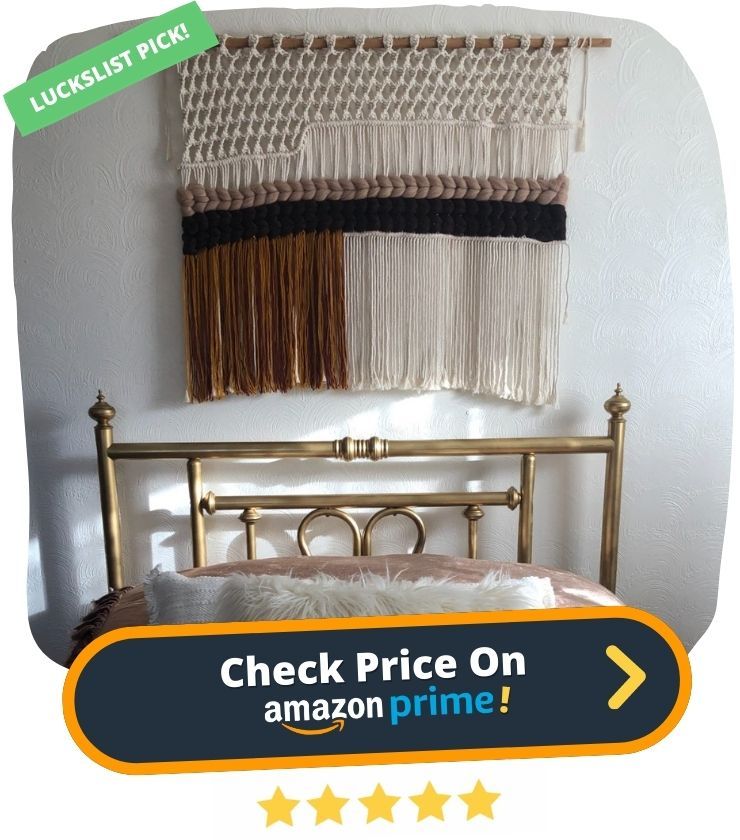 "This piece is so nice, a great value for the price. I put it above my bed and it fits perfectly. Def recommend!"
Amazon Review By Ptaylor
21. Looking for a modern and sleek bookcase that won't take up too much space? Look no further than the Theo gold 5-shelf unit! This bookcase has a strong metal frame with a brass powder coat finish, and its modular design makes it perfect for small spaces. It's easy to assemble, too - just follow the instructions included and you'll have it up and running in no time.
"Love the style of these bookshelves and was able to build my dream "wall of books" in our living room. We added additional bracket supports because we have young children, including one learning to pull up on things, and we didn't want anything to fall down or pull out of the wall."
Amazon Review By H. Daulton
22. Looking for a sturdy and stylish storage option for your home? Check out this modern computer solid wood drawer desk! This piece is expertly crafted from sustainably sourced Brazilian pine, and features a sleek urethane finish that's easy to clean. The spacious single drawer offers ample room for storing clothes, linens, or any other household items, and rolls open smoothly on metal glides with safety stops. Plus, the simple design of this chest makes it easy to integrate into any home décor style.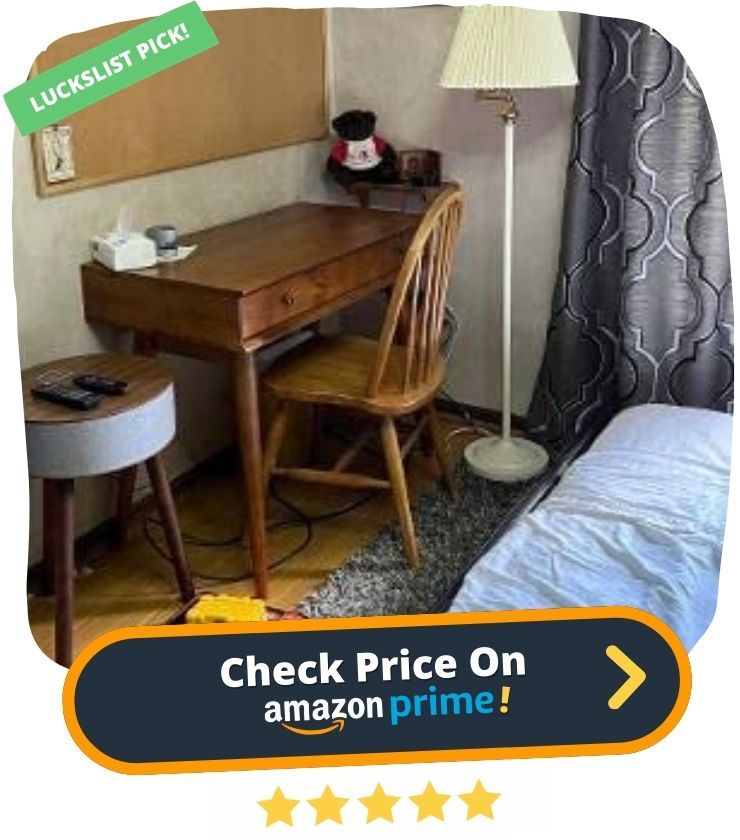 "I was able to assemble this pretty quickly. The drawer slides in and out really nicely. Looks awesome. Great purchase."
Amazon Review By Lara Hickl