Do you feel like your home is constantly cluttered and messy?
You're not alone. A lot of people feel this way, but it doesn't have to be that way forever. There are ways to get your home organized and keep it clean with the right products.
We've put together a list of 20 Amazon products that can help you get your home in order. From storage containers to robot vacuums, we've got you covered. And the best part is, most of these items are under $50!
Read on to choose from the 20 Amazon products on this list for a more organized home!
We hope you find your next favorite thing from the list below!  Each product was independently selected by our editors. Some may have been sent as samples for us to fiddle with, but all opinions in this article are our own.  Oh, and FYI — LucksList may collect a share of sales or other compensation from the links on this page if you decide to buy something (that's how we stay in business). Reviews have been edited for length and clarity.  Enjoy finding your next favorite thing!
1. Looking for a way to keep your fruits and vegetables fresh for up to two weeks? Look no further than the LUXEAR Fresh Container! These handy containers come with adjustable vents to regulate the flow of air, control humidity and prevent spoilage. The lids are airtight to keep everything nice and fresh.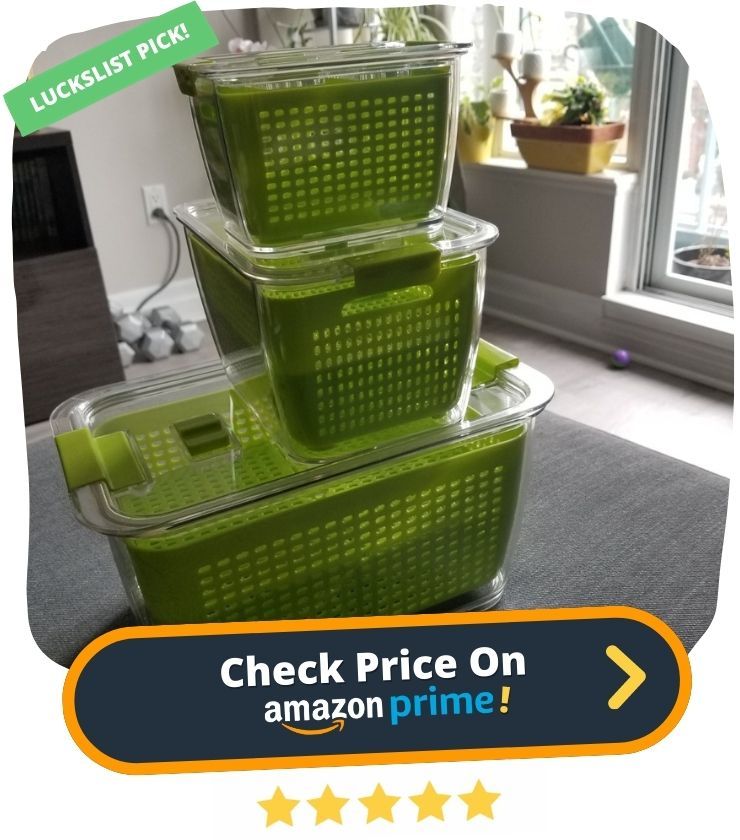 "These are exactly what I was looking for! I started getting a weekly produce box delivered with all local grown products, and the only downside is that it comes without any packaging so it wilts and goes bad faster. These containers are very versatile, and incredibly sturdy."
Amazon Review By Stephanie Brock
2. Looking for a sleek and stylish way to store your kitchen knives? Check out this Home Kitchen Magnetic Knife Block Holder Rack! This double-sided, strong magnetic rack is perfect for keeping your knives within easy reach.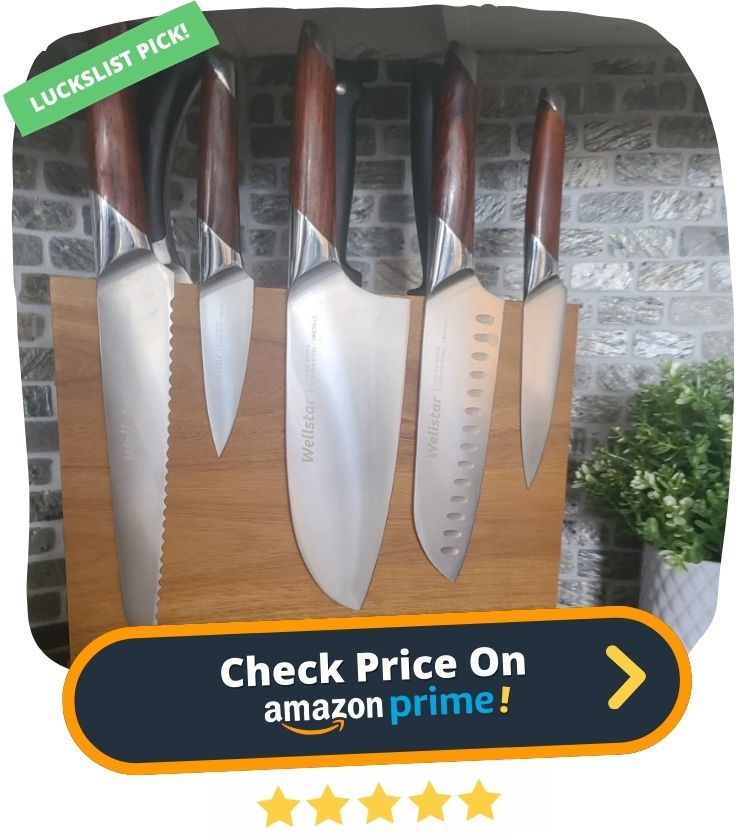 "Finding this a good alternative to square block or knives in drawer. Wood surface is handsome, and embedded magnets are strong, easily holding a row of knives across entire surface. The stand is quite solid -in fact may seem to some to be too heavy; but the weight is appropriate to hold knife collection securely...and on both sides if desired!"
Amazon Review By Brooks Johnson
3. Introducing the HapiRm Shower Caddy! This versatile and stylish bathroom organizer is perfect for organizing all your shower essentials. The sleek bronze finish and 11 hooks make it perfect for hanging shower gel, shampoo, facial cleanser, razor, shower ball, and more.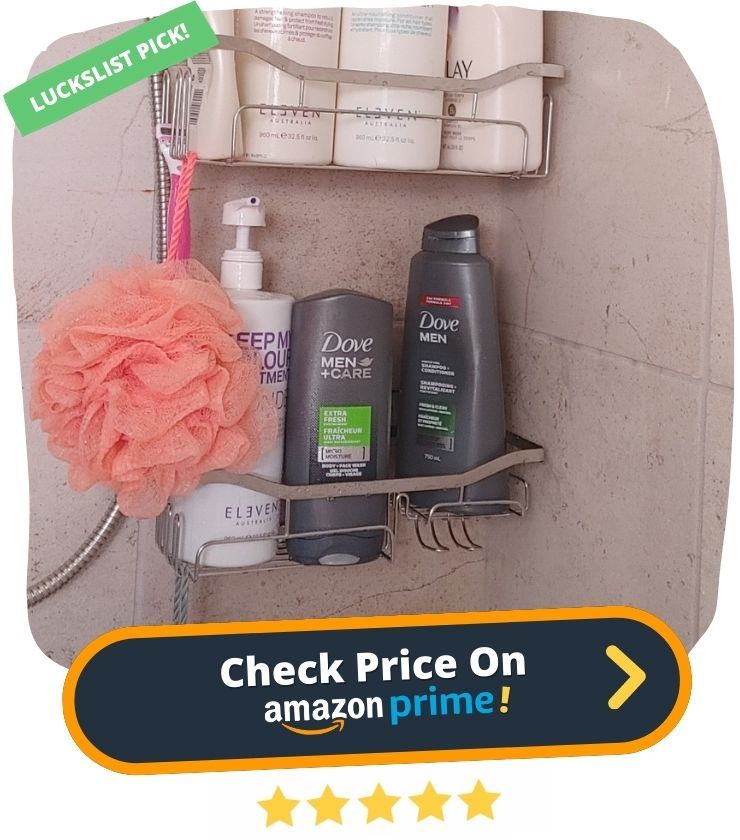 "This product is amazing. The adhesive stickers stay very well and holds a lot of weight. Only thing is, make sure you place it where you want it because once it's on it's stuck there. Comes with 2 extra adhesive spots if you want to move it eventually. I've had mine up for weeks and it's still very sturdy. 10/10 would recommend and repurchase. The adhesives are also very visible but I don't mind."
Amazon Review By Sarah Montgomery
4. Looking for a way to get your water bottles clean without using a lot of chemicals? Check out the Scotch-Brite Bottle Scrubber. This unique, slim scrubber fits into most bottles and gets rid of stuck-on gunk from coffee, smoothies, and other drinks. The contoured and flexible scrubber tip also fits into hard-to-reach corners that are usually difficult to clean.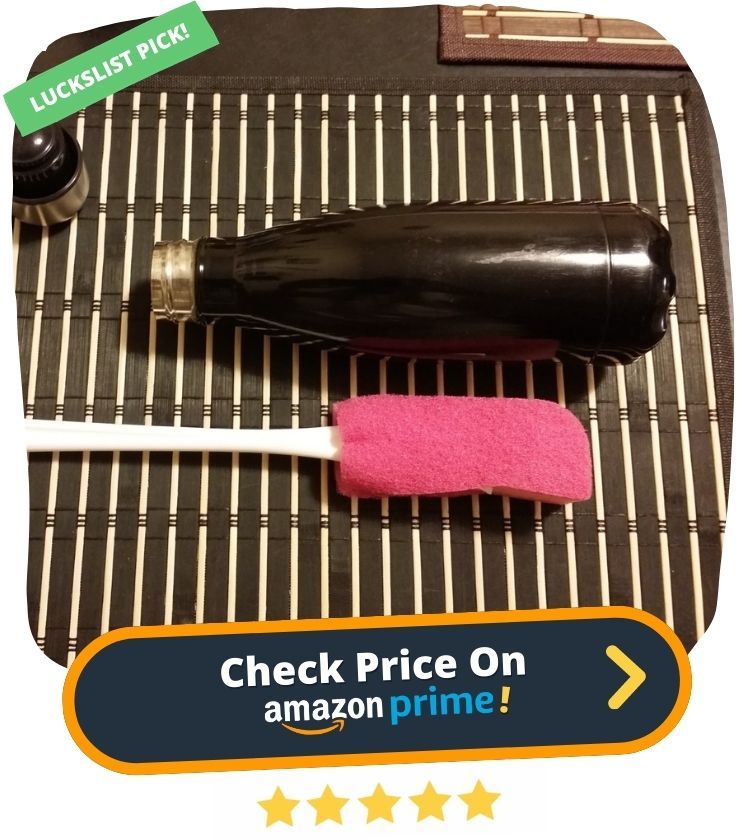 "I wanted a small cleaning brush and found one that works beautifully. Nice thing is that it takes up minimal space. I hate the idea of putting a wet brush under the sink to drop water on the wood cabinetry and possibly cause the finish to bubble over time. This one is small and unobtrusive enough (even pretty), that I decided to get a few and have them handy in the kitchen counter caddy, as well as in the little caddies I have on the bathroom counters. It's so tiny you barely notice it - not more than a hairbrush anyway. And it's the perfect size so that I'm not holding the end of a long brush handle trying to clean the sink. This one lets me get close to the work and get 'er done. Love it."
Amazon Review By Karen VK
5. Stylish and functional, the Amazon Basics upholstered storage ottoman is a great way to organize and hide away a variety of items. With its sturdy construction, hardwood frame, and plastic legs, this bench-style storage ottoman can be used as an entryway bench, extra seating, or stylish accent piece.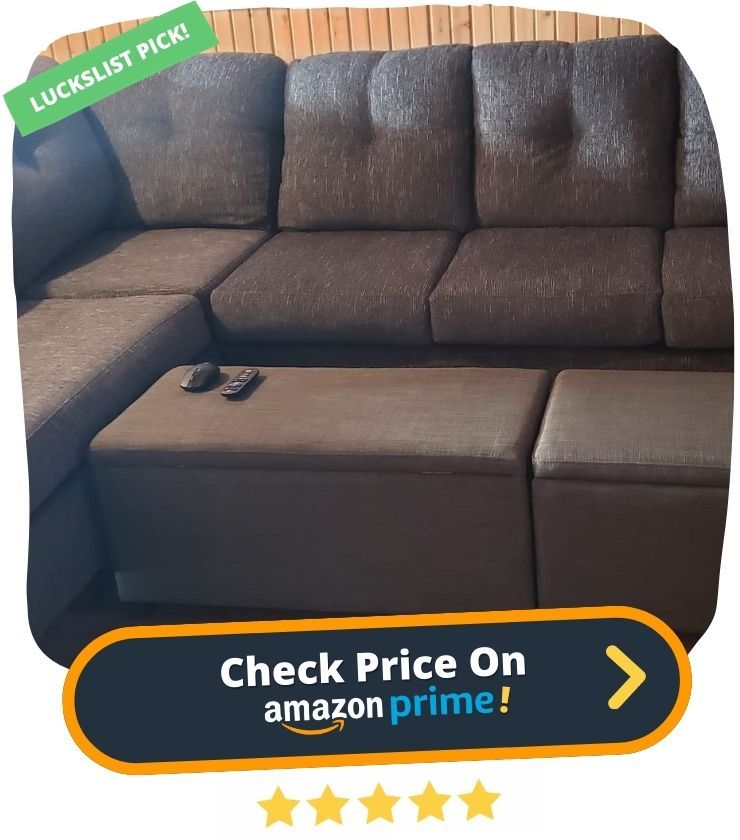 "I bought this for my boot room and it has performed very well! It can support two full sized men putting their boots on. It looks great, blends with any décor. It now holds all of our winter hats and mitts and extra blankets. Lots of storage space. I appreciate that the lid will stay up on it's own and I don't have to hold it up while getting items out. No assembly!"
Amazon Review By Nicole
6. Introducing Wet Ones Sensitive Skin Hand Wipes! Their unique formula is designed to help maintain skin's natural moisture balance, leaving skin soft, smooth and refreshed. Enriched with cucumber, chamomile and natural moisturizers, our hypoallergenic wipes are non-drying and non-irritating.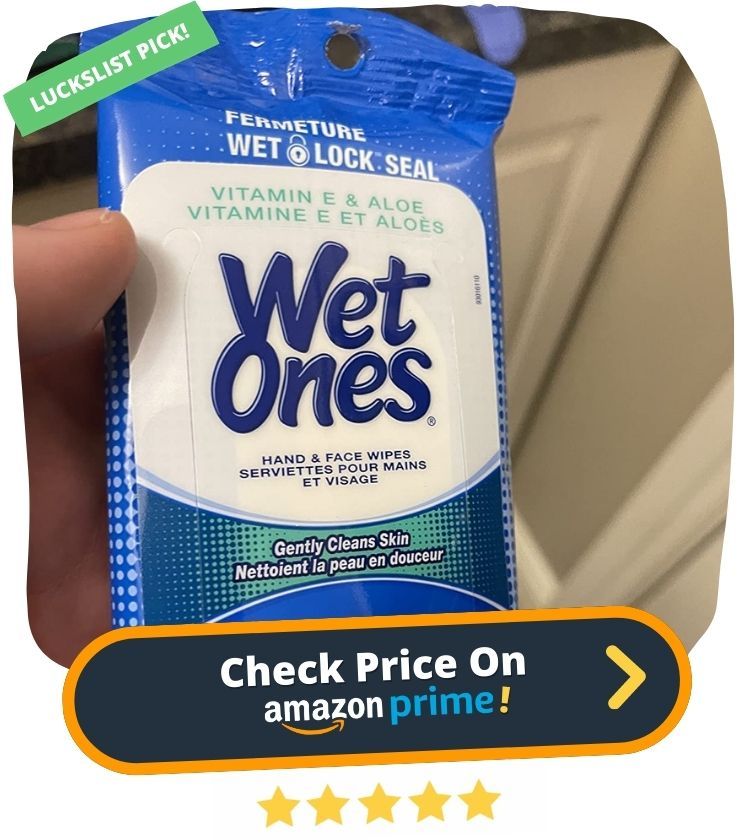 "Like the sealing package. Good for putting in the car. Nice smell. Is necessary that you teach husband how to open package or they will do it wrong and ruin the package."
Amazon Review By Cindy Barroby
7. Looking for a stylish way to organize all your zipper baggies? Look no further than the Epic Decor ziplock bag Organizer! This sleek bamboo organizer is perfect for storing everything from sandwich bags to gallon size bags.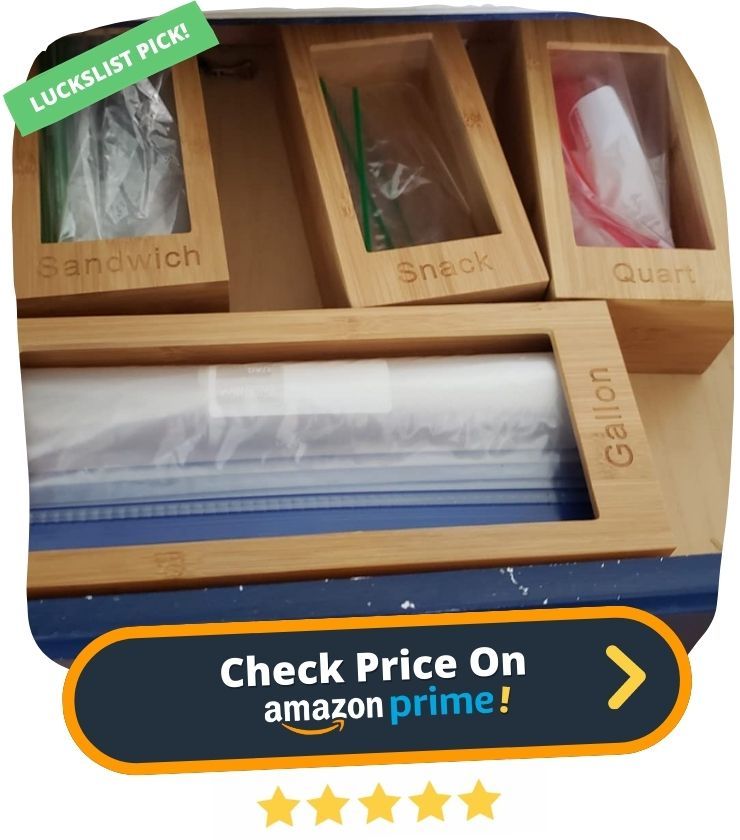 "I loved the product!"
Amazon Review By Hina
8. The SimpleHouseware Shoe Storage Shelf Organizer is a great way to save space in your home. This vertical storage unit is perfect for narrow, limited spaces. The strong metal frame and reinforced fabric cube shelves make it sturdy and durable.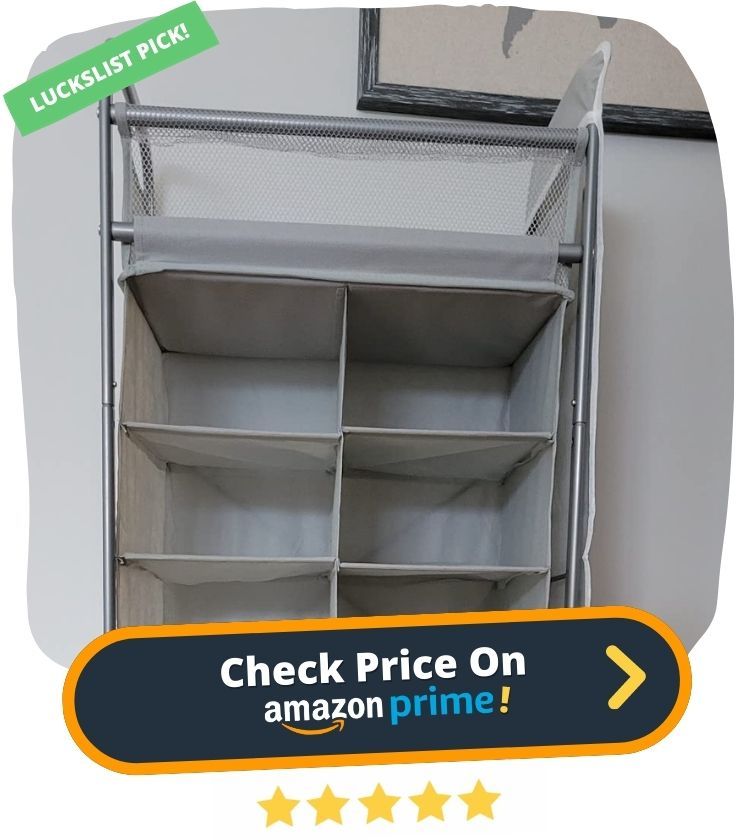 "It is taller than expected, but that is my fault for not checking the measurements. It is very easy to assemble, light weight, pretty sturdy. The feet are adjustable in case of uneven floors. I may buy a second one. Holds 14 pairs of shoes, 8 pairs of flip flops and 1 cat!"
Amazon Review By D
9. If you're looking for a stylish, functional and affordable desktop bookshelf, the Olebes Desktop Bookshelf Storage Rack is the perfect solution. Made from durable MDF wood, this bookshelf is waterproof, scratch-resistant and easy to clean, making it ideal for use in the office or home.
"Shelf was easy to assemble. Ordered and came within a couple days. Placed against the wall of a small telephone desk and in the kitchen."
Amazon Review By Len Clace
10. Looking for a way to clean your bathroom without harsh chemicals? Molly's Marvelous Scrubbing Sticks are perfect for the job! Made from recycled materials and non-toxic, these sticks will remove stubborn stains from hard water, calcium, lime, soap scum, and more.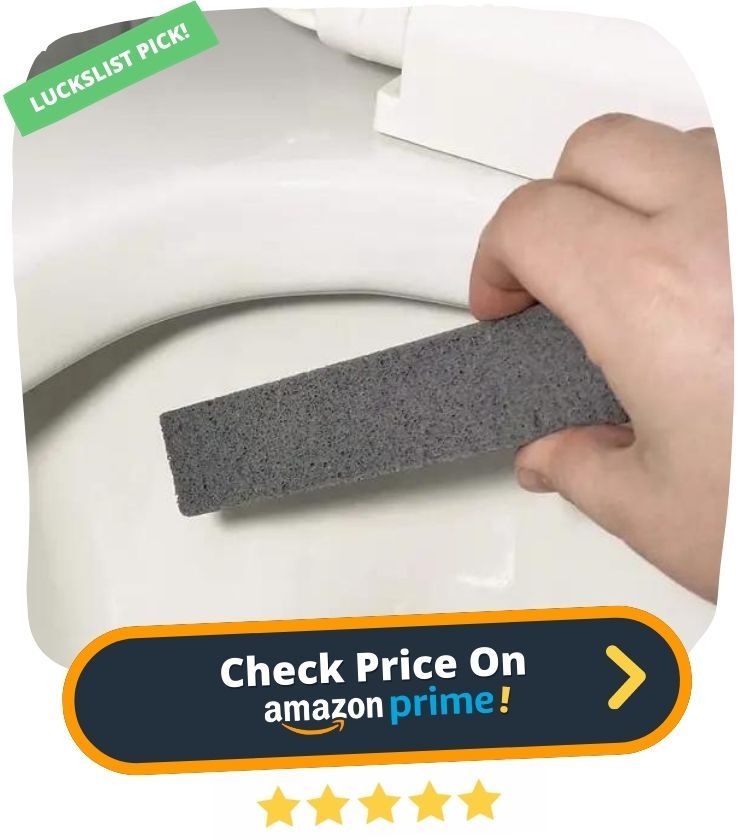 "Verified Purchase I've tried for years to clean my gas stove top, many different products and many failed attempts. I'm blown away by this. its amazing! one day 98% improvement. and I haven't even gotten to the toilet yet!!!!! and the inside of the stove!!! and the bathtub!!! Help I can't stop!!!!"
Amazon Review By Samantha Ellison
11. Looking for a toilet cleaning solution that's easy, efficient, and even suitable for those with sensitive noses? Scrubbing Bubbles Fresh Gel Toilet Cleaning Stamp is just the thing! This product comes in three refreshing scents - Rainshower, Fresh Mountain Morning, and Citrus - so you can choose the perfect aroma for your bathroom.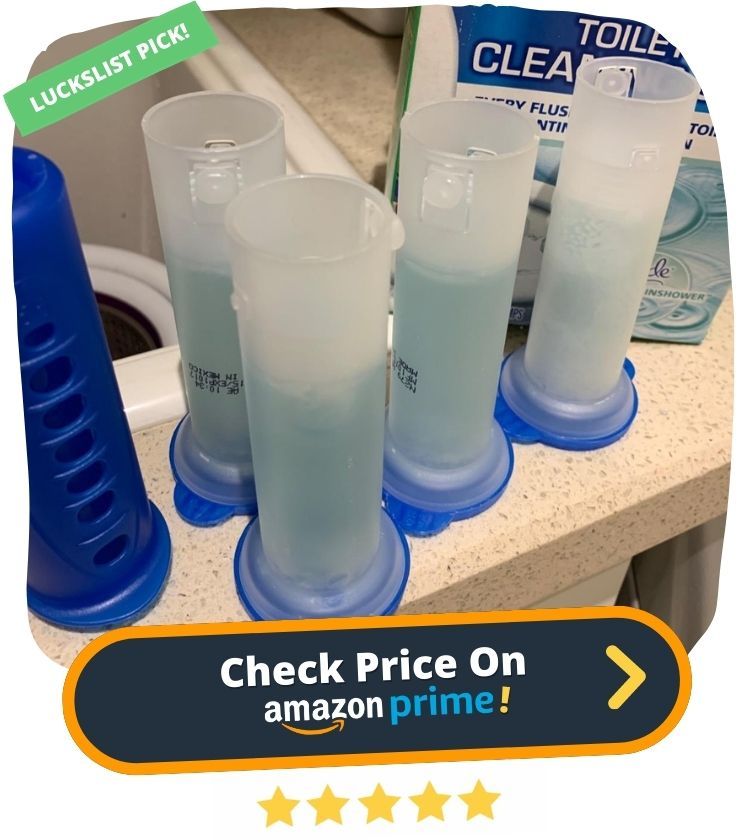 "I find this helpful in terms of keeping the toilet bowl cleaned and smelling fresh. I have not had to clean the toilet as much as I did before, I appreciate a good product that allows you to save time from cleaning all the time. I would advise to clean your toilet as well because it doesn't keep everything at bay. I would recommend it to people, give it a try and see what you think."
Amazon Review By Gill24k
12. Hagibis Cleaning Soft Brush Keyboard Cleaner is the perfect tool for keeping your keyboard clean and dust-free. The separated dual head design with nylon bristles, flocking sponge, high-density brush, metal pen tip and keycap puller make it easy to clean every nook and cranny of your keyboard.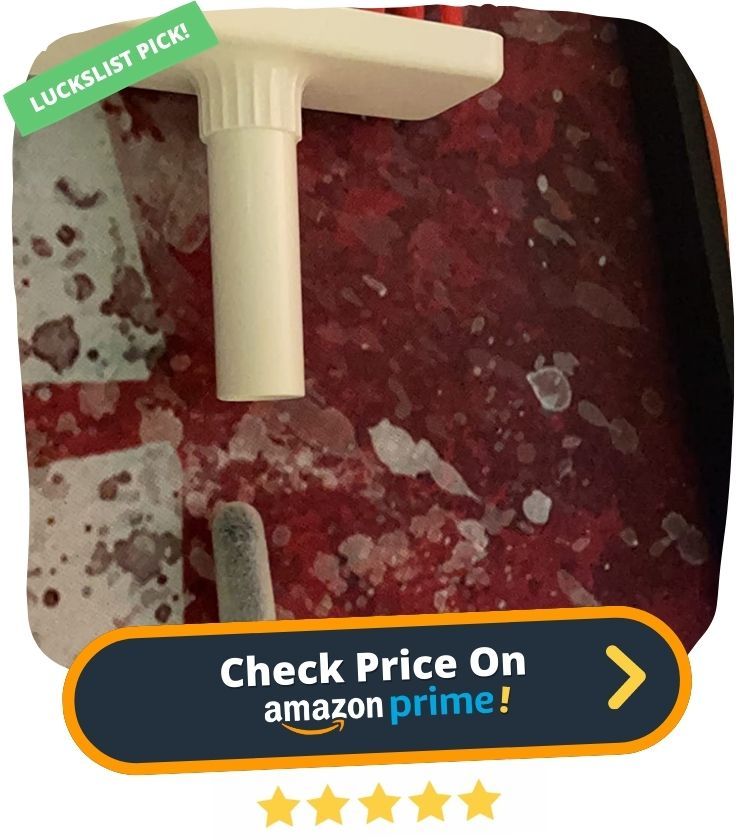 "It was great and helpful to clean my keyboard and airpods. worth to buy."
Amazon Review By Marris
13. Looking for a stylish, functional shower caddy that will complement any bathroom decor? Look no further than the iDesign Verona Metal Wire Hanging Shower Caddy! This caddy features eight metal wire racks for storing all your shower essentials, plus lower hooks for hanging razors, washcloths, sponges, and more.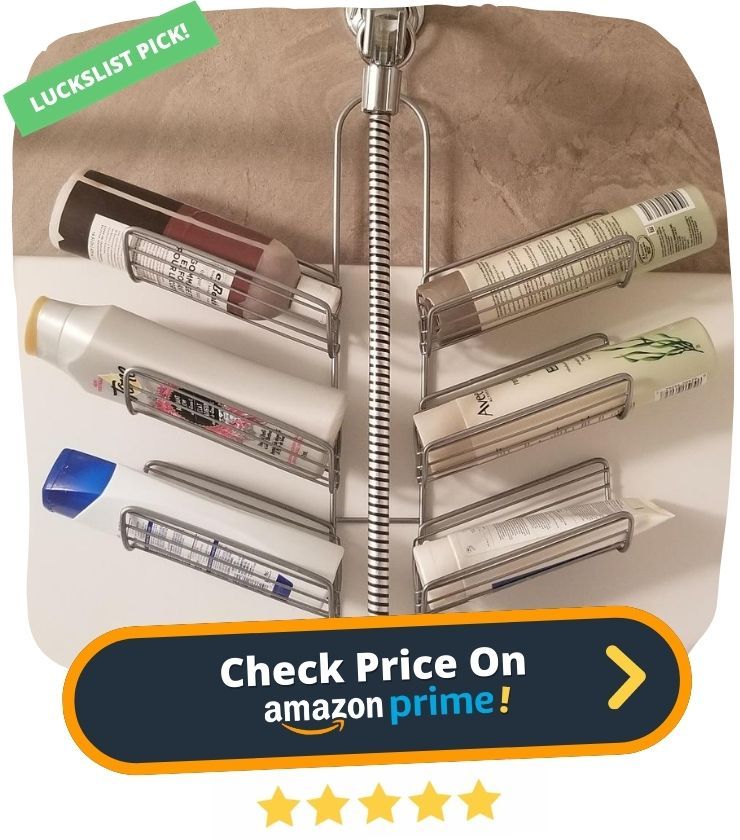 "I love this shower caddy so much. The angled holders for storing shampoo/conditioner bottles are a clever improvement on the typical shelf style; no more half empty bottle falling over and I can see each bottle now without moving other bottles. The soap and razor holders also are perfectly designed. I added an adhesive hook to secure it to the shower wall as I noticed when I took one bottle down the caddy would move slightly because it is only attached to the shower head. Not a deal-breaker, I still highly recommend this even without the adhesive hook."
Amazon Review By Danielle
14. Looking for a stylish way to store your fruits and vegetables? This 4-tier fruit basket is perfect for the job! Made of thick steel wire and coated with anti-rust paint, it's strong and durable.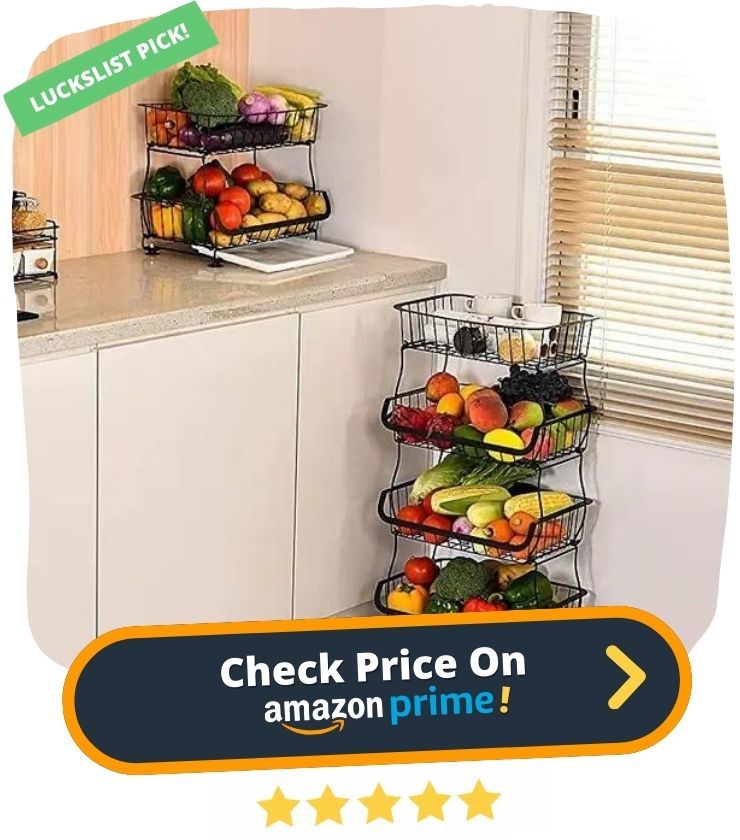 "Great addition to my kitchen. Item not as sturdy as I would like. But it looks great and works well."
Amazon Review By Angela. Wood
15. Looking for an effective way to remove pet hair from your furniture, clothing, and cars? Look no further than the Pet Hair Remover Roller! This handy little roller is made of a semi-coated fleece material that's charged with static electricity, making it a powerful fur-removing force.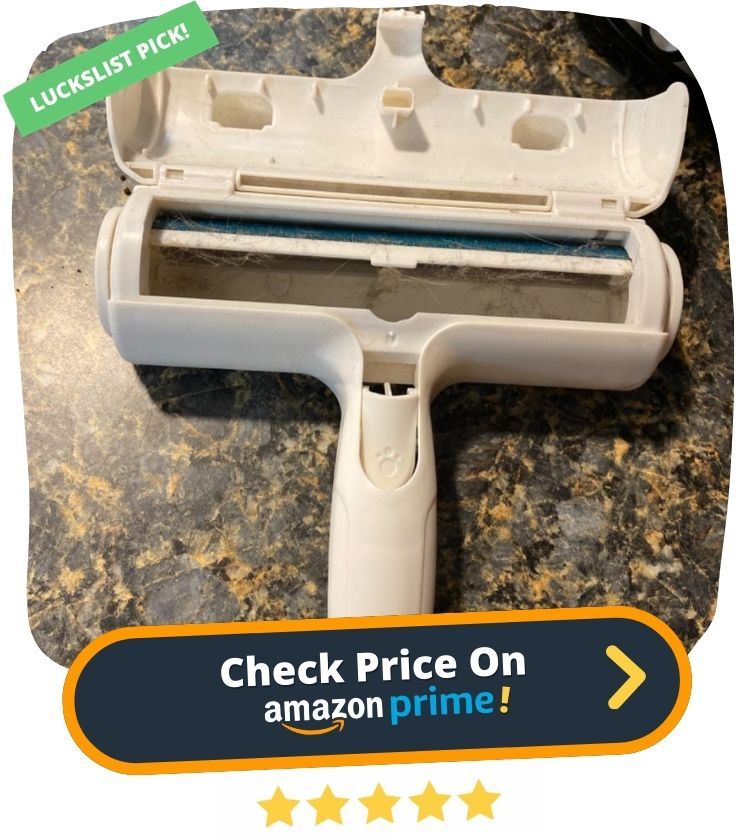 "I don't usually bother writing product reviews, but if you're considering this roller it's awesome and you should get it. We have two cats (and I'm guilty of shedding long blonde hairs), and recently got a really nice couch so I figured it was finally time to invest in some kind of furniture brush. It seems to pick up everything really well. I've used it on the couch (firm textured fabric) and bed (standard IKEA duvet) and not a hair gets left behind."
Amazon Review By Pam
16. Looking for a way to add some extra storage to your bathroom without taking up too much space? Check out the Rolanstar Bathroom Space Saver. This 4-tier shelf unit occupy the often-unused space above your toilet, bringing even more storage options to your bathroom.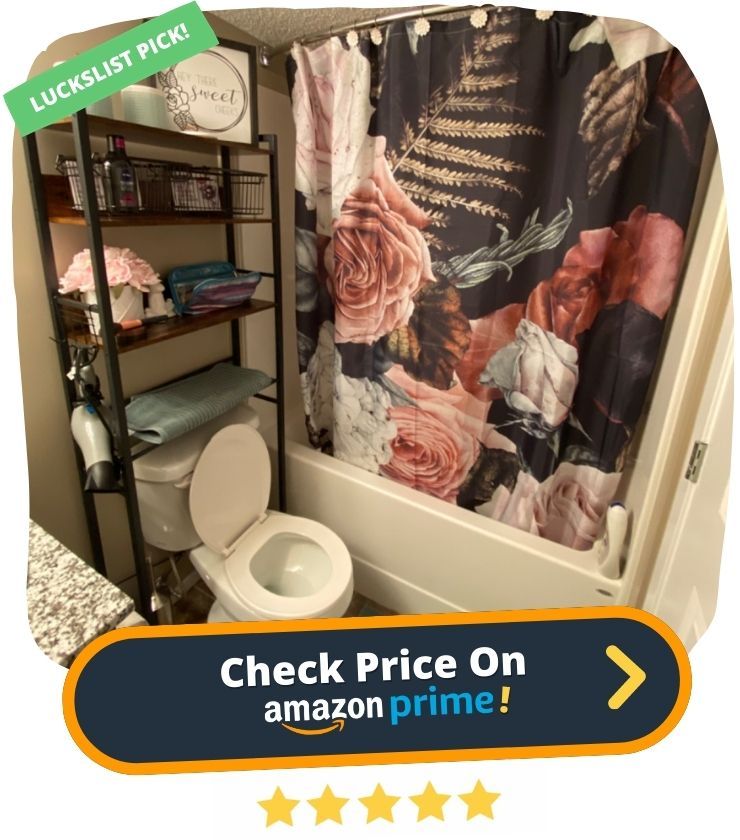 "I absolutely love this shelf! The wood veneer is actually beautiful and looks high end. I was expecting it to look cheap. It feels like it will hold up well and be able to withstand moisture. It holds a lot of different items and the added hooks are great for my styling tools!"
Amazon Review By Charity Hanselpacker
17. Looking for a way to organize your purses? Look no further than ZEDODIER Purses Handbags Hangers! This handy accessory can hold up to 6 different purses, long or short straps, and different widths. Keep your purses in good condition and prevent them from getting out of shape with this sturdy metal hanger.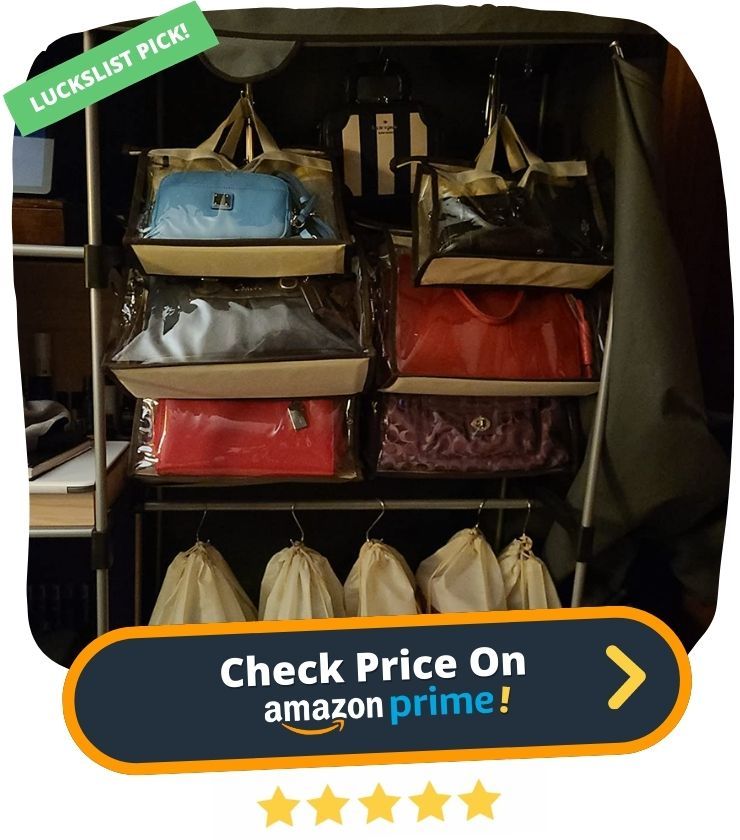 "I ordered two of them and use one for my purses and the other to hang my lingerie. Honestly they're simple, functional and do what they are supposed to, really. They haven't bent or rusted (after I accidentally spilled soda on it)."
Amazon Review By Lilithia
18. Looking for a convenient, portable way to remove fresh food and drink stains? Look no further than Tide To Go Instant Stain Remover! This helpful little device instantly eliminates many types of stains, making it a lifesaver for busy people on the go.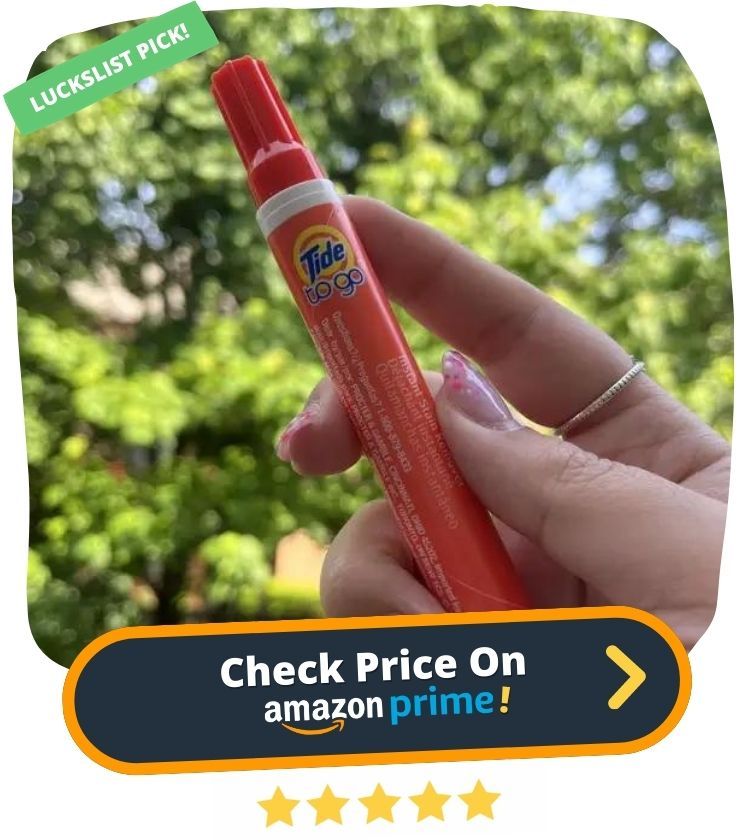 "Handy stain remove pen to keep in your bag for those unexpected moments in life when you spill food on your shirt or pant. Always have one with me. A definite MUST HAVE item in your bag or EDC kit. Easy to use, and works like a charm on 99% of stains."
Amazon Review By J. Sayson
19. Looking for the perfect makeup organizer? Then look no further than the Readaeer Makeup Organizer! Large capacity means it can hold all your makeup essentials, plus jewelry and personal accessories too.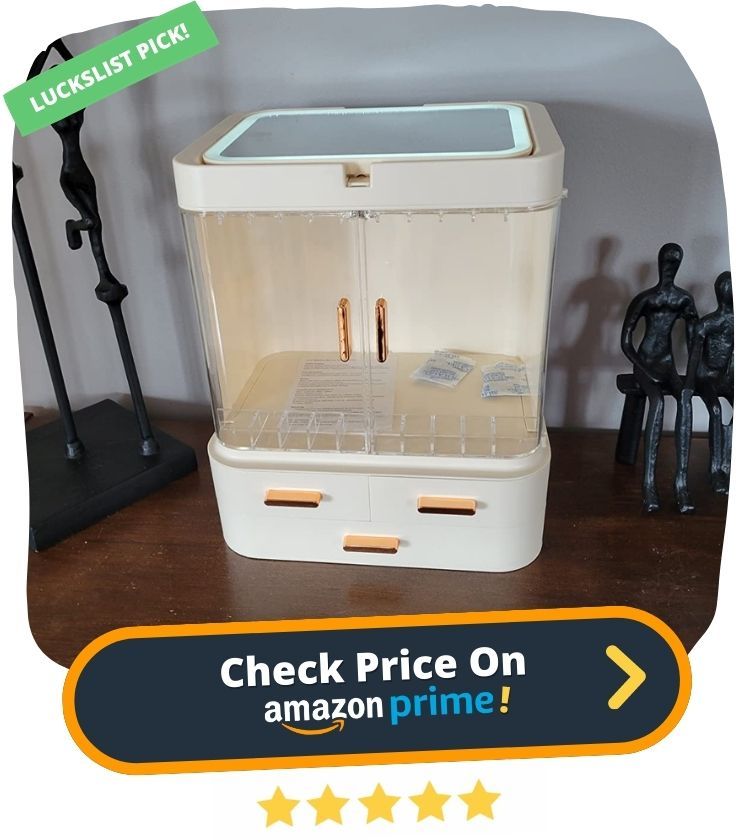 "I absolutely love this. My bathroom counter was an absolute disaster, and then this arrived and made it so neat and clean. Not to mention that all my stuff is so organized, I can see everything, it's sturdy, nice to look at, and makes it really easy to have all of my make up organized. I would highly recommend this to anyone who's bathroom counter is a freaking mess."
Amazon Review By Justine belyea
20. Is your makeup counter cluttered and crammed? The COOLBEAR 360 Rotating Makeup Organizer is here to save the day! This top-notch organizer can store all of your makeup essentials, from brushes and lipsticks to perfume and nail polish.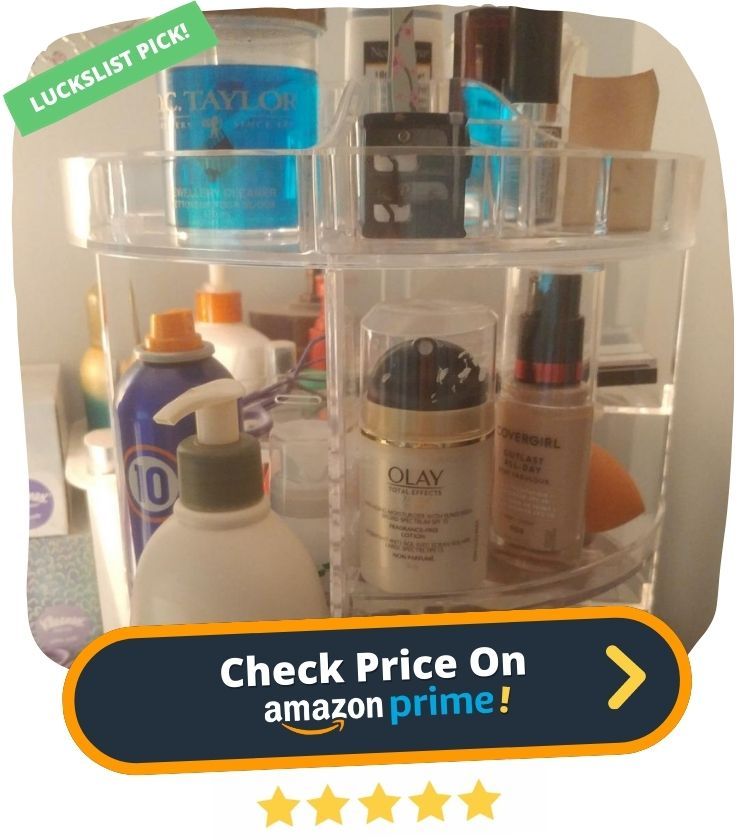 "I love how it spins and the amount of makeup I can put in it. The fact you can chose the height of the little shelves to give more or less space too. Dont forget the tiny plastic rings to make it less shaky. Very happy with my purchase especially for the price."
Amazon Review By Marie-Eve Langis