LEGO goes green- the collectable minifigure package changed from plastic blind bags to recyclable cardboard boxes. This is part of LEGO's effort to use fully sustainable packaging, which is a big deal for LEGO enthusiasts because you cannot "feel" unique parts over the thin plastic bags to figure out which minifigure is inside anymore. Boxed minifigures are truly anonymous- unless you weigh them!
Or, are you looking for best portable scales in general to help you weigh yourself and your packages on-the-go? Whether you're a frequent traveler, limited on storage space at home, a jewelry designer, a serious coffee lover, a small business owner or an online seller – having a good mini scale is essential. With so many options out there, it can be hard to narrow down which one is best for your needs.
LEGO fans or not, this article will review some of the top rated portable scales available to help make sure that whatever product you purchase fits all of your needs! Skip to the product reviews if you are here not to measure the minifig boxes. If you are AFOL, TFOL, or minifig collectors, keep reading to find out which one we think is the perfect pick.
Now on LEGO minifigures- below is the new cardboard box design. You can't feel the contents inside...!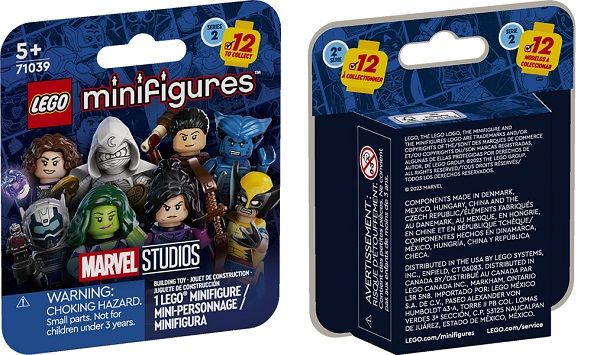 However, there are subtle weight differences between the collectable minifigure in the boxes. Many LEGO fans have already mapped minifigure characters and their boxed weights. The example below is the LEGO Marvel minifigures, Series 2.
As you can see in the weight guide above, the weight range is 17.3 - 21.9 grams (0.61 - 0.77 ounces) and you need at least 0.1-gram resolution in your scale to get good results in identifying minifigures in the boxes. It has to be portable to bring to stores easily. Bring your weighing scale to the store and measure each box to get your favorite minifigure! But wait- do any portable scales work? How accurate should it be? This review article covers all you need for your detective work!
Best Portable Scales For You
So you need a portable scale to quickly weigh minifigure boxes in stores and find your favorites. And the price should be affordable. We've got you covered.  We've researched specifications of the small scales commercially available online. Plus, our reviews and recommendations will help you find the best scale for your other needs.
Now check out our list of 4 mini portable scales!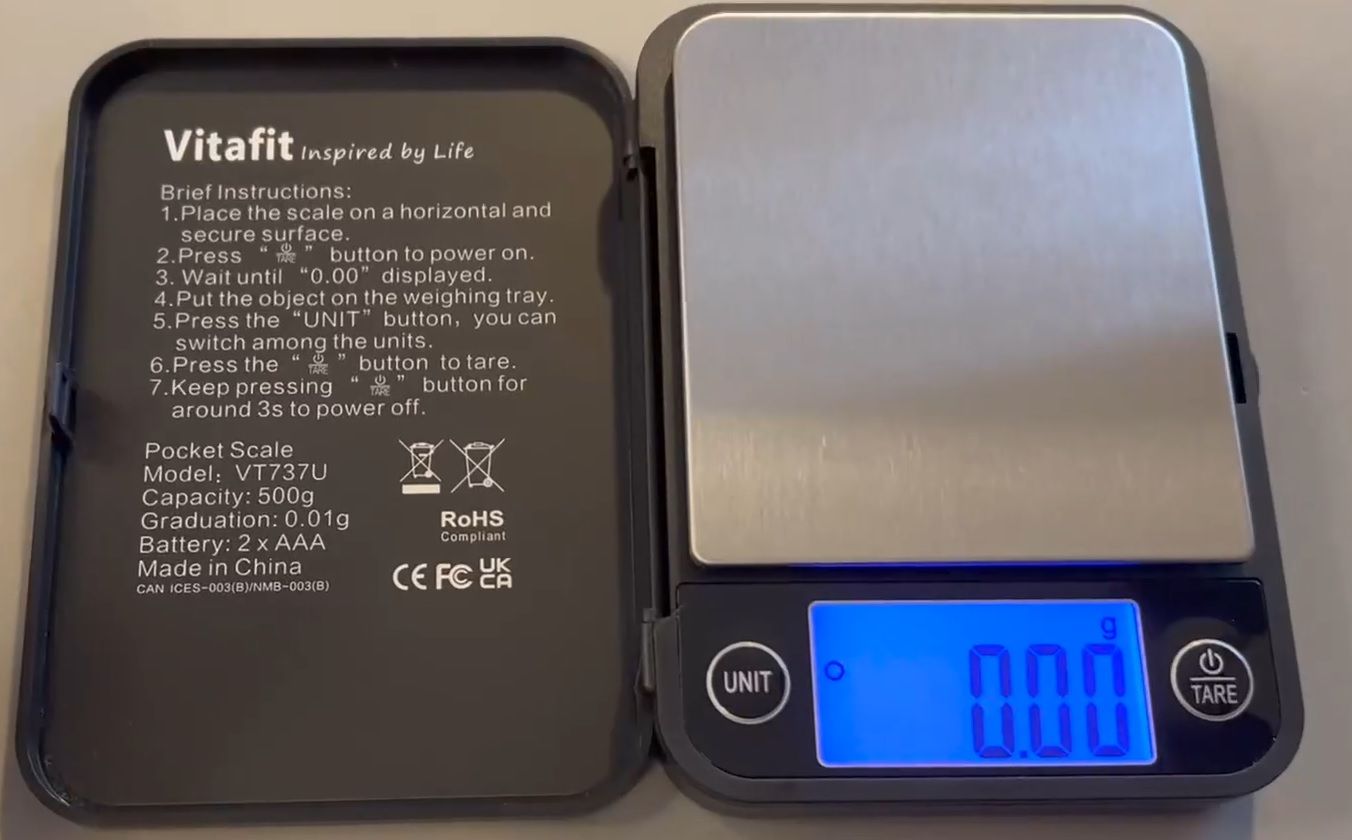 Vitafit 500g Digital Pocket Gram Scale 0.01g Accuracy
Check Price on Amazon!
Specs
This amazing pocket-size scale has 0.01-gram high accuracy that distinguish one minifigure from others! The swing lid (ABS plastic) is a handy feature that helps carrying in a pocket without damaging the platform. It uses two 1.5V AAA batteries. The dimensions are 4.3 x 3.2 x 0.8". It will fit in your pocket, like a large smart phone.
Non-LEGO Uses
It is also useful in your kitchen as a precise food scale as well at school for kids' science projects! The high quality durable stainless steel platform measures up to 500 grams and is easy to clean.  If you are looking for a versatile accurate scale beyond minifigure identification, this is the scale for you.
---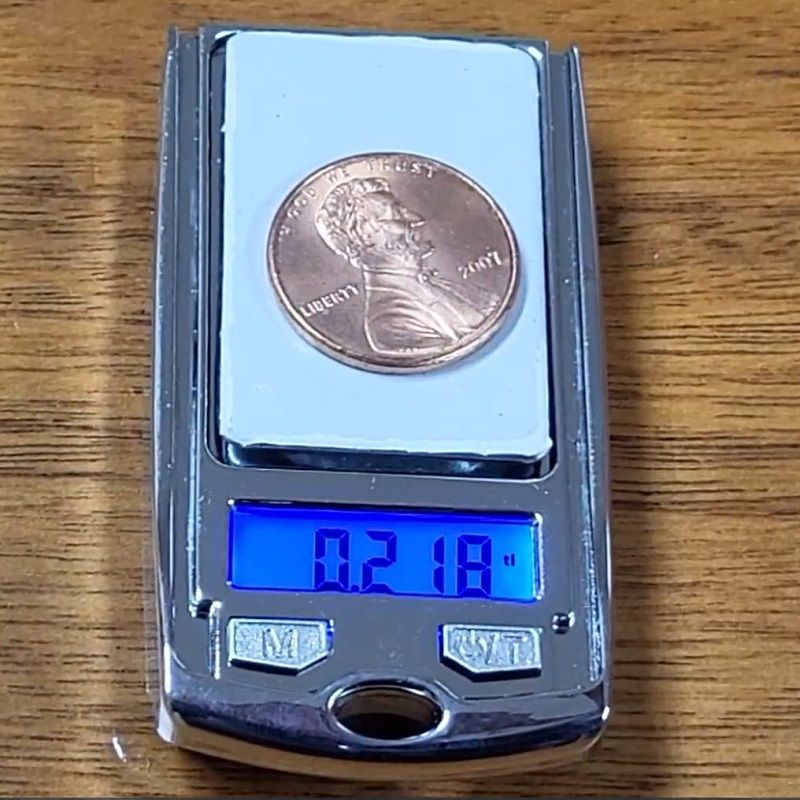 Mini Portable Gram Scale
Check Price on Amazon!
Specs
Go beyond the pocket size- have you seen a finger-size scale? This is fun scale that mimics a car key fob has amazing 0.01-gram resolution and 2.5 x 1.3 x 0.6" dimensions. It can still measure weight up to the good capacity of 200 grams. The sliding lid protects the platform. This scale uses a coin battery (CR2032) and shuts off automatically after 1 minute.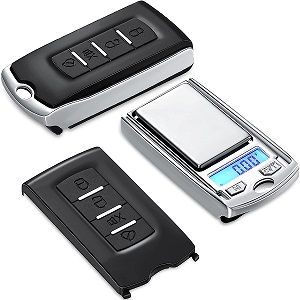 Non-LEGO Uses
This scale is perfect for travel as well. Weighing coffee, tea... Bring your kitchen scale in your pocket!
---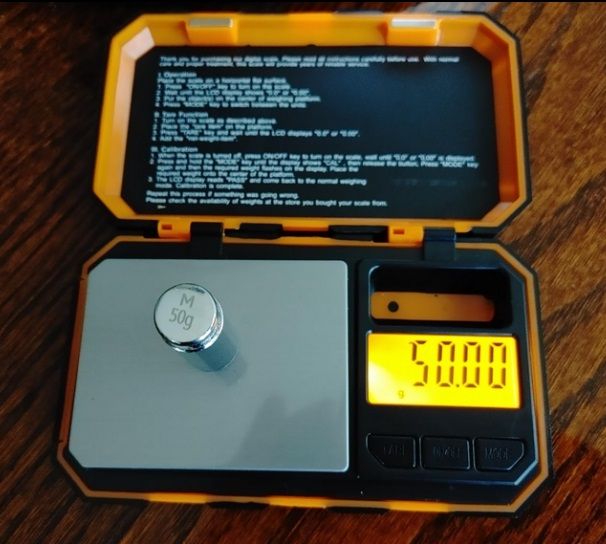 Fuzion Digital Pocket Scale
Check Price on Amazon!
Specs
If you are looking for a more rugged scale, get the Fuzion Digital Pocket Scale. It covers the weight range of 0.05 - 200 grams with the accuracy of 0.03 grams. This kit comes with a very hand 50-gram calibration weight to maintain the scale accuracy. It uses two AAA batteries and automatically turns off in 3 minutes to save energy. The dimensions are 5.6 x 3.3 x 0.9", weighing 6.14 ounces.
What You Need to Know
This weighing scale is not waterproof. If you are looking for  waterproof small scales, check out the next product below.
---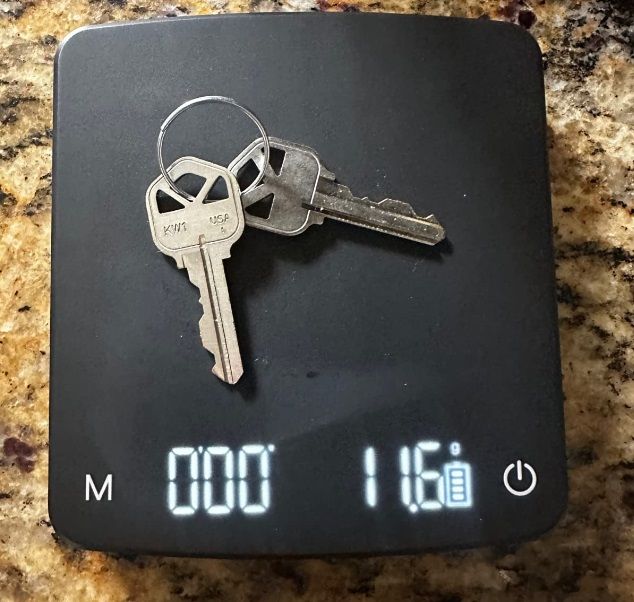 BOMATA mini coffee scale
Check Price on Amazon!
Specs
Looking for small waterproof scales? BOMATA mini coffee scale is for you. It has the big capacity of 2 kg and good 0.1-gram resolution, sufficient for weighing your favorite minifigures hidden in the cardboard boxes.
The dimensions are 5 x 4.68 x 0.79", and it weighs 0.39 lb. This scale literally has no gaps on the surface, designed & suitable for wet activities in the kitchen and laboratories. last but not least, as the name clearly states, this scale is perfect for coffee lovers!
The dimensions are 5 x 4.68 x 0.79", and it weighs 0.39 lb. This scale literally has no gaps on the surface, suitable for wet activities in the kitchen and laboratories. last but not least, as the name clearly states, this scale is perfect for coffee lovers!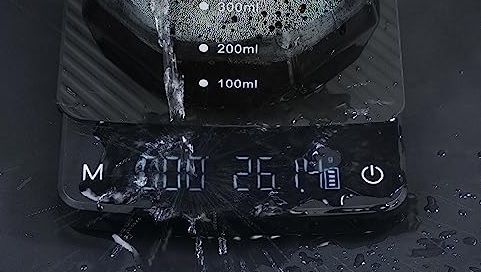 This scale is rechargeable (1200 mAh) via USB type-C port.
---
Top Portable Scale FAQs
What features should I look for in a portable scale?
The max weight limit and resolution are the two important features. If you use the scale in wet environment, look for waterproof ones.
What is the resolution requried for a scale to measure LEGO minifigure weight?
At least 0.1-gram resolution is needed to distinguish one minifigure from others. The capacity is not so important, but high resolution scales tend to have smaller capacity.
What are some of the best tips for using a portable scale?
The scales are fragile, so keep the lid closed. Make sure to calibrate the scale every now and then using a calibrated weight.
What is LEGO minifigure?
A LEGO minifigure, also known as a "minifig," is essentially a small plastic figure that was first produced by the LEGO Group in 1978. Constructed from special injection-molded ABS plastic components, they are designed to fit perfectly into the specialized compartments of themed LEGO sets. Representing various characters and professions across numerous cultures and genres, LEGO minifigures come with their own heads, torsos (which often represent clothing), arms, hands (bigger for adult figures than for those featuring children) and legs which can be moved around via simple joint systems.
When you go to one of the LEGOLANDS (LEGO theme parks), bring your spare minifigures. There are LEGO staff members walking in the park with minifigures attached to their uniform, and you find what you like, you can trade your minifigure with theirs!
How many pieces does a LEGO minifigure have?
A LEGO minifigure is composed of a total of 8 pieces, although there may be variations depending on the specific minifigure. The eight pieces that make up a LEGO minifigure are: headgear (optional), head, torso with arms and hands, two legs with feet, hair (optional), and accessories.
The headgear piece for a LEGO minifigure can be anything from a helmet to eyeglasses or even an animal mask – it is usually sold separately. The next piece is the actual head of the figure – this contains all the details of facial features like eyes, nose and mouth printings which can range from regular faces to other expressions like angry or silly.
What are some examples of LEGO minifigure parts?
- Legs: The legs of a LEGO minifigure come in countless variations with different leg lengths and shapes to represent different characters. They also have attachment points along the sides so that other accessories can be attached like weapons or tools.
- Arms: Like the legs, there are numerous types of arm pieces available for LEGO Minifigures. Some include cufflinks for attaching shirt sleeves while others simply attach directly onto torso blocks to form an arms-crossed pose or even come equipped with articulated elbows.
- Torsos: Nearly all standard sized LEGO Minifigures feature a two part torso piece which includes printing on both front and back as well as attachment points for various other elements like shoulder pads or capes/cloaks/jackets etc.
- Heads: The iconic headpiece is perhaps the most important part when creating your own custom mini figure representation! The official Lego design team has created hundreds if not thousands of unique head sculpts – from classic smiley faces to angry villains – allowing you to create any character imaginable!
- Hands : One particular area where great attention was paid by Lego designers were hands - each one coming with gripping fingers specific joints enabling them them rotate over 360 degrees plus 'open' & 'closed' positions!
---
Closing Remarks
Investing in high-quality portable scales is essential for anyone who wants to keep their weight in check while on-the-go. The above list features the five best portable scales that fit the bill. These scales are not only portable but also accurate and reliable. They come with unique features that make weight management a walk in the park. So, go ahead and choose the one that fits your needs best!
Hope you find this review useful, especially for your LEGO journey. Also note that if 2 different minifigures have the same weight, it is 50/50 chance, and you may want to shake the boxes gently and try to hear the difference. At least these accurate scales are able to figure out the most of the minifigures. Good luck!
We hope you find your next favorite thing from the list below! Each product was independently selected by our editors. LucksList may collect a share of sales or other compensation from the links on this page if you decide to buy something (that's how we stay in business). Reviews have been edited for length and clarity. Enjoy finding your next favorite thing!